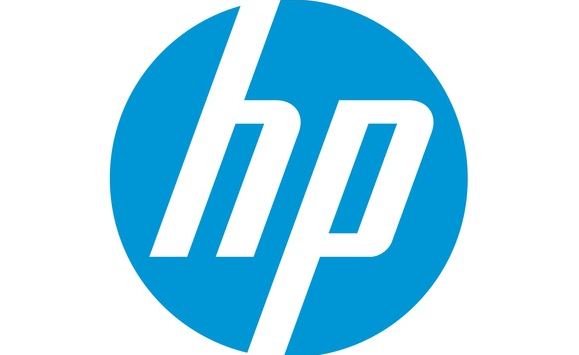 image source: globalnewswire.com
Intro
Incorporated in 1947 in California, later changed to Delaware in 1998, Hewlett-Packard (NYSE: HPQ) quickly became a global powerhouse provider of personal computers, printers, imaging devices, and related technologies. Later in 2015, Hewlett-Packard spun off Hewlett-Packard Enterprise (NSYE: HPE), which encompasses the company's former enterprise technology infrastructure, software, services, and financing business. After the split, Hewlett-Packard rebranded itself HP, Inc. HP, Inc. works closely with HPE for tax and employee purposes, as well as for servicing and commercial agreements, thought this article will primarily focus on the computer delivery side, HPQ.
HP, Inc. involves three primary business segments for financial reports: personal computer systems, printing investments, and corporate investments. The personal systems portion deals with commercial and consumer products such as laptops, desktops, tablets, as well as display and other related accessories. The printing segment deals with printer hardware, as well as scanning and imaging devices. Corporate investments involves project development and innovation. Through its personal systems and printing portion of its business model, HP is able to provide business and technology solutions to millions of consumers, as well as other businesses. It partners with retailers that sell its products directly to the public, other resellers that take their products and sell them after moving the products through a value-added process, as well as to IT consultants and business system developers. The diversity of its clientele offers HP a robust source of revenue, and given its duration in the technologies delivery market, HP has over time been able to develop efficiencies in their technology development and market distribution processes. Its primary branches of business synchronize to create a strategic process which solidifies its position as a world leader in PC marketing and sales. After the recent market pullback, HP stand poised to recover handsomely, as its margins have been seemingly unaffected, while the stock has been under pressure from general market fear. Historically, HP Inc. has outperformed the technology sector, and at current levels, is a very strong buy.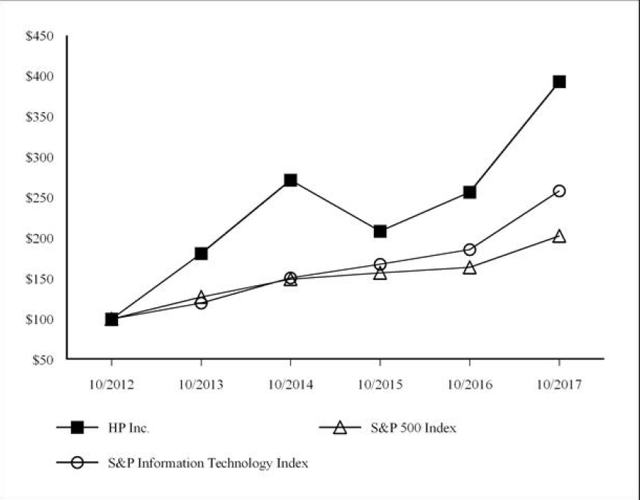 source: HP, Inc. Q4 report
Revenue
HP has seen steady revenue growth quarter after quarter, culminating in their most recent quarterly report which stated net earnings over $1.451 billion, up nearly 50% from the quarter ending July 31, 2018, which itself saw a significant increase from the quarter before that. Earnings per share has more than doubled over the last 12 months, as both net revenue increases are share repurchases continue.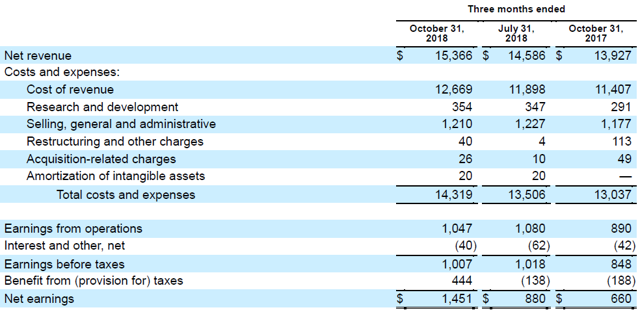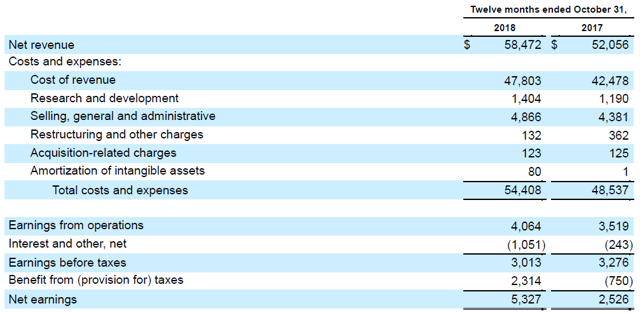 source: HP, Inc. Q4 report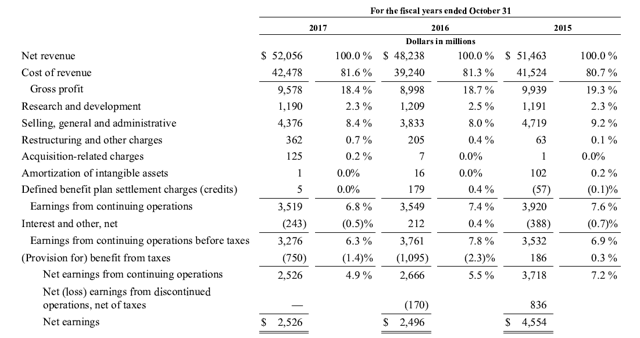 source: HP, Inc. 10-k
The business segment contributing most to HP's growing revenue stream is the personal systems segment. Net revenue in this portion of the business has grown significantly over the years, as HP sees more of its tablets and laptops flying off the shelves. Additionally, HP has been breaking into the premium hardware market, and it has seen rising sales prices affect its margins. Consumers still choose to buy HP products from a premium line of products, and as average sales price increases, so too does revenue and operating margins.
Returning Equity
HP leadership has a shareholder welfare mindset, with their chief goal being the creation of long-term shareholder value. As HP posts revenue growth across its business segments, it strives to return capital to shareholders in the form of free cash flow. In Q3 of this year, HP repurchased $696 million worth of its common shares, while distributing $223 million in cash dividends, and it shows no signs of slowing down or lowering the dividend.
Even with such shareholder-friendly capital returns, HP insists, and also proves, that it still retains the ability to invest in its own business and drive growth, as it recently purchased UK-based Apogee, a developer of office equipment, as well as an earlier purchase of Samsung's printing division. The acquisitions improve HP's ability to grow its business systems business segment in an effort to boost revenue up to personal systems levels. The use of cash for these purchases has not affected HP's share repurchase outlook, as its commitment to buying back its own shares remains a priority. In fact, HP seeks to repurchase up to 11% of its overall market capitalization.
Metrics
At current levels, HPQ is a strong buy. Analysts forecast a one year price target between $27 and $30 per share, representing significant upside from today's prices. With a forward P/E ratio of 9.4, and with the stock trading slightly above its 52 week low, there is enormous value to be captured in purchasing HP common shares. HP currently trades in a state of oversold, as the recent market pullback has been especially unforgiving on the tech sector, but HP's abilities to reach various consumer and business technology demands will strengthen its position going forward, while a significant portion of the tech sector remains vulnerable in their niche markets.
With shareholder-friendly management policies, increasing net revenues, and a discounted share price, HPQ is a strong buy heading into 2019.
Disclosure: I/we have no positions in any stocks mentioned, but may initiate a long position in HPQ over the next 72 hours. I wrote this article myself, and it expresses my own opinions. I am not receiving compensation for it (other than from Seeking Alpha). I have no business relationship with any company whose stock is mentioned in this article.