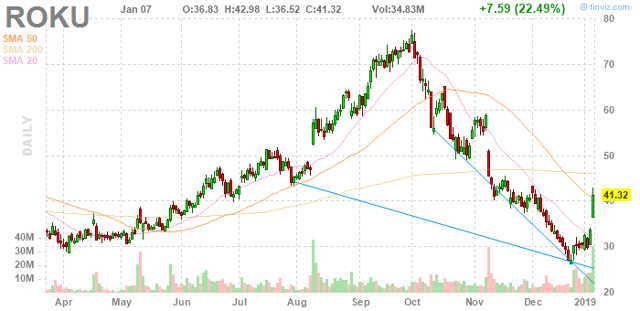 On Jan. 7th, Roku (ROKU) released two press releases, one announcing a Westinghouse/Roku TV partnership and one estimating two of Roku's operating metrics:
Roku Inc. today disclosed preliminary Q4 2018 data for two key operating metrics, active accounts and streaming hours, demonstrating continued momentum for the Roku platform as consumers shift toward streaming and away from traditional linear TV. The company made the disclosures ahead of business meetings at CES 2019 this week in Las Vegas.

Q4 2018 active accounts topped 27 million, up roughly 40% year-over-year.
Q4 streaming hours were an estimated 7.3 billion hours, up about 68% year-over-year, bringing full year 2018 streaming hours to about 24 billion, up about 61% from 2017.
Markets were thrilled by the news. Roku's stock has been heavily beaten down from peaks of $77 in late Sep 2018 down to lows of $26 last month. Roku shares have gained 22% today, as of this writing, back over $40.
Frankly, I'm not sure why the numbers today surprised the market enough to spur such gains: They look ~in-line with expectations.
Investment Thesis
I have held a long position in Roku, off-and-on, since late 2017, and have written about Roku on this platform five times since then, most recently in Aug 2018. My investment thesis is based on several factors:
Over-the-top (OTT) streaming is going to grow over the long-term, with video-over-IP potentially displacing traditional cable/satellite television services.
Roku has a long history of successful competition against enormous competitors like Apple's (AAPL) Apple TV, Google's (GOOG) (GOOGL) Chromecast, and Amazon's (AMZN) Fire TV. Notably, Apple TV is an older device than Roku itself; Roku has always competed with Apple.
Roku has grown their active user count for now 19 consecutive quarters (QoQ or YoY) - dating as far back as Roku has reported the metric.
Roku's user engagement level, as measured by streaming hours/active account, has grown YoY every quarter since March 2015. (It has not grown QoQ every quarter and shows seasonality: Three consecutive third quarters showed a drop in this metric.)
Even while user counts increase, Roku has also made more platform revenue for every user - up to a trailing $17.08 in Q3/18 from $6.64 in 2015.
Roku's OTT box revenue is not an important part of their business: An increasing percentage of their user-base will be using Roku software built into their TV rather than a set-top box.
Notably, Roku's OTT box sales ("player revenue") are not a particularly important part of Roku's value moving forward. Those low-margin sales help active user count but do not meaningfully contribute to the company's profit.
Rather than a seller of boxes, Roku primarily generates money through platform revenue. Roku earns money on subscription services that people purchase through their Roku device and earns money on advertising-supported content viewed through Roku, including the Roku Channel.
The Bear View
In my experience, Roku bears have a few concerns with Roku. Many bears do not understand the story laid out above and lay irrelevant criticisms. I will not address those arguments, since they stem from a lack of understanding. However, there are also valid grounds for concern. Those valid grounds for concern include:
(1) Roku is overvalued: Valuation is pretty tricky, especially for a high-growth, unprofitable company like Roku. Last quarter, Roku generated $173M in revenue and lost $9.5M. Given Roku's losses, metrics like P/E or EV/EBITDA are not particularly useful for coming up with a proper price for Roku.
My preferred metric here is using a discounted cash flow model, but that model contains an enormous amount of assumptions about Roku's future growth and margins. As a result, that model is unlikely to convert non-believers. Given that valuation is more art than science and the speculative nature of Roku's future cash flows and profits, there's little to refute this view.
Simply put, those who believe that Roku is overvalued should invest elsewhere.
(2) Roku will be unable to compete with Amazon, Google, and Apple in the future: Roku skeptics often express doubts about Roku's continued ability to compete with much better-funded companies. Roku is a relative minnow swimming with the sharks of FAANG (FNGU). At its strongest, this view might suggest that those behemoths could push Roku aside if they ever set their sights squarely on the TV streaming market.
Roku has competed with the same three companies for years - and with Apple for Roku's entire life. To date, Roku has been very successful competing against those giants. As of Sep 2018, 70% of users at a streaming site owned a Roku device, first among streaming platforms. Another source found Roku to have a market-leading 37% share of the OTT streaming market, which is likely a more reliable figure although also older.
Thus far, Roku is doing very well in competition against these larger companies. That may not continue forever - but Roku has shown few signs of slipping yet. Further, Roku has managed to steer clear of the battles between content provides, specifically Amazon and Google, that has hurt Fire TV users and hindered Chromecast sales.
None of this disproves this thesis. Perhaps in five or ten years, people will control their televisions using an app on their phones, wirelessly streaming the video to their televisions. In that scenario, perhaps Roku would be unable to compete - or perhaps Roku's app would be the app that we use for that purpose. Time will tell.
(3) Roku doesn't make revenue from the largest streaming content providers: When I watch Netflix on my Roku, which I do, Roku earns precisely $0. Some Roku detractors, perhaps due to false consensus bias, then argue that Roku will be unable to make money from increased users of online streaming platforms because Roku earns no platform revenue from Netflix and many of the other most popular streaming platforms.
In my view, this is a poor argument. The problem with this argument is that it ignore the reality that Roku already earns strong - and growing - platform revenue per active account. That revenue total ($4.37/account last quarter, as shown below) already compensates for the fact that many users do not watch any programming that contains advertising and do not contribute a meaningful amount of revenue to Roku.
It is true that Roku will earn nothing - or only a trivial amount - from many of its users. However, that is already baked in to Roku's current results. Further, I suspect that Roku's revenue per user will continue to rise in line with cord-cutting. The Roku Channel is prominently advertised on Roku devices. For users with cable and subscription services, that channel may be unappealing: It is ad-supported content (see a listing of Roku Channel content) when Netflix subscribers can get content without advertising. However, I suspect that this content is most appealing to those who have access to a Roku but may not subscribe to subscription services or to cable. The ranks of those users could increase as Roku's platform is included on more smart TVs.
Roku's Growth Story: Secular Growth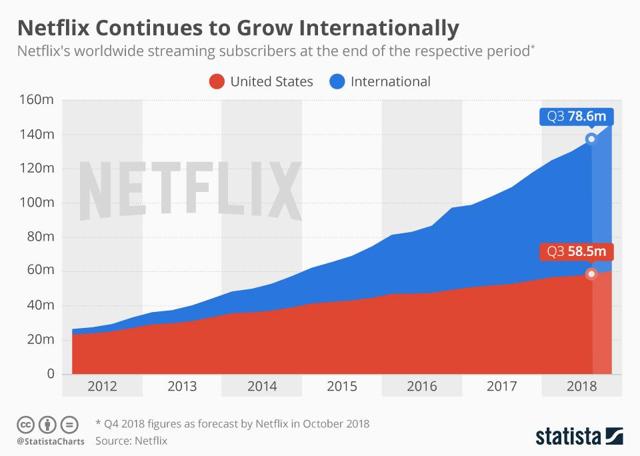 Source: Statista; depicting Netflix user growth as a proxy for online streaming.
Roku is part of a secular growth story. The online streaming sector is growing rapidly. As shown above, Netflix (NFLX) - the largest player in online streaming and where the first Roku was developed - has been growing rapidly for many years. Similar growth could be seen at other online streaming services like Google's YouTube and Amazon's Twitch and further growth will come through new services like those from Disney (DIS) and DAZN.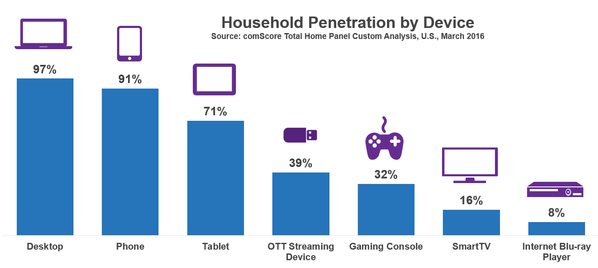 Source: ComScore.
There are many ways to watch Netflix, Twitch, YouTube, or other streaming services. Those include through desktop computers, phones, tables, streaming devices including Roku, gaming consoles, and using a Smart TV. I suspect that most users that want to watch on their televisions will first see if their Smart TV software allows them to watch a given service and, if not, will then use a gaming console or OTT streaming device, depending on if they already own a gaming console.
Roku is involved in both the Smart TV space and the OTT streaming device space. For example, on Jan. 7th, Roku announced a partnership with Westinghouse (linked to above):
Roku, Inc. today announced Westinghouse Electronics as the newest TV brand to join the Roku TV™ licensing program. Westinghouse Electronics will leverage the Roku TV hardware reference design and Roku OS to deliver HD Westinghouse Roku TV models, expected in the first half of 2019, and 4K Westinghouse Roku TV models hitting shelves later in the year.
Notably, this may be an example of a manufacturer switching from Amazon to Roku. Back in July 2017, for example, Westinghouse announced the first smart TVs powered by Alexa.
Roku's involvement in both the OTT streaming device space and the smart TV space will give their platform more longevity: Over time, I expect that most users will have smart TVs rather than relying on OTT streaming devices. In that world, it is important for Roku that their smart TV software is installed on as many televisions as possible. The primary competitor in the smart TV operating system space is Google.
Roku's Growth Story: Increasing User Count and Engagement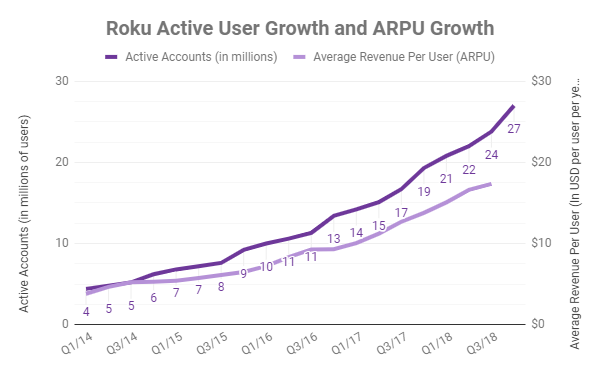 Source: Author based on company filings.
Roku's growth narrative is driven by its growth in two primary metrics: Active accounts and platform revenue per active account.
On Jan 7th, Roku announced that active accounts were up to over 27 million, up from 23.8 million last quarter (+13%) and 19.3 million one year ago (+40%). Active account growth is seasonal, with the most growth in the fourth quarter each year, and has been modestly decelerating since its near-term peak growth of 48% in Q3/17:
| | | | | | | | |
| --- | --- | --- | --- | --- | --- | --- | --- |
| (In millions) | Q2/17 | Q3/17 | Q4/17 | Q1/18 | Q2/18 | Q3/18 | Q4/18 |
| Active Accounts | 15.1 | 16.7 | 19.3 | 20.8 | 22.0 | 23.8 | 27.0 |
| Added Accounts | 0.9 | 1.6 | 2.6 | 1.5 | 1.2 | 1.8 | 3.2 |
| Growth (QoQ) | 6% | 10% | 16% | 8% | 6% | 8% | 13% |
| Growth (YoY) | 43% | 48% | 44% | 46% | 46% | 43% | 40% |
Source: Based on company filings.
Roku's platform revenue is growing more quickly than the 40% growth in active accounts. Not only are user counts increasing, Roku is making more money for each active account:
| | | | | | | | |
| --- | --- | --- | --- | --- | --- | --- | --- |
| | Q1/17 | Q2/17 | Q3/17 | Q4/17 | Q1/18 | Q2/18 | Q3/18 |
| Platform Revenue | $36.4M | $46.0M | $57.5M | $85.4M | $75.1M | $90.3M | $100.1M |
| Revenue/User | $2.64 | $3.14 | $3.62 | $4.75 | $3.75 | $4.22 | $4.37 |
| Growth (QoQ) | -13% | 19% | 15% | 31% | -21% | 13% | 3% |
| Growth (YoY) | 30% | 37% | 63% | 57% | 42% | 35% | 21% |
Source: Author based on company filings; revenue/user is platform revenue divided by average users in a quarter.
Roku's revenue/user is seasonal, with the fourth quarter having the strongest sequential gains in each of the past three years (at 66%, 36%, and 31% in 2016-2018). Roku has not released revenue figures for Q4/18. Roku released their earnings letter on Feb 21st last year, which is likely around when these results will be released. (Note that Roku's earnings letters include an annual revenue/user metric, while the above revenue/user is quarterly.)
Roku's platform revenue is much higher-margin than its player revenue from selling OTT devices. Last quarter, platform revenue had gross margins of 71% versus only 12% for player revenue. In my view, player revenue is largely irrelevant - thus the focus here on the platform growth.
Roku's platform revenue is just a simple multiplication of their quarterly revenue/user by their active accounts. Based on past platform revenue, I expect Roku's platform revenue per user this quarter to be ~$5.25 to $5.50, resulting in platform revenue of ~$142 to $148 million, compared to $85 million last year (+11% to +16%).
Roku does not provide guidance for platform revenue. Instead, Roku only provides guidance for total net revenue ($255M to $265M) and total gross profit ($103M to $110M). Thus far, Roku's forecasts for both metrics has been too conservative: Roku has beaten midpoint on both metrics four out of four times since their IPO, landing higher than gross profit range every time and higher than their revenue forecast range three out of four times (75%).
Roku also provides guidance for net income and adjusted EBITDA. They have always beaten their guidance (landing outside the guided range) on both of those metrics as well.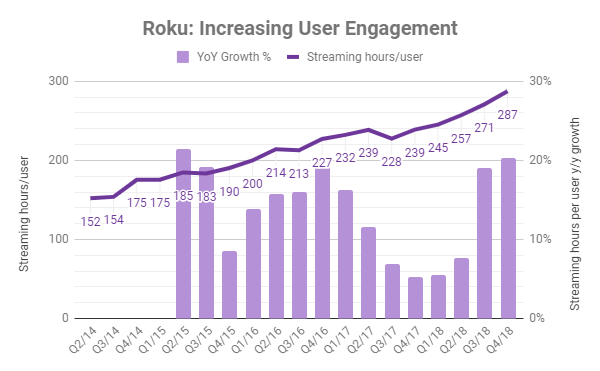 Source: Author based on company filings.
Roku's users continue to use their devices more and more. In my view, this is a very promising sign for the future as it shows the continued strength of the platform and the entertainment options it offers to users.
Here, streaming hours/user is calculated by taking the total streaming hours in a quarter and dividing that by the average number of active accounts in the user. E.g., for Q4/18, by divided 7.3 billion streaming hours by an average of 23.8 million and 27.0 million active accounts (Q3 and Q4, respectively).
As shown, Q4/18 will mark the fifth consecutive quarter in which Roku accounts - on average - streamed more content than in the previous quarter.
There is not a direct 1:1 relationship between streaming hours and Roku's financial results. Roku sells advertising on a subset of the content viewed on a Roku device, but much of the streamed content is not monetized. For example, Roku receives no income from users watching Netflix and never has. Hours spent watching Netflix are included in the above hours but will have no impact on Roku's revenue. Thus, user engagement lacks a direct connection to Roku's revenue - but it still shows that users are increasingly turning to their Roku for entertainment. That user retention will help Roku over the long term and may lead to more word-of-mouth sales of Roku-enabled devices (OTT boxes or smart TVs) in the future.
That said, some portion of Roku's streaming content is monetized. Given the overall growth of Roku usage, it is possible that more users are streaming monetized content as well. Roku does not publish metrics about what proportion of their streaming hours are revenue-generating, or even what proportion of platform revenue is from subscription fees versus advertising.
In spite of that, increasing user engagement is a net positive for Roku, and user engagement continues to increase.
Thoughts
I continue to like Roku as an investment.
Roku's active accounts metric was ~in-line with what I had previously expected. Next quarter (Q1), I anticipate that active accounts will grow to nearly 29 million.
Roku's streaming hours were more than I expected. Those hours will not directly contribute to Roku's top- and bottom-line, but they show the continued value of the Roku platform to its users. That user engagement is likely to lead to new customers (e.g., friends/family of current users) and increased consumption of monetized streaming content.
Roku operates in a sector with strong secular growth. Roku has the largest market share within its growing sector.
That said, the company is battling with behemoths that are hundreds of times its size. Given that landscape, Roku remains a risky investment: This is David versus three Goliaths - hardly a "safe" bet. Roku is also unprofitable and trades at speculative levels with an EV/trailing sales of 5.3x. Roku's volatility over the past three months has been extreme: from highs of $77 to lows of $26 and back over $40 today.
Suffice to say, this is not a riskless investment. That said, I believe that Roku remains an attractive investment, especially on dips. I would be a bit skeptical about purchasing Roku on the back of a 20% one-day gain; however, I might be inclined to wait a bit and see if that gain "sticks." That said, I remain a happy Roku investor, despite the declines from September's highs.
I primarily write about cannabis stocks rather than Roku. I maintain cannabis investing community on Seeking Alpha, The Growth Operation. That community may be of interest to those who like my writing and are interested in cannabis investments. Those who are aren't interested in cannabis stocks can already find all my non-cannabis coverage on the main Seeking Alpha platform without subscription. So don't subscribe if you're just looking for more articles like this one; those are already free.
Disclosure: I am/we are long ROKU, AAPL, GOOG. I wrote this article myself, and it expresses my own opinions. I am not receiving compensation for it (other than from Seeking Alpha). I have no business relationship with any company whose stock is mentioned in this article.