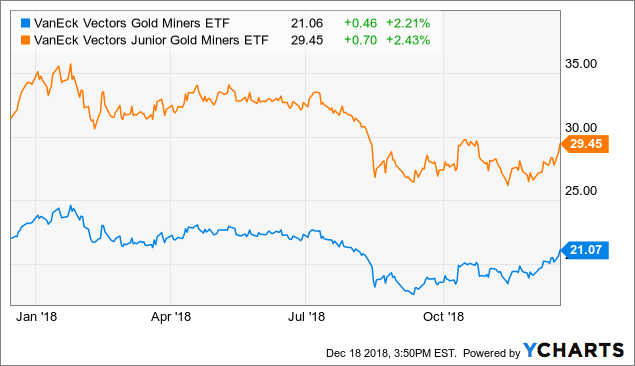 It's time again for my annual list of the top gold stocks for the upcoming year.
If you are unfamiliar with these articles, every year I post my top picks, which I expect to outperform the benchmark indexes for the upcoming year, including the VanEck gold miners index (GDX), the junior miners index (GDXJ) and the NYSE Gold Bugs Index (HUI). Please note that the full list of picks and my personal holdings are available to subscribers of my marketplace service.
If you don't believe you can outperform those ETFs, you're better off just buying those ETFs as they give you exposure to gold miners. However, I've proven to myself and others that I certainly can outperform the market.
My strategy: target gold companies with low operating costs, low financial leverage (strong net cash position or very low net debt), upside from exploration and development projects, an undervaluation compared to peers, as well as takeover targets (companies I think have a strong chance of getting acquired at a premium price). I also like to see insiders with skin in the game.
I mostly avoid majors or "senior" gold producers, as their track records have been awful compared to the GDX, which is a basket of mining stocks.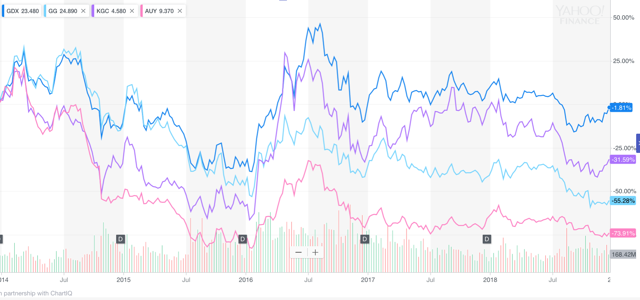 Check out the 5-year performance of those miners compared to the GDX above; GDX is in blue. (Credit: Yahoo Finance).
Why Gold Stocks?
Now is certainly a good time to buy gold stocks in my opinion, but you have to be selective and only buy stocks of the best companies.
On Nov. 30, I stated that sentiment in the sector was so low that I felt it was the buying opportunity of the year:
I believe we're going to see U.S. stocks sell-off at least 10% from the current levels in early 2019, and we'll see a rush to safe-haven assets as this unfolds.
Could the 10-year bull run in stocks finally be over? At the time, the DOW was trading over 25,000 and had since fallen to 23,690 (as of writing). Stocks have actually sold off sooner than I expected, while gold prices have held up quite well.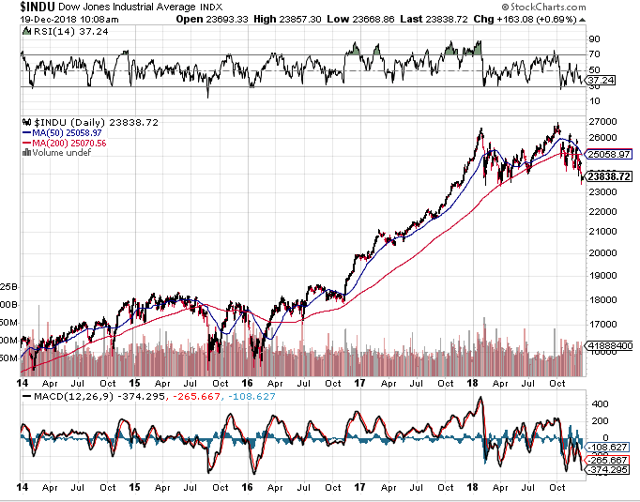 (The Dow 50-day moving average is now trading below its 200-day moving average, a bearish sign. This chart was uploaded at the time of original article publication on Dec. 19. Credit: StockCharts)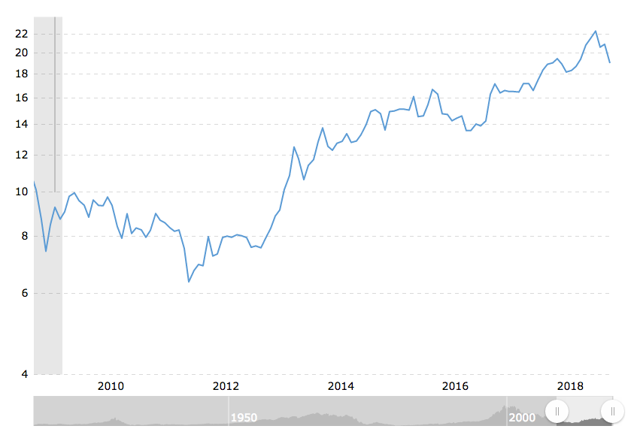 (The Dow to Gold ratio as of Dec 2018. Credit: MacroTrends)
But gold is still very undervalued compared to stocks in my view, with the DOW to GOLD ratio trading at 19X, with 100-year averages trading under 10X. Back in 2011, the ratio actually hit 6.36X at one point.
I believe stocks still have further room to fall, and think we'll continue to see increased investor interest in gold as a safe haven from the volatile stock markets.
For some background on this annual series:
Honorable Mention Picks for 2019
Here are a few:
Gran Colombia Gold (OTCPK:TPRFF): I view Columbia as one of the more risky places to mine, which is one of the reasons I've left it off the top 10 list. But I have to admit that Gran Colombia Gold's stock is very undervalued entering 2019, especially after the company's debt restructuring. It is a much safer stock now than a few years ago.
For the 9 months ended 2018, Gran Colombia has produced 162,741 ounces of gold at $899/AISC, producing $78 million EBITDA year-to-date, putting it on pace to meet or exceed its full-year guidance of 214,000 - 220,000 ounces at $950/AISC. With $100+ million in annual EBITDA and an enterprise value of just $186 million, Gran Colombia is trading at an EV/EBITDA of under 2X which is quite low.
Gran Colombia is a medium-to-high-risk, high-reward pick for 2019, and it's a company I'll be keeping a close eye on early in the year.
Northern Star Resources (OTCPK:NESRF): Northern Star is an Australian gold miner that recently diversified into Alaska with its $260 million purchase of the Pogo gold mine, a very smart move.
The stock has had an incredible run and is arguably fairly valued or slightly undervalued here. I think there may be better opportunities, which is why it's not a top 10 pick for 2019, but still named am honorable mention. I will hold my shares and re-evaluate the stock in the future.
Resolute Mining (OTCPK:RMGGF): Resolute is another fine pick for 2019 and just missed making the top 10 list. It currently operates two producing gold mines: Syama in Mali, Ravenswood in Australia, and it also is advancing the Bibiani gold mine in Ghana
The company expects to see a slight increase in production next year, but much stronger growth should come in the following year. It's an undervalued stock I plan on holding in 2019 and possibly buying on dips.
Newcrest Mining (OTCPK:NCMGY): Newcrest is a low-cost Australian gold producer that has been turning in impressive production and earnings, which will likely continue into 2019. At $16+ billion market cap it's a huge company, though, so I believe it has less upside than my top picks. It should perform just fine in 2019.
Saracen Mineral Holdings (OTCPK:SCEXF): Saracen is another low-cost Australian gold producer that should perform well in 2019 as it's a low-cost producer. My main issue is that shares lack trading liquidity on the US listing, making it very difficult to buy or sell shares. This is more of an issue with Saracen than other Australian names that made the list this year.
Other honorable mention picks include: Osisko Mining (OTCPK:OBNNF) and Osisko Gold Royalties (OR), Gold Standard Ventures (GSV), Orca Gold (OTCPK:CANWF) and OceanaGold (OTCPK:OCANF).
Top Gold Stock Pick: Sandstorm Gold
Sandstorm Gold (SAND) is one gold stock that made my top 10 list this year. It made the list this year for a few main reasons.
First, Sandstorm Gold's board of directors has approved a massive share buyback program, which I think will provide strong support for its shares and help it outperform peers.
The company recently announced that its board has approved the purchase of up to 18.3 million of its common shares between now and the end of 2019, which is 10% of its share count. Sandstorm intends to complete the entire buyback, too. The company believes it will cost between C$70 - C$85 million to complete the full buyback, which is money well spent if its stock price continues to trade at depressed levels.
I'm a big fan of share buybacks, but only when the stock is undervalued, which happens to be the case with Sandstorm. Currently, it trades at an EV/EBITDA just above 10X, and looking out to 2023, the stock carries at EV/EBITDA of 5X, which is well below its peers. The market is not giving the company credit for its future growth, as production is likely to double by 2022.
(Read more: Sandstorm Gold Is a Top Pick for 2019.)
Sandstorm Gold will also benefit from growth in 2019, now that Yamana's Cerro Moro mine is up-and-running. Sandstorm will begin to purchase silver ounces from Cerro Moro in January 2019; the company has a stream to buy 20% of the silver at 30% the spot price, up to a max of 1.2 million ounces annually until 7 million ounces have been delivered (then 9% thereafter).
I also expect positive updates from its 30% owned Hod Maden mine. For 2019, I expect to see positive new exploration results, as well as a completed feasibility study. Sandstorm's attributable annual average production is estimated to be 80,000 gold equivalent ounces when this mine gets to production by 2022.
Sandstorm also recently increased its revolving credit facility to $225 million. It costs the company a standby fee of .45% - .675% per year for the undrawn portion (costing $1 - $1.5 million), so I'm inclined to believe that it will use some of the facility to complete new streaming and royalty acquisitions in 2019.
Combined with approximately $10 million cash on hand, $53 million in debt and equity investments, $60+ million in operating cash flow expected for 2019, and the $225 million undrawn revolver, I think Sandstorm is in excellent financial shape entering the new year. The stock is a core holding of mine and I may look to add to my position on dips.
Subscribers of The Gold Bull Portfolio received a full list of my Top Gold Stocks for 2019, and get access to my real-life gold portfolio holdings, weekly updates and 24/7 live chat.
Disclosure: I am/we are long SAND, GDX. I wrote this article myself, and it expresses my own opinions. I am not receiving compensation for it (other than from Seeking Alpha). I have no business relationship with any company whose stock is mentioned in this article.
Editor's Note: This article covers one or more microcap stocks. Please be aware of the risks associated with these stocks.