Several years ago, I argued BlueScope Steel (OTC:BLSFF) (OTCPK:BLSFY) had turned a corner as the outlook for the company improved substantially. A few months later, the company acquired the remaining 50% in a plant it didn't own yet, and I was also very pleasantly surprised by this move. In hindsight, this acquisition was very smart as Bluescope paid US$720M for the 50% stake valuing North Star at US$1.44B. Bluescope paid 7 times the EBITDA of the plant, but the Northstar EBIT (without the DA) has increased fourfold (!) in the past four years, while the EBITDA has more than doubled.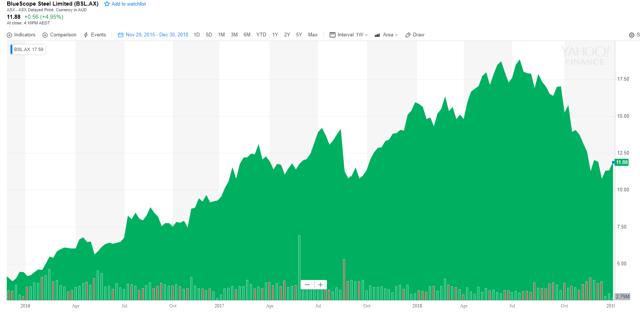 Source: Yahoo Finance
A solid move, and Bluescope's share price has performed very well since my previous article. The stock was up more than 300% before losing some ground, retreating to the current level of A$12/share (which is still approximately 200% higher than where the company's share price was trading at in November 2015). BlueScope Steel is an Australian company and reports its results in AUD which will also be the base currency throughout this article. I would recommend to use the facilities of the ASX to trade in Bluescope, as the average daily volume of 3.5M shares is superior to any of its secondary listings.
BlueScope's EBITDA has almost doubled in two years - with more to come
Bluescope generated a total revenue of A$11.5B in FY 2018 (which traditionally ends on June 30 for Australian companies), which is an increase of approximately 10% compared to the previous financial year. The total amount spent on raw materials and consumables increased by approximately the same percentage, but the total staff-related expenses increased by just 2% to A$1.68B. Additionally, the company spent less on external services and restructuring expenses, and despite spending more on finance expenses, the pre-tax income increased by almost 50% to A$1.38B.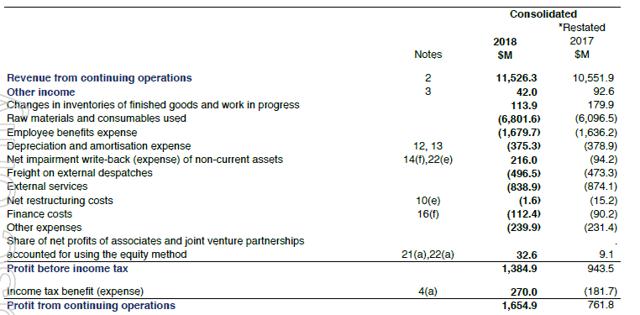 Source: Annual report
Due to a (one-time) tax income benefit of A$270M, the net income came in at A$1.63B, but this isn't a correct basis to compare Bluescope's financial result in FY 2018 with the A$774M in net income in the preceding year. On a more normalized basis and applying a similar average tax rate as in 2017, Bluescope's normalized net income based on the 2018 performance would have been roughly A$1.1-1.15B. Which obviously still is a very respectable result for a company with a current market capitalization of less than A$6.5B.
It's also always nice to see a large part of the net income was converted into free cash flow. The Australian way of accounting complicates things a bit as their definition of "receipts from customers" and "payments to suppliers" doesn't exactly coincide with what other western companies would report as operating cash flow. Fortunately Australian companies also provide more details in the appendices, and that's usually a better way to start running the numbers.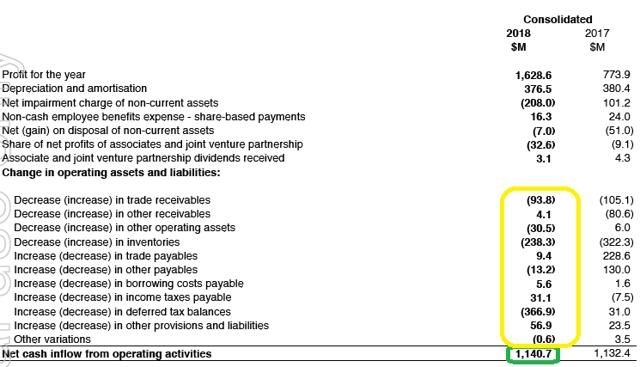 Source: Annual report
So, the A$1.14B reported as difference between receipts and payments already includes a very substantial investment in the working capital position of the company as there was an inventory buildup (related to the increasing revenue, so that's not a surprise) while there's an A$367M change in the tax balance (due to the one-time tax gain). On an adjusted basis, the operating cash flow would be approximately A$1.78B. From this amount, we still need to deduct the interest expenses (A$96M net) and normalized tax payments. Using a more correct A$200M tax payment, the adjusted operating cash flow would come in at approximately A$1.4B, which also takes an A$65M payment to non-controlling interests into account.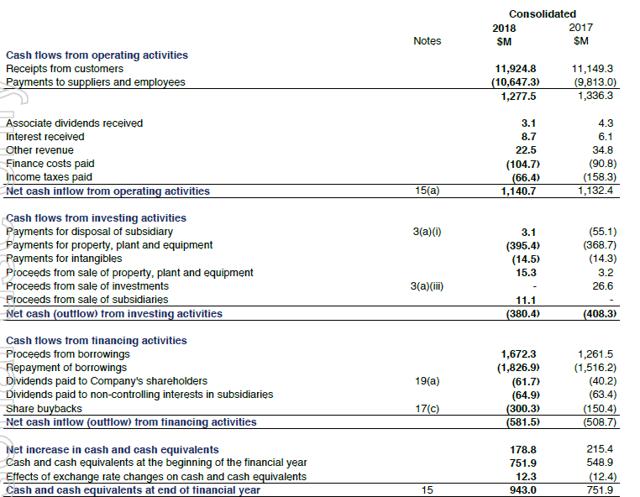 Source: Annual report
After deducting the approximately A$410M spent on capital expenditures, Bluescope's net free cash flow result was almost A$1B on an adjusted basis. A part was spent on the working capital, but Bluescope also paid A$62M in dividends, repurchased A$300M worth of stock and retired in excess of A$150M in net debt while adding almost A$180M to its gross cash position which totaled almost A$1B as of the end of June.
To say Bluescope Steel has "turned a corner" wouldn't do the performance of the company in the past few years any justice.
The company shouldn't be impacted by the global trade wars
One could argue steel companies could be hit hard by the trade wars, but those "wars" are mainly rhetoric between China and the USA and it's not unlikely Australia, as a party that's not involved in the feud, could actually benefit from the issues between China and the U.S.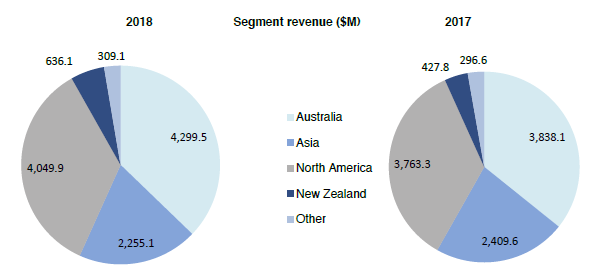 Source: Annual report
Let's also not forget a substantial part of Bluescope's products is sold on the domestic market in Australia and New Zealand (almost 44% of the revenue) while an additional 34% is being sold in North America (very likely the production from the North Star plant in the U.S.). So almost 80% of Bluescope's revenue is generated in its three (semi-) domestic markets. It's generating almost twice as much revenue in North America as it does in Asia, so if anything, Bluescope could actually benefit from the trade war and a potential increase of the demand for U.S. domestic steel instead of Chinese imports.

Source: Company presentation
And now Bluescope Steel is basically printing cash (it was generating almost A$3M per day in free cash flow in FY 2018), it's also looking to expand its operations. In November the company announced it agreed to acquire a Malaysian steel plant for A$42M. The company didn't provide any other financial metrics (like the EBITDA of the plant), but I trust Bluescope's management as its previous acquisitions have definitely added value for the shareholders.
Investment thesis
One could expect additional weakness in the first half of its financial year (July 1- December 31), but back in November, Bluescope announced it's actually expecting its H1 EBIT to increase by 10% to in excess of A$800M as the company sees a strong demand for its products in its major markets (Australia, New Zealand and the USA). So it looks like the recent decrease of Bluescope's share price might be based on just the general sentiment instead of a deteriorating business model.
But let's not get ahead of ourselves. H1 FY 2019 might still be good, but I will definitely be looking forward to a guidance for the second half of the financial year as Bluescope may see a lower demand for its steel. I sold my stock a while ago, but the strong cash flow generation and the company's net cash position (and recently announced additional A$250M buyback program) make me consider going long again, as Bluescope Steel could be a nice addition to a diversified portfolio as it would complement a position in ArcelorMittal (MT).
Consider joining European Small-Cap Ideas to gain exclusive access to actionable research on appealing Europe-focused investment opportunities, and to the real-time chat function to discuss ideas with similar-minded investors!
New at ESCI: A dedicated European REIT Portfolio!
Take advantage of the two-week free trial period and kick the tires!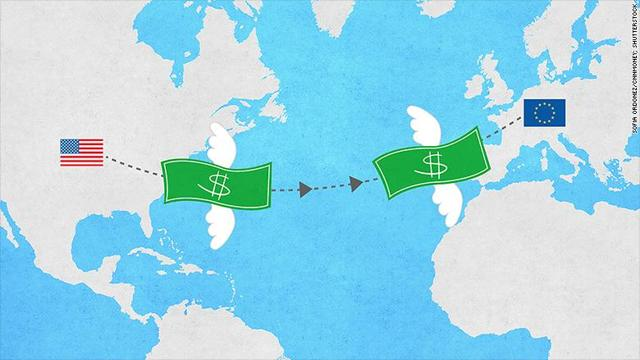 Disclosure: I/we have no positions in any stocks mentioned, and no plans to initiate any positions within the next 72 hours. I wrote this article myself, and it expresses my own opinions. I am not receiving compensation for it (other than from Seeking Alpha). I have no business relationship with any company whose stock is mentioned in this article.
Editor's Note: This article discusses one or more securities that do not trade on a major U.S. exchange. Please be aware of the risks associated with these stocks.