Being purely a dividend investor seems difficult. Fishing in a pond where a lot of people like to fish doesn't improve odds. Well-followed companies rarely become mis-priced. To have an edge one either needs to time purchases perfectly when markets are in chaos, have an information edge, or have a different perspective on the organization where the long-term value is still not priced in.
This is where understanding business moats come in. I mainly focus on moats within my research, which hopefully can provide signals for the long-term outlook of an organization. A reasonable price also is paramount.
A lot of dividend aristocrats have been around a long time. This statement alone does provide a data point. It appears naturally a lot of these organizations have competitive advantages. Some will have better moats than others as technology has drastically changed the landscape today.
For this report I will focus on Lowe's Companies (LOW), A leading player in the US home improvement space where technology doesn't appear to have the ability for disruption just yet.
Brief Business Outlook and Key Announcements
Total Addressable Market: $900 Billion
Customer Mix: 75-80% DIY (1) to 20-25% Pro
Projected Customer Mix: 50% DIY and 50% Pro
Average Ticket Price: $75.47
With TTM revenue of $71 billion, Lowe's is the second largest home improvement retailer. Its scale brings a major competitive advantage of purchasing power, allowing them to be a low-cost operator. In addition, they operate a supply chain that will be receiving major investments in the coming years.
Supply chains are ripe for disruption as technology has enabled smaller players to compete in the retail space. Home improvement items are a different story as many products are large and heavy. Therefore, not easily shipped through an online channel creating inherently limited Internet-related risk compared to other retailers.
The organization recently hired a new CEO - Marvin Ellison. Ellison was a 12-year veteran at Home Depot (HD) before becoming CEO of J.C. Penney (JCP). He took control of JCP in a very difficult time where online marketplaces were starting to capture market share quickly from big box retail stores. He changed to his new position in July 2018 and has big plans for the coming years. He's already started to clean house by bringing in a fresh leadership team with a strong retail pedigree. They're trying to move fast to steer the ship as it has been lagging Home Depot for some time now. Large investments will be made in technology to streamline inventory control and labor management. Capex is projected to increase by $400 million when comparing 2019 to 2018. As such, putting pressure on free cash flow near term. Long-term target operating margins now sit at 12% with the strategic initiatives in mind.
The board also announced a new stock repurchase program of $10 billion with no expiration date.
Moat
Operating in a fragmented industry allows scale and a company-owned distribution network is a major competitive advantage. In addition, new management wants to enhance the distribution network which should correlate to improving working capital metrics. Management wants to expand bulk distribution networks from 11 to 20, have 90 dock delivery terminals over the long-term from 5, and add one direct fulfillment center.
Scale brings bargaining power when it comes to rent, advertisement and products. All advantages against small regional retailers and mom and pop shops. With limited Internet disruption risk, it pays to be large.
Intangible assets such as brand awareness play another important barrier. With home improvement projects Lowe's and Home Depot are typically the first stop for the consumer. Leveraging its brand through customer service, project knowledge, and prime real estate locations enables a better overall experience for the customer.
Customer Service
Helps the consumer identify exactly what the customer needs. Hard to do online.
Tips on install and difficult remodel projects.
Installation services where searching for a contractor is not needed.
Convenience
2,133 stores.
One-stop shopping.
Large SKU base for all products needed for the job.
Valuation
Exhibit 1: Key Financial Data

Source: Company Reports, Rocket Financial
Note: As part of the strategic assessment management closed 20 U.S. stores and 31 locations in Canada. In addition, company approved the closing of all Orchard stores and recorded a $230 million pre-tax charge (impairment).
To put things into perspective and how big of a potential runway there is - Home Depot generates $504 per square foot. That is 52% higher when compared to Lowe's. The old management team was asleep at the wheel in my opinion. They didn't focus on long-term internal investments. In years past, tons of cash went to buybacks, which is great, until your main peer significantly utilizes roughly the same footprint/assets in a much more efficient manner.
Exhibit 2: Quick Comparison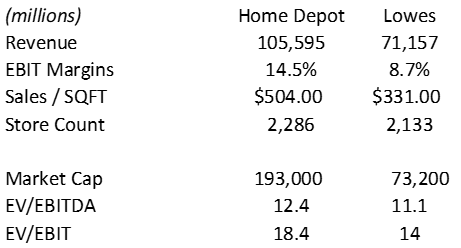 Source: Company Reports, Rocket Financial
With only one turn lower from EV/EBITDA multiple, the valuation doesn't appear discounted enough against a peer that shows operational superiority. Managements 2019 guidance shows $6.5 billion in operating cash flow and $1.6 billion in capex, equating to $4.9 billion in free cash flow. Dividing that against the $86 billion enterprise value provides a cash flow yield of 5.7%. With a lot of execution risk in the coming years the cash flow is still not attractive enough. I would be more interested in the business if shares were trading in the $60-$70 range as the yield would equate to an 8% yield.
Final Thoughts
The business has major competitive advantages that haven't been executed to their fullest potential. This is easily seen when comparing Lowe's to Home Depot - higher margins, larger revenue base with very similar store count, and much higher sales per square foot. Management is in the process of closing this gap, but we are at the early innings of this transformation. Valuation needs to come down some to factor in risks. As the business still has a long runway ahead of them, this is a business that generates $71 billion a year in revenue, making it difficult to move the needle quickly. In addition, both LOW and HD operate in one of the hearts of the economy which is real estate. Any slowdown in the economy or housing markets will trickle down to major home improvement retailers. Having a wide moat is good but having a management team that can harvest above average economic profits from the moat is necessary. The old management team didn't execute, and it's t0o early to tell how the turnaround will play out.
Members of the Wide-Moat Investing Platform receive several benefits:
Access to our Wide-Moat watch list.
In-depth research on durable businesses with long-term compounding attributes.
Access to a mock portfolio of our top holdings.
First 25 subscribers this month receive legacy pricing of $280 annually.
Before committing to the service on a long-term basis, take advantage of the two-week free trial.
Disclosure: I/we have no positions in any stocks mentioned, and no plans to initiate any positions within the next 72 hours. I wrote this article myself, and it expresses my own opinions. I am not receiving compensation for it (other than from Seeking Alpha). I have no business relationship with any company whose stock is mentioned in this article.
Additional disclosure: The information contained on this article is not and should not be construed as investment advice, and does not purport to be and does not express any opinion as to the price at which the securities of any company may trade at any time. The information and opinions provided herein should not be taken as specific advice on the merits of any investment decision. Investors should make their own decisions regarding the prospects of any company discussed herein based on such investors' own review of publicly available information and should not rely on the information contained herein. The information contained in this article has been prepared based on publicly available information and proprietary research. The author does not guarantee the accuracy or completeness of the information provided in this document. All statements and expressions herein are the sole opinion of the author and are subject to change without notice.