AB Inbev cut its dividend, what's next?
My previous article concerning Anheuser-Busch Inbev (BUD) made quite a dent in the investment community here on Seeking Alpha.
Many thought I was short on the stock and that I was therefore clickbaiting or spreading a negative article on purpose. But none of that was true. As an independent writer I believed AB Inbev might cut its dividend in halve because it would make perfect sense for managers and long term investors to first pay of debt and then focus on dividends. Keeping the business viable is way more important than fat dividends that will ultimately ruin the company.
A few weeks after my article "Anheuser-Busch Will Cut Its Dividend" got published, the company did just that. It halved its dividend from 3.6 euro to 1.8 euro.
At this time I can tell you that I'm long AB Inbev. I have a moderate position with an average buy-in price of 66.93 euro.
I might add more shares in the future, at least, if AB Inbev doesn't rally from here (which I find very plausible).
This article is a simple follow-up article. I'll take a look at AB Inbev's operational performance and other things that might be interesting for investors.
Strong operational figures
Since the announcement of the dividend cut, AB Inbev's share price hasn't performed well. The stock lost about 20% of its value before bouncing back up a little, making the total loss -16%.
The decline was not unexpected as the market had to account for the lower dividend yield due to the dividend cut. On top of this, market sentiment has been bad all across the board.
Nevertheless, underlying operating performance continues to be satisfactory. Here are some highlights from the Q3 2018 results:
Revenue grew by 4.5% during the quarter.
BUD's most importants brands (Stella, Budweiser and Corona) saw their revenues grow with 7.7% globally.
EBITDA grew by 7.5% in Q3 2018 with margin expansion of 116 bps to 40.3%.
229 million USD of synergies delivered from the SABMiller takeover.
But why then did BUD's net profit fell from 2.58 billion USD in Q3 2017 to 1.61 billion USD in Q3 2018 (-37% y-o-y)? Well, the company booked some hedging losses compared to hedging gains in 2017. Plus its normalized effective tax rate increased from 16.7% to 25.3%. Excluding the hedging, net profit would have been 2.23 billion USD compared to 2.34 billion USD in Q3 2017 (-4.7% y-o-y). Overall, a decent performance.
Brazil catalyst
Important to know is that after more than 12 years of left-wing rule, Bolsonaro is now the President of Brazil and that he has immediately taken action to revamp Latin America's largest economy. He has put in place well-known investors like Paulo Guedes and former Treasury secretary and World Bank economist Joaquim Levy in key positions. Paulo Guedes currently serves as the Minister of the Economy and Levy will run the largest development bank in the Americas. Market liberalization and pension reform has become priority number one for this administration. If Bolsonaro succeeds, it might boost the economy and consumer confidence.
Since august the Brazilian Real has already gained 13% in value compared to the USD.
During Q3 of 2018, BUD was already able to grow its revenue and EBITDA in Brazil by 2.1% and 13.8% respectively due to higher prices and margin expansion of 446 bps to 43.6%. What will happen when the economic situation improves?

Source: investor presentation AB Inbev
Massive insider buying gives extra confidence
I'm not the only one that has been buying shares of Inbev on the way down. Insiders are doing the same. Only, they are buying more than 70 shares.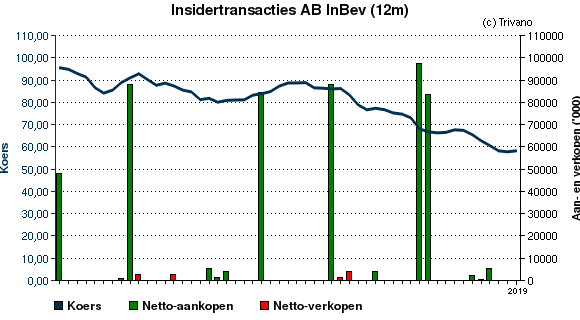 (the green bars are the buys from insiders, source: Trivano)
The past 12 months there have been 25 buy-transactions made by insiders. In total they bought for 515 million euro (almost 0.6 billion USD). Good for 6.6 million shares. There have been a few sell orders, but they have been very small compared to the size of the buy orders. The overall consensus of insiders is that this is a stock you have to own.
Conclusion
AB Inbev has lowered its dividend, which is good. It will allow them to pay of debt more quickly (4 billion extra per year). As I mentioned in my previous article, by 2022 a net debt target of 84 billion USD is realistic. This will cause finance costs to drop and keep its credit rating high. The current dividend yield of the stock is around 3% (1.8 EUR dividend by a share price of 60 EUR). Which is fair. Therefore I believe most negative news concerning the dividend has been priced in. AB Inbev continuous to be an interesting long-term play on the rising world population and the growing consumption of alcoholic beverages in emerging markets. Underlying performance continues to be strong (with margin expansion) while insiders continue to put their fortunes in this easy-to-understand stock with (in my opinion) great fundamentals. Once Inbev's debt has been considerably lowered towards a decent net debt/EBITDA ratio below 3,5x, I believe dividend payout will be raised substantially and thus buyers at current levels will be rewarded handsomely in the form of dividend increases if they remain patient. Extra bonus: Brazil might be an extra catalyst for the stock.
Note: a global economic meltdown might change this thesis. Always do your own due diligence. Always think about position sizing and never put all your eggs in one basket. Don't own this stock if you want to become rich in 2 years. This is a buy-and-hold play for the next 10 years.
Disclosure: I am/we are long BUD. I wrote this article myself, and it expresses my own opinions. I am not receiving compensation for it (other than from Seeking Alpha). I have no business relationship with any company whose stock is mentioned in this article.