One of the Few Times the Rear-View Mirror is More Important than Guidance
While there is intense focus on the low-balled guidance Amarin (AMRN) released last Friday (2019 sales target of only $350m versus consensus estimates of $417m), the Q4 2018 revenue number grabbed my attention the most: sales grew by 38% YoY, despite not having many extra sales reps or raising prices. The robust results of the Reduce-It trial must have had a huge impact on doctors already prescribing Vascepa, as Amarin estimated that Q4 sales were mostly driven by existing doctors prescribing Vascepa to more patients.
Here are some other important tidbits regarding Amarin's Q4 results:
According to IMS Health data, Vascepa prescriptions during Q4 2018 rose by 23% YoY to 408,243 in total, but new prescriptions jumped by 35% YoY to 173,393. Compared to Q3 of 2018, after Reduce-It top-line results were announced, total prescriptions were up 13% QoQ and new prescriptions were up by 20% QoQ.
The quarter-on-quarter revenue growth in Q4 2018 was also quite high at 34% versus Q3, which is significantly higher than only 14% QoQ growth recorded in Q4 of 2017. So the Q4 2018 QoQ spike was not seasonal. It was demand for Vascepa growing.
All of this was achieved without the army of new sales representatives that Amarin hired during Q4 (the sales force has grown from 150 to 400 now).
The strong revenue growth was also reached with only having promoted Vascepa to half of the 50,000 doctors targeted by Amarin. According to Amarin's CEO, John Thero, while these 50,000 physicians represent half of overall prescriptions for CVD drugs (see details in this transcript from John Thero's interview with Citigroup's Joel Beatty here). The other 25,000 targeted doctors are to be called during Q1, according to Amarin.
Accounts receivables in Q4 2018 spiked by 51% QoQ to $72m, close to the Q4 revenues of $74m. If these receivables translate into sales, Q1 2019 revenue growth could be over 64% YoY.
Having raised $200m in a November stock offering, Amarin went from net debt of $32m in Q3 to Q4 net cash of $249m, which is what I expect to become a growing war chest of cash at Amarin, as it begins to print cash like most successful pharma companies in 2019.
Chart-1: Amarin's Quarterly Revenues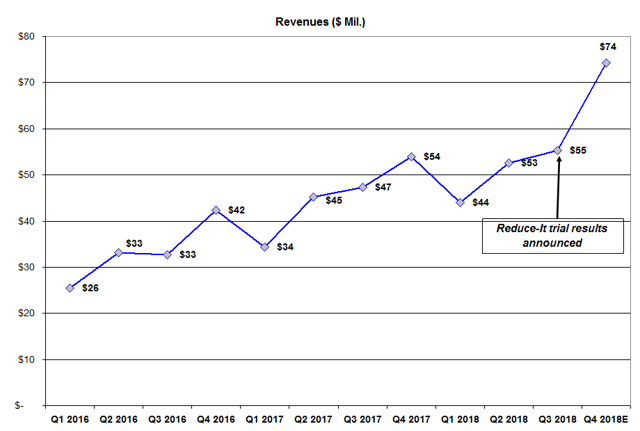 Source: Amarin
Chart-2: Number of New Weekly Prescriptions For Vascepa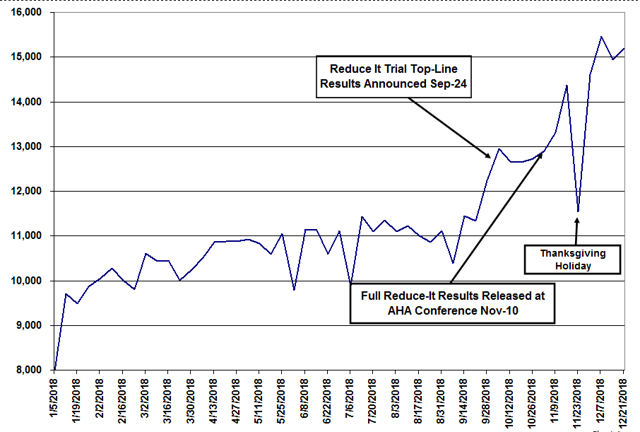 Source: IMS Health
Dissecting Amarin's 2019 Low-Ball Revenue Guidance of $350m
Amarin's 2019 guidance of only $350m is highly conservative and the details in Amarin's release last Friday has various signs that they're purposely being conservative. Here are the main points about why $350m is probably too low.
$350m in revenues implies $0.88m in sales per sales representative, as Amarin now has a sales force of 400 sales reps. 2018 revenues of $226m were achieved with only 150 sales reps, or $1.5m/sales rep. While the extra 250 new sales reps might need some time to start generating prescriptions, a 42% drop in revenues per sales rep is highly conservative (see Table-1 below).
Amarin's 2018 revenues came to around $226m on the back of roughly 1.44m prescriptions, which implies roughly $156/prescription in Vascepa shipments. Dividing Amarin's 2019 revenue target of $350m by the $156 price/prescription implies Amarin is looking for 2.2m prescriptions in 2019, which would be up 56% YoY. However, on a "prescription-per-sales-rep" basis, this assumes each of Amarin's sales reps generates only 5,608 prescriptions versus the 2018 result of 9,600 prescriptions per sales rep (see Table-1 below).
Amarin also says that it is increasing its inventory purchases (fish-oil EPA) by $50m to $75m over 2018 levels. This implies that 2018's cost of goods sold (COGS) of $55m (my estimate) is set to more than double in 2019. If there's one thing that every CEO of a listed company hates, it's inventory. So why double it when your revenue estimate calls for sales to only grow 55% YoY?
While boasting about how 90% of the 250 newly hired sales reps are fully trained and ready to sell Vascepa (the remaining 10% are said to finish training in the next two weeks), Amarin explains its 2019 revenue assumption of only $350m by saying that the new sales reps may need to make 5 to 7 calls to doctors before "changing behavior patterns" among doctors, i.e. getting new Vascepa prescriptions from uncultivated physicians.
Amarin says that this is based on "data from promotion of other products by other companies". This, too, is conservative, as "other products by other companies" don't have the revolutionary clinical trial data backing them up like Vascepa does.
Table-1: Amarin's 2019 Sales Assumptions - Low-Ball or Not Low-Ball?

Source: Amarin, IMS Health, & Motorhead estimates; Note: Revenues/Prescription assumes no change in price/prescription in 2019
Amarin intends to purchase inventory during 2019 at a rate which could support at least twice the 2019 net total revenue guidance described above. Such purchases do not change Amarin's revenue guidance. Rather, they prepare Amarin for a situation in which actual revenue turns out to be significantly higher than the guidance described above. (Amarin, January 4, 2019)
Motorhead's 2019 Forecasts - Revenues of $500m & EPS of $0.31
While FDA approval for Vascepa label expansion will be a key determinant of 2019 sales (see more on this below), Motorhead's 2019 forecast for $503m in revenues is broken down as follows:
150 Veteran Sales Reps Generate 20% higher Prescriptions: While it might take the 250 new sales reps sometime before they generate the roughly 9,600 scrips/sales rep that Amarin's veteran team of 150 did in 2018, we assume that the veterans grow their prescriptions by 20% per sales rep, or 11,250/sales rep, in 2019. This might sound overly bullish, but keep in mind that prescriptions in Q4 grew by 22% YoY post-Reduce-It trial results, with new prescriptions surging by 32% YoY. With an average shipment price/prescription assumption of $160 (+2% over 2018's full-year average of $156), this comes to 150 sales reps x 11,520 prescriptions x $160 = $276m in revenues.
250 New Sales Reps Generate Half the Prescriptions of Veterans: While I believe that the Reduce-It trial results are the main sales driver of Vascepa (boosted by the New England Journal of Medicine's ranking Reduce-It as the "best story of 2018"), I assume conservatively that the team of 250 new sales reps only generate half of what the veteran team of 150 generated in 2018, which was 9,600 per sales rep. Under this assumption, I get 250 new sales reps x 4,800 prescriptions x $160 = $192m.
UAE & Lebanon Contribute $34m: Many have probably ignored the fact that Amarin received approval to sell Vascepa in the UAE and Lebanon last year. According to sources, we found online (here, here, & here) the UAE has 350,000 patients with heart disease and 1.6m diabetics, while Lebanon has 804,000 patients with heart disease and 763,000 diabetics. Because of the diet and higher number of smokers in these countries, CVD is much more prevalent than the US. Assuming that Amarin penetrates 10% of the patient population in both countries, with a 40% lower sales price of Vascepa - there inevitably will be revenue sharing with its local partner, Biologix - this should come to $34m in international revenues.
2019 Profit Assumptions - EPS Should be $0.31 vs. Consensus of -$0.17
There are huge moving parts in both COGS and SG&A at Amarin this year. As mentioned above, Amarin stated in its earnings release that it would increase inventory by $50m to $75m in 2019, so I'm using the mid-point of $62.5m over my estimates of $55m in 2018 COGS. This comes to a total of $117m, which if subtracted from my $503m revenues estimate, leads to gross profit of $386m or a gross margin of 76.7%, slightly higher than my estimated gross margin of 75.7% in 2018.
Gross Margins Should Reach 80% Once Sales Break Above $1bn
Amarin states that it is buying enough inventory (fish-oil EPA) to sustain at least twice the levels of sales guidance (see details here) and we see this as a true sign of bullishness on John Thero's part (why buy two times the ingredients you need if you're not planning to sell that much?).
When I last spoke with John Thero, he mentioned that longer term, gross margins should reach 80% as economies of scale kick in with higher Vascepa sales. This makes sense when considering that Nippon Suisan (1332 JP) is slated to enter the supply chain once Vascepa sales reach $1bn (currently, Amarin has only 3 EPA suppliers who can procure enough EPA for $1bn worth of Vascepa sales). I expect this to cause some fierce competition among Amarin's EPA suppliers, as Nippon Suisan catches its own anchovies (which have higher EPA levels) due to its roots as a fish wholesaler, and this provides a huge cost advantage relative to Amarin's current suppliers who don't catch their own fish. So gross margins should be slightly up this year, but reach 80% once Vascepa sales break above $1bn.
SG&A Should Grow by Nearly $40m in 2019, but Much Lower Burden
As of December, John Thero was saying that Amarin planned to switch its R&D spending of roughly $50m/year to nearly zero as he wanted to shift the expenses to bolster the marketing of Vascepa. This makes perfect sense. However, in last Friday's release, it now seems that R&D will stay roughly flat with 2018 levels (I estimate around $54m in 2018 R&D), while $40m in partnership expenses drop out (marketing contract with Kowa in the US expired at the end of December), but higher marketing costs kick in at roughly $25m to $50m over last year. I use the mid-point once again, so see a $37.5m increase in G&A, while R&D drops slightly from $54m to $50m. Overall, I get total SG&A hitting $240m, which should amount to 47.7% of 2019 sales, down from 113.3% of sales in 2018. This should generate an operating profit of $96m.
Net Interest Income is a Small Positive & Probably No Tax Bill in 2019; Balance Sheet Becomes Stronger
Given that Amarin now has net cash on its balance sheet, there should be a slight boost to operating profit at the non-operating income level of around $4m. This brings us to a pre-tax profit of $100m. While I never asked Amarin about this, I expect them to most likely use tax-loss carryforwards to cancel out their tax bill in 2019, so my net income forecast is also $100m under a zero tax-rate assumption. This makes for an EPS of $0.31, which yields a PER of 43x un-adjusted or 71x on a normalized (Dublin) tax rate of 12.5%. The lack of tax burden this year should further bolster Amarin's financial position, with an estimated net cash/equity ratio of 1.62x (net cash of $399m and equity of $247m).
Label Expansion Should be Fast-Tracked
The biggest event for Amarin this year is acquiring favorable FDA approval for Vascepa's label expansion. This should allow Amarin to market Vascepa to patients with triglyceride levels of over 200 mg/dL, versus the current label which allows marketing Vascepa only to patients with over 500 mg/dL in triglyceride levels.
An expanded label would open up the addressable market by multiples for Vascepa. At last November's American Heart Association (AHA) conference, Reduce-It Lead Doctor, Deepak Bhatt, noted that 65% of the attending doctors at the conference don't prescribe triglyceride-lowering medication to patients in between the 200 mg/dL to 500 mg/dL range. According to the Mayo Clinic, anything over 199 mg/dL in triglyceride levels is considered "high" risk (here). As is well known, Vascepa only has a 4% exposure to patients with elevated triglyceride levels and CVD risks who take lipid-modifying treatments beyond LDL-C therapies. The other 96% of the market presents a huge opportunity for Vascepa if label expansion is approved. Amarin is scheduled to file for label expansion with the FDA some time by Q1-end.
My gut feeling is that they get fast-track treatment at the FDA, given the robust results of the Reduce-It trial, which means 5 to 6 months versus the normal 10-month time frame for sNDA filings. And the fact that R&D levels are set to remain roughly the same as last year's levels means that Amarin is putting a big effort into getting a proper filing completed by Q1-end. The stock should pop when filing is announced and then tread water for a while. If the FDA grants a favorable label expansion, Amarin's stock is off to the races again. Assuming Amarin files in March and the FDA fast-tracks it, we could see label expansion as early as August or September.
Fish-Oil EPA Still Met With Skepticism in the US; Japan is the Pioneer
Whether it was because of the realization that omega-3 supplements had low EPA levels and high DHA (bad cholesterol) levels, or because Lovaza had such weak efficacy, omega-3 treatments are still met with skepticism in the US. This is not so in countries like Italy and Japan, according to Decision Resources Group (DRG), a pharmaceutical consulting firm I've met with. According to DRG, the patient share of Epadel in Japan (made by Mochida Pharmaceutical, with whom Amarin has an R&D alliance) is over 2x that of Lovaza's. But in the US, DRG estimates that Lovaza had 5.9x higher patient share than Vascepa did in 2017.
Mochida Pharma brought Epadel to the Japanese market in 1990 and, according to DRG data, the number of patients treated for high triglyceride levels in Japan is actually higher than the US in some categories. This explains the roll-out of the Vascepa-type drug in Japan over 28 years ago. When I met with Mochida last month, they were very tight-lipped about what exactly their alliance with Amarin will entail but did mention that they would be selling Amarin a compound that allows for quicker absorption of EPA in the bloodstream (Mochida already received a $2.5m milestone payment from Amarin for this in 2018).
Peak Sales Estimates on the Street Don't Factor in Europe & China
It appears like many analysts have a Vascepa peak sales estimate of around $3bn to $5bn these days. Motorhead had the pleasure of seeing the earnings model of one of the Amarin analysts on Wall Street recently. This analyst admits to being conservative and pegged peak sales at $3bn, but had very low penetration assumptions not only in the US, but even more so in Europe (nothing in the Middle East, despite Vascepa being approved in UAE and Lebanon, and nothing in China, despite the higher CVD death rate there).
US Sales Could Be Over $4bn
Given Amarin's estimate of 50m to 70m patients in the US with high triglyceride (TG) levels, one can assume around $1.9bn to $3.8bn in peak sales there depending on whether there's 20% to 40% penetration of the roughly 60m patients with high TGs. Lipitor had over a 40% share of the patient population and maintained a market share over 35% even after generics came to the market. I feel fine with a 40% patient penetration assumption for Vascepa in the US, as the actual number could be higher when diabetics and pre-diabetics are included. In Japan, anyone can take Epadel (Mochida's version of Vascepa), as it is a safe drug. Even John Thero takes Vascepa, just to be safe.
Europe & China Have a Greater Need for Vascepa - Sales Could be Over $6bn
But the mortality rate from cardiovascular diseases (CVD) in Europe is actually much higher than the US (37% of all deaths, according to Nature magazine, versus 31% in the US, according to the ACC). China, where Amarin is partnered with Eddingpharm Group, appears to have the highest mortality rate among major countries from CVD, at 45% of all deaths, according to the World Heart Federation.
The number of patients with coronary heart disease in Europe is around 32m, according to the European Heart Network, while the number of diabetics is huge at 66m, according to EM Consulte. Assuming a 30% penetration of Vascepa in both patient segments, there are roughly 30m potential Vascepa users in Europe. Since the socialized medical system, there will probably reduce Vascepa's price by 1/3 (as I've been advised by DRG), Amarin could still see peak sales of around $3bn in Europe alone.
Then there's China. Mochida tells me that they count around 97m patients with high TG levels in China, which sounds low given its large overall population of 1.4bn people. The World Health Organization's estimate of 230m CVD patients sounds more realistic (here). Given China's high mortality rate from CVD, one should expect a strong reception for Vascepa in China (but China is complex, so no one really has the guts to put this in their earnings model).
Motorhead looked up Amarin's China partner, Eddingpharm Group, and it turns out they began work on filing for Vascepa approval in China in January 2017 (here). While it will probably take at least two years to see what's happening with the authorities there (according to my contacts at Mochida), I don't see why Vascepa can't capture a 20% share of the Chinese CVD market four or five years from now. This would amount to roughly 46m patients, and if one assumes a 50/50 split in revenues with Eddingpharm Group, one gets around $3.7bn in sales there (42m patients x $80).
So with the US at around $4bn, Europe at $3bn, and China at $3.7bn, it's not out of the question to see around $10.7bn in sales 4 to 5 years down the road.
Valuations Are Too Cheap for Big Pharma to Ignore
Based on consensus estimates, Amarin is now trading at 7x 2022 EPS estimates versus the average 12x multiple among big pharma stocks in the CVD space. Assuming successful penetration by Vascepa in the US, Europe, and China, sales could be around $10bn by 2022 or 2023.
Since there won't be much R&D spending, I expect Amarin to generate much higher operating margins than the normal Big Pharma firms. At $10 billion in revenues, Amarin should see $4.8bn in operating profit (47.5% operating margin versus Big Pharma's average of 32% in 2022). The EPS would come to $11 and net cash should balloon to $3.8bn. This would yield a 2022 PER of 1.2x and an EV/EBITDA of 0.1x. No matter how you cut it, Amarin would be a highly accretive acquisition for Big Pharma.
Disclosure: I am/we are long AMRN. I wrote this article myself, and it expresses my own opinions. I am not receiving compensation for it (other than from Seeking Alpha). I have no business relationship with any company whose stock is mentioned in this article.