Sometimes, Mr. Market gets so convinced that the future is bleak that the really great names in industry go on sale. Halliburton (HAL) is one of those key oil and gas industry names that are now in the bargain bin.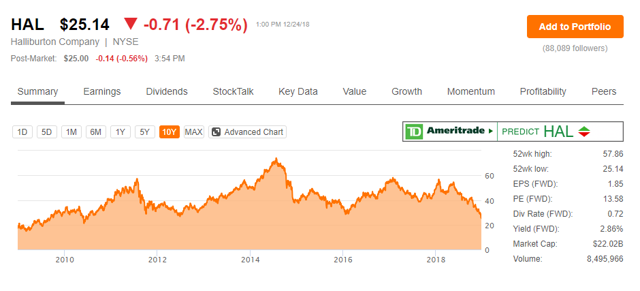 Source: Seeking Alpha Website December 24, 2018
The stock of this industry leading company is now heading towards prices not seen since the end of the last decade. "Buy straw hats in January" applies here. When the market is "sure" that the future looks grim enough to send the stock of a company of this stature to new lows, that is one the investor needs to step up to the plate and buy.
Contrarian investing is never easy. That is especially true in this day and age when many authority figures are broadcasting to "run for the exits". You do not necessarily have to buy this minute. The current market atmosphere is unlikely to abate quite that quickly. But it is time to read the annual report and all the filings as well as plan an appropriate investment strategy.
My late uncle who recently passed away was an Exxon Mobil Corporation (XOM) executive who used to tell me to buy Halliburton when the stock price is $8. I sincerely hope it does not come to that this time around. But, over the years, he got away with that strategy far more times than I thought anyone had a right to. It was patience in the extreme that came off successfully. Of course, he had a list of other once-in-a-lifetime buys and would just wait for them. That patient strategy enabled him to pass along a decent estate to his only son and two granddaughters. This time, I think and hope the stock stops long before we get to $8.
There is a couple of reasons to begin a dollar cost averaging investment soon. First, the oil and gas market is really not all that much out of balance. So, any oil price downturn should end relatively quickly. Despite all the headlines, the market does not yet appear to be swimming in oil.
Second, the market usually fears a downturn far more than it happens. Louis Rukeyser of "Wall Street Week" fame used to state that the market "correctly predicted 11 of the last 7 recessions". The currently strong economy appears to belie a recession on the way. That could always change of course. But right now, there appears to be no slowdown in sight.
That leads to the obvious conclusion that as long as the economy is doing ok, then oil and gas demand should continue to grow. If the supply of oil gets a little ahead of demand, then short-term price weakness should fix that problem effortlessly.
Halliburton reported $.50 per share earnings in the third quarter. Mr. Market is probably overly worried that the earnings were down from $.58 per share in the second quarter. Then, there is the headlines proclaiming lower capital budgets across the industry leading to less drilling and weaker supplier pricing. These weak periods have happened before and will undoubtedly happen again in the future.
The worst time was probably a few years back when oil prices literally crashed and the beginning of 2016 looked absolutely horrible for the industry. Even then, it was not long before prices firmed and began to rally. That has led to some of the strongest oil pricing earlier this year. These last three years have not been the greatest for the service industry. But that is no reason to lose faith in the future. This company has survived many industry shakeouts. So, one more really does not matter that much.
This company is well-entrenched in the industry. Along with Schlumberger (SLB), Halliburton is "go-to company" and in many ways like a Walmart (WMT) superstore for the oil and gas industry. During times of industry uncertainty, the flight to quality in the industry will benefit companies like Halliburton and Schlumberger. Less well-established and smaller names will suffer far more. Companies want a service company that will not "go under" during the downturn. It is very hard for a buyer to go wrong with the top two names in the service industry.
Earnings were hurt both in 2017 and 2018 by the writedown and then writeoff of Venezuela assets. Otherwise, earnings for the fiscal year would have been better by $265 million pretax. It is too soon to yet tell just what the future holds. But an earnings of nearly $2 per share before the writeoff of Venezuela assets appears to be a reasonable rough approximation. Therefore, the stock is now approaching about 13 times those projected earnings.
Oil prices should definitely rally by the second half of 2019. Most likely, they will rally long before then. Even so, by that time, Mr. Market will have a far more sanguine view of this company's future.
The company reported about $6 billion in working capital at the end of the third quarter. The $10 billion of debt slightly exceeds shareholders' equity. Cash flow from operating activities topped $2.3 billion at the nine-month period. That appears to indicate an annual cash flow in excess of $3 billion.
While at first glance the cash flow appears to be a little low compared to the debt, the $5.5 billion of accounts receivable provides quite a cushion during a downturn. Most likely, working capital needs would decrease during a downturn. That accounts receivable balance and the $2 billion cash balance provide a ready source of liquidity to rapidly pay off debt during an industry downturn. The pressure would be on management to sufficiently manage the downturn to realize that cash. However, this management has been through more than one industry cycle. The odds heavily favor an appropriate strategy of layoffs and cost-cutting during an industry downcycle.
Conclusion
Halliburton needs no introduction to the industry. This premier player is a "go-to" company during a downturn. The finances appear to be adequate with plenty of liquidity before considering bank lines of credit. Oftentimes, this company acquires competitors during downturns as part of a cheap expansion policy. So, it would not be unreasonable for a few acquisitions to be made during the next industry downturn. This company is typically a beneficiary of industry consolidations. It is usually not a victim. This next downturn will not be any different.
What is different this time is the lack of faith Mr. Market has in the future of the company. That has led to some very low stock prices lately. The stock is now getting into low territory not seen in several years. Investors can expect this management to continue growing the company through good and bad industry times. The management acumen of this company is well documented.
By all means, investors should do their due diligence and consider this investment. Oftentimes, premier companies such as this one provide as good a return during industry recoveries as the far more speculative plays in the industry. The risk of investing in a company like Halliburton is much lower for that great recovery investment return.
Disclaimer: I am not an investment advisor, and this article is not meant to be a recommendation of the purchase or sale of stock. Investors are advised to review all company documents and press releases to see if the company fits their own investment qualifications.
I analyze oil and gas companies and related companies such as Halliburton in my service, Oil & Gas Value Research, where I look for undervalued names in the oil and gas space. I break down everything you need to know about these companies - the balance sheet, competitive position and development prospects. This article is an example of what I do. But for Oil & Gas Value Research members, they get it first and they get analysis on some companies that is not published on the free site. Interested? Sign up here for a free two-week trial.
Disclosure: I/we have no positions in any stocks mentioned, and no plans to initiate any positions within the next 72 hours. I wrote this article myself, and it expresses my own opinions. I am not receiving compensation for it (other than from Seeking Alpha). I have no business relationship with any company whose stock is mentioned in this article.