Investment Thesis
Apple's (AAPL) weaker-than-expected iPhone sales have taken the market by storm as its market cap continues to plummet after recently reaching a total valuation of $1 Trillion. AAPL's decline in share price has spread like wildfire throughout the tech industry and appears to be negatively impacting the share price of its suppliers and competitors.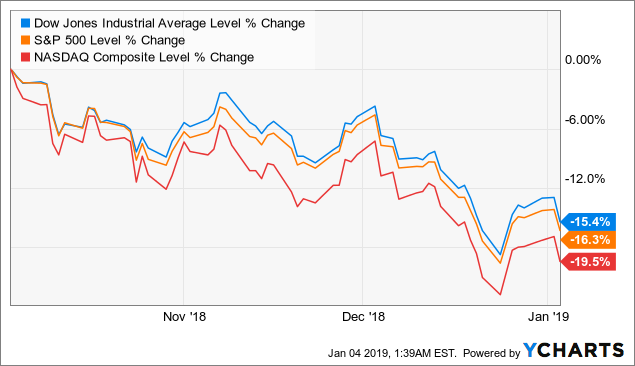 Here is how a few of AAPL's suppliers have fared over the last few months.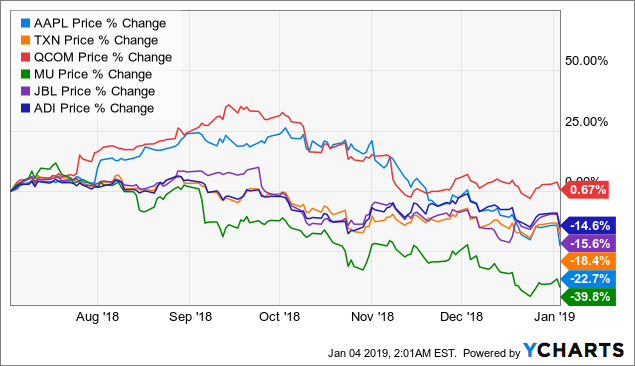 I refer to the impact on these companies as the Apple Effect since many of these suppliers derive a significant amount of business by providing components used in the iPhone, iWatch, and other AAPL products. Due to the fact that AAPL products are often considered superior to many of the brands, it would seem fair that we assume that their business model is safer because of the die-hard following and acclaim that it has built over the years.
So, what does the Apple Effect have to do with John and Jane's Taxable portfolio? It is a reminder that even the safest companies can have weak points (if you look hard enough). Additionally, when assessing risk in your portfolio, it is important to consider any relationships between stocks because of the impact of too many companies tied to another can present a serious risk for your portfolio. For John and Jane, the only stock with this type of exposure to AAPL is Texas Instruments (TXN). Because my clients' TXN position is relatively small, I feel mostly unconcerned about its long-term prospects.
Background
This article marks the final month needed to complete 2018. This article represents the 14th article I have written as a way to help track my clients' Taxable account. For those unfamiliar with the series, John and Jane are two real people who I have decided to help manage their retirement portfolios. John is already retired and collecting social security along with other benefits while Jane is still working with aspirations of retiring in the next few years. Because of these retirees' current life goals, we are focusing on creating a portfolio of stocks that will provide a steady stream of growing dividend income that will supplement their income during retirement.
By doing this, it is our intent that John and Jane will never need to sell any shares from their Taxable portfolio (unless they want to) because the income generated will prevent them from needing to sell shares as a means of "funding their retirement."
This article is based on an actual portfolio for clients of mine. The goal is to build a portfolio of dividend-paying stocks, bonds, etc., that will continue to produce a growing and long-lasting income stream and simultaneously preserve capital. Capital appreciation is the least important characteristic of this portfolio. It is important that you do your own research when creating a portfolio that meets your needs!
Fixed Income
In my last update, I mentioned that John and Jane had recently received a large sum of money from a prior investment. These funds were allocated between CDs, Schwab Value Advantage Money Fund (SWVXX), and cash. The goal with this approach is to maintain a large amount of relatively liquid assets (I prefer to use no instruments that are no longer than 6 months). Although these funds aren't earning a tremendous amount of interest, they are still earning significantly more than the base rate paid on cash. In using these short-term instruments, we are able to help John and Jane earn as much interest as possible while effectively avoiding practically all capital risk. These funds will remain invested in these types of instruments until the appropriate deals become available.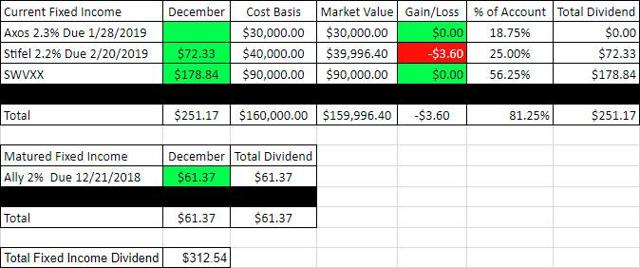 Fixed Income Tracker - December
In total, interest from fixed income provided John and Jane with an additional $312.54 in the month of December.
November Synopsis
The Taxable portfolio is represented by the following characteristics from January 1st, 2018 through the end of November 2018:
Collected $10,743.56 of recurring dividends/distributions.
Collected $727.14 of non-recurring dividends/distributions.
At the end of November, John and Jane have collected a total of $11,470.70 in dividends and interest. I believe that it is also worth noting that this income was collected based on the starting balance of the Taxable account and was not bolstered by the Fixed Income category (December is the first-month Fixed Income generated income).
Dividend And Distribution Increases
To companies from the Taxable portfolio paid an increased dividend during the month of December. This includes:
Emerson Electric - Like the rest of the market, EMR's stock price has plummeted due to uncertainty about long-term economic growth. As a result, EMR's stock price is sitting at a 52-week-low for which we decided to add another 25 shares to the Taxable portfolio. I'll admit, the dividend growth for EMR has been sub-par with an average 5-year average growth rate of 3.4% and a 10-year average growth rate of 4.9%. The main reason why I find EMR attractive is because they have continued to improve bottom-line and top-line results since 2016.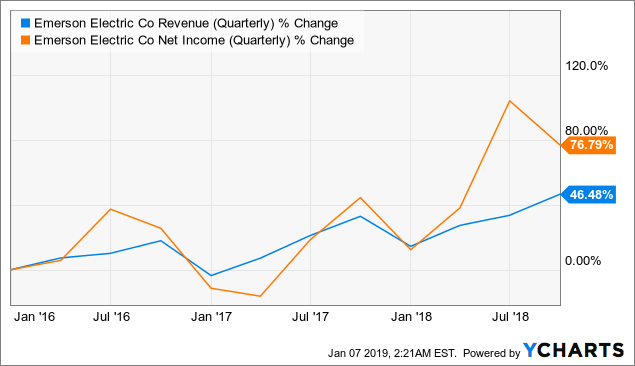 EMR's dividend was increased from $.485/share per quarter to $.49/share per quarter. This represents an increase of 1% and a new full-year payout of $1.96/share compared with the previous $1.94/share. This results in a current yield of 3.28% based on a share price of $59.72.
ConocoPhillips - The COP position was sold on 10/24/2018 but was still held long enough to capture the last payout of the year which included a dividend increase of 7%. COP was sold for a number of reasons but primarily because of its low-dividend yield (especially when compared to other energy stocks) and the relatively small position as having little/no growth potential. While I can appreciate the reduction of long-term debt, I saw the roughly 2% yield as unattractive given the number of other potential options.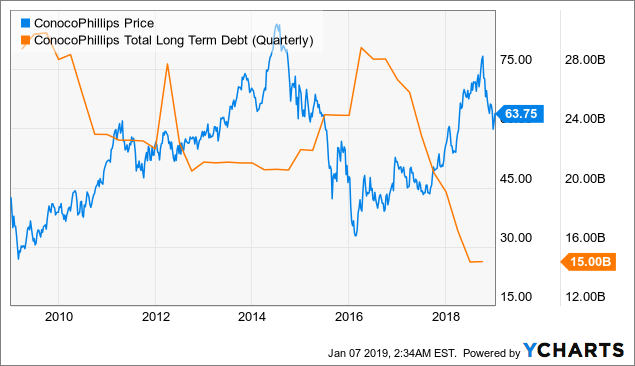 COP's dividend was increased from $.285/share per quarter to $.305/share per quarter. This represents an increase of 7% and a new full-year payout of $1.22/share compared with the previous $1.14/share. This results in a current yield of 1.91% based on a share price of $63.75.
December Income Chart And January Income Estimates
I have created the following chart to assist with keeping track of John and Jane's taxable portfolio. As mentioned in the intro, I've built these tables so that we can easily compare month-to-month and YoY changes.
Green represents when dividends were actually received.

Yellow represents dividend estimates.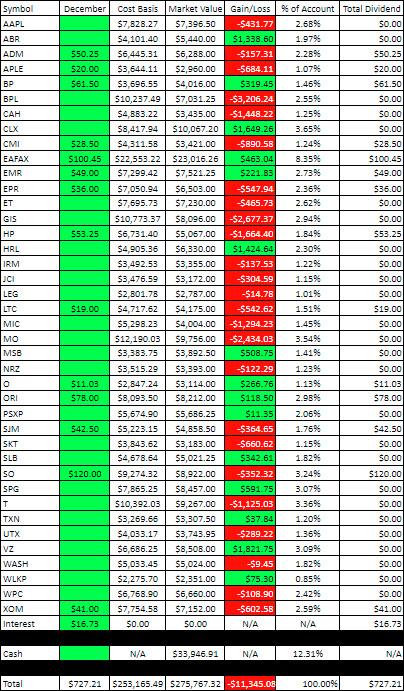 Description: Taxable Account - December 2018 - Income Tracker
John and Jane collected $727.21 of recurring dividend income during the month of December.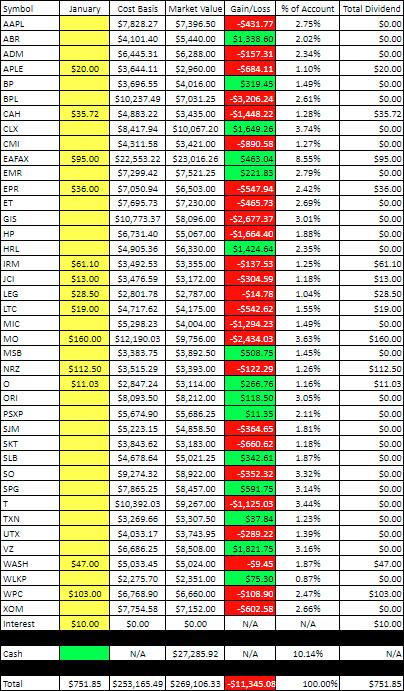 Description: Taxable Account - January 2019 Income Estimate
It is estimated that John and Jane will collect $751.85 of dividend income during the month of January.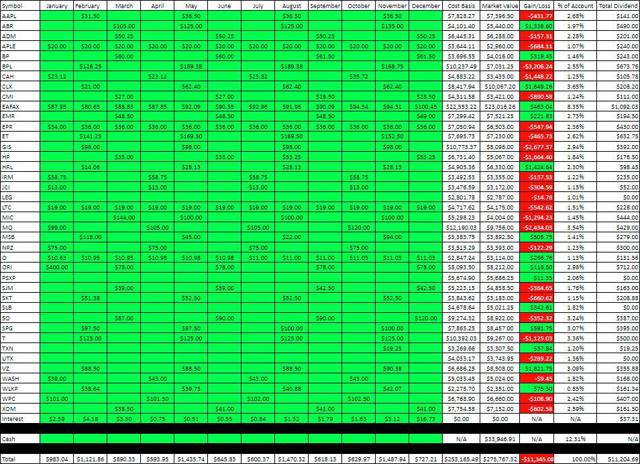 Description: Taxable Account - January-December 2018 Recurring Dividend Income
The table above demonstrates that of the stocks/investments still held in the Taxable Portfolio that they generated a total income of $11,204.69. In addition to this, we must also add non-recurring dividend income from shares that were sold from the portfolio at some point during the year.

Description: Taxable Account - January-December 2018 Non-Recurring Dividend Income
Non-recurring dividend income is generated by shares that are no longer held in the Taxable Portfolio. In total, nonrecurring dividend income made up $1011.64 of dividend income in FY-2018. When the recurring dividend income is combined with the non-recurring dividend income we come up with an FY-2018 income of $12,216.33.
Lastly, if we add the Fixed Income dividends and interest earned in the month of December it moves the total income earned in the Taxable Portfolio up to $12,528.87.
I think it is important I reiterate the following:
Dividends are not reinvested. John and Jane are at the point where they don't need the money, but we also want to build a cushion that allows us to purchase additional stocks in case the market drops and equities become more attractive.
Since dividends are not reinvested, the only time payments increase is when the dividend is raised or when additional shares are purchased with excess cash.
Realized Gains - Taxable Portfolio
Because it is the end of 2018, I thought it would be interesting to review the additional taxes that would be associated with realized gains from selling stock in the Taxable Account.
The bulk of the impact would come from the sale of Pioneer Fundamental Growth Fund (PIGFX) which resulted in a total gain of $12,060.67 on its own. Other gains were taken from the sale of stock where the company was bought out such as TransMontaigne Partners (TLP) being bought out by ArcLight Energy. It is also important to note that $11,473.02 of these gains were classified as long-term gains which means a lower tax bracket.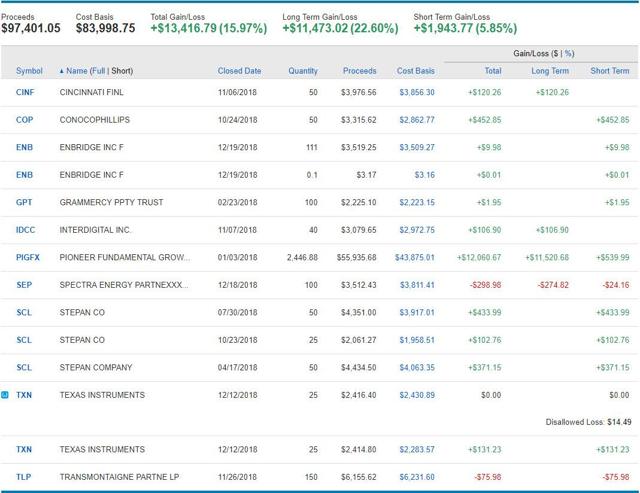 Description: Taxable Portfolio - FY 2018 - Realized Gains
The good news is, we expect there to be minimal capital gains in FY-2019 due to the fact that the portfolio is well-established and shares will only be sold in the event that we are eliminating a position from the portfolio or we are trimming the position due to concerns that may be overvalued (reduces downside exposure).
Conclusion
At this point, the market as a whole is waiting to see to what degree the Apple Effect will continue to play out. Fortunately, we have seen some recovery in the major indexes because of economic data released at the end of last week. The main catalyst was that unemployment remains a record low (also anything under 4% is considered full employment) and over 312,000 employees were added to non-farm payrolls in the last month. As a result, we have seen the market rebound although it is well below the highs of 2018.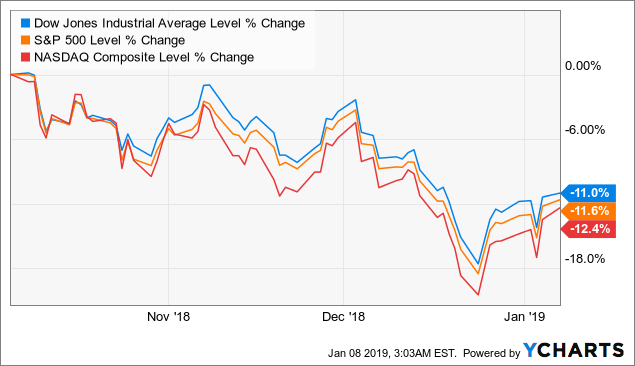 Truth be told, I haven't really paid much attention to where the big three indexes are (in terms of value) because our game plan follows a much different path as we continue to focus on undervalued stocks that are currently paying an above-average dividend yield. Additionally, the Apple Effect has little impact on John and Jane's portfolio since TXN is the only stock in the portfolio that is a major supplier of components. Suppliers have continued to come back from 52-week-lows (just look at the same YCharts from the beginning of this article may use the same starting point of July 1, 2018).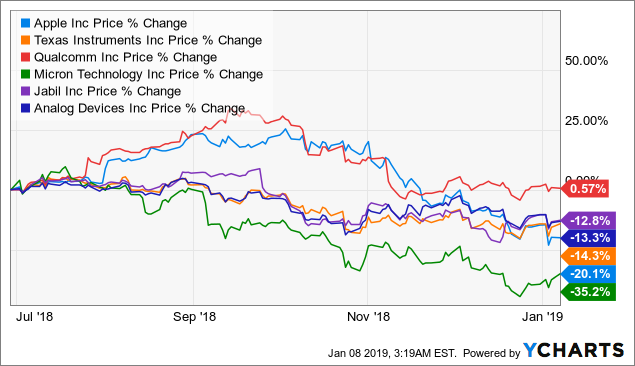 So is the AAPL Effect real? I think the answer lies somewhere between yes and no because the "effect" only happens because the market has irrational people attempting to rationalize the market based on data, articles, and in some cases, even Twitter Tweets (TWTR). What I am really trying to say is that the AAPL Effect might be worth paying attention to but since John and Jane have minimal exposure to AAPL and its suppliers I see the current portfolio composition as very reasonable.
This strategy of dividend investing and purchasing undervalued stocks has continued to perform well and remove the stress from investing, so needless to say, we will continue focusing our efforts on taking advantage of the market meltdowns rather than continually worrying about when it is going to meltdown.
In John and Jane's Taxable account, they are currently long the following mentioned in this article: Apple (NASDAQ: AAPL), Arbor Realty (ABR), Archer Daniels Midland (ADM), Apple REIT (APLE), BP (BP), Buckeye Partners (BPL), Cardinal Health (CAH), Clorox (CLX), Cummins (NYSE:CMI), Eaton Vance Floating-Rate Advantage Fund A (EAFAX), Emerson Electric (NYSE:EMR), EPR Properties (EPR), Energy Transfer (ET), General Mills (GIS), Helmerich & Payne (HP), Hormel (HRL), Iron Mountain (IRM), Johnson Controls (JCI), LTC Properties (NYSE:LTC), Leggett & Platt (LEG), Macquarie Infrastructure (MIC), Altria (MO), Mesabi Trust (MSB), New Residential (NRZ), Realty Income (O), Old Republic International (ORI), Phillips 66 Partners (PSXP), Spectra Energy Partners (SEP), J.M. Smucker (SJM), Tanger Factory Outlet Centers (SKT), Schlumberger (SLB), Southern Corp. (SO), Simon Property Group (SPG), Schwab Value Advantage Money Fund (SWVXX), AT&T (T), Texas Instruments (TXN), United Technologies (UTX), Verizon (VZ), Washington Trust (WASH), Westlake Chemical (WLKP), W.P. Carey (WPC), and Exxon Mobil (XOM).
Disclosure: I am/we are long GIS, T. I wrote this article myself, and it expresses my own opinions. I am not receiving compensation for it (other than from Seeking Alpha). I have no business relationship with any company whose stock is mentioned in this article.
Additional disclosure: This article reflects my own personal views and is not meant to be taken as investment advice. It is recommended that you do your own research. This article was written on my own and does not reflect the views or opinions of my employer.