Mondelēz International (Mondelez International) (NASDAQ:MDLZ) is one the world's leading snack companies. The company owns a pantry of billion-dollar brands such as Cadbury and Milka chocolates, Trident gum and Oreo biscuits. The company has more than 150 manufacturing and processing facilities in more than 50 countries around the world.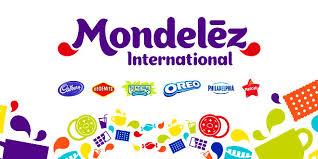 I believe that Mondelez presents the best setup of growth versus value in the global food sector. Specifically, my high conviction investment thesis in Mondelez is based on three success pillars. The first pillar is revenue growth, accompanied by a significant rise in free cash flow. The second pillar is shareholder friendliness, or how Mondelez treats its shareholders well. The third pillar, as with every investment, is the current compelling valuation of shares following the recent market turmoil.
Lately, investors have been skeptical due to the recent broad selloff in food stocks. But that shouldn't scare savvy investors from investing in Mondelez. In contrast to other food manufacturers such as Kraft Heinz (KHC) and Campbell Soup (CPB), whose main exposure is to the U.S. market, Mondelez is much more diversified – both in terms of geographical exposure and in terms of food category.
Improving Metrics
Mondelez has been improving its financial metrics over the past few years since its initial separation from legendary Kraft. In its most recent quarter, Mondelez generated net revenues in the amount of $6.28 billion, up 1.2 percent, in terms of organic revenue, compared to the same quarter last year. Especially notable was the emerging market countries with Latin America and Asia and Africa recording growth of 4.6 percent each during the past quarter. On the bottom line, earnings were $0.62 per share, up an impressive 18 percent compared to the same quarter last year, driven by favorability in taxes, operating gains and fewer shares outstanding.
Mondelez has done a wonderful job in cutting costs, which translated into much higher efficiency ratios. In the past quarter, the company recorded an adjusted operating income margin of 17.1 percent, up 40 basis points compared to the same quarter last year. By closing inefficient manufacturing plants across Europe and improving its product mix, Mondelez has been able to increase its operating margins from lowly 12 percent at the time of spinoff from parent company Kraft to the current 17.1 percent operating margins. Not many companies this size can record a 500-basis-point improvement in only seven years. That's pretty amazing.
Shareholder-Friendly
But Mondelez doesn't only grow revenues and margins. It also generates free cash flow at a rapid clip. In the past year, Mondelez generated free cash flow of $2.8 billion, up 75 percent compared to $1.6 billion recorded in 2017. Looking forward, management has guided to a total of $2.8 billion of FCF in 2019, another 17 percent higher than 2018. Now, that's pretty impressive.
And management is giving a large part of it back to the hands of its shareholders through dividends and share buybacks. In the past quarter alone, Mondelez has returned a total of $800 million back to the hands of its rightful owners, the shareholder. In the past nine months ending on September 30, 2018, Mondelez has returned a total of $2.6 billion to shareholders.
What The Market Is Missing
Investors are very concerned with U.S. food manufacturers such as Kraft Heinz (KHC) and Campbell Soup (CPB). The entrance of Amazon (AMZN) to the grocery sector through the purchase of Whole Foods chain back in 2016 is starting to take its toll. The competition over shelf space has been gradually increasing, while the traditional pricing power that brands have has been on a steady decline. This lethal combination of brand erosion with fierce online competition has forced companies to cut prices, which in turn hurt their top line. That's the main reason why shares of Kraft Heinz and Campbell Soup have been down 39 percent and 26 percent over the past 12 months.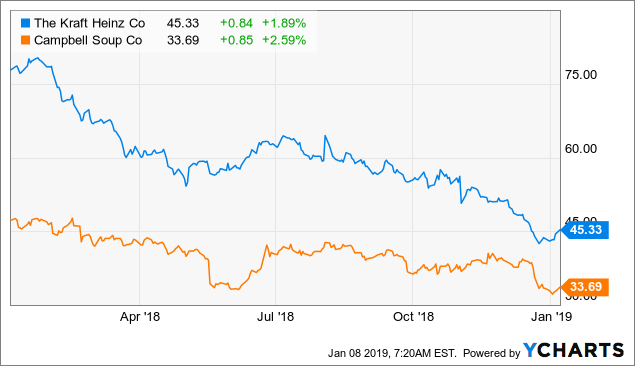 But Mondelez is very different from other food manufacturers in two main aspects. The first aspect is the geographical exposure and the second aspect is the category diversification. At the end of the day, Mondelez has very little in common with companies such as Kraft Heinz and Campbell Soup although many investors tend to group them all into the same sector. Let's discuss each of the aspects.
Regarding the geographical exposure, Mondelez is practically not a U.S.-centric company. You see, 80 percent of the company's sales are outside of the U.S., with almost 40 percent of sales in western Europe and almost another 40 percent of sales in emerging markets. Compare that to Kraft Heinz with a 70 percent U.S. exposure. Now, that's a big difference. Actually, if taken in the right perspective, Mondelez should be compared to the likes of Unilever (UN) or Nestle (OTCPK:NSRGY), which are currently trading in the 19 to 20 times next year's earnings range, versus Mondelez, which is currently trading for only 16 times earnings.
Regarding the category exposure, Mondelez is not your traditional food company. About 87 percent of its sales belong in the snack category, with 5 percent attributed to beverages and only 8 percent attributed to cheese and grocery. Keep in mind that the snacking category is much more resilient than center of plate categories and has a lot of room for growth, especially in emerging markets.
Imminent Catalysts
So Mondelez is cheap and differentiated, but that's not enough. We always look for pending catalysts to propel the stock higher back to normalized long-term valuation. We can spot two catalysts: input prices and deal-making.
The first catalyst is the sharp decline in the prices of cocoa and sugar in the past few years. Since prices peaked in the middle of 2016, sugar prices and cocoa prices have fallen by 40 percent and 20 percent, respectively. This is no small change. You see, chocolate represents about 30 percent of the company's input costs. Since most chocolate companies, such as Hershey (HSY), engage in long-term contracts of between two and three years, the upcoming quarters will greatly benefit the chocolate companies since the hedging contracts are set to expire soon and the companies will realize the full benefits of the decline in input costs.
The other catalyst is of a totally different nature – it's about deal-making in the industry. The relatively new CEO of the company, Mr. Van de Put, is known for his business acumen. He can decide to put Mondelez on sale for any of the mega food conglomerates such as Kraft Heinz (KHC), which might be interested in its geographical exposure and focus on snacks, or Nestle, which might be interested in the company's coffee business. Any sale of that magnitude will likely fetch a premium of at least 25 percent above the current price, depending on the deal structure.
Valuation Is A "Buy"
Due to the recent turmoil in the markets, Mondelez is trading at a lowly 16 times next year's earnings, compared to an average of 19 times earnings for the sector. In fact, this is the lowest valuation for Mondelez since its spinoff from its parent company back in 2012.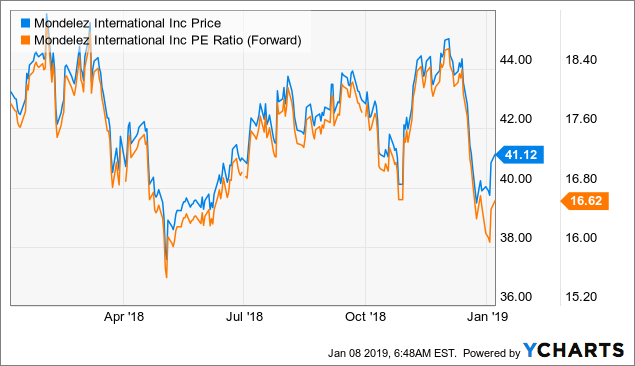 I believe that this represents a very attractive entry point to a high-quality growth compounder. Specifically, the recent contraction in the multiple is especially enticing. You can watch the gradual rise in revenues and earnings over the past year (white and green line, respectively) vs. the recent sharp decline in valuation (brown line). This is precisely the setup that I like the most.
Risks
There are two main risks in this investment: a business risk and a macro risk. The business risk will materialize if Mondelez is unable to successfully grow its top line. The second risk will materialize if a global slowdown sets in, which is likely to lead to softer demand from consumers in general.
My Bottom Line
Mondelez is a leading company in the global food and snack sector. It gushes cash flow, grows revenue and earnings at a rapid pace and treats its shareholders very well. Shares are trading at a great price due to the recent market turmoil and the wrong comparison to U.S.-centric food companies such as Kraft Heinz and Campbell Soup. Considering the growth prospects vs. current valuation, Mondelez is a great defensive buy at today's price.