As I discussed in "Hornbeck Offshore: Expectations For 2019," Hornbeck Offshore's (HOS) shares dropped hard during major oil price downside of the fourth quarter of 2018 as the company had to deal with upcoming maturities in 2020 and 2021 and its perspectives for negotiations with creditors deteriorated together with the oil price.
I originally thought that Hornbeck Offshore will try to wait out the downside in oil prices and start negotiating with creditors during a material and sustainable oil price rebound. However, the company decided not to wait and started this year by making an offer to exchange 2020 notes for second lien term loans due 2025:

Source: Hornbeck Offshore press release
Hornbeck wants to exchange up to $200 million principal amount of 5.875% senior notes due 2020 for new second lien term loans due 2025. The new loans will have a fixed interest rate of 9.50%. The offer will expire at 11:59 p.m. New York time on February 4, 2019.
Back in 2017, the company tried to negotiate with creditors. At that time, Hornbeck Offshore proposed that holders of 5.875% notes due 2020 exchange their notes for 76.0% of par comprised of a mix of 68% second-lien tranche and 8.0% cash. The second-lien tranche was supposed to have maturity in 6 years and a coupon of 8.75%.
The new proposal is more generous in terms of total consideration range but does not have a cash component in it. It is also more generous on the interest rate side, but investors should keep in mind that back in 2017 when Hornbeck Offshore was making its first proposal to bondholders the Fed Funds rate was 1.00–1.25% while it is at 2.25–2.50% now. The proposed duration is the same as in 2017.
Since then, the ownership of Hornbeck Offshore bonds might have changed, and current holders might have more comfortable entry prices. It remains to be seen whether the offer attracts enough interest, but there's a material possibility that it does. This won't solve the company's debt problems completely but will be an important first step.

Source: Hornbeck Offshore 3Q 2018 report
The company will still have to push all the remaining debt to 2025+ and hope that the offshore drilling recovery (and the corresponding offshore support vessel recovery) will be just in time for it to generate cash flow and service the debt. In the first nine months of 2018, the company lost $26 million on operating activities. This has to change if it hopes to service its debt in the future. The situation in the company's key market, the U.S. Gulf of Mexico, has stabilized but at a rather low level, and it remains to be seen whether the second half of 2019 will bring sustainable upside to the number of rigs working in the area as Hornbeck Offshore clearly hopes.
That said, the level of management commitment to save the company is almost unprecedented in the industry where a number of companies easily chose to re-start with cleaner balance sheets following bankruptcies. One thing that investors can be sure of is that management is indeed trying to save the company with the current capital structure.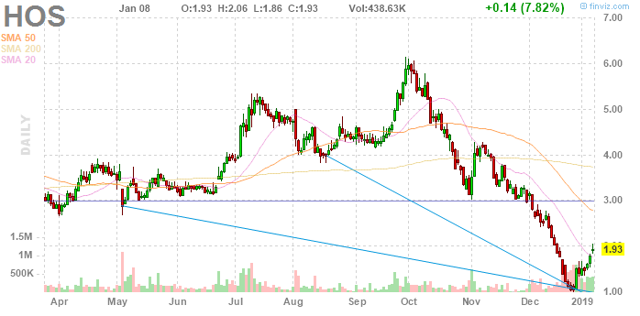 From a practical point of view, this means that shares of Hornbeck Offshore remain highly speculative and every long-term investment involves the risk of losing the principal. Even if the debt exchange offer goes well, the company will need material upside in offshore support vessel market to be able to service its debt and push the remaining maturities in the future. For shorter-term traders, the stock will likely present numerous opportunities as it will remain highly sensitive both to oil price fluctuations and in-company news.
In my opinion, Hornbeck Offshore's shares have the shorter-term chance to return to pre-December panic levels of about $3.00, assuming some additional support from oil prices and positive outcome of the debt exchange offer. Longer-term fate of the company remains unclear as signs of material improvements in the offshore support vessel market are yet to emerge.
Disclosure: I/we have no positions in any stocks mentioned, but may initiate a long position in HOS over the next 72 hours. I wrote this article myself, and it expresses my own opinions. I am not receiving compensation for it (other than from Seeking Alpha). I have no business relationship with any company whose stock is mentioned in this article.