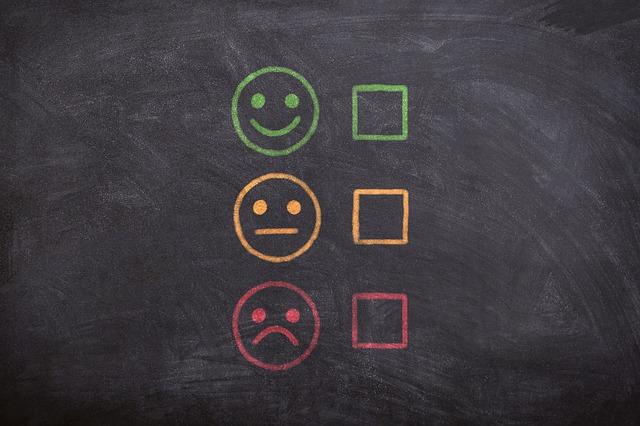 Source: Pixabay
Introduction
Since I started writing for SA in 2015, I've been dedicated to tracking the performance of my ideas as best I can. Because of the way the stock market works, I've noticed that there is often a disconnect between the power of a narrative behind an idea and the actual results the idea produces. Stocks with good stories behind them tend to become overvalued, and when they correct, investors who bought too high on the basis of the great story, often lose money. The analysts who bought into and promoted the narrative, quite often, disappear. This dynamic is made even stronger because many readers of stock investing articles already own the stocks themselves. They are naturally attracted to positive narratives and the writers who provide them because they reinforce what the stockholders already believe (that the stock they own is a good investment). This creates a strong disincentive for stock writers or analysts to track their results and a strong incentive to write bullish articles on widely held stocks. So, I have respect for any stock writer or analyst who actually tracks their results, regardless of how the results turn out, because readers can learn something either way.
My preferred measure of performance are ideas in which I have both written a 'buy' article on, followed by a 'sell' article, tracked over time. My last article did just that. The reason realized returns are my preferred measure of results is that they completely eliminate both the cherry-picking of dates from which to measure, as well as eliminating the short-term randomness of the market from quarter to quarter or year to year. The start date for realized ideas is the publication date of the 'buy' article, and the end is the publication date of the 'sell' article. Pretty simple, and hard to manipulate.
There are two potential problems, though, with my preference of using realized ideas over those that are still running. The first is that if I totally ignored the ideas I hadn't sold yet, then I could simply hide my bad ideas from public view by never selling them. The second problem is that quite often, even though I'm still waiting for an idea to fully play out, there might be something I could learn if the stock is down a lot from when I bought it. Sure, maybe the stock price will come back up, but it's worth examining closely if it is losing a lot of ground unexpectedly. By occasionally taking a look at my unrealized ideas, I might be able to spot some things to be cautious about moving forward, even if I don't know for sure whether, over time, I'll be proven right or wrong on my investment.
One of the ways I address the first potential problem of hiding my losers from public view is to put a 5-year time limit on how to treat the investment ideas. So, if after 5 years I am still holding a stock, whether it's up or down, for tracking purposes, I will treat it as a realized idea. For example, even though I have never written an article about Apple (AAPL) for SA, it is a stock I have owned for over 5 years. If I had written about it back in 2013 when I first bought it, this year I could move it over to my 'realized' column and review it each year with my 'realized' stocks because enough time had passed for my thesis to play out one way or another. If I had a losing stock I was still waiting on to improve for some reason, then I could do the same with it.
So that is one way to deal with my preference for focusing on realized ideas. Currently, my longest held stock in the 'unrealized ideas' column is Mylan (MYL), which has been running for about 2.5 years now. The next two closest are Signet Jewelers (SIG) and Powell (POWL), which have been running about 1.5 years. All the rest of the ideas are from 2018, so they are still quite new. I don't really have a lot of old ideas that have been hanging out in the closet year after year.
Given that backdrop, most of this article will focus on the second reason for providing this update, and that reason is to see what I can learn and potentially adjust going forward. I want to see if there are any themes or patterns that I can learn from. Where should I be more aggressive? Where should I be more cautious? Where should I apply future research time? These are the things I'm after in this type of review.
Factors and Themes
My core approach to researching and investing has to do with the cyclicality of stocks. My preferred stock ideas are those I call "cyclical values". They are stocks of quality companies who happened to be going through a down-cycle similar to down-cycles they have experienced in the past. In a perfect world, these would be the only ideas I would write about because they are my specialty. The problem is that much of the time these types of stocks move together. This creates a situation where for long periods there aren't very many cyclical values available, and then, almost all at once, the prices drop, and dozens of them become 'buys' around the same time. This can make it very difficult for a stock writer like myself (especially if the prices aren't quite high enough to get bearish on the stocks, yet). That's the main reason why I only wrote about two or three ideas in all of 2017.
2018 was different, though, because I was able to start writing bearish articles about cyclicals, warning investors of their dangers. But this created a different problem. My mind was only working in one direction. I'm sure we've all met, read, watched, or listened to permabears and permabulls. Those are dangerous places to be as an investor (though, perhaps very lucrative as a commentator). For me, though, I know that it is important to keep my mind and my disposition working in both directions, both bull and bear, constantly analyzing from both sides. And given that starting in 2018, I was writing bear article after bear article, I wanted to at least present one bullish article per month while I was on such a bear binge, in order to keep my mind healthy.
In order to do this, I started looking for three factors on the bullish side, stocks that were down -30% or more off their highs, generally defensive businesses, and/or stocks that were going through acquisition cycles, which is a new area I've been studying.
Acquisition Cycles
My first idea in this vein, Hawkins (HWKN) was written about in February, and it returned about +25% between then and December and I took profits in it so it was featured in my last article instead of this one. While it proved to be a good acquisition cycle investment, it might have provided some false encouragement since the other ideas of this type are not performing well so far. There may be deeper problems with my approach, but one of the key issues is that unlike other cyclical investments, I don't really have a historical guide as to what entry points would be good for the stocks. So, while they were all -30% off their highs or more when I presented the ideas, that number was pretty arbitrary in retrospect, and it didn't make sense to use the same two-point buying strategy I use for normal cyclical value stocks for acquisition cycle stocks. (I'll revisit this issue toward the end of the article.) The stocks I wrote about that were engaged in some sort of major acquisition or merger that represented at least 20% of their market-cap were: McDermott (MDR), British American Tobacco (BTI), Molson Coors (TAP), Mylan, and Thor Industries (THO). Mylan, Thor, and McDermott (via Chicago Bridge & Iron) were regular cyclical values as well. And BTI and TAP I considered defensive as well. So they fit into multiple categories, as most of the stocks in this article will.
Defensive Business
Since I was generally cautious on the market, if I had to pick at least one stock to invest in each month, I wanted it to be defensive and trading at a fair value. Molson Coors and British American Tobacco were both well off their highs, and in defensive industries. I added to those ABM Industries (ABM) in the summer as a defensive stock that had sold off. Interestingly, unlike TAP and BTI, ABM had no other major factors that played into my decision. It simply looked like a good defensive stock trading at a fair price in a toppy market.
Cyclical Values
Looking for cyclical values is my bread and butter, and while the first half of the year didn't turn up much in terms of pure cyclical values, 3D Systems (DDD) was an idea from January that I was able to take an ~95% profit in by summer's end. 3D was both a cyclical value and a successful 'squeeze play' stock (I'll define 'squeeze play' in the next section.) I held three cyclical value stocks going into 2018: Mylan, Signet Jewelers, and Powell. Then, during the summer I was able to add some oil-related stocks: Schlumberger (SLB), and RCP (RES). During the October correction, I was able to add State Street (STT), Mohawk (MHK) and Micron (MU). And by the end of December, I added Emerson Electric (EMR), FedEx (FDX), Tiffany (TIF), Thor Industries (THO), and added to T. Rowe Price (TROW) and several others in which I had already made an initial purchase. So, there were quite a few cyclical value ideas by the end of the year.
Squeeze Plays, Portfolio, and Writing Considerations
I mentioned some of the psychological considerations for forcing myself to write about at least one individual long idea per month, there were also some writing & portfolio considerations as well. Since I was writing so many bearish articles in the first half of 2018 I often got accused of being a secret short-seller or an apocalyptic soothsayer. Neither was true. In fact, I was recommending defensive ETFs and Berkshire Hathaway (BRK.B) as good defensive alternatives in most of my bearish articles. But, to be honest, it got boring recommending the same 3 or 4 defensive positions over and over again. So, I tried really hard to write about something different even if it was more speculative concerning its defensiveness. And, I wanted readers to know that I was actively looking for long investments even if I thought we would probably have a bear market within three years.
Coupled with this, I had some personal portfolio considerations as well. My kids had an influx of money in their accounts from their grandparents which raised the value of the accounts so that they were well over 50% cash. Even late in the economic cycle, I didn't want to hold more than 50% cash in any one account, so I was actively looking for some good dividend payers or less volatile individual stocks for them, or, at least something that might have some good upside if the bull market lasted longer than expected, but that was good enough that they could hold through a recession if it happened, perhaps collecting dividends. I ended up using British American Tobacco and AT&T (T) stock for those ends. I wrote about BTI on Seeking Alpha, but not T.
I also made an investment in T. Rowe Price because of portfolio considerations and noted in my article I took an initial position in TROW because I wanted to reduce my cash position, and hoped TROW could go up 20% before the bear market began, but if it didn't, then I would add to the position on the way down like a normal cyclical investment. I didn't recommend anyone else do this unless they had a large cash position as well, but, since the investment is down since then, I'm going to track it along with everything else, so as to present as ungenerous view as possible for my ideas. I eventually added to this position in December on a cyclical basis.
Looking for that last potential upside for the stock before a potential bear market is what I'm referring to as a "squeeze play". These investments acknowledge that if a bear market or a recession happens sooner rather than later, then the investor is going to have to hold onto the stocks for a few years in order to make good on their investment (and perhaps add to the investments). But, if the bear market or recession takes longer to materialize, then the stocks could produce good returns rather quickly. Quite often, these squeeze plays are combined with cyclical value opportunities. So, I find a cyclical that has been beaten down and assume whether the bear market comes sooner or later, either way, I will do well on the investment, the time frame I will have to hold the stock will just be different. Cummins (CMI) was one of those. And most of my oil related stocks were, too, because I've had a general working hypothesis that we would likely see higher oil prices sustained above $90 per barrel for a while, combined with higher interest rates, in order to trigger a recession. So, I figured there was at least a chance to see a recovery in beaten-down oil stocks before the next recession. Thus far, that hasn't been the case. Higher rates, trade, and politics have been enough to cause a bear. I don't know if it will be enough to cause a recession. Time will tell on that front. But rates, trade, and politics have been bad for oil sector stocks, and that's where the portfolio has been hit the worst.
Positions
I highlighted all of the different factors and themes above because I'm going to put together a few actionable strategic changes going forward based on what we've seen so far this year. One important thing that I do (or don't do, depending on how you look at it) is to not retroactively apply strategic changes I make along the way. So, if I had a bad experience with, say, brick-&-mortar retail, and decided it was just too hard to identify the winners there, and so I should steer clear of those types of stocks, then I wouldn't immediately go out and sell all the brick-&-mortar stocks I own. I would only apply that change going forward. So, I might write quite negatively about certain strategies I've used and decide to make adjustments, that doesn't mean I'm selling the positions I already have. I'll continue to let those play out.
Also note, that there is often lots of overlap between the various factors and conditions that went into any particular purchase. A stock can fit into every category, or just one. I'm going to note them throughout to see if over time patterns form that can help me hone my strategy and research efforts in the future. With all that said, let's get on with it. I'll go in chronological order.
Mylan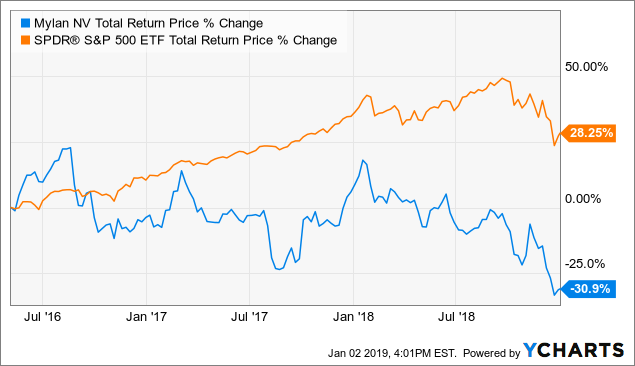 I first wrote about Mylan way back in mid-2016. At the time, Mylan was solely a cyclical value idea, but in retrospect, it was an acquisition cycle stock as well because it was finalizing a purchase for Meda. (I just hadn't done any work on acquisition cycles so I didn't realize it at the time.) Soon after I wrote about it, Mylan had all sorts of problems with their Epi-Pen franchise, which spilled over into a political debacle. I think the process of digesting their acquisition has also played a role in the price failing to have a sustained recovery. When I first wrote about Mylan back in 2016 I used three entry points for cyclical values instead of only two that I use now. In December of 2018, I made my second purchase of Mylan and noted it in a blog. But when I have time I'll write an official follow-up on Mylan. Here is the performance of my second purchase, from the buy price I noted in my original article. Both positions are a 1% weighting.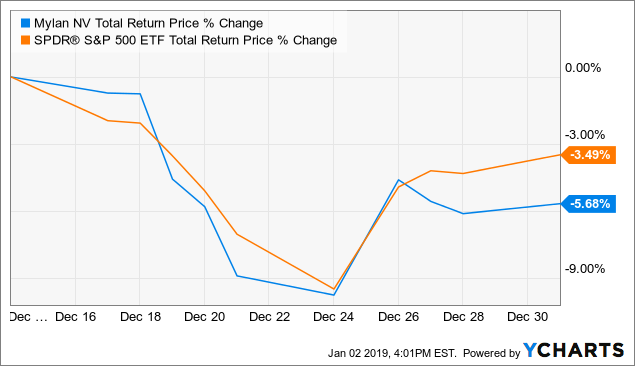 Signet Jewelers
I wrote about Signet in September of 2017 but had actually purchased it (twice) earlier that year for a total 2% weighting. Like Mylan, at the time I was using three entry points but decided to change it to two at some point in 2017. So, for Signet, there is just one 'all-in' entry point. Signet has been a wild ride, to say the least. I wrote about the stock as a cyclical value when it was over -50% off its highs, and it continued to fall another -50%, only to get back to even, and fall -50% again. I think it's fair to categorize Signet as a turnaround stock as well as cyclical value. I've been pretty cautious with brick-&-mortar retail stocks that show any signs of weakness at all in terms of revenues since I invested in Signet, and probably will continue to be cautious about such stocks going forward, but I think this stock could still rebound.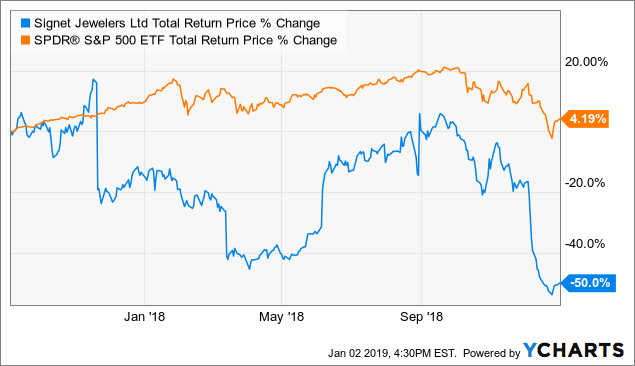 Powell Industries
Powell was my second 2017 pick and also came in September of that year carrying a 3% weighting. Another adjustment I've made since 2016/7 is to lower my range of weightings, which used to range from 2-8% for a full position, and now range from 2-4% for a full position. Since I weighted my Powell position at 3% initially, I decided to just leave it at that and not make a second purchase, since that would overweight the position too much compared to my other positions.
Powell is a stock tied to the oil sector, and I was aiming for a 50% return on the investment before the next recession, so it was both a cyclical value play and a squeeze play.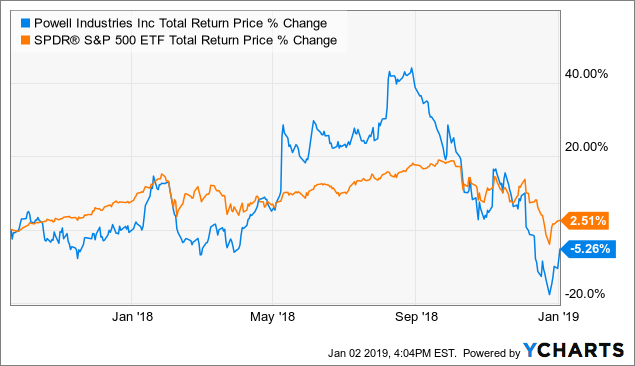 I came very close to completing the squeeze play with Powell. It rose about 45% going into September before selling off. If oil rebounds a little bit, we'll probably see it catch back up to the S&P 500, and I still feel comfortable about this investment going forward.
McDermott
I wrote about McDermott in January of 2018. It is by far the worst performing idea I've written about. It was a combination of cyclical value, squeeze play, acquisition cycle, and turnaround. You can read about most of my thoughts on the idea here. Because of the merger with Chicago Bridge & Iron, Y-charts longer-term chart is inaccurate so I won't post it, but my first MDR investment is down a whopping -69% compared to SPY's -5.84%. I made a second purchase after the stock hit my second buy price on the way down and here is how it has performed: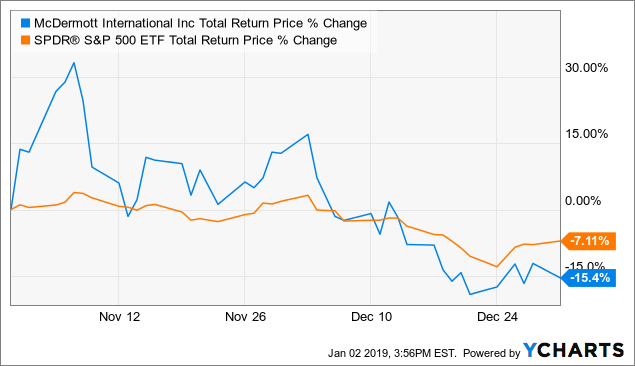 Each of these investments carried a 1% weighting. I think it's worth noting that companies with overlapping issues can be dangerous, and I think I've gotten to the point where it's fair to say that businesses that are in need of a turnaround should probably be avoided. Obviously, I'm always looking for the prices of the stocks to turn around. But if a company's revenues or earnings are falling significantly during a bull market, then that might be a sign that we aren't dealing with cyclicality, but are instead dealing with something in the business that needs fixing. And it's possible that it could be fixed, but from now on, I'm not going to layer a turnaround stock on top of a cyclical value investment. I may even add another bullet point to my impairment list regarding this to make sure I check for it.
Molson Coors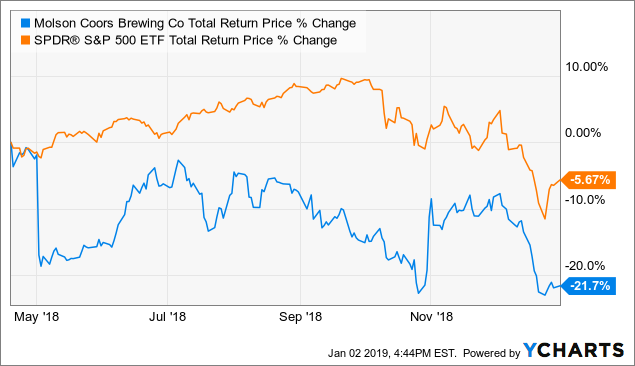 Molson Coors was a defensive and an acquisition cycle stock. It had recently acquired Miller's brands, was in the process of digesting that acquisition, and had suffered a stock price decline of -30% when I wrote about it. I thought that beer was generally defensive, and as they paid down debt, the acquisition would eventually work out. (And I still think that despite the fact that the stock is down -21% since the article was published.) I think the lesson here might be if you're looking for a defensive stock, it's a good idea to make sure it's not in an acquisition cycle at the same time. Additionally, since it's hard to pick bottoms with stocks in the middle of digesting acquisitions, I probably need to spread my purchasing points out more for those stocks, and weight each of those purchases less. With TAP I had two entry points, and only one of them has hit. If I had used four entry points, it would have given me the opportunity to layer in more cautiously and lowered my cost basis. I'll probably adopt that approach going forward with acquisition cycle stocks.
T. Rowe Price
T. Rowe Price came into my portfolio first as a pure squeeze play because I was trying to keep one of my portfolios under 50% cash and I thought if we didn't have a bear market for another year, the price could continue to rise 20%, but if we did have a bear market or a recession, then I could average down and treat TROW as a cyclical value investment. I made the first investment last summer, and the bear came sooner rather than later. Then, I made a second purchase in December, which was the first cyclical value purchase for TROW. The cyclical value purchase is doing fine, but the squeeze play appears to have been a miss.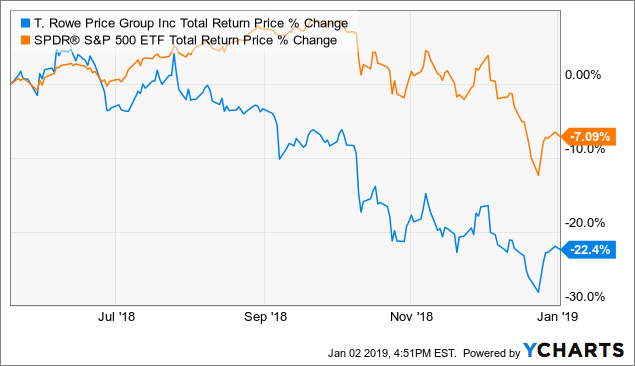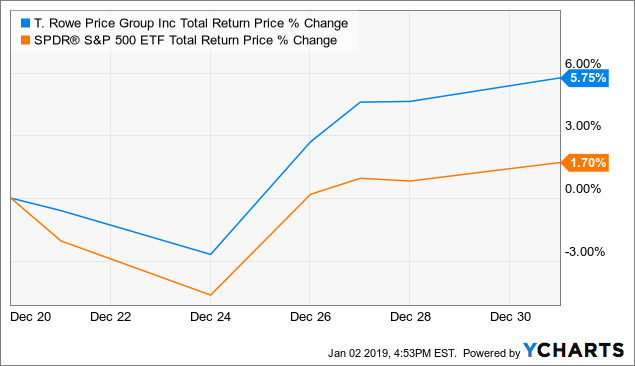 ABM Industries
I'm glad a wrote about ABM Industries (ABM) because it was a purely defensive value play that didn't have anything else going on with it. It gives us a chance to contrast it with other individual stocks I thought were defensive but who were dealing with acquisition-related issues. When I suggested ABM it had sold-off about -30% from its highs. And, unlike TAP and BTI, it has done what I expected it to do.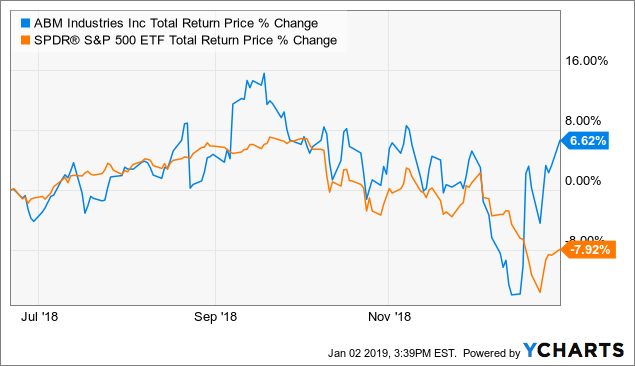 Cummins
Cummins was a combination of a squeeze play stock and a cyclical value. I bought it around $131 figuring that either 1) Cummins would bounce and I could get a quick 20% return before the next recession, or 2) if we had a recession, Cummins price was low enough when I bought it that I could hold through the recession and still do okay on the investment, especially if I averaged down once.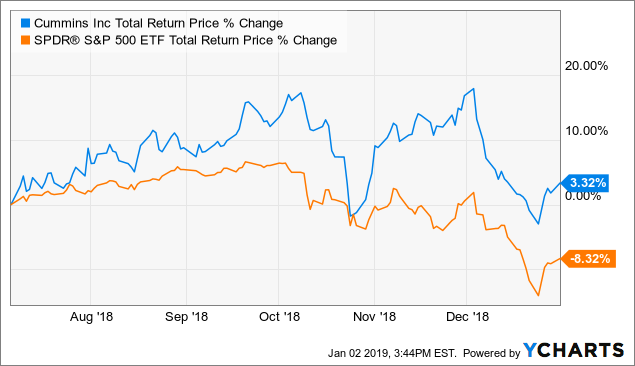 Much like Powell, Cummins got within a couple percentage points of my profit goal before the bear market. There is still a chance that since we haven't had a recession yet that the stock could bounce back and hit that target.
RCP Corp
RCP (RES) was both a squeeze play and a pure cyclical value stock that I had high confidence in. I thought there was a chance the price could recover before the next bear market or recession, but if it didn't, then I thought the company was high quality enough to hold through the recession and still outperform over the next 5 years. The stock fell far enough after my first purchase to make a second purchase at a 2% weighting each.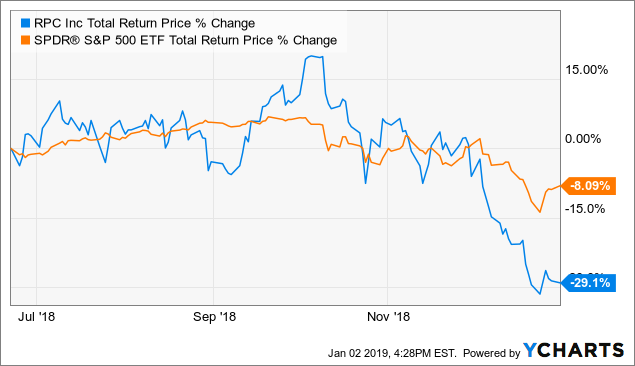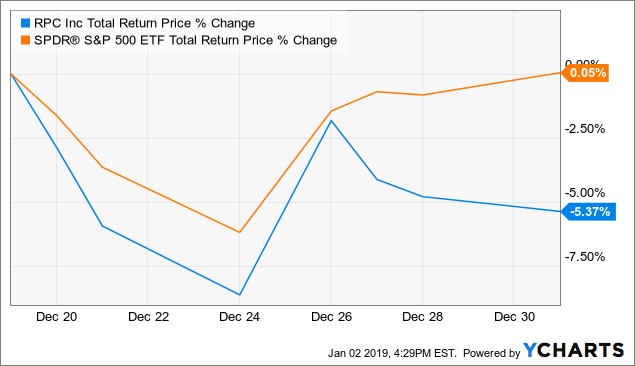 Even though both investments are underperforming, I still have a lot of confidence in this stock and it is now one of the bigger holdings in my portfolio with a 4% weighting.
British American Tobacco
British American Tobacco was both a defensive idea and acquisition cycle idea. It has performed very much like TAP, except I have made two purchases of BTI and each position was weighted 2%.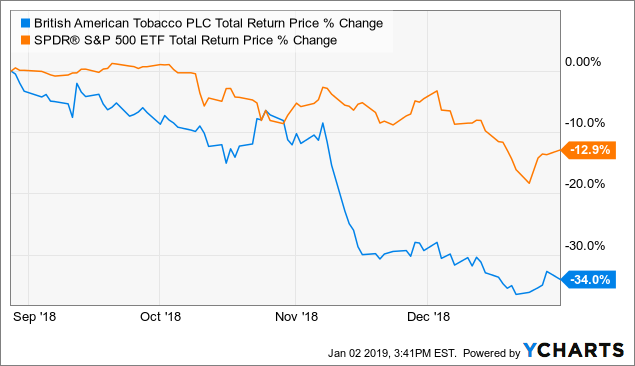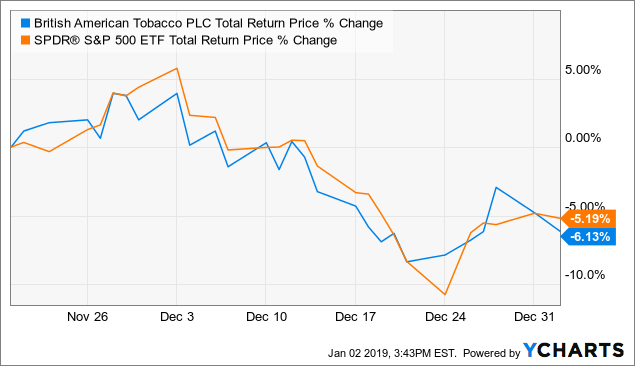 The second purchase is performing a little better, as I appeared to get closer to a bottom in the stock, but again, I made an error of buying too much too soon with an acquisition cycle stock.
Schlumberger
Schlumberger (SLB) is a lot like RCP except it's a large-cap cyclical value play and not quite as high quality, IMO. I've made two investments in SLB as well, which has substantially underperformed so far. Total weighting here is 2%.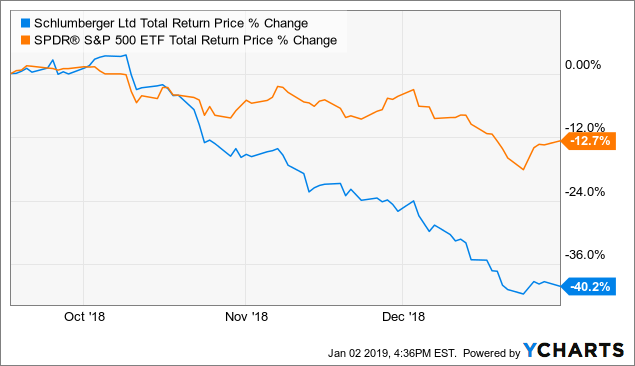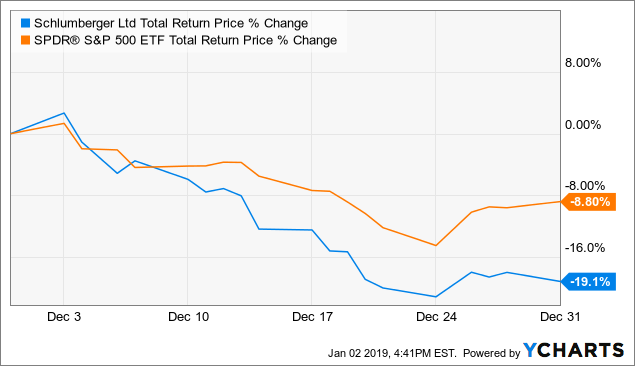 State Street
The October correction marked the first point at which I was able to start buying some of the cyclical stocks I had warned investors were too high earlier in the year. State Street (STT) was the first with a 1% weighting.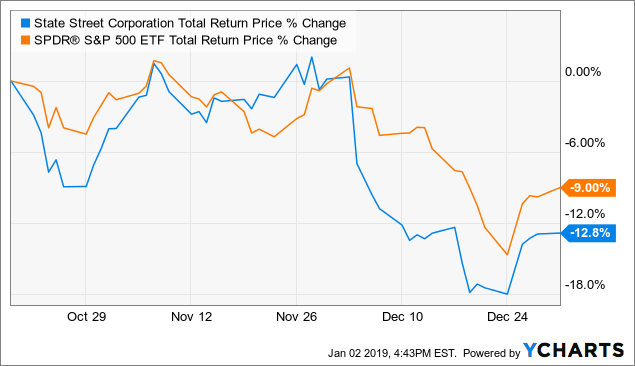 It's underperforming just a little bit at the end of the year, but generally speaking, holding up well.
Mohawk Industries
I was able to buy Mohawk (MHK) right near the bottom of the October sell-off with a 1% weighting.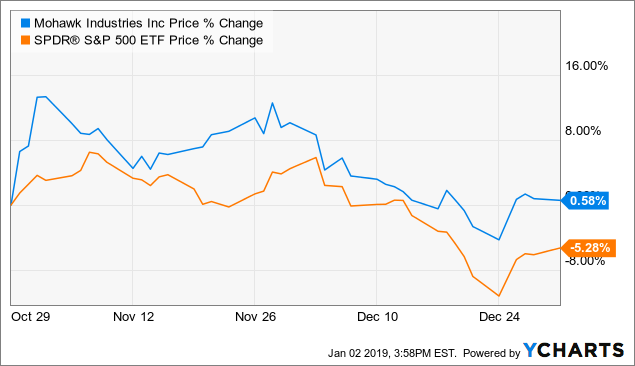 It has outperformed the market through the end of the year. (All of the charts in this article start on the day of publication of the article except Mohawk. My article came out just after midnight, well before the market opened, and the stock surged 6-7% later that day. Usually, the moves I'm looking for in these stocks are big enough that it's not worth the time of sorting out the exact time an article was published, and 2-3% moves I don't pay any attention to, but I thought with a 6-7% move on the day of publication, it was more accurate to show what the price was when the article was actually published with this one.)
Micron
Micron (MU) is a stock I wish I had written a warning article on earlier. I was able to write an article that named my buy prices a month or two before the stock took a dive deeper, and I purchased a 1% weighting after it hit my first buy price.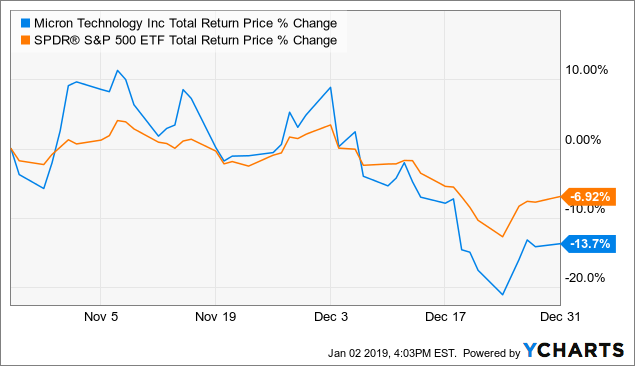 It's underperforming a little bit so far, but it was expected that Micron would be an extra-volatile stock.
Thor
While I wasn't able to warn investors about Thor's (THO) downside danger at its peak price, I was able to warn them at a high enough price to potentially save them 50% of Thor's downside. The stock eventually fell far enough for me to make a 1% purchase in early December.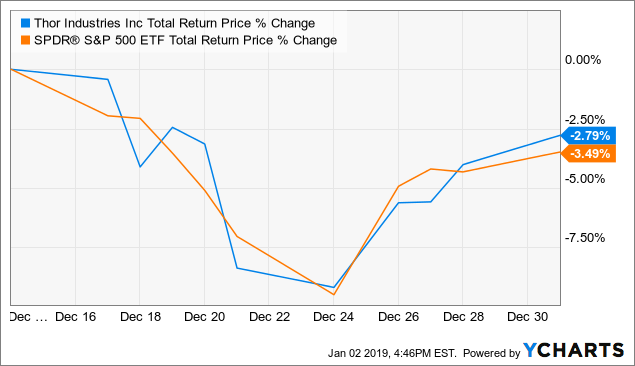 FedEx
I originally warning investors about FedEx's (FDX) potential downside last spring, and after the price fell in December I was able to buy an initial 1% position. I still need to write an official 'buy' article for this one. It hit my buy price on the same day the article I announced my buy prices was published.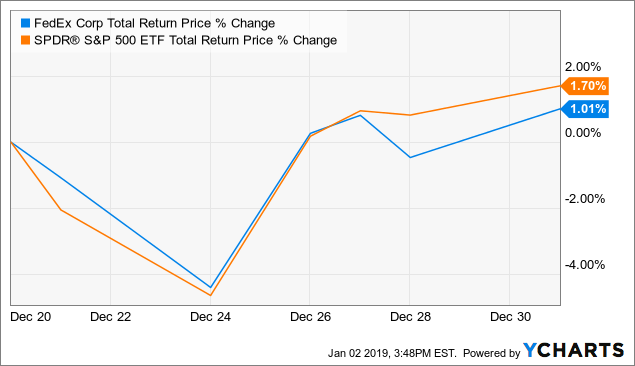 Tiffany
Much like FedEx, I was able to warn investors last spring about Tiffany's (TIF) potential downside. It too fell far enough for me to take a 1% position in late December on the same day the article where I published my buy prices came out. I still need to write an official 'buy' article on Tiffany as well.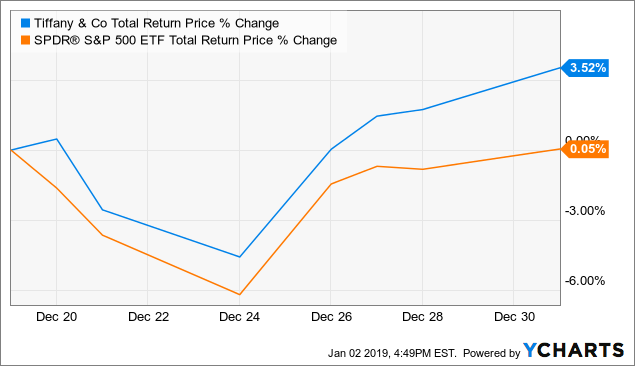 Emerson Electric
Last winter I warned investors about Emerson Electric's (EMR) potential downside, and on Christmas Eve, just a couple of days after I published my buy prices, it hit the first one. I ended up buying the stock just after Christmas with a 1% weighting. I still need to write a 'buy' article on it as well.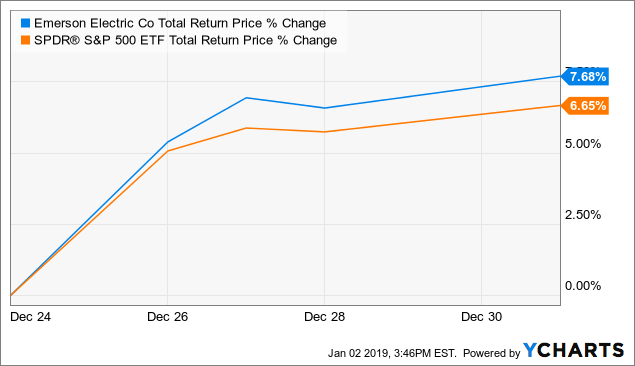 Conclusion
Let's begin with some adjustments I'm going to make going forward based on the current performance at year-end of these unrealized ideas. The first is that I'm always going to separate my acquisition ideas from my defensive ideas in the future. I think there is some evidence here with BTI and TAP that the downward pressure an acquisition cycle can place on a stock will trump most defensiveness that stock might offer during a downturn. That might explain BTI and TAP's underperformance compared to ABM's outperformance during the downturn.
The second adjustment has to do with acquisition cycle ideas as well. In the future, instead of having two entry points of 1-2% portfolio weighting each, I will instead have four entry points of .5% weighting each, since it can be tough to judge the bottom of an acquisition cycle stock compared to a cyclical value stock. This will spread out the potential entry and account for the fact that I still have lots of research to do on acquisition cycles. One point of research I intend to investigate is whether requiring that a minimum of three years pass from the time of the acquisition before I purchase an acquisition stock. This would give more time for the new business to be digested and priced by the market.
A third adjustment has to do with writing and portfolio considerations. I do a pretty good job of not letting writing considerations push me into bad ideas. I never chase pageviews or try to reinforce readers' biases toward their favorite stocks. But every now and then, I have let my writing considerations get in the way of making the best decisions. With trying to keep my portfolio at less than 50% cash, for example, I should have simply bought the two main defensive ETFs, Invesco S&P 500 Low Volatility ETF (SPLV) and Vanguard Utilities ETF (VPU), that I had been suggesting investors rotate into all year. But I didn't want it to look like I was talking my own book on all the warning articles I was writing by being long those ETFs, and if I ended up selling them for some other reason, I didn't want it to look like I had lost confidence in them. For those reasons, I decided to search out a few defensive stocks to buy for those portfolios. In the future, I'll just do what's best for my portfolio, and explain it to readers later if I must. Sometimes I can be overly aggressive when it comes to aligning what I'm doing in my portfolios with the ideas I'm sharing on SA. Going along with this theme, while I think there was value in constantly looking for long ideas even while writing mostly bearish articles, I have to simply accept the results if I don't find anything. 3D Systems, Hawkins, ABM, and, eventually, Cummins, were all pretty good picks in the first half of 2018. I shouldn't have forced myself to find any more than that if they weren't available. And in the future, I won't.
All in all, I learned a lot this year, and there are several adjustments I made along the way, like including backtesting for potential entry points, developing a buying strategy for super-cycles, and avoiding companies with high relative debt-to-equity that are currently borrowing money to buy back shares, that I think have improved my analysis and that readers will find useful. In addition, I was able to classify nine different types of stock cyclicality, which is also very useful in determining what type of analysis and strategy is best to use for each stock in question. Those adjustments should improve my performance going forward.
At the end of the year, these unrealized long ideas carried a 31% portfolio weighting and had a total return of -15.81% vs the S&P 500's -2.37% if purchased on the same date. So, the portfolio has some work to do over the next couple of years in order to catch up and surpass the benchmark, but we still have a lot of cash to put to work with 69% still yet to be invested in individual stocks. If one includes a +1.25% return on that 69%, the portfolio would be down -4.04%, a little worse than the S&P 500, but not too horribly bad.
There are a couple investments I'm concerned may not recover strongly. McDermott tops that list. But most of these investments I still feel quite confident about. Either way, I'll continue tracking these ideas and check in on them at least once per year for transparency sake, and to see if there are any adjustments I can make to my approach going forward that can improve it.
Disclosure: I am/we are long APPL, BRK.B, MYL, SIG, POWL, MDR, TAP, BTI, ABM, RES, SLB, CMI, STT, MU, MHK, THO, T, TIF, FDX, EMR. I wrote this article myself, and it expresses my own opinions. I am not receiving compensation for it (other than from Seeking Alpha). I have no business relationship with any company whose stock is mentioned in this article.