REIT Rankings: Hotels
In our REIT Rankings series, we analyze each of the major real estate sectors. We rank REITs within the sectors based on both common and unique valuation metrics, presenting investors with numerous options that fit their own investing style and risk/return objectives. We update these rankings every quarter with new developments.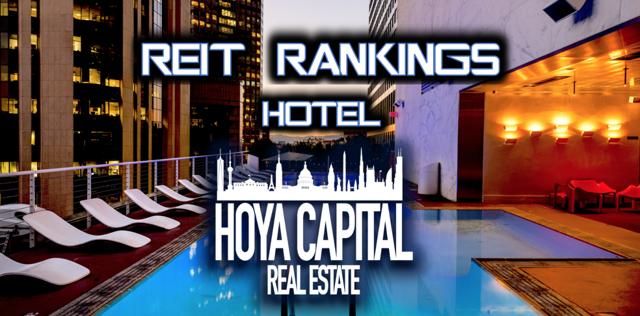 Hotel Sector Overview
Hotel REITs comprise 5-7% of the REIT indexes (VNQ and IYR). Within the Hoya Capital Hotel REIT Index, we track the fourteen largest hotel REITs, which account for roughly $50 billion in market value: DiamondRock Hospitality Company (DRH), Host Hotels & Resorts (HST), LaSalle Hotel Properties (LHO), Park Hotels & Resorts (PK), Pebblebrook Hotel Trust (PEB), RLJ Lodging Trust (RLJ), Sunstone Hotel Investors (SHO), Summit Hotel Properties (INN), Ryman Hospitality Properties (RHP), Xenia Hotels & Resorts (XHR), Chesapeake Lodging Trust (CHSP), Ashford Hospitality Trust (AHT), Apple Hospitality REIT (APLE), and Hospitality Properties Trust (HPT).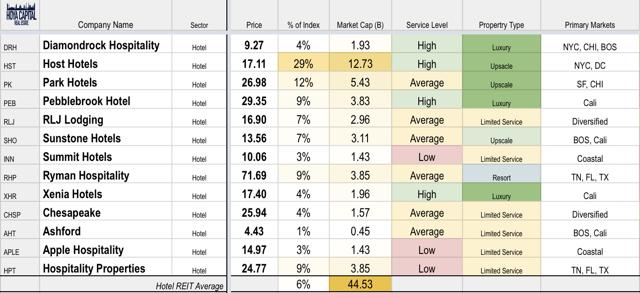 For real estate investors who are accustomed to simple business models, the hotel industry is an outlier. Generally, the companies that are ubiquitous with the hotel business - Marriott International (MAR), Hilton Worldwide Holdings (HLT), Hyatt Hotels Corp. (H), Choice Hotels International (CHH), and Extended Stay America (STAY) - don't actually own hotels but simply manage the hotel for the property owners. These hotel operators are typically structured as C-corporations and tend to operate in an asset-light model with higher margins and lower leverage.

Hotel REITs, on the other hand, operate with an asset-heavy model by owning the assets, collecting the revenue, and paying a set percentage to the management company. Hotel REITs tend to be less nimble and have slower growth rates than C-corp hotel operators, but have historically paid a sizable dividend yield to investors. Simplistically, hotel operators are the growth side of the business, while asset-owning REITs are the income side. Hotels are typically grouped into segments based upon average room rates: budget, economy, midscale, upscale, and luxury. In general, public REITs portfolios tend to be biased towards the higher-quality end of the spectrum and own primarily full-service hotels in coastal urban markets or resorts. More than the average hotel, these REITs generally cater more to transient business travelers and group bookings.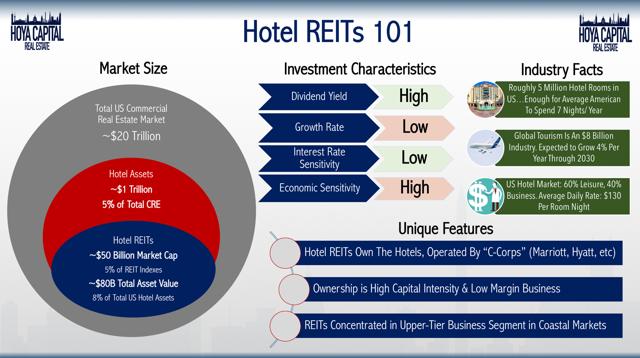 Tourism is one of the largest and fastest-growing sectors of the global economy. Fueled by the rise of the global middle class, tens of millions of new consumers each year are entering the global tourism market. According to Deloitte, international arrivals in the US surged to 76 million in 2017, up from 55 million in 1997, and 2018 is expected to be another record-breaking year. Total global travel is expected to grow 5% this year, supported by a 6% rise in corporate travel. US hotel demand grew nearly 3% in 2018, and occupancy reached another record high at roughly 66%. Over the past decade, middle-income consumers have allocated an increasing percentage of their disposable income towards experiences rather than goods.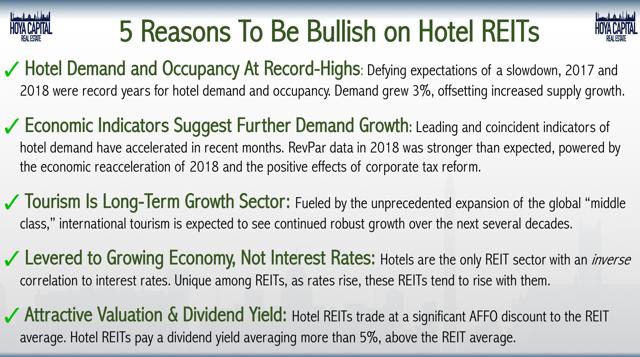 Hotel ownership is a tough business, however. Despite trading at persistent discounts to the REIT averages, hotel REITs have underperformed the broader REIT index (and their C-Corp counterparts) over most longer-term measurement periods. At just 25-30%, Hotel REITs operate at the lowest EBIT margins across the real estate sector, which averages 65%. These REITs have had some success in recent years controlling rising labor costs, property taxes, and other expenses. As a percent of NOI, hotels also have the highest capex requirements in the real estate space at 30%, well above the sector average of 15%.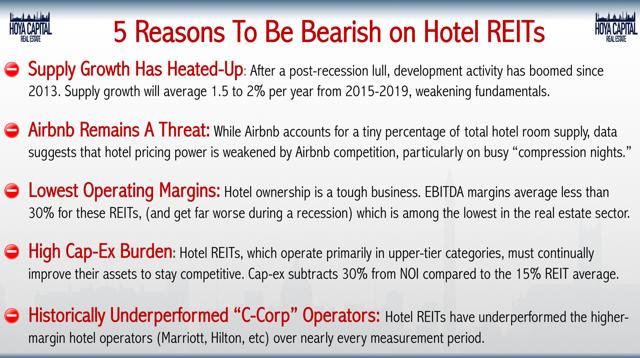 Recent Fundamental Performance
Coming off a record year in 2017 for average occupancy and average daily rates, the US hotel industry delivered another stellar year in 2018, powered resurgent corporate spending, and solid trends in leisure travel. Before turning negative in September due to tough comparisons to last year's Hurricane Harvey-impacted data, Revenue Per Available Room (RevPar) showed positive year-over-year growth for 102 consecutive months dating back to 2010. While that incredible run may have ended, RevPar still rose roughly 3.0% in 2018, lifted by a 0.5% gain in occupancy and a 2.5% gain in average daily rates.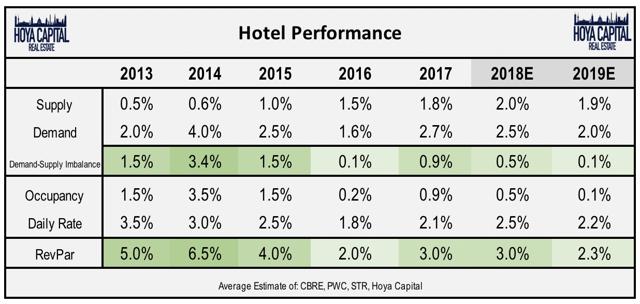 At more than 1.2 billion room-nights sold in the US, representing 2.5% growth over last year, 2018 set a new record for hotel demand. Supply growth, too, set a new record high at more than 1.8 billion room-nights available, representing a 2% rise over 2017. While the new supply pipeline essentially shut down after the recession, it has roared back in recent years. Over the past several years, supply growth has been most acute in the middle- and upper-quality segments, the segments most commonly owned by hotel REITs. These quality segments continue to underperform the national averages, and as a result, hotel REIT performance has lagged the industry-wide performance. Strong demand in these segments has been able to keep RevPAR in positive territory, but barely so. Supply growth has been low in the resort and ultra-luxury segment and nearly non-existent in the economy segment, where demand growth has also been sluggish.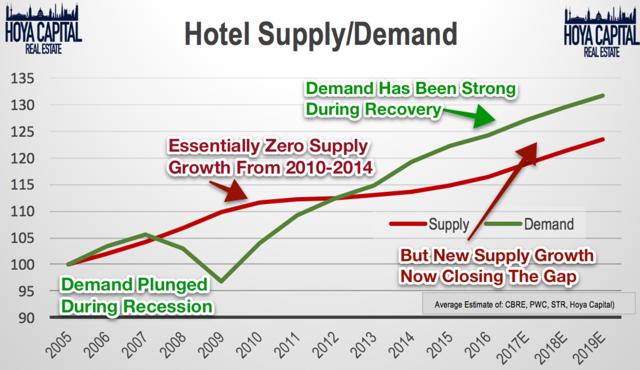 As supply growth has caught up with demand growth, the favorable imbalance has been erased, dragging down RevPAR. Supply and demand are expected to be balanced over the next three years. With a balanced outlook, and with demand expected to be in the 2-3% range on a nominal basis, it is reasonable to expect 2-3% growth in RevPAR through 2020. For hoteliers, positive RevPar performance only tells half the story. Rising costs, particularly wage rages, outpaced revenue growth across most hotel categories - a trend that is expected to continue into 2019 given the continued acceleration in wage growth seen for leisure and hospitality workers throughout 2018.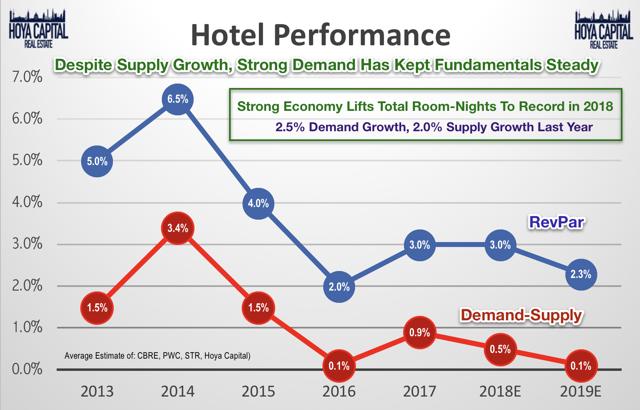 Hotel REITs had underperformed the national metrics in recent times, but resurgent demand from the business and luxury segment has begun to reverse this trend over the last several quarters. Third-quarter results reflected tough comparisons from the third quarter of 2017, however, as occupancy was down on a year-over-year basis. The upper-tier segment of the hotel REIT market was the relative outperformer in the third quarter, positing RevPar growth of 2.2% compared to the REIT weighted average of 1.2%.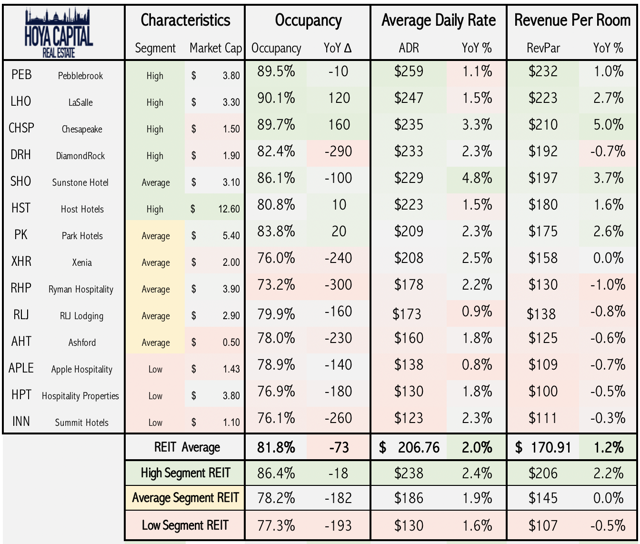 While the performance gap has closed in recent quarters, hotel operators continue to see better overall RevPar performance compared to REITs. The "C-corps" saw an average 1.5% YoY rise in RevPar, led by Marriott and Hilton at 2.5% and 2.0%, respectively. Consistent with trends in hotel REITs, the lower-tier segments of the market delivered the weakest performance in the third quarter, with Choice Hotels International reporting a 1.4% decline in RevPar.

On the acquisition front, hotel REITs have remained active in the transactions markets, but net external growth has been modest in recent years amid a period of neutral-to-slightly unfavorable cost of capital and NAV signals. Recent strong stock performance, along with rising interest rates, has made the cost of capital for many hotel REITs more favorable relative to their private market competitors. We expect the external growth spigot to re-open in the second half of 2018, as the NAV discount has turned into a modest NAV premium.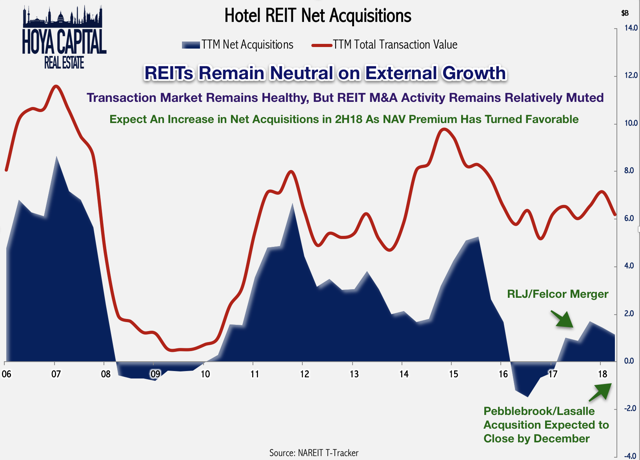 Recent and Historical Performance
Despite another strong year for the hotel industry, hotel REITs significantly lagged the broader REIT averages, delivering a total return of -13%, compared to a -4% return on the NAREIT All Equity REIT Index. Despite the stumble in 2018, in the post-recession period, hotel REITs have delivered strong results relative to the REIT averages, returning an average of 16% per year, compared to the 13% average annual return on the REIT index.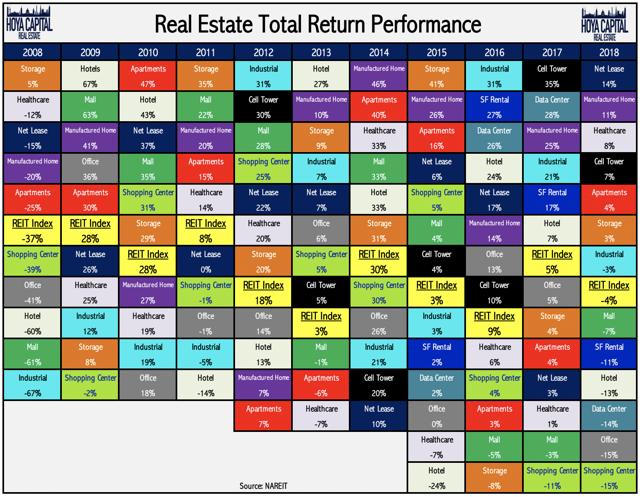 The past quarter was particularly tough for hotel REITs, which sold off sharply in the final two months of 2018 amid fears of an economic slowdown in the US and globally. Hotel REITs are the most sensitive REIT sector to economic expectations and the least sensitive to interest rates. The S&P 500 (SPY) finished 2018 lower by 6% on a total return basis, while the small-cap Russell 2000 (IWM) ended the year lower by 12%. 2019 looks to be another choppy year for the sector amid a wide variance in economic expectations.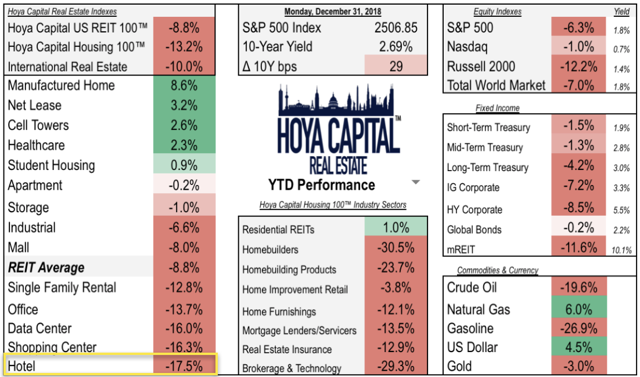 The sector has started 2019 on a positive note, however, gaining more than 4% through the first week of the year. The top performers of 2018 were Ryman Hospitality Properties and Park Hotels & Resorts, while the laggards were Ashford Hospitality Trust, Summit Hotel Properties, and Apple Hospitality REIT.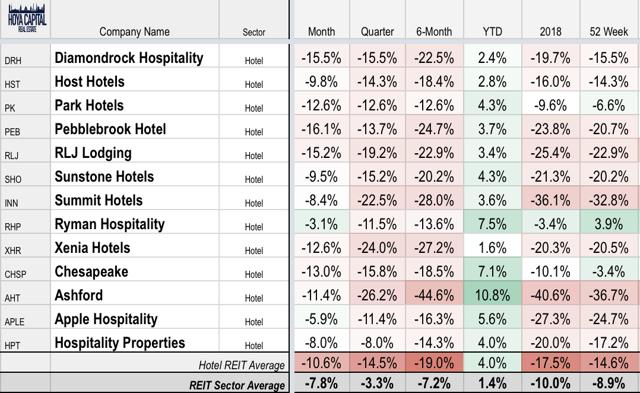 Hotel REITs have chronically underperformed their C-corp operators throughout the post-recession period. Hotel operators have benefited from the supply issues that have troubled their REIT peers as they have continually expanded their franchise network. C-corp performance in 2018, however, was roughly in line with hotel REITs, as the sector declined an average of 15% for the year, with similarly rough performance in the final months of the year.

Valuation of Hotel REITs
Relative to other REIT sectors, hotel REITs are among the cheapest based on current and forward free cash flow (aka AFFO, FAD, CAD) multiples. When we factor in two-year growth expectations, however, the sector appears less attractive. Hotel REITs trade at roughly NAV parity, while the rest of the REIT sector continues to trade at an average 5-15% discount to private market valuations of net assets.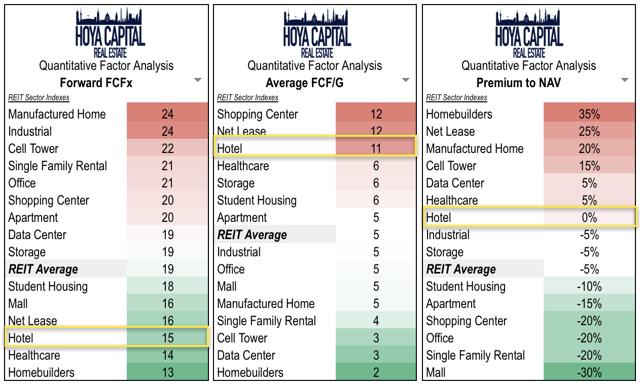 Sensitivity to Equities and Interest Rates
As a sector, hotel REITs are Growth REITs and are the single most equity-like REIT sectors. Hotel REITs actually exhibit a negative correlation to changes in interest rates, a rarity among income-oriented investments.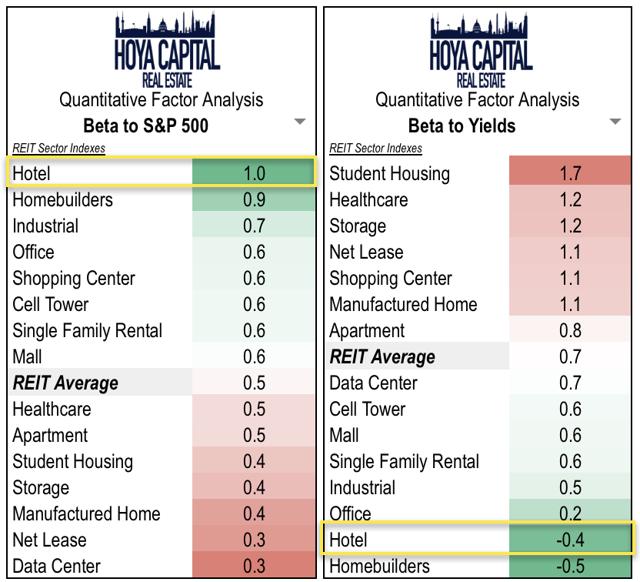 We separate REITs into three categories: Yield REITs, Growth REITs, and Hybrid REITs.

Ten of the fourteen REITs in the sector are classified as Growth REITs and should be used by investors seeking REIT exposure that is leveraged to a growing economy and exhibits low interest-rate sensitivity. The smaller REITs, including Apple Hospitality REIT, Chesapeake Lodging Trust, and Hospitality Properties Trust, exhibit more Yield REIT characteristics.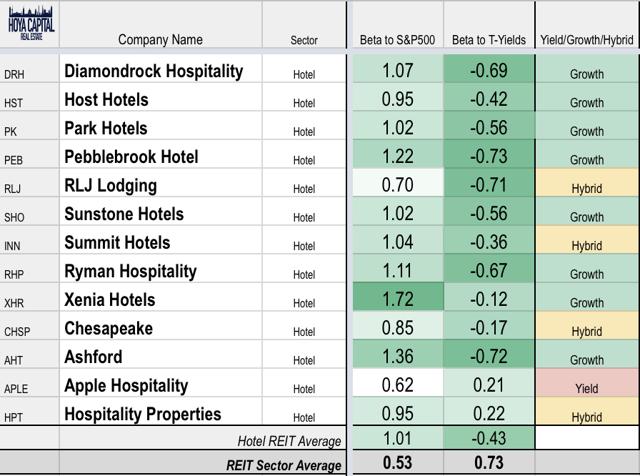 Dividend Yield and Payout Ratio
Unlike most Growth REITs, however, many hotel REITs pay healthy dividend yields. Based on dividend yield, hotel REITs rank in the upper end of the REIT universe, paying an average yield of 5.8%. Hotel REITs pay out roughly 90% of their available cash flow, so these firms have more modest potential for dividend growth than other sectors.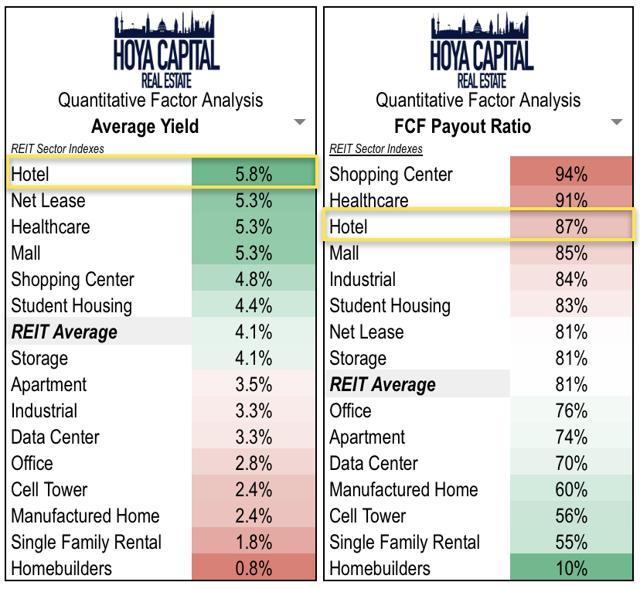 Within the sector, we note the differing payout strategies used by fourteen firms, which opens an opportunity for investors to be selective depending on their tax situation. Taxable accounts may see a better after-tax return by investing in companies with consistently lower payout ratios.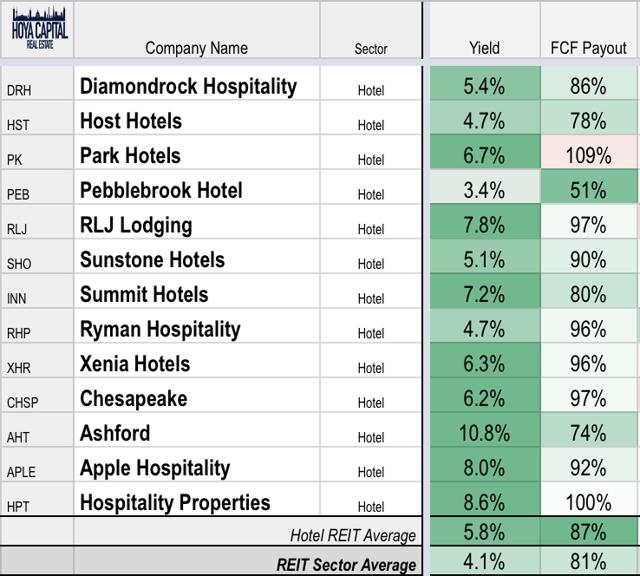 Bottom Line: Poor 2018 Despite Strong Year for Hotels
The hotel industry is booming, but don't tell hotel REITs. Powered by resurgent corporate travel, hotel demand set yet another record in 2018, offsetting increased supply growth. Just when 2018 looked to be a bright year for hotel REITs, the sector plunged in the final months of 2018 amid economic slowdown fears, delivering a -13% total return.
The 102-month stretch of positive RevPar growth was snapped in September, primarily a result of tough comparisons to last year's hurricane-affected data. Supply growth continues to hang over the sector and is most acute in the business travel segments and urban markets. REITs hold a disproportionate number of hotels in this segment. As the REIT sector is most sensitive to economic growth expectations, 2019 may be another volatile year. The sector trades at discounted valuations relative to the rest of the REIT sector.
For an in-depth analysis of all real estate sectors, be sure to check out all of our quarterly reports: Net Lease, Data Center, Manufactured Housing, Student Housing, Single-Family Rentals, Apartments, Cell Towers, Manufactured Housing, Malls, Shopping Centers, Hotels, Office, Healthcare, Industrial, Storage, and Homebuilders.
Disclosure: All of our published commentary is for informational purposes only, always provided free of charge. Commentary is purely theoretical and not intended as investment advice. Information presented is believed to be factual and up-to-date, but we do not guarantee its accuracy and it should not be regarded as a complete analysis of the subjects discussed. An investor cannot invest directly in an index and index performance does not reflect the deduction of any fees, expenses or taxes. Data quoted represents past performance, which is no guarantee of future results. The information presented does not reflect the performance of any fund or other account managed or serviced by Hoya Capital Real Estate. Please consult with your investment, tax or legal adviser regarding your individual circumstances before investing. For complete disclosure, view our profile via the link above.