In the previous article, I have written my bullish thesis on Thor Industries (THO), after a 65% plunge in its stock price. Thor also appeared in my list of worst performing stocks but profitable and growing businesses. Some readers have asked me whether we should be concerned about the business' growing debt pile and whether it affects the company and the safety of the dividend payment.
Conservative capital structure
As Thor Industries manufactures Recreational Vehicle (RV), non-essential items for customers, we can classify Thor Industries as a cyclical business, positively correlating with the general economy. For cyclical companies, conservative capital structure plays a critical role. The higher the debt level, the more sensitive the business is to the industry cycle and general economy, creating higher financial risks. For this reason, highly cyclical companies should have low leverage.
History has shown Thor Industries has had a conservative capital structure for years. Most of the time, Thor does not employ leverage. When it does, it always keeps financial debt/equity very low, still below 0.1x. At the time of writing, its financial debt accounts for only 0.6% of the company's equity.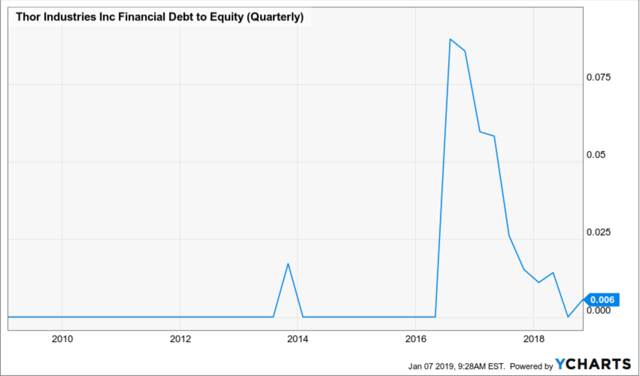 Source: Ycharts
Thor Industries is quite careful in acquisitions
In the last decade, Thor has been getting more active in acquisitions. Since 2010, it has acquired eight companies with increasing value.
| | | | | | |
| --- | --- | --- | --- | --- | --- |
| No | Name | Value | Year | Deal | Note |
| 1 | SJC Industries | $20 million | 2010 | in cash | Have sold for $12.5 million in 2013 |
| 2 | Heartland RV | $210 million | 2010 | $100M in cash and 4.3 million in stocks, $400M in sales | valued at 0.525x sales |
| 3 | Livin' Life RV | Undisclosed | 2013 | not disclosed, small deal, revenue $24M | Ceased production |
| 4 | Bison Coach | $16.7 million | 2013 | in cash, expected $30 million in sales | valued at 0.56x sales |
| 5 | K-Z Inc. | $53.4 million | 2014 | in cash, expected $150 million in sales | valued at 0.36x sales |
| 6 | Postle Aluminum | $144 million | 2015 | in cash, sales of $220 million | valued at 0.65x sales |
| 7 | Jayco | $576 million | 2016 | in cash, $360 million in debt financing. $1.5 billion in sales & $70 million EBT | valued at 0.38x sales, 8.2x EBT |
| 8 | Erwin Hymer Group (EHG) | $2.4 billion | 2018 | expected sales $2.9 billion, $289 million EBITDA | valued at 0.83 sales, 8.9x EBITDA |
Source: Author's self-made table
As we can see from the company's acquisition history, the valuation stays below 1x sales and single-digit cash flow valuations. Thus, investors can rest assured that Thor has been quite conservative in its M&A activities; it rarely overpays for growth.
Regarding the two most prominent recent deals, Jayco and EHG, Thor has to use leverage. In 2016, $360 million credit facility was used for Jayco's purchase. With the history of the conservative capital structure, Thor has decided to pay off the debt used in financing the acquisition. In less than three years, as planned, Thor has been paying off all the $360 million debt with its cash flow. By October 2018, Thor became debt-free, and the equity was $1.92 billion.
For EHG deal, Thor would use $2.3 billion seven-year term note and $750 million five-year asset-based credit facility. The total debt, including existing EHG debt, is $3.4 billion. In fiscal 2018, Thor generates $633 million in operating income and $725 million in EBITDA, while EHG's expected 2018 EBITDA is nearly $270 million. Altogether the combined company have roughly $1 billion EBITDA in 2018. According to CFO Colleen Zuhl, the combined company's net debt/EBITDA is quite reasonable, at 2.1x. Like Jayco's deal, Thor's management considers debt reduction is a focus and a top priority for the company. I anticipate that Thor will use most of near-term free cash flow to pay off the debt within the next three to five years.
Consistent dividend payer with a conservative payout ratio
Thor is also quite active in returning cash to shareholders via both dividend payments and repurchases. In the past seven years, Thor has been paying consistently growing dividends. The most recent quarterly dividend payment was $0.39 per share, yielding 2.75% annually. In the middle of 2018, the company also announced the new share buyback program, repurchasing up to $250 million worth of shares in the next two years. At the current price, Thor can repurchase nearly 4.4 million shares, more than offsetting a 2.3 million share issuance for EHG's acquisition. The cash dividend payout ratio is quite conservative also, at 23.75%.
Conclusion
With the determination to have a conservative capital structure, low cash dividend payout ratio, and reasonable leverage after EHG acquisition, I do not think the increasing debt pile would affect the company's liquidity and dividend payment.
Disclosure: I/we have no positions in any stocks mentioned, and no plans to initiate any positions within the next 72 hours. I wrote this article myself, and it expresses my own opinions. I am not receiving compensation for it (other than from Seeking Alpha). I have no business relationship with any company whose stock is mentioned in this article.