Bill Stoller contributed to this article.
As you know, I just finished up a series of articles called "Do You Feel Lucky?" in which I provided ideas on the 7% plus yielders, the 8% plus yielders, and the mouth-watering 10% plus yielders (aka, the double-digit dynamos).
Now I'm on to the next series in which I will be providing my best REIT picks in 2019 by property sector, starting with the communications category.
On my weekly marketplace (Rhino Real Estate Advisors) subscriber call (every Friday at 2:00 EDT) last week, I interviewed data center REIT expert Bill Stoller. He provided great commentary on the sector and we both agreed that there are some terrific opportunities in 2019.
In my 2019 REIT forecast (also marketplace content) I laid out my "overweight" thesis by explaining that "we believe underlying fundamentals remain as healthy as ever, as significant lease-up throughout 2018 has kept supply/demand balanced, while pricing and returns appear to have generally stabilized across the major markets."
There are strong secular drivers that have provided a strong tailwind for Data Centers and that should continue for years to come. I see no sign of data growth slowing down, enterprise outsourcing is well underway, and the cloud should grow to about $350 billion in revenue over the next 5 years, versus the current $100 billion revenue today.
That incremental $250 billion of cloud revenue will require about $50 billion of capital to build out data center capacity to meet that demand, and that is a significant catalyst for the players that we are following in our Intelligent REIT Lab.
As I explained, "our strongest conviction BUYs today are CyrusOne (CONE) and QTS Realty (NYSE:QTS), and Digital Realty (DLR) remains a core holding. Also, we have warmed up to Equinix (EQIX) based on topline growth (estimated at 9% in 2019) and strong AFFO per share growth (about 10% in 2019)."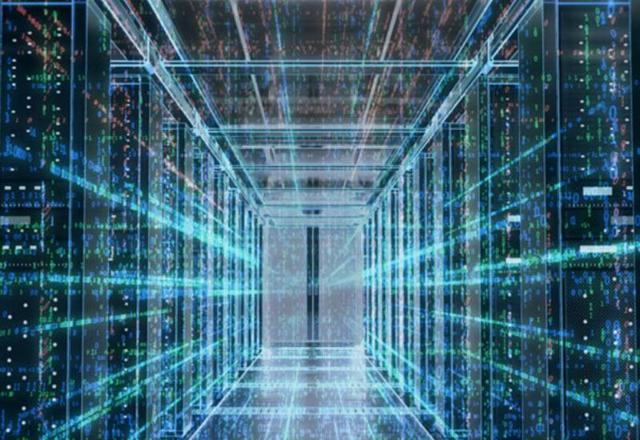 QTS Realty, Why The Weakness?
QTS is the most enigmatic and perhaps misunderstood of the five data center REITs. This is largely because in February 2018, its management announced a pivot away from its non-core cloud and managed services to focus on hyperscale (public cloud service, software, content, social media giants) and enterprise hybrid IT colocation.
Management has referred to this new approach as its strategic growth plan or updated 2020 QTS vision. Unfortunately, according to Bill Stoller, "this change in go-to-market strategy occurred just a few months after the QTS Realty Investor Day held in November 2017. Analysts and investors initially felt blindsided and a bit confused and QTS shares were hammered."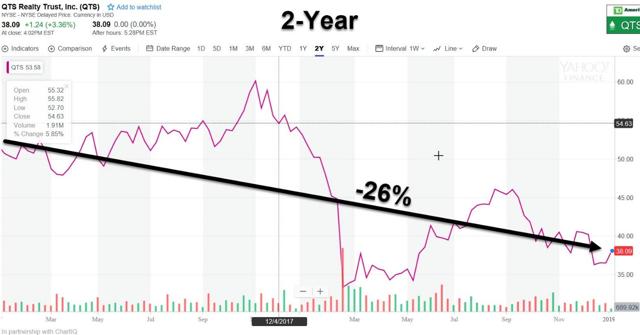 More recently, all of the Data Center REITs have sold off due to interest rates fears and some of the semiconductor companies that are talking about a "slowdown." The selloff has been part of a broader technology rotation, but we believe that Amazon's (AMZN) upcoming earnings could provide the sector a much-needed catalyst.
According to Zacks, Amazon is set to report earnings on 02/07/2019 based on 14 analysts' forecasts, the consensus EPS forecast for the quarter is $5.48. The reported EPS for the same quarter last year was $2.16.
Now What For QTS?
The QTS management team began to execute on the new strategy almost immediately after it was announced. In fact, QTS has had the strongest leasing volume through three quarters in company history. This resulted in accelerated bookings throughout 2018 and a significant backlog of revenue to be recognized in 2019.
QTS bought land in key markets like Ashburn and Manassas, Virginia; Phoenix, Arizona and Hillsboro, Oregon in order to deliver data centers in markets favored by some of its hyperscale customers in addition to its existing large data center campuses in Texas, Illinois, Virginia, New Jersey and Georgia.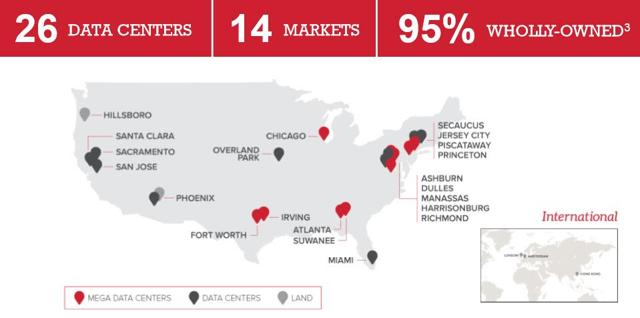 Source: QTS Investor Presentation
QTS has been active in Atlanta for well over a decade and has been able to deliver outstanding results by repurposing infrastructure-rich facilities bought at a low-cost basis into modern data centers.
As the utilization of these large campuses (each about 1 million square feet) in Atlanta has increased over time, QTS gains operating leverage, which helps drive return on invested capital of 17.1% and 28.1% in metro-Atlanta and Suwannee, GA, respectively.
Atlanta has become one of the top U.S. data center markets due to an attractive business environment, low cost of power and dense fiber, which allows for low-latency connectivity within the Southeast. The Georgia House recently passed Bill 696, which provides tax incentives benefiting both new and existing customers who locate to Atlanta.
Several new providers, including CyrusOne and Switch, have recently begun to develop their first Atlanta data center campuses. Notably, QTS has a homecourt advantage when it comes to courting wholesale customers in Atlanta, as it can provide the lowest cost of power due to owning a 120MW sub-station.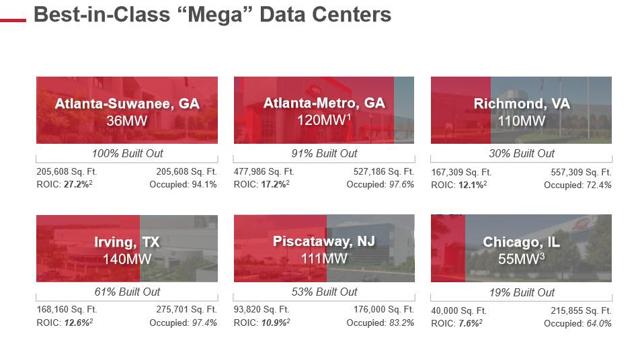 Source: QTS Investor Presentation
Perhaps An Investor Edge?
In October 2018, QTS announced the purchase of a 55-acre property adjacent to its metro-Atlanta data center campus to "future-proof " expansions for more than 540 existing customers, as well as to provide capacity required to attract additional hyperscale and enterprise logos.
QTS Realty already has more than $31 million in bookings for 2019 (expects to recognize $21.9 million), with another $17 million signed for 2020 and beyond. This helps to derisk QTS results for 2019.
Meanwhile, QTS has deployed an industry-leading software-defined data center platform to make it easier for enterprises to provision and manage hybrid IT and multi-cloud deployments. Notably, during the third quarter 2018, two-thirds of the booking were from retail colocation customers, and just one-third from hyperscale customers.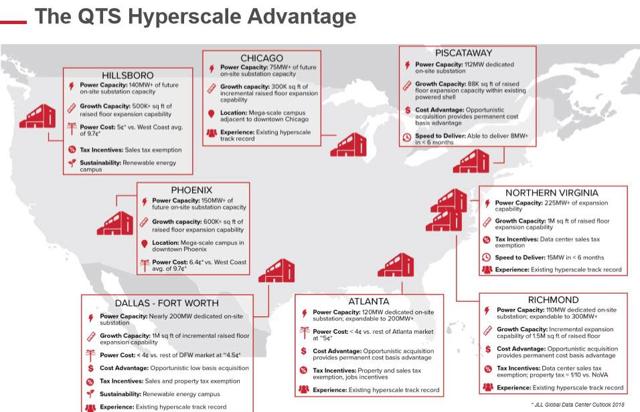 Source: QTS Investor Presentation
Solid Balance Sheet
At the end of Q3-18, QTS had total liquidity of approximately $750 million, made up of availability under the revolving credit facility and cash on hand. The company ended the quarter with leverage of approximately 5.3x net debt to annualized consolidated adjusted EBITDA.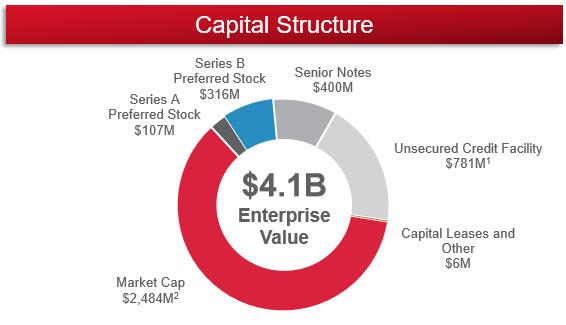 Source: QTS Investor Presentation
On the Q3-18 earnings call, the company said that "based on increased visibility to de-levering through an expanding backlog of signed, but not yet commenced revenue, it's comfortable maintaining leverage in the mid to high 5x range in the near term to support ongoing capital development."
Between debt and preferred securities, QTS has more than 75% of its capital base subject to a fixed rate, which insulates the capital stack from outsized interest rate risk. Also, QTS has no significant debt maturities before 2022.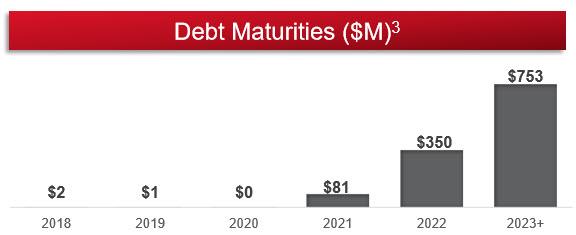 Source: QTS Investor Presentation
The Latest Earnings Results
In Q3-18, QTS reported year-over-year growth in core revenue and adjusted EBITDA of 14% and 20% respectively. On a year-to-date basis, through the third quarter, core revenue and adjusted EBITDA were up 15% and 24% respectively. This remains consistent with expectations for an acceleration in top line revenue growth for 2019 and beyond.
Also during Q3-18, QTS reported a core adjusted EBITDA margin of approximately 51%, which represents a 250 basis-point improvement year over year. In addition, the company has been able to enhance the predictability of its business by realizing customer churn rates well below historical average through execution on a more simplified product mix.
The company reported core rental churn of just 1.1%, bringing year-to-date churn to only 3%, which remains among the lowest in the industry.
QTS reported consolidated FFO available to common shareholders and OP unit holders of $20.6 million, a decrease of 46.6% compared to FFO of $38.6 million for the same period in 2017. FFO on a fully diluted per share basis was $0.35 per share, a decrease of 48.5% compared to FFO per fully diluted share of $0.68 for the same period of 2017. Decreases in FFO and FFO per fully diluted share were primarily related to the one-time Non-Core restructuring expenses.
QTS said it was maintaining its core revenue guidance range for 2018 of between $408 million and $422 million but expects to come in at the higher end of this range, due primarily to higher than anticipated utility recovery revenue, which passes through directly to higher operating costs. QTS also reiterated guidance for 2018 core adjusted EBITDA of $218 million to $228 million and core AFFO per share of $2.55 to $2.65.
How To Play It?
As of this writing, QTS shares are trading at $36.85, or about 13.8x 2019 estimated AFFO per share (FactSet consensus per FAST Graphs), with a 4.5% yield. Shareholders can expect mid single-digit dividend increases going forward. There is plenty of room for price appreciation through multiple expansion for QTS shares in 2019 if management continues to deliver solid bookings and adjusted EBITDA margins.

Source: Rhino Real Estate Advisors
We recognize that M&A is not a catalyst, but we consider QTS a prime-time takeover target. The company is much "cleaner" today, as noted, and we believe that the valuation is compelling for either private equity or a consolidator such as Digital Realty or Equinix. The more logical buyer is Digital Realty given the company's lower cost of capital. CyrusOne could also make the play (for QTS) but is less likely, in our opinion, given the more recent focus internationally.
All things considered, we are maintaining a STRONG BUY and QTS is our strongest conviction buy in 2019 in the communications sector. This simply means that there is an opportunity for enhanced price appreciation, in which we are forecasting annualized returns in excess of 40%.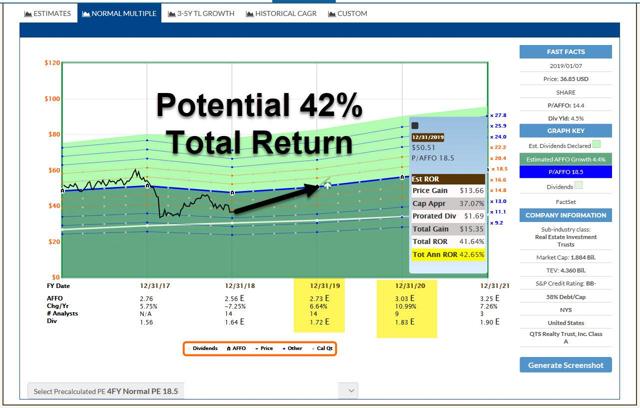 Source: FAST Graphs
Author's note: Brad Thomas is a Wall Street writer and that means he is not always right with his predictions or recommendations. That also applies to his grammar. Please excuse any typos and be assured that he will do his best to correct any errors if they are overlooked.
Finally, this article is free, and the sole purpose for writing it is to assist with research, while also providing a forum for second-level thinking.