After nine straight years of gains, the S&P 500 (SPY) finished in the red in 2018 for the first time since the financial crisis. If 2017 was the year where you could make money no matter where you invested, 2018 was the year where you lost money pretty much anywhere you invested (save for areas, such as cash, shorter-term Treasuries, and far-flung countries like Saudi Arabia and Qatar).
2019 figures to be somewhere in between. There are gains to be had, but you'll need to be more selective and do your research in order to find them. There are a lot of moving factors at play currently outside of just an S&P 500 that's sitting about 13% below its all-time high. How will tariffs impact the global economy? How will they impact companies' bottom lines? Is Apple's (AAPL) profit warning a company-specific issue or is it indicative of problems ahead for multi-nationals? Is the Fed going to raise rates in 2019 or might they actually cut them? Is a recession in 2019 a possibility?
So far, the equity markets continue to whipsaw around as investors process whatever the issue du jour happens to be. This makes it difficult to project which asset classes might outperform over the course of a full year, but these are six ETFs that I think could do relatively well this year.
iShares 10-20 Year Treasury Bond ETF (TLH)
The Fed Funds rate looked like it was going to continue rising this year, albeit at a significantly slower pace, until the Fed changed their tune last week suggesting a more accommodative tone going forward. Looking at the Fed futures market at this very moment, it's implying that there's a roughly 70% chance that the Fed Funds rate will finish the year right where it started. It also sees a 20% chance of a rate hike and a 10% chance of a rate cut in 2019.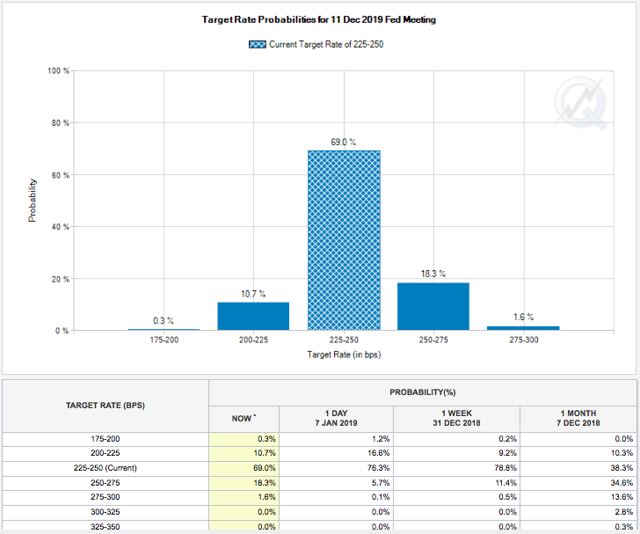 I was more bearish than not on Treasuries in 2019 given my belief that multiple rate hikes from the Fed would push the overall yield curve north and lead to losses for fixed income products. But if the Fed isn't going to raise rates and the global economy continues to cool, Treasuries should be in a position to rally particularly on the long-end of the curve.
Why choose TLH instead of a fund, such as the iShares 20+ Year Treasury Bond ETF (TLT), if rates head down? Risk mitigation mainly. TLH is about 35-40% less volatile than TLT and has similar risk-adjusted returns over the long-term. Plus, I don't want to be overexposed to rate risk in case interest rates actually begin heading back up again (one more rate hike in 2019 isn't an unreasonable expectation).
TLH currently has a 10-year duration and a dividend yield of 2.7%. A modest drop in the 10-year Treasury rate down to about 2.5% from current levels would mean a 2019 total return in the ballpark of 4-5%, a number which could look quite attractive if equities remain under pressure.
SPDR S&P Biotech ETF (XBI)
Biotech had another rough year despite an overall solid year for the broader healthcare sector. While the Healthcare Select Sector SPDR ETF (XLV) was up 6% in 2018, equal-weighted XBI fell around 15% (the market cap-weighted iShares Nasdaq Biotechnology ETF (IBB) was down a more modest 9%). But biotech is reaching a point where valuations look attractive and increased M&A activity could be the catalyst that pushes the sector higher.
As resident biotech expert Bret Jensen notes in a recent article:
Buyout activity was dormant throughout 2018, even as drug/biotech giants still have to replenish their pipelines. The only significant deal I can recall in the fourth quarter was Tesaro (TSRO) being acquired for just over $5 billion. However, cash at the ten largest pharmaceuticals companies increased $15 billion in the third quarter to $155 billion, and that cash flow has to be put somewhere.
Of course, the first big domino has already fallen with the Bristol-Myers Squibb (BMY) acquisition of Celgene (CELG) for around $74 billion. Credit Suisse in a recent note said that Bristol-Myers could now find itself as an acquisition target by the likes of Pfizer (PFE) and AbbVie (ABBV) once the Celgene deal closes. With all that cash floating around, M&A could be a big boost for the sector in 2019.
On top of that, biotech is starting to look downright cheap. According to research from Ed Yardeni, the forward P/E ratio of the biotech sector sits at a scant 11, a level we haven't seen in years.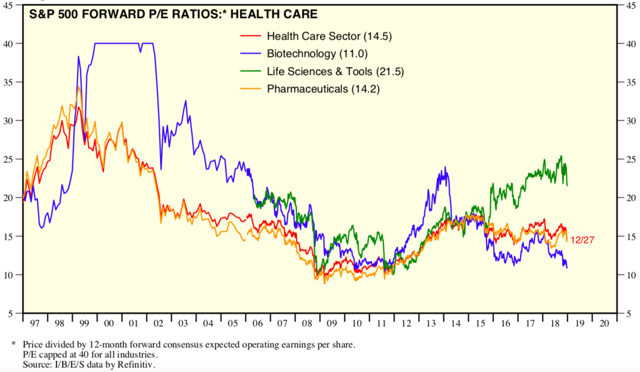 I'm choosing XBI here since the equal-weighted portfolio should help spread out overall risk. If you want to be overweighted in the biggest biotech names, such as Gilead (GILD) and Biogen (BIIB), IBB would be the way to go.
iShares MSCI China ETF (MCHI)
This will be the most risky pick of the bunch. China obviously has its fair share of issues. While the latest annual GDP growth figure for the country is 6.5%, some economists have suggested that the number will fall below 6% thanks to slowing consumer demand and weaker manufacturing data. The United States/China trade dispute puts further pressure on the Chinese economy although the China central bank continues to stand prepared to pump fiscal stimulus into the economy to keep growth high.
Chinese stocks continue to languish about 30% below their early 2018, but my MCHI pick for 2019 is based on my belief that the two countries will come to some type of trade resolution sometime in the second half of the year. From the standpoint of Washington politics, the impact of trade tariffs could be sending the markets and the economy south right around the time the 2020 election campaign is heating up. Will President Trump try to gain an economic win if he senses that his reelection is at risk and becomes more willing to compromise? It's speculation at this point but it's certainly a possibility.
There is a lot of risk in investing in China right now. The economy is slowing and the fiscal bubble could begin bursting at any time. But a firm resolution to the trade war could see Chinese stocks enjoy a 10-20% bounce.
iShares Edge MSCI USA Quality Factor ETF (QUAL)
The quality and low volatility factors tend to be pretty closely correlated, but we just didn't see that in 2018. When low volatility ETFs began to rally in the second half of the year, ETFs focused on quality companies somewhat surprisingly failed to keep up. In fact, quality ended up lagging low volatility by 7%.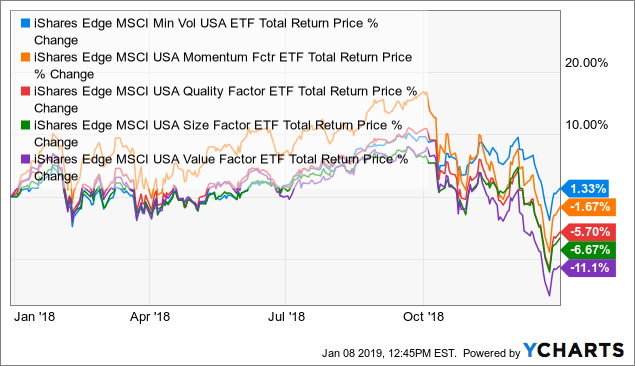 As market volatility remains high and investors look for safer places to park their money, ETFs focused on quality companies and balance sheets could be an ideal landing spot. Just as we saw money flow into defensive areas of the market, such as utilities and healthcare stocks, last year, investors could look to companies with high returns on equity, strong cash flows, and low debt levels to be less impacted by an economic slowdown.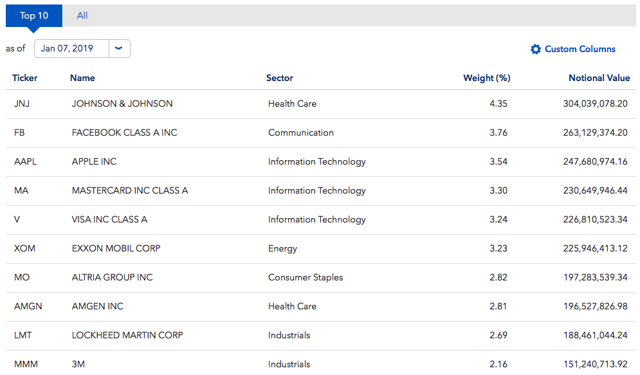 QUAL's top 10 holdings, which account for about 30% of the portfolio, are a solid mix of names that generate lots of cash and generally enjoy steady demand regardless of the economic environment. The exposure to Apple certainly isn't helping its cause right now, but names, such as Visa (V), Mastercard (MA), and Johnson & Johnson (JNJ), should be relatively solid performers.
The fund isn't necessarily cheap (its P/E ratio is only slightly below that of the S&P 500), but overall balance sheet health will be this ETF's calling card.
Schwab Fundamental Emerging Markets Large Company Index ETF (FNDE)
I've used a graphic multiple times in the past few months to explain how attractively valued emerging markets stocks are right now.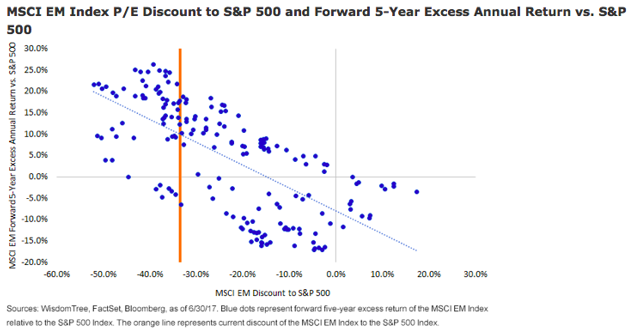 When the P/E ratio of the MSCI Emerging Markets Index is as discounted to that of the S&P 500 as it is right now, emerging markets have outperformed the S&P 500 by roughly 10-15% annually over the subsequent five years. It's not a foolproof buy signal, but it is backed by lots of historical data.
Given the expected economic uncertainty around the world, emerging markets ETFs may not necessarily be outperformers in 2019 but this could be an attractive buying opportunity if you're willing to hold on for a few years.
You could certainly target a broad emerging markets ETF, such as the iShares Core MSCI Emerging Markets ETF (IEMG), for exposure but FNDE is a nice alternative if you want to invest a bit more conservatively within the space.
FNDE starts with a broad large-cap emerging markets universe but then selects, ranks, and weights securities by fundamental measures of company size, such as adjusted sales, retained operating cash flow, and dividends plus buybacks - rather than market capitalization. Think of FNDE as a good way to target quality companies within the emerging markets universe.
Over the longer-term, FNDE has only produced slightly higher risk-adjusted returns than IEMG, but it's really hit its stride over the past three years. FNDE has outperformed by nearly 6% annually while producing vastly superior Sharpe and Sortino ratios.

This isn't just selecting a fund based on historical returns. Focusing again on quality companies with stronger balance sheets should help shield investors from downside volatility as well.
PGIM Ultra-Short Bond ETF (PULS)
While short-term Treasuries get a lot of attention in volatile markets, short-term investment-grade corporate bonds look like another attractive risk/reward proposition. PULS is an actively-managed fund that targets high-quality bonds with remaining maturities of less than 3 years. The fund's duration of 0.2 years demonstrates that PULS tends to stay much further on the short end of the spectrum.
Compare PULS to the SPDR Bloomberg Barclays 1-3 Month T-Bill ETF (BIL), a fund which maintains a similar duration and standard deviation of returns but focuses on Treasuries instead of corporates. BIL offers a yield of 2.1%, but PULS currently pays a 2.7% dividend, a nice income boost for a similar level of risk.
The downside of PULS is that corporate debt could be less attractive than Treasuries should the economy slow and investors move to safe havens. PULS has only been around for less than a year so we don't have a lot of data to work with but it has shown to be only slightly more risky than BIL during that time.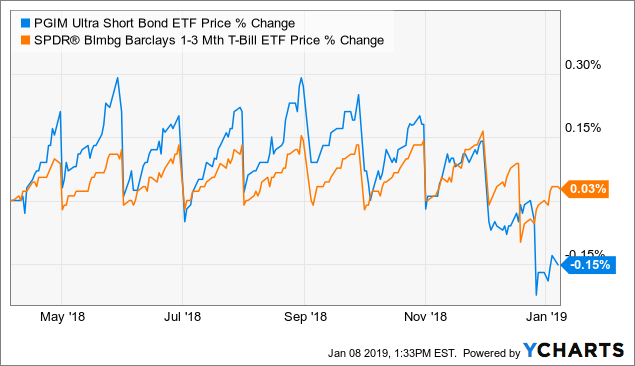 The difference in yield, however, has more than made up for the slightly increased risk.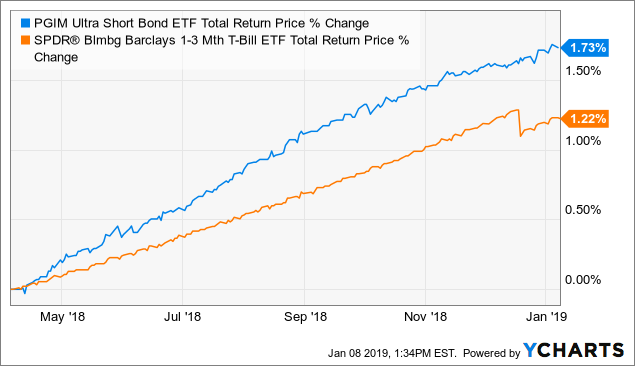 If you're looking at corporate bonds in 2019, I'd probably avoid long-term notes since a weaker economy could ultimately drag down their prices, but the risk/reward tradeoff still looks pretty good on the short-end of the curve.
Conclusion
I think investors will need to do their homework in 2019 if they want to unearth profitable opportunities. Global economic pressure is going to be a headwind for many asset classes, but there are segments which still look attractive.
Relative valuations suggest that better opportunities may be found overseas. Emerging markets and China will likely be volatile in the short-term but could do particularly well over the next few years. The change in stance from the Fed regarding rate hikes this year suddenly makes Treasury notes look more attractive, while ultra-short term corporate still presents an intriguing risk/reward tradeoff.
Biotech might not be the typical sector one would target during an economic downturn, but the combination of M&A potential along with attractive valuations make it one worth taking a chance on.
If you're interested in more picks like these, come check out what ETF Focus can offer!
A subscription to ETF Focus includes:
All ETF Focus model portfolios
Our monthly ETF Power Rankings report
Our weekly "ETFs in Focus" report
Our weekly "Market Primer" report
Access to my personal portfolio
Individual ETF research on demand
The cost of subscriptions will go up on January 31st! Start your two-week free trial now to lock in today's low prices and get 20% off your first year's subscription. Click HERE to activate your membership now!
Disclosure: I am/we are long AAPL,MCHI,XBI. I wrote this article myself, and it expresses my own opinions. I am not receiving compensation for it (other than from Seeking Alpha). I have no business relationship with any company whose stock is mentioned in this article.