Enbridge (ENB) is one of North America's largest midstream/ infrastructure companies with operations in liquids pipelines, natural gas pipelines, and utilities gas distribution. In my recent article Enbridge Is On Sale To Start 2019, I looked at Enbridge as a whole exploring the company and the value proposition that it currently presents, but I thought that it might be important to take a deeper dive into their Gas Pipeline and Distribution business as it represents more than 45% of the company and is the fastest growing part of the business.
My time line for most investments is forever
I am a dividend investor who likes to buy and hold great companies for a very long time. My strategy is to own strong, stable companies and live off of the dividends rewarded for being an owner. I am not a speculator who wants to time the market, get in and get out. With that in mind, when I look at most companies to invest in, my time line is usually forever. That is what made Enbridge and other investments I hold, like TransCanada (TRP), an interesting decision. They both pay solid and growing dividends, but would they be around forever?
In a perfect world we would like to generate all of our energy from renewable resources like the wind, sun and water, but the reality is that these resources provide challenges to harness. Due to the fact that the sun does not always shine, the wind does not always blow and storage is a major issue, they only represent a small percentage of the energy we consume. We want to flip a switch and get what we need when we need it. At the same time we are protective of the environment and want to do what is right.
Recognizing this and our need for cleaner energy, a primarily dependent company, like Enbridge in 2014, presented a challenge. Although IEA forecasts of growing demand for oil through 2040 are positive, there is a piece of uncertainty there that forever-type investors get nervous about. With the Spectra deal those worries were greatly diminished. Although it is true that oil demand will increase in the coming decades globally, it is expected to slow in North America as we transition into more of an export economy to drive growth. The opposite is true for natural gas.
Natural gas is not like wind, water and solar leaving almost zero environmental footprint, but it is much cleaner than coal and oil, is abundant and is a far cheaper energy to produce than nuclear. It also allows for energy at the flip of a switch making it the ideal compliment to renewables and a preferred means of meeting future generation needs. We see this with the many coal-fired conversions that are taking place across North America - conversions that are creating opportunity for Enbridge.
In addition to providing for ourselves, natural gas in its liquid form LNG is a great way to export the commodity to markets overseas in Europe and Asia that are also looking more to this cleaner energy source to replace coal and oil in energy production. It's this balance that makes Enbridge attractive to a long term investor as diminishing demand for oil should be outpaced by increasing demand for natural gas and Enbridge's network to deliver.
A record year for their gas business
2018 was a record year for Enbridge's gas business, putting $6 billion of new projects into service. These 11 projects included Nexus and Valley Crossing, which were both key pieces of infrastructure, giving the company greater access to the vast supply resources in the Marcellus Shale Region of the Eastern US as well as the Permian Basin in Western Texas. This key new infrastructure builds on a footprint that allows opportunity for future growth unparalleled in the industry.
With a contract renewal rate of greater than 98% and rate cases filed in key markets, 2019 should prove to be a solid year for their existing business as the company streamlines to focus on its core US and Canada pipelines business. The advantage that Enbridge has is that their existing core business is located geographically in the regions best positioned for future growth, giving them advantages over many of their competitors in the industry.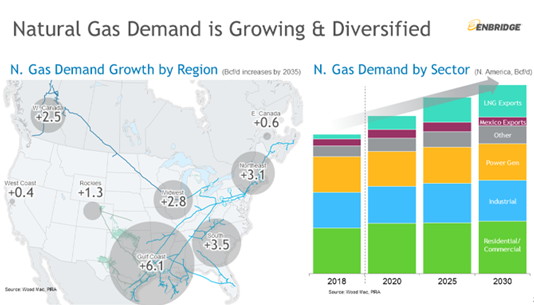 Source: Enbridge Investor Presentation
Enbridge's confidence in the future is based on two key factors: fundamentals and footprint. From a fundamental standpoint the business is growing across the US Midwest, Northeast and Gulf Coast region primarily driven by increasing demand as natural gas as it replaces other sources of energy as a preferred energy source. At the same time the infrastucture needed to meet the demand is insufficient, creating opportunities for Enbridge. The increase in demand for natural gas comes as it replaces other less environmentally alternatives like oil and coal. But even compared to more environmentally-friendly options like nuclear and renewables, it is proving to be the preferred choice when combining environmental benefits with cost efficiency, reliability and ability to scale.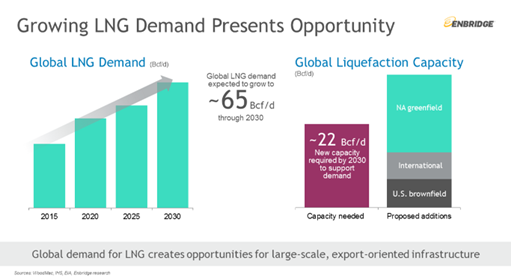 Source: Enbridge Investor Presentation
The greatest chance for future growth will come from LNG exports as both Canada and the US are both well positioned to take advantage of this new opportunity, which is expected to reach 65 Bcf/d by 2030. In order to meet this new demand an additional 22 Bcf/d of additional capacity will be needed.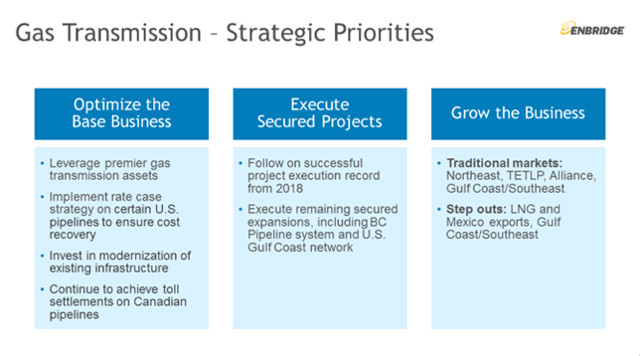 Source: Enbridge Investor Presentation
What makes Enbridge's gas business such a good investment opportunity is that they have a very stable base business that delivers steady, dependable, regulated revenues across a number of geographic areas. In 2017 most of their pipelines operated at reserved capacity above 95% through take or pay contracts ensuring profitability for the company. At the same time, this high level of utilization creates rate case arguments that should drive additional profits and ensure the companies ability to maintain and modernize their existing infrastructure.
Also important to note is that the average contract on the gas system extends beyond 10 years with a 98% renewal rate for existing customers. For a shareholder like myself who depends on the dividend to fund my lifestyle, these are the kind of numbers that help me sleep well at night.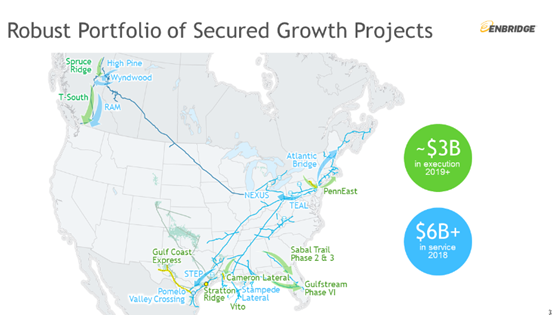 Source: Enbridge Investor Presentation
Well positioned for future growth
2018 was a very good year for Enbridge as they were able to bring $6 billion of new projects into service despite the challenges major pipeline infrastructure projects have faced. 2019 will be another productive year with another $3 billion in projects at varying stages of execution.
Their completed expansion of the Nexus System will add additional capabilities to their business in the US Midwest as well as provide growth possibilities through the Dawn Hub to Ontario and further down stream. Their Valley Crossing expansion provides greater access to the Permian Basin in Texas and becomes a natural funnel point to export opportunities into Mexico which will also power future growth possibilities.
What gives Enbridge an advantage in future growth projects is their access to the first and last mile of many of the projects that will determine future growth across the industry. Whether it is access to the gas producing regions of the Marcellus and Appalachian region, Permian Basin or Western Canada, Enbridge has established pipelines and as important right of ways that can be built upon for future growth. Equally important is their distribution network that reaches into Western Canada and Ontario, the Northeast US including New England as well as the Southeast and Gulf Coast areas. All of these areas represent major population bases as well as export opportunities along existing corridors.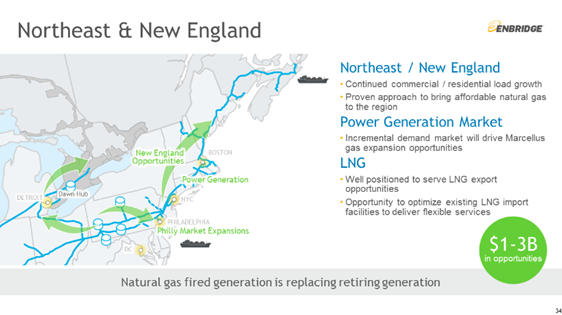 Source: Enbridge Investor Presentation
There are considerable opportunities that currently exist in the Northeast and New England areas post 2020 as well. The Marcellus and Appalachian areas are among the most prolific gas-producing regions in the world. According to Bill Yardley, President and EVP of Gas Transmission and Midstream operations for Enbridge, "If the Appalachian region was a country they would be the third largest gas producing country in the world." He also forecasted that production in this region should increase by more than 1/3 over the next decade and currently Enbridge is transporting more than 30% of all the gas being produced.
He forecasted $1-3 billion in growth opportunities from this area alone pointing out how currently the New England area is importing heating oil and LNG from outside the region to meet demands despite being located so close to this incredible energy source. At present only 40% of homes are being heated by natural gas in the area creating tremendous opportunities for local distributers and in tune Enbridge who services the distribution network.
There is also tremendous opportunity for electric power generation possibilities as coal and oil facilities become slated for decomissioning and natural gas has become the preferred preferred alternative to work in coordination with renewable sources to provide for electricity needs. With existing gas lines and right of ways into most of these facilities slated for conversion, Enbridge is well positioned. Currently only 4% of New England's electricity needs are being met by piped natural gas. This should change in the near future.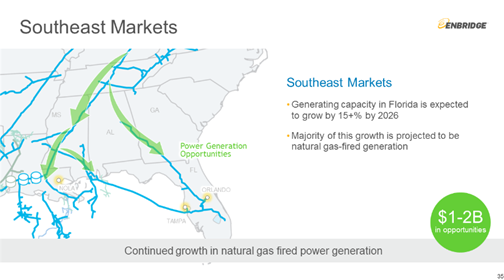 Source: Enbridge Investor Presentation
The Southeast market is also expected to continue to grow at a rapid rate and along with it generating capacity. In Florida generating capacity is expected to increase by 15% by 2026, primarily in Central and South Florida, and most of this new capacity will be met by natural gas. There is also increasing demand along the Florida Panhandle and plans are underway to address this potential opportunity as well.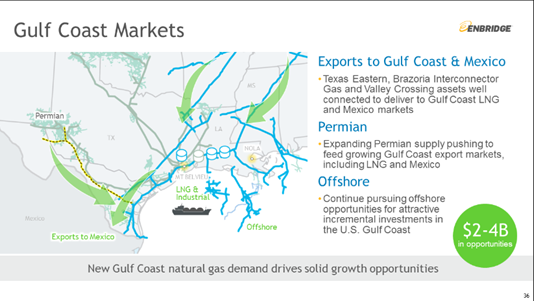 Enbridge Investor Presentation
The Gulf Coast presents some of the greatest opportunity for Enbridge going forward as several LNG projects continue to advance while exports of natural gas continue to expand to Mexico. Currently there are seven LNG projects on the books that when complete will require 13 Bcf/d to feed production, this in addition to the 10 Bcf/d of secured projects that are either completed or in construction that will soon be on line. In Mexico 5 Bcf/d is exported to Mexico predominantly from the Permian Basin, and that is expected to grow to 8 Bcf/d in the next decade. This comes at a time when existing Mexican production continues to decline, creating demand for greater imports from the US.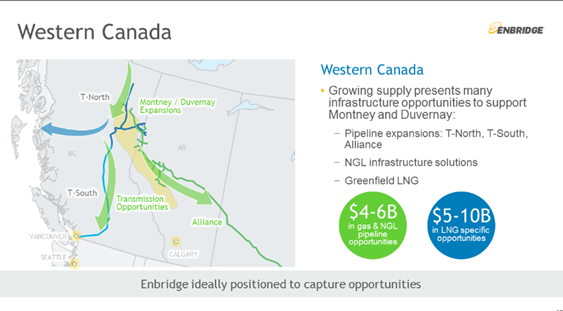 Enbridge Investor Presentation
Enbridge has made fairly significant investments in their Western Canadian network over the past 5 years, nearly doubling their previous capacity and setting themselves up for future expansion. The Montney and Duvernay areas offer one of the worlds largest potential sources of low cost natural gas supply going forward and once Canada figures out a way to overcome existing regulatory hurdles opportunities will be created to move that product to market.
I am encouraged by the partnerships that have been struck with local first nation communities in the recent approval of the TransCanada (TRP) pipeline supplying the LNG Canada facility in Kitimat BC and am hopeful that this will be a template for future development projects to be built in Canada. As the closest shipping route between North America and Asia this presents tremendous opportunity for the area once all parties learn how to better balance the needs of the economy with the needs of the environment. At the same time Enbridge is learning from their experiences in dealing with landowners along right of ways early and often in the process to ensure projects a greater probability of completion.
Things to Consider
Although the future looks bright for Enbridge's gas and distribution business, there are issues that they will have to overcome along the way. Despite the acceptance that natural gas is a cleaner and less expensive alternative to many other sources of energy there is still a resistance to new infrastructure development when it comes to oil and gas. Environmental groups are aligning themselves with political parties drawing lines in the sand, which is never good. I believe that politicians will have to abandon their strong left or right stances and adopt more of a centrist model if we are to meet the needs of the economy and the environment. We see this particularly in Western Canada and along the US east coast as it relates to Enbridge.
Enbridge has also taken steps to deleverage the business selling off non-core assets and committing to a self funding model for future growth. This may stem some of the home run swings they have been noted for but at the same time this should drive shareholder value as dilution of share count becomes less of an issue for investors.
There are also concerns around trade with the rest of the world as LNG depends heavily on the free movement of goods especially to Asia. In a world of tweet politics and building walls not bridges, this is a concern that should alleviate with time.
A great opportunity
I believe that this is a great opportunity to build a position with Enbridge. They have done a good job of assimilating their acquisition of Spectra and returning their financial footing to more stable ground. They have built a low-risk business paying an above average dividend that is well positioned to continue growing in the future. And it is cheap by historical values, creating a great entry point for new investors or those looking to grow their position. I am a strong supporter of Enbridge and will continue to depend on them to fund my lifestyle.
Disclosure: I am/we are long ENB,TRP. I wrote this article myself, and it expresses my own opinions. I am not receiving compensation for it (other than from Seeking Alpha). I have no business relationship with any company whose stock is mentioned in this article.