To those who say labor is a lagging indicator, I say beware. The labor data you see may sometimes be dated and often shows seasonal anomaly, but it is not lagging. At worst, labor is a coincident indicator, peaking and bottoming along with swings in the economy. At best, it is a leading indicator we should all be paying attention to. We live in a consumer driven economy, the consumer spends when they have a job, are earning money, and feel confident that will continue into the future.
Labor market improvement, labor market tightening, and labor market health have been a hallmark of the economic recovery. Over the past 8 years joblessness, hourly earnings, and job creation have all steadily improved and, along the way, foreshadowed robust growth.
The KC Fed's Labor Market Conditions Activity Index, the most comprehensive labor market indicator in existence, accurately predicted a period of 3% to 6% economic growth two years before the economy began to accelerate and it continues to indicate robust economic activity to this day. But you don't have to take my word for it, there are lots of other data points to support this view.
The Labor Markets Conditions Index Points To Robust GDP Growth
At last read, the LMCI declined modestly to 0.89 from 0.98, but it remains very high relative to past economic expansions and just under a 19-year high. If you look at the chart and you don't have to look very closely, it is easy to see the correlation between the LMCI and US recessionary periods. When the LMCI is trending higher, US activity is positive.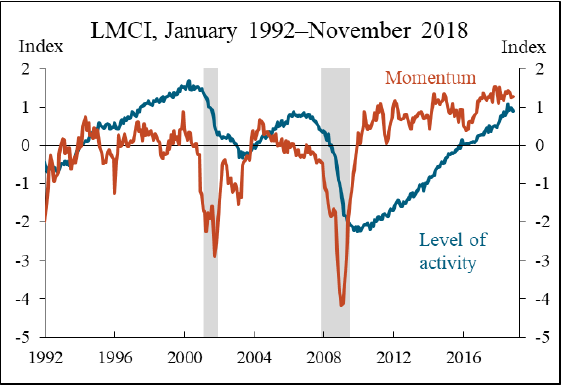 Regarding labor as a lagging indicator, it is also easy to see a clear decline in labor conditions well before the onset of any "official" recessionary period which makes the LMCI a leading indicator, not lagging.
The LMCI Momentum Index also indicates robust activity and a high likelihood that robust labor market activity will continue this year at least. The LMCI momentum index ticked higher in December, a bullish sign, and is trending at all-time highs, a very bullish sign.
The Leading Indicators Point To Growth In 2019
Looking to the Conference Board's indices of leading, coincident, and lagging indicators there are employment-related data in all three, and all three suggest robust growth will continue in 2019. The Leading Indicators have declined somewhat over the past few months but remain positive as they have been for more than two years and above their lowest levels.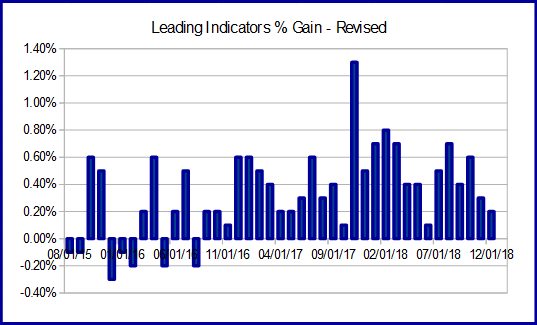 The Leading Indicators we find are Initial Jobless Claims and Average Weekly Manufacturing Hours. Initial jobless claims have risen over the past month, but this rise is seasonally expected and does little to alter labor market conditions. Looking at this data relative to history, jobless claims are still trending at 45-year lows and give no indication of economic recession.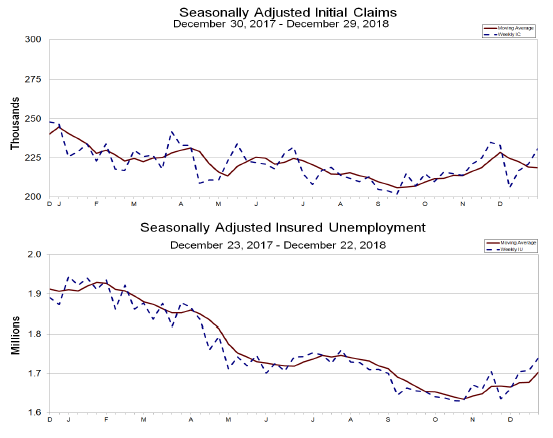 The ISM Manufacturing and Non-Manufacturing reports we can see that labor conditions have been and are still improving throughout the broad economy. While employment indices for both have retreated from recent peak, both remain high relative to the recovery and above multi-year averages.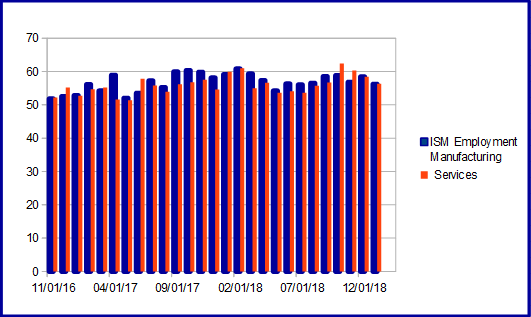 Inside the Conference Board's Coincident Index, we find the Non-Farm Payrolls figures, a measure of how labor market conditions are right now. Looking to the latest Non-Farm Payrolls figure, labor market conditions are not only still improving, but they are also at the healthiest levels seen in the US, EVER. From that perspective, there is a better chance we'll see economic activity improve over the next year rather than recede. The December read on NFP was in itself a big surprise at 312,000 and, with revisions to the previous two months, puts the average monthly job gain at 254,000 over the past three months and over 200,000 for the past 12.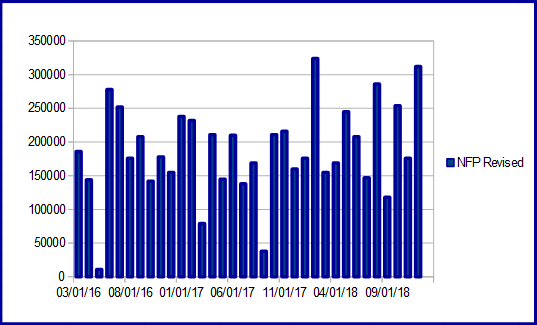 Hiring Is Strong And Labor Is Confident
The JOLTs report backs up the idea hiring will remain strong throughout the next year with the number of job openings trending at record highs. The last read, for November, shows the number of openings, hires, and quits all edged lower but that is consistent with what we already know from the more recent ISM and other employment data.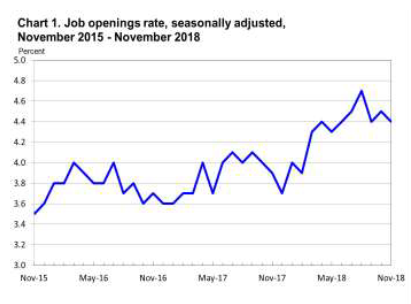 The crucial factor in this data and the one that supports the idea of future strength in labor the most is this; there are roughly 6.9 million job openings in America right now (JOLTs) but only 6.3 million available workers (NFP Employment Situation Report), a shortfall that is driving upward mobility within the workforce and putting upward pressure on wages.
Wages have been growing well above 2.5% for some time, more than two years, and have recently begun to move sharply higher. Over the past three months, wage gains have averaged 3.0% adding fuel to consumer confidence and consumer spending, and if there is one thing in this country that drives the economy, it is the consumer.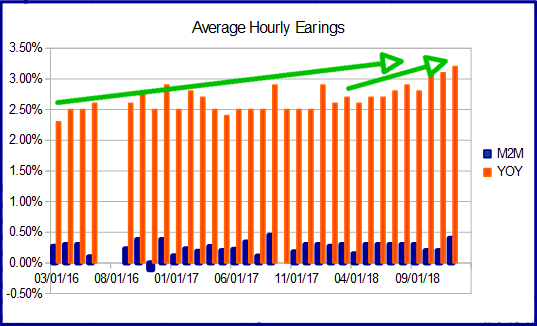 The Consumer Is Confident And Spending
Consumer Confidence dipped slightly in December due to trade concerns, the broad market sell-off, and fear of slowing economic activity, but there are two things to mitigate that data. The first is that Consumer Confidence remains high relative to trend at 128.1, the second is that since the data was compiled and released, there has been a notable shift in outlook. While there are still concerns for trade and economic growth, the data remains positive and US/China trade negotiations have resumed and appear to be on a positive footing.
Another indicator of confidence can be found within the JOLTs report, the quits rate, a measure of worker confidence. The quits rate moderated a bit in the last month along with just about every other data point, but like most other labor data, this figure is trending high relative to trend and at strong levels consistent with a labor force sure of finding new, better, higher paying employment.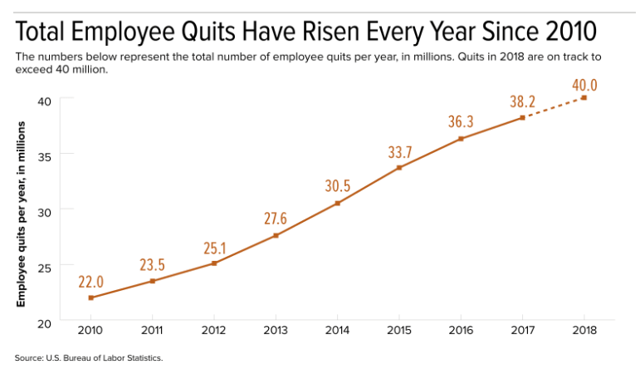 In terms of spending, consumer spending has been on the rise all year. The most recent data, for December, is not available due to the government shutdown, but we do know that holiday spending was up more than 5% over the same period last year and set an all-time record. The two months prior to December say spending increased by 0.8% (October) and 0.4% (November).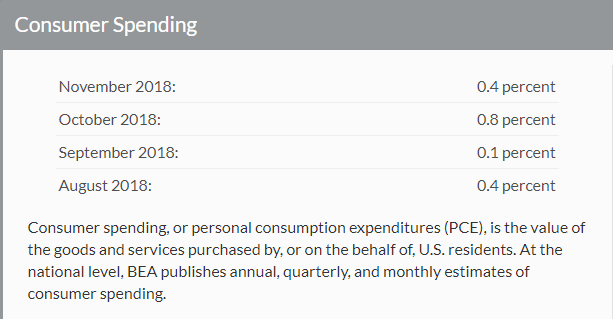 Retail sales figures, also delayed due to the government shutdown, have also been rising on the back of improving consumer health. The data we do have, up to November (not revised), shows steady month to month increases consistent with seasonal expectations with YOY growth running between 4.0% and 5.0%. Based on the holiday shopping reports from Mastercard, I do expect the December retail sales figures to be strong as well.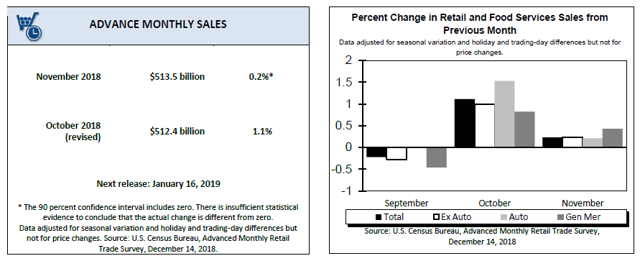 Labor Coming Full Circle In The Economic Cycle
Bringing this back around to manufacturing and labor as a leading indicator, strength in the consumer is creating a void that will need to be filled. The ISM manufacturing and non-manufacturing indices both track customer inventory levels and both surveys say those levels are too low. This means that we could easily see a resurgence in new orders and activity as wholesalers and retailers resupply their shelves in order to meet demand.
The Business Inventories data shows a steady 5.5% increase YOY in business purchases but even that is not enough to maintain adequate stock on shelves. The inventory to sales ratio, a measure of inventory health relative to sales rates, has been trending lower for several years showing sales have been steadily outpacing purchases.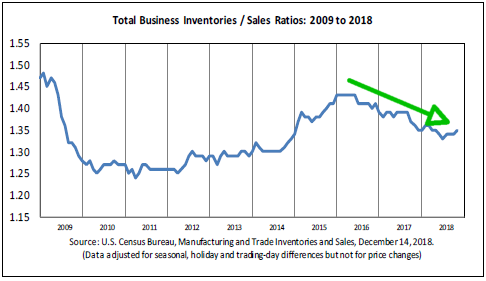 Labor Is Really A Leading Indicator, In This Economy
The reality of labor market conditions is that it is, in fact, a leading indicator. As employment levels improve, so too does the health of the consumer and consumer spending, and those both lead right back into economic activity.
The forecast for GDP growth shows slowing growth, but growth for at least the next three years. The FOMC expects to see GDP around 2.3% this year, 2.0% next year, and then below 2.0% the year after that. The mitigating factor here is the law of large numbers. When you look at the rate of expected GDP growth based on fixed-dollars, economic expansion is expected to remain steady over the foreseeable future.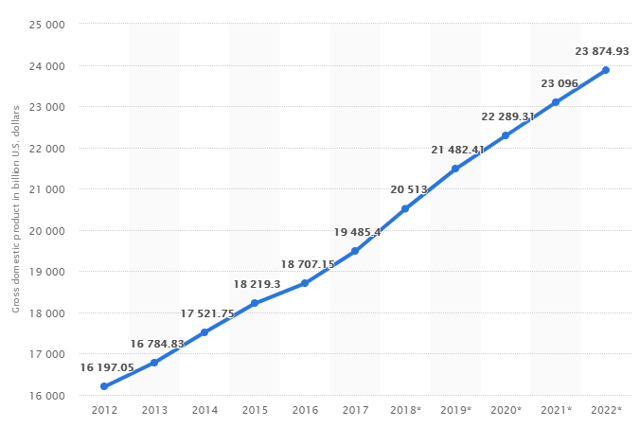 The salient point here is that the pace of growth, on a percentage basis, is slowing but not reversing. I grant that it is possible to infer growth will slow to zero but that outlook is not consistent with the data. The more likely scenario is that growth will continue long into the future, fueled by and fueling the labor market.
The Time To Buy Is Now
If you are thinking about buying some stock, now is the time to do it. Fear of slowing growth and "peak earnings" sparked a major contraction in stock valuation that has the S&P 500 (SPY) trading at the cheapest levels relative to forward-earnings in nearly a decade. Now that those fears are receding and the market beginning to look beyond the fear, a major rally is brewing.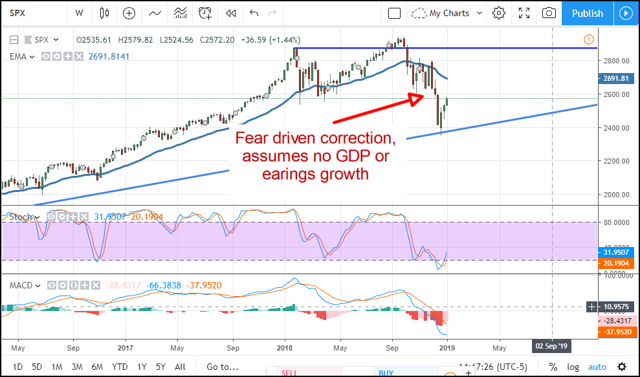 To recap, the LMCI points to a period of sustained GDP growth in the range of 3% to 6%, the Index of Leading indicators supports the idea of strong GDP growth in 2019, hiring remains strong, the workforce is confident, wages are rising, the consumer is spending, and manufacturers are working hard to fill orders so businesses can build inventory.
In my book that is a recipe for a rally that will result in the S&P 500 retesting its all-time highs before the end of the year and most likely, setting new all-time highs to boot. If the trade talks succeed soon, my targets will be reached well before expected.
Disclosure: I am/we are long SPY. I wrote this article myself, and it expresses my own opinions. I am not receiving compensation for it (other than from Seeking Alpha). I have no business relationship with any company whose stock is mentioned in this article.