Anixter International (NYSE: AXE) is one of the top distributors of network, security, electrical, and utility power products and services in the world. With over 310 warehouse and branch locations spread across 50 different countries, they offer nearly 600,000 products as well as leading supply-chain and technical services to customers across the globe. Yet as large as they are, Anixter is rarely in the spotlight. Most people seem to have forgotten about them. For example, the last time they appeared on Seeking Alpha was in March 2016.
I'm surprised to find very little analyst coverage of Anixter International's impressive growth in 2018. Anixter's third-quarter revenue grew 8.1% over 2017 to $2.2 billion (beating their Zacks Estimate by over $100 million) and achieved the highest organic growth rate (7.4%) since 2011. In fact, all three of Anixter's segments reported strong organic sales growth: network and security solutions (NSS) grew 6.4%, electrical and electronic solutions (EES) grew 9%, and utility power solutions (UPS) grew 8.1%. However, no one is talking about Anixter; and their share price has certainly not reflected this nearly double digit growth. Why not? And could this off-radar find be an opportunity?
Looking Back
In 2014 and 2015, Anixter completed three transactions that shaped their current market presence, business model, and operating flexibility. Detailed below:
1. In 2014 Anixter acquired Tri-Ed. With the addition of Tri-Ed, Anixter's NSS segment is bound to gain market share. Their midsize system integrators and residential end markets will be key growth drivers over the next five years. I think this growth will come from cross-selling to customers of each of Anixter's other segments. For example, as utility customers invest in security solutions to comply with regulatory standards, Anixter can provide NSS and UPS products. In addition, the explosion of wireless and cloud-related solutions in the market place should even further compliment NSS growth.
2. In 2015, Anixter sold its capital-intensive fasteners business leaving its electrical and electronic solutions business alone. The sale of the fastners business was a good move, but it might have been nice to carve off the ESS as well. Mainly because it has been generating depressed EBITDA margins for some time now. Regardless, as industrial end markets recover, I expect this segment to return to profitability as we've already seen normalized growth year over year.
3. Finally in 2015, Anixter purchased HD Supply's utility distribution business, which created their UPS segment. This business has proven to be a profitable move for Anixter. With its industry-leading scale and Anixter's proven ability to sell this line, the UPS segment should benefit from market share gains and improving utility capital spending.
Looking Forward
Anixter's gross margin was steady in 2018. With the exception of a $2.6 million expense (related to another acquisition of a security business that will augment their NSS segment), their third-quarter gross margin was roughly 19.6%. This is an area the company is actively working on. During the earnings call, CEO Bill Galvin stated that his team is optimistic about the gross margin and expects improvements to be reported in the fourth quarter. Which is good because investors are watching this metric closely, especially since the pressure is on factory activity. Protecting and growing this margin is a strong signal of financial health in this industry. If we do see improvement when fourth quarter earnings are released (expected 30 Jan 2019) Anixter will likely see a pop in their share price. Likewise, a decrease in margin will have a negative impact on the stock.
GAAP operating expense as a percentage of sales also increased 30 basis points year over year to 15.4%, and GAAP operating margin expanded 10 basis points to 4.1%. Breaking that down to the segment level: NSS GAAP operating margin expanded 20 basis points to 6.6%, EES margin improved 90 basis points to 5.7% and UPS margin declined 30 basis points to 4.5%. These margins (gross and operating) have been an area of concern, as they have been gradually eroding since 2016. The uptick in recent reports is a very welcome change which should persist over the next few years.
Anixter's debt has been a concern. As of third quarter, they carry roughly $1.26 billion in debt. With gross profit of $1.59 billion, the debt is manageable, but still higher than most would prefer. Anixter's Quick Ratio is .9 and total debt to equity is 80.79. This is lower liquidity compared to their peers. WESCO International Inc. (WCC) has a quick ratio of 1.5, along with Applied Industrial Technologies Inc. (AIT)'s 1.67, CommScope Holding Company Inc. (COMM)'s 1.80, and Houston Wire & Cable Company (HWCC)'s 2.43. Anixter would like to have a better leverage ratio, and is working to improve this. On slide 17 of the earnings call (shown below), Anixter has a target range of 2.5-3.0x for Debt / Adjusted EBITDA and a 45-50% target range for Debt to Capital. For third quarter, they just missed the top end of their Debt to EBITDA with a 3.1 reported metric. They also came under target for Debt to Capital at 44.7%. Because fourth quarter's seasonal impact, we may not see an improvement to these ratios but should look out for updated targets for 2019 as this will be an important thing to note. Morningstar has said:
Anixter's capital allocation strategy has favored returning cash to shareholders through special dividends and share repurchases. Once Anixter achieves its targeted leverage ratio of 2.5-3 times EBITDA, which we think will happen by 2019, we expect the company to resume returning cash to shareholders, that once Anixter's target is achieved, the company should resume returning cash to shareholders.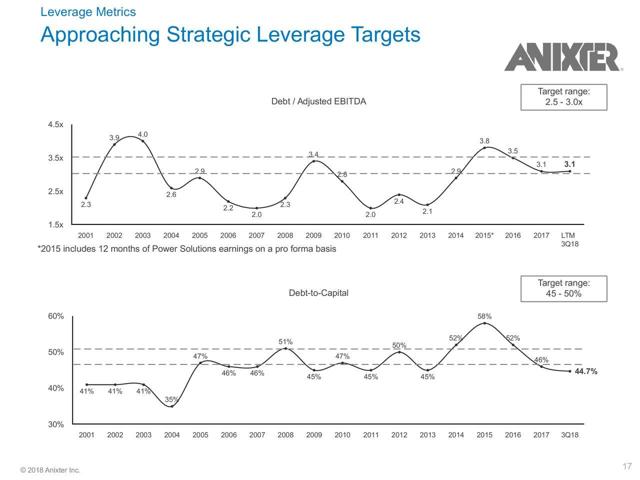 Recently, Anixter announced that it offered $250M of senior unsecured notes due 2025. They will use net proceeds of the offering to pay for a portion of the consideration for the 5.625% Senior Notes due 2019. This should ease some liquidity concerns as it pushes the senior notes off for several years. Personally, I don't have a problem with debt at these levels, especially with favorable interest rates in the last several years. Why not take advantage of cheap capital while it lasts? They certainly have. In the last few years management has made several good acquisitions and have been investing in improvements to their technology both for customers and internal uses.
Opportunity for Growth
After considering all of the above, it is evident that Anixter's share price has not caught up with its third-quarter results. I think Anixter's stock is undervalued. It should be trading closer to 18.5 times EPS and 12.5 times EBITDA. Which having adjusted for third quarter results and my estimates for 2018, should be closer to 5.78 and 8.56 respectively.
This valuation is based on several assumptions: First, Anixter's management footstomped margins several times during their call. Which indicates they are implementing initiatives to reduce cost, realize efficiencies from acquisitions, and improve pricing (for example, they mentioned passing costs to customers as fixed price contracts come up for renewal). Given their success so far, I'd estimate a sustained operating margin of 4.5 to 5% going forward. Coupled with their forecasted sales improvements, I'd estimate a 5% compound annual growth rate (CAGR) over the next five years, putting their revenue at $10.1 billion. From there we can adjust for normalized profitability, and arrive at my valuation.
At the segment level, I think NSS will benefit from the up-selling to current customers across segments as mentioned before, and will be able to maintain their current growth at or around 5% through 2022. As mentioned on the call, the EES segment performance is somewhat burdened by long fixed price contracts and weaker end markets, but I think the bottom is in for this segment. As time goes by, expiring contracts and other factors will help cause a turn around. For these reasons, I model a 5% average sale growth through 2022 as well. From what I've been reading, as utilities increase capital spending the UPS segment is in a good position to grow. The management team also sounded optimistic regarding their UPS segment, so I estimate sales to grow at 5% CAGR through 2022. International trade deals would also be a positive development for Anixter, who more or less brushed off tarriff issues in their last earnings call. Finally, reduced leverage and possible lower interest rates (or at least less than expected), should make for a solid 2019.
Risk
Of course there's always risk. Listed below are three of the biggest concerns I hear most often from bears of the stock. All three are valid, and investors should be on the lookout for them. However, I think Anixter's business model is the best defense against the naysayers. Their focus on strong relationships with customers is what gives the company its edge. Customers begin to rely on Anixter's technical expertise and supply-chain services which creates an ideal pipeline for suppliers. This in turn strengthens relationships with suppliers as well. This strategy is stable, and sets them apart from their competitors who rely on pricing and availability to drive business. Nevertheless, here are the risks:
1. Speculators are pointing to Amazon's emergence into industrial distribution as a possible threat.
Of course. Amazon's price-cutting tactics are not something to be taken lightly. But Anixter's service quality and relationship building should protect it. I'd be more worried if I were investing in other distributors who, like I said, rely on pricing to drive sales. Anixter is already not the low cost leader in many categories, but their customer service and holistic approach offers customers a lower cost long term solution.
2. Customers and suppliers may have higher bargaining power due to new entrants and consolidation in the industry, which could negatively impact Anixter's profitability.
My counter to that would be Anixter's increasing customer and supplier base. No one customer accounts for more than 2% of sales, and similarly their top five suppliers only make up 25% of their orders. This should, along with strengthening relationships, reduce the impact of bargaining power.
3. Anixter, like others, are impacted by cyclical downturns.
This is true across the industry. However, Anixter has proven their ability to produce solid cash flow, even during downturns. The chart above, I think, could be pointed to as an example of their 20 year track record of financial management.
Conclusion
Sometimes you have to look where no one else is searching to find the best deals. And this diamond in the rough is no exception. If analysts are not talking about Anixter now, they soon will be as 2018 year-end results come out. Look for strong revenue growth, acquisition-based synergies, and stable industrial demand to push Anixter International higher in 2019.
Analysts that have covered AXE, including Morningstar, have rated it overweight (2 Buy and 2 Hold), with a $107 highest price target and a median target price of $76 (significantly higher than today's $55 share price) indicating a strong buy rating. A $107 "best case" scenario would be roughly 2.32 price/book (current), which is not outside the realm of possibility. Especially since year-end reports should update their book value higher, pushing the ratio lower. For comparison, COMM has a price/book of 1.91, AIT has a 2.39, and WCC's 1.02 price/book is currently lower than AXE's 1.20. I see today's price as an opportunity to enter before the fourth quarter results are released and valuations are adjusted. With 92% of AXE's owned shares held by institutions, smart money is paying attention, and you should too.
If you enjoyed this article, please like and subscribe by clicking the "Follow" button by my name. I'll be writing more on industrials throughout 2019 as well as revisiting several of my former picks in energy and utilities, you don't want to miss it! Happy New Year, and thanks for reading!
Disclosure: I/we have no positions in any stocks mentioned, but may initiate a long position in AXE over the next 72 hours. I wrote this article myself, and it expresses my own opinions. I am not receiving compensation for it (other than from Seeking Alpha). I have no business relationship with any company whose stock is mentioned in this article.