The banking sector underperformed the broader markets in 2018 despite stable earnings, continued improvement in profitability metrics such as return on assets (ROA), return on tangible common equity (ROTCE) and fortress-like capital levels (10% average common equity tier 1 capital ratio, or CET1). The recent underperformance of the sector, in spite of far less exposure to slowing international economic growth than other industries, presents a unique entrance opportunity as valuations are currently overly discounted both on an absolute and relative basis.
For the purposes of this report, we define the regional banks as a depository institution with assets between $100 - $500 Billion).
The universe of regional banks is as shown in the table below:

Investment Thesis
The reasons for optimism for the regional bank sector outlook is multi-faceted and includes attractive valuations, excess capital and liquidity levels which position the group well for any adverse economic scenario, benefit from ongoing regulatory relief and enhanced ability to return capital to shareholders. We will briefly address each area and its impact on prospective returns.
Multiple Earnings Levers – the bear thesis for the group is that as the economy gradually moves towards recessionary conditions, banks will be adversely impacted by a dearth of loan growth, normalizing credit quality, a flattening yield curve and increased provisions with CECL accounting a year away. Besides the fact that this view assumes a slowdown despite recent conflicting economic data, it also underestimates how well the sector is prepared defensively for this scenario and the plethora of levers that banks have at their disposal, including the following:

Fed Rate Hike - benefit of mid-December 25bps increase in the fed funds rate has yet to run through bank net interest income (NYSEMKT:NII), but will in 2019. Regardless of whether the Fed stays on the sidelines this year or hikes 2x, bank NII will increase year-over-year.
FDIC Deposit Insurance – insurance premiums to decline given the elimination of the deposit insurance fund (DIF) surcharge in 4Q2018. Regional banks will see a ~1% decrease in their expense base as a result.
Net Interest Margin (NYSE:NIM) Expansion – although the pace of NIM growth will slow, it will be incrementally higher than 2018. Flat/inverted yield curve not detrimental to bank NIM as loans are primarily originated based on prime rate or LIBOR, both of which are up by 100bps and 110 bps since the beginning of 2018, respectively. Banks will benefit as new loan originations are booked based on current beneficial NIM dynamics.
Lower Share Counts – banks continue to work through their 2018 CCAR approved repurchase levels, which are more beneficial at the currently depressed stock prices. The average number of shares outstanding has declined by 5% over the past year for the group, which will likely accelerate in 2019 and drive incremental EPS accretion.
Technology Enabled Digital Delivery – banks have been making focused investments in front-office technology over the past five years (~10% of revenues invested in technology), which has altered how banks interact with customers and lowered the cost of delivery. Based on the positive ratings and millions of downloads of the banking apps of this group, customer adoption and comfortability with this medium has become mainstream. Robust tech platforms will result in lower expenses/efficiency ratio and positive operating leverage.

Discounted Valuation – the regional banks are currently trading at a substantial discount to their historical trading multiples both on a P/E and P/TBV basis due to the weak price performance in 4Q (BKX index down 18% in 4Q 2018) in the face of continued upward EPS revisions by Analysts. The current Price/2019 EPS for the group is 9.6x, almost two turns below their 20-year average forward P/E multiple of 12.3x. Based on Price/ Tangible Book Value, the regionals are currently trading at 173% compared to their 20-year average of 253% and the average during the financial crisis (2008/2009) at 197% of TBV. This discount is unwarranted given the solid financial performance of the group evidenced by record levels of capital and liquidity coupled with their mitigated risk given the intense level of regulatory oversight associated with the annual stress test, or CCAR (Comprehensive Capital Analysis & Review). Furthermore, earnings are stable and growing, with rock-solid balance sheets and pristine asset quality justifying a lower overall beta and cost of capital for the group. Below is a chart displaying the current P/TBV multiples for the regional banks along with their long-term historical average.
Regulatory Landscape – the positive trajectory of easing regulatory oversight and reduced compliance requirements has accelerated over the past two years and bodes well for regional bank earnings and capital return. Initially, relief came in the 2017 CCAR cycle where banks less than $250B of assets became exempt from the qualitative portion of the stress test (having taken part in several CCAR filings for a regional bank, we can attest that the qualitative section is much more "stressful" than the quantitative). Given that these banks continue to hold excess capital, CCAR has become much less onerous as the quantitative assessment is an easy "pass". Below is a chart displaying historical returns which are approaching 10-year highs and robust capital levels with the average CET1 at 10% for the regional banks.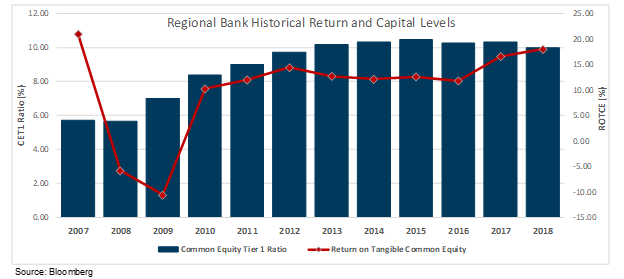 Recently, at the end of October 2018, the Federal Reserve issued a notice proposing that bank regulations become more closely aligned to their risk profiles. This change would be monumental for the regional banks given their lower risk profiles and will result in the smaller regionals (<$250B in assets) only having to file CCAR every other year and no longer be subject to standardized liquidity requirements. As a result, the regionals will be able to sell some of their lower yielding assets (aka., high quality liquid assets, or HQLA) that were previously needed to satisfy liquidity requirements and invest them in higher yielding instruments. With respect to capital, the change to CCAR would accelerate capital returns which would not only benefit returns as measured by ROTCE, but also increase dividend payouts and share repurchases.
Catalysts – while there is no single catalyst that will cause a large single-day movement in the group's stock prices, there are a number of events in the near-term that will undergird their stock price performance trajectory throughout the year.

- 4Q 2018 Earnings season – bank earnings season kicks off the week of January 15th and company management will unveil their 2019 outlooks which will confirm the bull thesis and validate the recent upward EPS revisions.

- Further Regulatory Easing – comments on the Fed's most recent notice of proposed rulemaking (NPR) are due the end of this month, after which it will shortly issue the final rule. This will boost the markets sentiment of the sector and more clarity as to the specific earnings and capital benefits will come on 1Q 2019 earnings calls and bank conference presentations.

- TBV Accretion – given the recent downturn in interest rates, bank investment portfolios will see unrealized gains that investors will witness when 4Q earnings are released. This will boost TBV per share (by way of flowing through AOCI), and cause downward migration in P/TBV multiples.
Concluding Thoughts
Overall, regional banks possess a unique risk-reward profile with the potential to provide between 10% - 20% total return (capital appreciation + dividends) over the coming year. As a defensive play to recessionary conditions, the group is well-positioned with solid capital and a stable earnings profile. Should bank stock prices remain depressed, this has the benefit of increasing the number of shares being repurchased as the group continues to execute on their buyback programs.
There are several ways to trade the group including several ETF's that track the KBW Bank Index, however this index is comprised of 24 banks some of which are far larger than the regionals (e.g., JPMorgan, Citigroup, Bank of America) and others which are sub $100B in assets (e.g., Zions, NY Community). Alternatively, one could buy a basket of the ten aforementioned regional banks. Should you choose to purchase select names from the group, below are our thoughts on which will perform better than others.
Sector Outperform
Citizens Financial Group (CFG): one of the few remaining "self-help" stories trading at a substantial discount to the group (Price/2019 EPS of 8.3x, see below table). Discount will close as CFG successfully executes on efficiency initiatives, balance sheet optimization and recent investments/M&A to drive revenue & ROTCE higher.
KeyCorp (NYSE:KEY): oversold and trades at a forward P/E of 8.3x (similar to CFG). Solid franchise with significant capital markets business poised to take market share in 2019. Continued successful integration of First Niagara will drive lower efficiency ratio and positive operating leverage.
Regions Financial (NYSE:RF): innovative bank well positioned in its southeast markets. Ongoing efficiency program to drive operating leverage and recent sale of insurance business to BB&T results in excess capital to be deployed in a shareholder friendly manner.
Sector Perform
BB&T Corporation (BBT): solid holding with significant and stable fee income coming from its insurance business. Stock has not declined along with the rest of the group and as a result is trading at a premium multiple.
Fifth Third Bancorp (FITB): financial results will be messy when large pending acquisition of MB Financial ($4.5B deal value) closes and will take time for a successful integration to positively impact performance.
Huntington Bancshares (HBAN): payout ratios have been constrained as it continues to digest its acquisition of First Merit. Well run bank, but trades at a premium relative valuation.
M&T Bank Corp (MTB): premium franchise trading at a premium multiple. Already extremely efficient, so little room for improvement. Have historically underspent on technology infrastructure.
SunTrust Banks (STI): solid franchise with significant I-banking ops and have heavily invested in technology. Were an early mover in direct-to-consumer digital channels for loan originations, which will likely see an uptick in NCO's as the portfolio seasons.
Sector Underperform
PNC Financial Services (PNC): limited upside and prior efficiency initiatives have seasoned leaving few remaining levers to justify valuation, which appears extended relative to the group. Less regulatory relief given its larger size at $380 Billion of assets.
U.S. Bancorp (USB): industry-leading performance metrics (ROTCE at ~20%) but already trading at premium multiple with few remaining levers for improvement. Despite substantial size at $465 Billion of assets, remain subscale in certain verticals.

Disclosure: I am/we are long CFG, KEY, FITB. I wrote this article myself, and it expresses my own opinions. I am not receiving compensation for it (other than from Seeking Alpha). I have no business relationship with any company whose stock is mentioned in this article.