Thesis
Parker Drilling's (OTC:PKDSQ) 2020 Unsecured Notes (CUSIP 701081AY7) are trading at a noticeable discount to fair value as contemplated by the recoveries set forth in the Plan of Reorganization.
While energy sector fears undoubtedly play a role, the majority of institutional and retail investors ignore companies punished by external forces, high debt loads, and forced into bankruptcy, especially in the small and mid-cap space.
Introduction
This barge is moving fast, so let's ditch the paddle boat.
Parker Drilling Company and its 19 affiliated Debtors filed voluntary petitions for relief under Chapter 11 of the Bankruptcy Code in the Southern District of Texas, Houston Division, on Wednesday, December 12, 2018 (Case No. 18-36598).
What follows is, in large part, a restatement of the Disclosure Statement filed with the Court — the terms of which are simply intriguing.
The Crude Baseline
The outstanding principal of the 2020 Unsecured Notes is $225M; plus interest: $231.1M; and the notes are trading in the low 50s.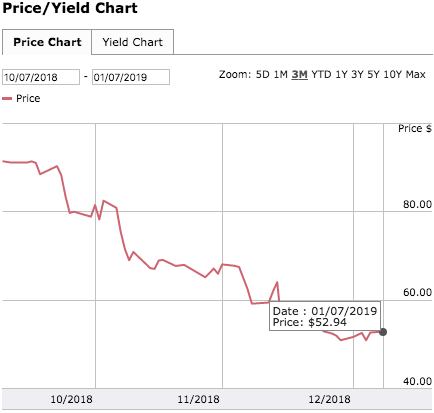 Source: FINRA
Under the terms of the Plan of Reorganization, the notes will receive a recovery of 73% in the form of a 2nd Lien Term Loan and new equity, along with subscription rights. Bonds are quoted in percentage terms to "par," so the recovery percentage and the market quote are comparable (see how to read a bond quote, here). At a price of 52, the "market value" of the notes is 52%, implying the recovery percentage is higher (73%) than what the bonds can be purchased for. I should mention, however, that bankrupt bond spreads can, though not always, be more elastic than IG-rated securities, so the quote may vary at any given time from this article's example of 52. The following analysis assumes the position is exited at the earliest convenience post-reorganization.

Source: Docket 21, pg. 18.
At current prices, the 2nd Lien Term Loan renders ~79% in downside protection and the equity conservatively realizes an upside of ~16% upon issuance (interest is excluded because it more accurately reflects price paid vs. value received; the difference is negligible for the purposes of illustration).
Recovery By The Numbers
2020 Unsecured Notes' principal: $225M
2nd Lien Term Loan issuance: ~$92.5M
Term Loan as a percentage of par: ~41% (~$92.5M ÷ $225M ≈ 41%)
Term Loan as a function of investment recovery at a purchase price of 52: ~79% (~$92.5M ÷ ($225M x 0.52)) ≈ 79%). So if I purchase notes at 52% of par, 41% of par (or 79% of my purchase at 52) is issued to me as a 2nd Lien Term Loan.
The low-range equity valuation of the reorganized Debtor is $191M (see the Debtor's Valuation Analysis at the end of this article; $365M – $174M = $191M). 2020 noteholders are slated to receive ~34% of the new equity, subject to dilution, which suggests an initial recovery of ~$65M.
Taken together, the 2nd Lien Term Loan of ~$92.5M plus the equity of ~$65M represents a recovery to the holder of ~70% ((~$92.5M + ~$65M) ÷ $225M ≈ 70%), excluding fees to the Trustee.
At a purchase price of 52, the equity constitutes a pre-diluted ~34% upside (70% recovery minus purchase price of 52% = 18%; 18% ÷ 52% = ~34%). Another way to say this is ~$40M ÷ ~$117M = ~34%.
Here's a colorful chart to help me explain.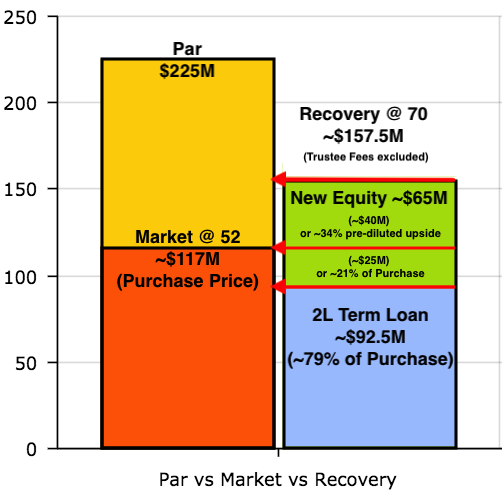 Source: Author based on company filings
But Wait, There's More!
The subscription rights assign additional equity of $95M, in which the 2020 noteholders will be able to participate at a rate of ~38% (or ~$36.1M). Based on Moelis' equity estimates (again, see Valuation Analysis after the Income, Balance, and Cash Flow sheets at the end of this article), full exercise could dilute the total per-share value anywhere from ~23% to ~33%. Assuming full dilution at the equity's low range, if all $95M is exercised and the purchaser has not subscribed, the ~34% upside then becomes ~16%. More math?
New equity issued to 2020 Notes (low estimate): ~$65M
Total equity, with exercised rights (low estimate): $191M + $95M = $286M
In percentage terms (assuming the holder doesn't subscribe, with total dilution): ~$65M ÷ $286M ≈ 23%
This implies his or her per-share value is reduced by ~33%, or to ~67% of its issued value (~23% ÷ ~34% ≈ 67%)
This theoretically reduces the $65M in issued equity to ~$44M.
Since we still account for $25M in our original purchase, the leftover "upside" is $19M, or ~16% ($19M ÷ $117M = ~16%).
Another way to say this is the recovery after dilution, assuming non-subscription, is ~60.6% ((~$92.5M + $25M + ~$19M) ÷ $225M = ~60.6%). ~60.6% – 52% = 8.6%; 8.6% ÷ 52% = ~16%.
Author's note: as with most things finance-related, there's nuance to this discussion. The sub rights are included in the Debtor's recovery estimate and therefore ostensibly compose part of the 73%, which I've clearly disregarded. While I am aware of this apparent shortcoming, it is not immediately evident how much these rights are worth, if anything, unexercised (notwithstanding the equity they reference is fully backstopped, virtually ensuring full dilution; or the change in cost basis if exercised, which likely scales the recovery in line with the ultimate percentage). Consequently, my methodology, albeit shorthand to some extent, is a fair barometer of what the investor can expect irrespective of these rights.
Plan Terms, in a Nutshell
While one should always be cautious of taking a 2nd-lien position, they tend to have better risk/reward profiles. And although there's no ABL ahead of the proposed 2nd liens, the Debtors anticipate $50M in DIP Facility funding with an additional $50M in exit financing (purportedly to roll up the DIP) and the option to obtain an additional $50M.


Source: Docket 21, pg. 37.
The Restructuring Support Agreement contemplates a comprehensive reorganization achieved through the Plan that will result in a substantial deleveraging of the Debtors' balance sheet by approximately $375.0 million and provide the Debtors with $95.0 million of fully-committed new equity capital, all while paying in full all non-funded debt claims against the Debtors and providing a meaningful recovery to existing shareholders that they would not otherwise have been entitled to receive. The key financial components and commitments of the restructuring are as follows:

DIP Facility in an aggregate principal amount of $50.0 million, which shall bear interest at a rate of 1-month LIBOR plus 400 bps (payable monthly, in cash) and mature four months after the Petition Date, subject to a two month extension.
The Debtors were able to secure a $50.0 million exit financing commitment that included the option to obtain an additional $50.0 million in financing via a syndication process.
Access to a commitment of $95.0 million in New Common Stock by way of the Rights Offering fully-backstopped by the Commitment Parties
$210.0 million of the New Second Lien Term Loan
All Holders of the Unsecured Notes (the "Noteholders") and Parker's Existing Preferred Stock, and, assuming the class constituting Holders of Existing Common Stock votes to accept the Plan, will be afforded the opportunity to participate in the Rights Offering."
Source: Docket 21, pg. 43.
The Second Lien Term Loan terms, in broad brush strokes: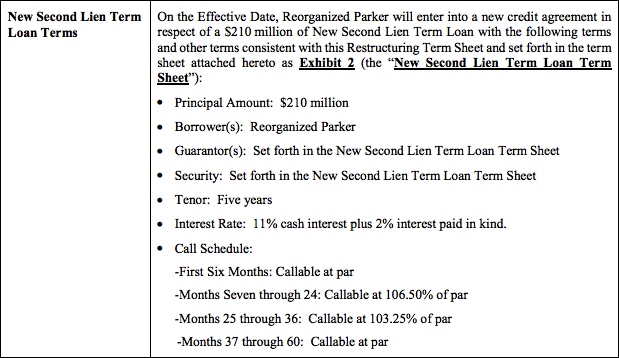 Source: Docket 21, pg. 178.
The Vote
When I consider securities for purchase I typically look for well-heeled parties, in the right positions, and aligned with my interests. Under 11 US Code 1126(c), plan confirmation requires at least two-thirds in amount and more than one-half in number of a majority vote of impaired claims in favor of acceptance. A claim holder or group of claim holders who hold or holds at least 2/3 of the outstanding principal amount of a class of claims wields disproportionate power in the voting process and can "overrule" minority voters in their class (known as "control").
The level of consensus for this comprehensive reorganization reflects the efforts undertaken by the Debtors and the Consenting Stakeholders, but also the parties' belief in the Debtors' prospects as a reorganized enterprise.

The Debtors and the Consenting Stakeholders discussed the terms of a comprehensive restructuring proposal that the Debtors viewed as value maximizing and beneficial to all parties."
Source: Docket 21, pgs. 41 & 43.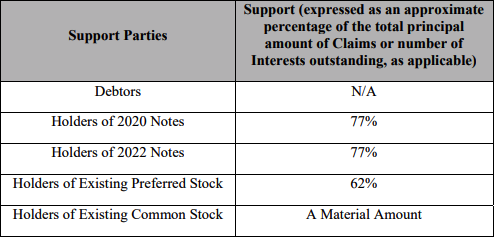 Source: Docket 21, pg. 29.
Just who are these Consenting Stakeholders? Brigade Capital Management, Highbridge Capital Management, Värde Partners, and Whitebox Advisors. Even mild exposure to the distressed space will acquaint you with Brigade and Highbridge, so it's comforting to see some familiar faces, which means plan confirmation shouldn't be too much of an obstacle.
Additionally, 6 of the 7 inaugural BOD positions will be selected by these firms.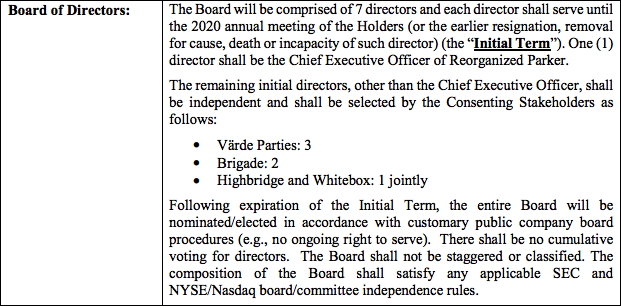 Source: Docket 21, pg. 241.
Take caution: according to Debtwire, there may be some opposition to the plan from Saba Capital Management, a shareholder, though it is unclear how much, if any, bargaining leverage they possess.
Important Dates

Source: Docket 21, pg. 341.
Let's Go Drilling
I've not thoroughly assessed the oil and gas sector's macro risks (there's plenty of coverage on it already), nor Parker's idiosyncratic risks, so I'll let the Debtor speak for itself in those respects.
Associated Macro and Idiosyncratic Risks
Oil and natural gas prices have declined substantially since 2014. This sustained market decline has had a severe and adverse effect on the Debtors' financial performance given that demand for the majority of the Debtors' services is dependent on the levels of capital expenditures by the oil and gas industry.

Specifically, this environment has created downward pricing and margin pressure for the Debtors' services, in addition to delays or cancellations in projects, general business disruptions, and delays in or nonpayment of amounts that are owed to the Debtors. Critically, a decline in drilling activity has also resulted in an oversupply and underutilization of drilling rigs. For example, for the three months ended September 30, 2018, the rig utilization rate of the Debtors' U.S. Drilling business declined from 75% to 15%, as compared with the identical three month period from 2014.

Furthermore, operators implemented significant reductions in capital spending, and the Debtors expect operators to continue to operate under reduced budgets for the foreseeable future. In addition, a movement toward land-based unconventional oil and gas assets has resulted in less GOM investment, and therefore decreased utilization of the Debtors' U.S. drilling barges. While the Debtors' U.S. Rental Tools business has generally performed well, pricing remains significantly reduced from previous years."
Source: Docket 21, pgs. 39 & 40.
Author's note: Rental accounts for roughly half the business, and although oil prices have seen volatility, reduced production has recently pushed their trend upward.
The Securities' (Liquidity) Risk
A Liquid Trading Market for the New Common Stock May Not Develop.
The Trading Price for the Shares of New Common Stock May Be Depressed Following the Effective Date.
Restricted Securities Issued under the Plan May Not Be Resold or Otherwise Transferred Unless They Are Registered Under the Securities Act or an Exemption from Registration Applies. Holders of restricted securities should expect to be required to hold their restricted securities for at least six months."
Also see Docket 21, section VIII. RISK FACTORS, pgs. 46–58; and U.S. Federal Income Tax Consequences to Holders of Owning and Disposing of Shares of New Common Stock, New Warrants and New Second Lien Term Loan, starting pg. 77.
Liquidation Analysis
As evidenced by the chart below, the POR clearly provides for recoveries significantly above those anticipated for a liquidation; however, liquidations should always be contemplated.

Source: Docket 21, pg. 352.
The low estimated recovery in a liquidation for the 2020 Notes sits at 39.3%, which is ~25% lower than where they're trading at as of this publication. The questions I'd ask myself are: If Parker Drilling doesn't survive in the next 5 years and my portion of the Term Loan isn't called or I haven't (if possible) sold, firstly, does this analysis remain valid with respect to the 2nd Lien Term Loan and secondly, can I accept a 25%+ loss in the long term? Don't forget the exit financing stacked on top.
With overwhelming plan support, the likelihood of a Chapter 7 conversion at this stage appears remote on its face, but in an effort to cover the bases, a short-term ~25% financial downside risk seems manageable.
Financial Projections
Since financial projections are often optimistic, they should always be examined with clear-colored (as opposed to rose-colored) glasses. Nevertheless, the projected Income, Balance, and Cash Flow sheets slowly but steadily increase top and bottom lines.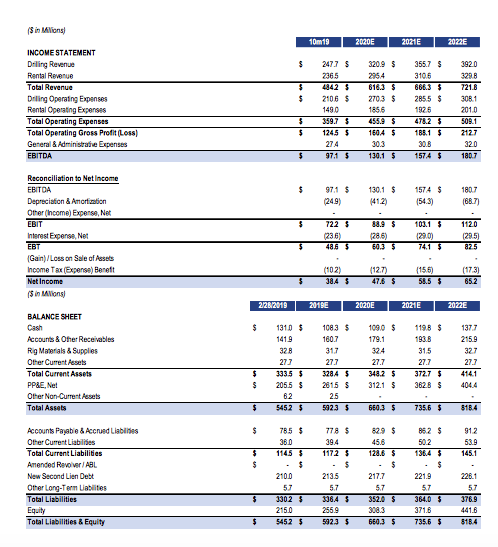 Source: Docket 21, pg. 367.
Taking stock of the downside, short-term liquidity and long-term asset coverages benefit 2L Term Loan payment as well as a worst-case liquidation scenario. As far as the upside goes, it's just as important to recognize top-line estimates so as not to latch hope onto cost reduction measures.
Overall revenue projected to increase by 58.2%, from $247.7M to $392M.
EBITDA projected to increase by 86%, from $97.1M to $180.7M.
Net Income projected to increase by 69%, from $38.4M to $65.2M.
Depreciation and Amortization remains nominally flat.
Quick ratio projected to decrease slightly from ~2.91 to ~2.85.
Asset accumulation outpaces Debt accumulation by significant margin.
The asset coverage ratio is projected to increase from ~1.65 to ~2.15.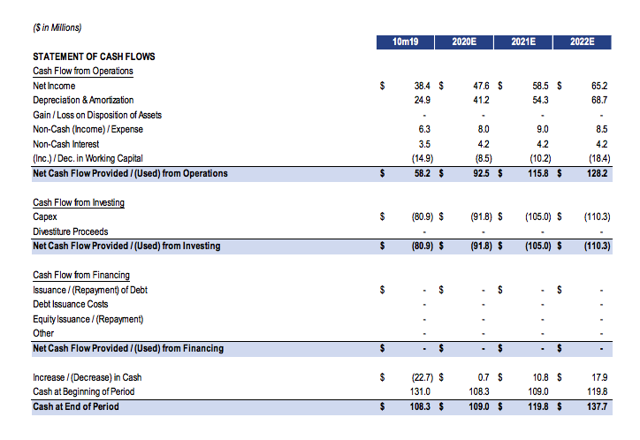 Source: Docket 21, pg. 368.
As you can see from the cash flow statement, CapEx accounts for a significant portion of net cash flow (a good sign in my opinion), which reduces current cash from $131M to $108.3M but then steadily replenishes it by 2022.
Valuation Analysis
Finally, the Debtor's EV estimation:
As a result of the analysis described herein, Moelis estimates the Enterprise Value of the Reorganized Debtors to be approximately $365.0 million to $485.0 million, with a mid-point of $425.0 million, as of the Assumed Effective Date. After deducting assumed net debt of $174.0 million, Moelis' mid-point estimate of Enterprise Value of $425.0 million implies an equity value for the Reorganized Debtors, prior to any equity investment on account of the Rights Offering, of approximately $251.0 million."
Source: Docket 21, pg. 370.
At $210M, the Second Lien Term Loan accounts for ~43% of the reorganized Debtor on the high-end EV ($210M ÷ $485M = ~43%), but low end in terms of percentage (if the low-end EV is used, the percentage is higher: $210M ÷ $365M = ~57%); either way, holders of that line of credit should wield meaningful influence in the (hopefully unlikely) event Parker needs to restructure or file for Chapter 22 (percentage subject to the final ABL amount).
Conclusion
Based on the value of the 2nd Lien Term Loan, the low- and high-range equity estimates, liquidation analysis, and factoring in dilution, as of current market quotes, the approximate upside range in Parker Drilling Company's 2020 Unsecured Notes is ~16%–~47% with ~75%–~85% in downside protection.
In light of the macro uncertainties Parker Drilling Company faces, its prospects for the future may be somewhat foggy, but with a strong plan, the right leaders, and a discriminating eye toward security selection, the investment exhibits attractive risk/reward characteristics.
Final author's note: The 85% figure is derived from the high estimated liquidation recovery of 44.3% (44.3 ÷ 52 = 85%), and is more near-term. The ~47% figure is derived using full dilution on Moelis' high-range estimated equity value.
New equity issued to 2020 Notes (high estimate; see Valuation Analysis above; $485M – $174M = $311M): ~$105.74M (34% x $311M).
Total equity, with exercised rights (high estimate): $311M + $95M = $406M
In percentage terms (assuming the holder doesn't subscribe, with total dilution): ~$105.74M ÷ $406M ≈ 26%
This implies his or her per-share value is reduced by ~24%, or to ~76% of its issued value (~26% ÷ ~34% ≈ 76%)
This theoretically reduces the $105.74M in issued equity to ~$80M.
Since we still account for $25M in our original purchase, the leftover "upside" is $55M, or ~47% ($55M ÷ $117M = ~47%).
Disclosure: I/we have no positions in any stocks mentioned, and no plans to initiate any positions within the next 72 hours. I wrote this article myself, and it expresses my own opinions. I am not receiving compensation for it (other than from Seeking Alpha). I have no business relationship with any company whose stock is mentioned in this article.
Additional disclosure: I/we have no positions in any bonds mentioned, and no plans to initiate any positions within the next 72 hours. Additionally, I am not, nor have I ever been, a financial advisor, nor a financial analyst, nor a lawyer; this is not, nor should be construed, nor relied upon, as legal and/or financial advice. Legitimacy, veracity, accuracy, relevance, timeliness, and anything else representing trustworthiness, implicit and/or explicit, of sourced material, duplications thereof, and/or analysis is not guaranteed. Nothing contained herein constitutes an offer, solicitation, inducement, and/or recommendation to buy, hold, sell and/or otherwise transact with any derivatives and/or securities. This is for informational purposes only. Investing involves risk, including but not limited to complete loss of principal. You are encouraged to fully read the Disclosure Statement as well as Parker Drilling Company's financial and operating history. Consult a financial advisor or lawyer before making any investment decision.
Editor's Note: This article covers one or more microcap stocks. Please be aware of the risks associated with these stocks.