The Technology Select Sector SPDR ETF (XLK) has rallied sharply off of its lows, bringing some long investors back from the brink. But, the next two questions those investors ask themselves is, is this a bear market rally that will lead to an eventual rollover in the indexes? Or, simply put, is this recent bounce in the XLK, which was one of the largest in history, the bottom?
To get a better idea on where XLK is headed, investors may need to review the macro conditions of the economy, which look moderately bullish, as well as the top holdings of XLK. Microsoft (NASDAQ:MSFT), the top holding of XLK, strongly influences XLK's movement and was covered previously as a part of this series on the Technology Select Sector Index. Next on the list is Apple Inc. (AAPL).
Apple is at interesting valuation levels, and threatened to bring down the tech sector, alone, with its recent earnings miss warning. So, let's dive into the second largest holding of XLK in order to better ascertain where Apple is going which will, in tandem with MSFT and the other top five holdings of XLK, provide some indication as to where the overall ETF is headed.
XLK Summary
To begin, XLK's main strategy is outlined below, which states:
The investment seeks investment results that - before expenses - correspond generally to the price and yield performance of publicly traded equity securities of companies in the Technology Select Sector Index. In seeking to track the performance of the index - the fund employs a replication strategy - which means that the fund typically invests in substantially all of the securities represented in the index in approximately the same proportions as the index. It generally invests substantially all - but at least 95% - of its total assets in the securities comprising the index. The fund is non-diversified.
XLK's expense ratio is extremely low at .13%, and the fund even has a 4-star rating from Morningstar. So, these are always a welcome sign when selecting ETFs. Let's take a look at XLK's holdings now for a deeper dive into the fund.
XLK Overview
Investors should enjoy the fact that this predominantly tech weighted fund also has some financial and industrial holdings, providing much needed diversification. Here are the top holdings and their weightings in the XLK below.
XLK Holdings And Allocation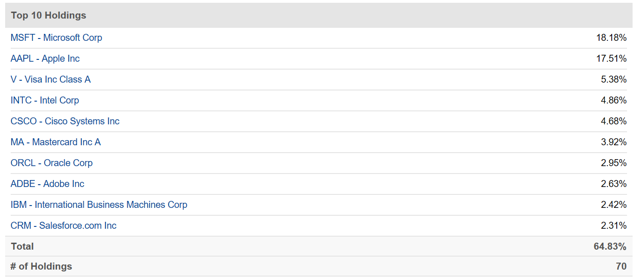 Source: Seeking Alpha
Since Apple represents 17.51% of XLK at the number two spot, it would be nice to know more about the holding to make a better-informed decision on XLK. Let's take a closer look at Apple's fundamentals below.
Apple Breakdown
Apple is trading at only 12x earnings and has an EPS of around $12 per share. When a low P/E lines up with a high EPS like this, it usually is taken as a sign of strength by investors.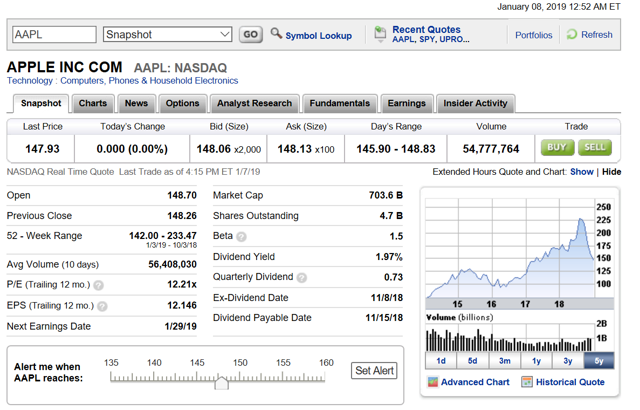 Source: E*TRADE
Furthermore, when growth is still near the double digits for a best of breed company like Apple, a P/E of 12 makes for a favorable PEG ratio. So, the valuation of Apple looks cheap, on a fundamental basis.
Apple's story has also strengthened when it comes to its services business, which has grown to represent around 16% of revenues that weren't there five years ago. Therefore, the ecosystem that Apple now controls is growing, and becoming more viable for the company.
iPhone sales have dropped in the recent years for Apple due to expensive product upgrades that the customer is not as ready to make anymore. After all, when the newer models can do anything and everything for you, why upgrade at all? So, this is clearly a problem for Apple.
However, I still believe customers will make eventual upgrades again due to forced obsoletion and wear and tear, and Apple's services business will add cross-selling opportunities to increase revenues that current iPhone models cannot. Therefore, I still see strong revenue generation from Apple in the future, even if product upgrades don't occur for sometime.
Don't count out their wearables business, either. I thought Apple's watch, for example, was a bust years ago. Now, it is making more sense to switch to wearables in order to avoid cracking phone screens and carrying cumbersome, larger phone models.
One-Year Chart Time Frame
We have covered the important aspects of Apple's valuation and fundamental story, which are attractive at current levels. Now, investors must decide if the timing is right for Apple to make a move higher. Let's examine a chart of Apple below.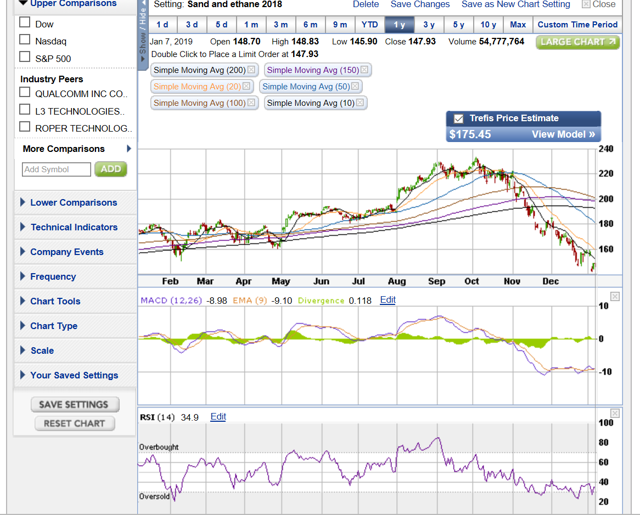 Source: E*TRADE
As investors can see, Apple may have put in a bottom around $150. The downtrend from the highs of over $200 has been real. But, a reversal may be underway since Apple's RSI is deviating with the stock, which is showing higher highs and higher lows while the stock churns. This is usually a bullish sign to traders.
Max Time Frame Chart
More perspective is needed, however, to see just how cheap Apple really is on a technical basis. As investors can see below, Apple tagged the 50-day long-term moving average, which is quite bullish.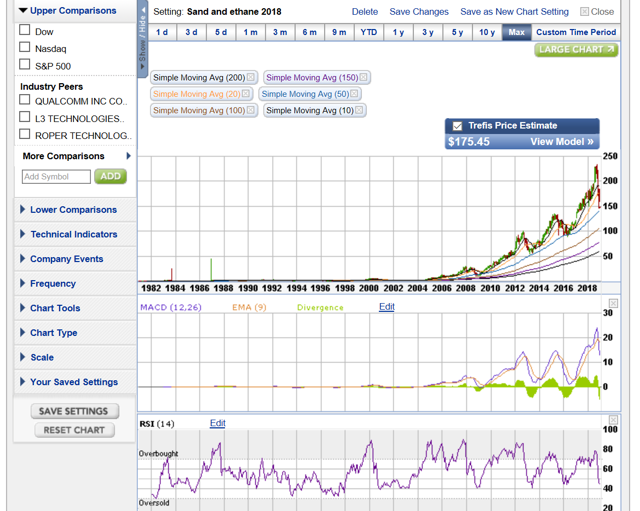 Source: E*TRADE
The RSI for Apple has also come down to acceptable enough levels (40) to warrant a rally in its share price.
However, the steepness of the decline is disturbing, and I don't see how the stock could return to former highs without a catalyst. More time is also needed to digest the correction. But, if the stock can churn sideways instead of falling, at least XLK will be less susceptible to volatile swings to the downside.
XLK One-Year Chart
Now let's apply Apple's chart to XLK's chart for better understanding. The two have very similar patterns, except XLK's is much more constructive. This is obviously due to the diversified nature of the fund.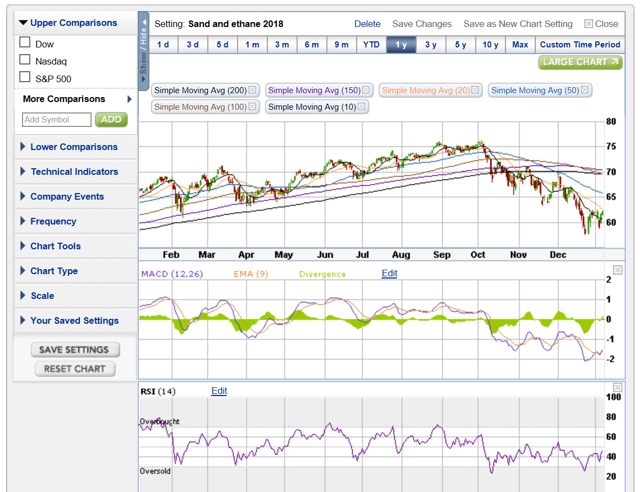 Source: E*TRADE
Stocks like Microsoft and Intel (INTC) are in consolidation mode, but haven't broken their downtrends. Therefore, the blended averages of the holdings are displaying the constructive price action that we are seeing in XLK.
The MACD of XLK is also crossing to the upside, while the RSI is forming higher highs and higher lows (similar to Apple). So, the technical indicators lining up for XLK and its holdings, as well as the fundamental story, are providing investors reason enough to be optimistic at current levels.
Risks
The risks associated with Apple's story, and therefore XLK's, typically stem from cyclical weakness in the economy. However, those macro risks are muted at the moment, as previously alluded to in the intro.
A trade war with China could obviously weaken the global economy and dampen iPhone sales. Negotiations with Trump and China are ongoing and details are murky but, ultimately, it is in both side's interests to come to an agreement.
Nonetheless, Apple only has about 20% of their sales linked to China, while America and Europe represent the bulk of the other 70%. So, damage can be contained to the area of 20% for Apple's revenues linked to China, and that is assuming iPhone usage is completely eradicated from the region (which is unlikely).
Conclusion
Apple is the second largest holding of XLK and therefore deserves the attention of investors who own the ETF.
Thankfully, even though Apple has its problems with iPhone sales, which are due to China softness and a lack of product upgrades at the moment, its services business represents a large-enough portion of the business to generate meaningful revenues from. Their share buyback program and "Buffett put" should also allow for a stabilization of share prices.
Valuation for Apple is also cheap on a fundamental basis, as well as from a technical standpoint. Consequently, Apple looks to have stabilized enough to allow XLK to move higher. On top of this, other holdings of the fund are benefitting from new megatrends (spending anywhere online, new chips for new devices, cloud storage, etc.).
As a result, I continue to believe technology will drive the U.S. into the 21st century and, assuming top holdings like Apple and Microsoft keep generating substantial revenue growth for years to come, I will continue to stay long XLK.
Disclosure: I am/we are long TECL. I wrote this article myself, and it expresses my own opinions. I am not receiving compensation for it (other than from Seeking Alpha). I have no business relationship with any company whose stock is mentioned in this article.