The Meet Group (MEET) is often described as the much poorer cousin of online dating giant Match Group (MTCH). However, their business models are different and increasingly diverging. Match concentrates on managing its portfolio of brands, and its revenues are generated through mainly user subscription/"freemium" type models. MEET's mission is to facilitate human connection, and though dating fits into this category, its breadth of activities increasingly focuses on stimulating a wider range of human interactions.
Historically, the majority of MEET's revenue comes from advertising, but user pay revenue now accounts for 61% of Q3 2018 revenue. Comparing Match's and MEET's main profit and loss expense items also highlights the different business models and emphasis. MEET's largest expense line item by far is product development and content which comprised 57.2% of Q3 2018 revenues. By comparison, the same expense item for Match stands at 7.7%. The slide below provides a good overview of the competitive landscape from a dating perspective.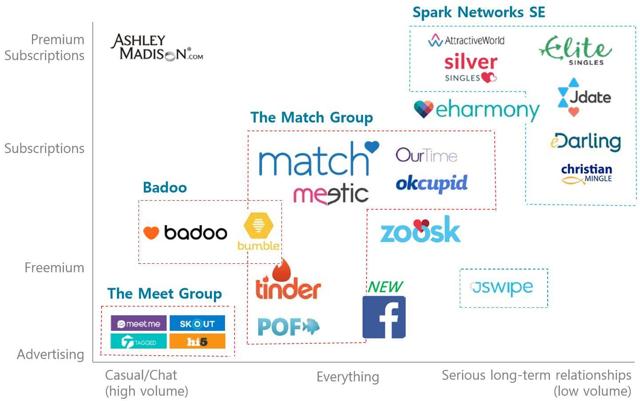 Source: Spark Networks (LOV) Oct. 01, 2018 investor presentation
Match's main growth driver at present is Tinder frequently referred to as a 'hookup' not 'dating' app. For MEET, Live Video is the emerging value driver. Annualized video revenue grew to USD48 million in September 2018, USD55 million in October 2018, USD62 million in November 2018 and USD71 million in December 2018. On the Q3 2018 earnings call, MEET's CEO Geoffrey Cook spoke about Live Video solving two imbalances with match-making apps - the gender imbalance and attention imbalance where a subset of users attract a disproportionate amount of attention. Live Video recalibrates the imbalance by showcasing a smaller number of streamers who stimulate interaction and express gratitude while a larger number of viewers respond and give gifts.
Quoting from the Q3 2018 earnings transcript, Cook said:
"As a reminder, we began developing our video platform in 2016 with the belief that we could successfully pair live-streaming and dating a model that we have seen work effectively in Asia. We launched video on MeetMe in the first half of 2017. And in October of 2017, we began to monetize by enabling gifting within the video streams. Throughout that period, we sought out and acquired other properties, Skout, Tagged and LOVOO, where we projected a natural fit to the live-streaming platform we were building."
This gives a sense of how central MEET's video platform is to its strategic thinking.
MEET is driving the monetization of its platform through multiple initiatives, including:
Video gifting: already a mainstay revenue driver, further initiatives including promoting key annual event gifting such as the "12 Days of Gifting" Christmas holiday campaign. New Year, Valentines etc. should also provide ongoing stimulus to drive gifting revenues. In MEET's Q3 2018 press release, they state that they recently surpassed their 100 millionth gift sent since launching Live monetization a year ago.

Live-streaming video: Asian live-streaming apps such as MOMO and YY seem to be a key source of inspiration for MEET's monetizing efforts. MEET's latest effort is the rollout of its new Battles feature on its MeetMe and Skout apps. Battles focuses user attention around talent (or PKs as they are referred to in the Chinese live-streaming communities) who contribute to both user engagement and monetization. Early indications are very positive as MEET announced on Jan 8, 2019: "...more than 30,000 battles per day took place in the past week, as live-streamers competed to earn the most diamonds and become the best singer, dancer or battler."

Gamification: MEET plans to add levels to its Live platform in the first half of 2019. The aim here is to use game playing incentives like point scoring and competitive elements to increase user engagement between streamers and gifters striving to reach higher levels and unlock benefits.
MEET's CEO Cook is quite open about drawing inspiration from the Asian live-streaming players. Just looking at YY's (YY) Q3 2018 earnings presentation shows similar gamification/monetization themes are covered as shown in the slide below. A further step includes increasing utilisation of artificial intelligence such as content recommendation technology that matches live-streaming content with user preferences or manipulation of live video content (e.g. adds a plaster graphic to a streamer's nose as shown in the slide picture below).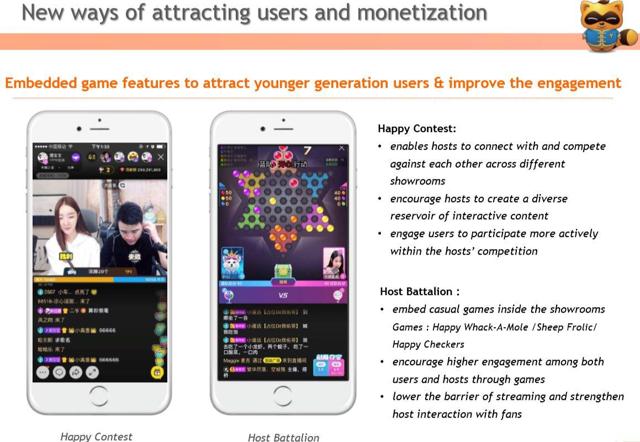 Source: YY Q3 2018 presentation
Up to Q4 2017, MEET's growth was clearly driven by acquisitions as shown in the spreadsheet below. The vertical boxes indicate the quarters that the Skout, If(we) and Lovoo acquisitions were made. Each acquisition quarter is characterized by a step up in key metrics followed by a fall or flattish metrics in the following quarter. Only since Q4 2017 does the organic growth profile become clearer. The cells highlighted in purple on the far right of the spreadsheet set out the growth from Q4 2017 to Q3 2018. Comparing Q3 2018 to Q4 2017, total revenues are up about 14% driven by mobile revenues which have risen by 19% over the same period. Splitting mobile revenue between average mobile monthly active users (MAU) and mobile ARPU shows the real driver is rising ARPU up 14%. Though one might expect user pay revenue to be the main driver of mobile ARPU the revenue split indicates advertising remains a strong contributor as well holding its ground at around 40% of revenues for the last three quarters.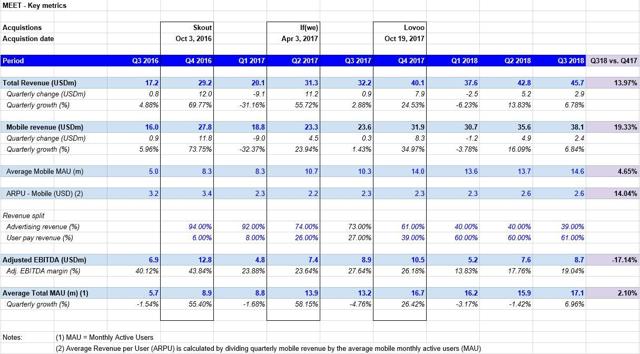 Sources: Company information and author's estimates
A number of factors are currently pressuring MEET's profitability. Product development and content costs remain elevated as the company seeks to grow users and ARPU. Also, user pay revenue is lower margin though it is worth noting that the revenue is better quality in terms of predictability and higher growth potential than advertising. The acquisitions have resulted in a large goodwill balance that will need to be amortized. Exercise of stock options and in the past, exercise of warrants and issuance of stock to fund acquisitions, increase the share count and decrease earnings per share. However, with an asset-light and nearly negative working capital business model, MEET is a good free cash flow generator. Average quarterly free cash flow over the last seven quarters is about USD7 million per quarter which is normally used to pay down acquisition debt.
What could halt MEET's current appeal? First, formats like Battles and gamification may only be gaining strong traction initially due to their novelty factor. They may simply be fads whose appeal fades over time. Even if they prove to have multi-year shelf lives, it will inevitably draw competition from other dating and social networking platforms who could add similar features to their offering and for the larger players in particular, like Match Group or even Facebook (NASDAQ:FB), quickly gain a technological edge muting MEET's appeal and drawing users away. The competitive landscape can change quickly, for example with Facebook announcing dating features. There is also a concern about how deep the moat is for live-streaming video monetization. Over the horizon, the large, mainly China-based live-streaming companies like YY are increasingly pushing international expansion as a growth option. YY's investment in Bigo grew its geographical reach across South East Asia, India and to the Middle East. Europe and the US are the next logical steps.
Other risks include MEET's modest user growth indicating there may be a high churn rate. Adjusted EBITDA as a % of revenue has also been falling for many quarters. On January 8, 2019, MEET announced selected preliminary Q4 2018 headline numbers. Though quarterly revenues jumped 14% from Q3 2018 to USD52.3 million in Q4 2018 the adjusted EBITDA margin remained at the 20% level down from 26% in Q4 2017 and less than half of the 44% achieved in Q4 2016. Adjusted EBITDA margins are being pressured by rising product development and content costs, and net income gets further hit by amortization and stock-based compensation costs. On the other hand, if reasonable revenue growth could be sustained by more modest product development costs in the range of 30% to 40% of revenues down from the present 57% then MEET would quickly become very profitable.
Warning signs for me would be if MEET's rapid quarterly revenue growth starts showing a steady downward trend while product development costs and content remain above 50% of revenue. This would indicate that MEET's live user monetization efforts may indeed be a short-term attraction and constantly need to be refreshed which incurs high development costs. At this point, I would probably change my bullish outlook.
Takeaway
After scaling up through a number of acquisitions, MEET is starting to show strong top line organic revenue growth driven by both user pay and advertising. In the short term, profitability will probably remain subdued, but MEET generates consistent free cash flow that is being used to pay down debt. It is currently trading at an enterprise value/sales multiple of 2.5x well below Match's 7x-8x. I think the share price has good momentum potential especially when MEET is able to release positive new product launch and revenue growth updates (e.g. here and here) that seem to support the stock. MEET looks like an attractive partner to invest in.
Disclaimer: Opinions expressed herein by the author are not an investment recommendation and are not meant to be relied upon in investment decisions. The author is not acting in an investment advisor capacity. This is not an investment research report. The author's opinions expressed herein address only select aspects of potential investment in securities of the companies mentioned and cannot be a substitute for comprehensive investment analysis. Any analysis presented herein is illustrative in nature, limited in scope, based on an incomplete set of information, and has limitations to its accuracy. The author recommends that potential and existing investors conduct thorough investment research of their own, including detailed review of the companies' SEC filings, and consult a qualified investment advisor. The information upon which this material is based was obtained from sources believed to be reliable, but has not been independently verified. Therefore, the author cannot guarantee its accuracy. Any opinions or estimates constitute the author's best judgment as of the date of publication, and are subject to change without notice.
Disclosure: I/we have no positions in any stocks mentioned, but may initiate a long position in MEET over the next 72 hours. I wrote this article myself, and it expresses my own opinions. I am not receiving compensation for it (other than from Seeking Alpha). I have no business relationship with any company whose stock is mentioned in this article.