First of all, Happy New Year everybody!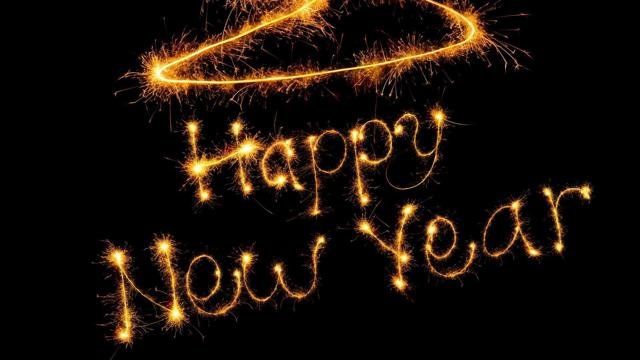 Similarly to 2017, 2018 closed with a bang, this time however the December rally from 2017 was replaced with the Christmas rout of 2018. The absolute low was reached on Christmas Eve but I had already spent too much during the year that I was lacking fire power to capitalize on that sharp correction with markets briefly entering bear market territory.
The Dow Jones, the S&P 500 and the Nasdaq 100 all closed in the red but until early October it has been another banner year for stocks. From then on concerns on economic growth, a surprisingly hawkish Fed and a shaky trade truce exact an increasing toll on the market amid rising inflation and interest rate woes. Anxiety is mounting and market commentary is shifting increasingly bearish due to rising recession risk, wider corporate credit spreads and a yield curve feared to be inverting.
In such an environment I take great relief from the fact that from a dividend investor's point of view all this does not matter as long as the companies can support their, hopefully, growing payouts. It helps focus on what really matters, i.e. not to dump shares at prices previously considered bargains but instead either add but at least hold my core positions.
Unfortunately, I had to do a lot of selling in December (and January as well) as I needed to raise cash for some special expenses in January related to tax, real-estate and insurance. I had simply forgotten to do that earlier and thus had to sell at a particularly inconvenient point in time. That is certainly a lesson learnt the hard way.
My personal portfolio ended the year pretty much flat but having been up by as much as 15% and benefiting handsomely from a rather weak euro, this result looks better than it is. I will invest a significant amount of time in better understanding performance as the statistics from my broker are not really meaningful I have to admit. I could have done this over the holidays but instead decided to launch a new real-time dividend calendar and payment dashboard to finish off the year.
Portfolio Changes | 1 new stock, 2 sales, 3 trims, and 8 repurchases
In total I didn't infuse any fresh capital in December as buying and selling virtually balanced out (-$50) but as far as the selling is concerned this was driven by other reasons.
First, I sold out of Nike (NKE) but unfortunately not when it peaked after stellar earnings but at a less than ideal $71 per share price. I really like the business and the company's performance but as I had to sell something in order to raise cash for extraordinary January 2019 expenses I wanted to sell a winner as that somehow felt better psychologically. I had bought the stock in the low $50s so it was a decent profit and as the dividend income is negligible at this stage I went ahead. Hopefully, I will be able to buy these shares back in the future at a lower price but if not it has been even more of a lesson to adequately prepare and manage your cash position ahead of time.
The other significant sale was Reality Income (O), another business I really like but I only had a couple of shares producing not even $2 in dividend income per month. The stock had enjoyed a nice run from the high 40s to the mid 60s and given the increasingly hawkish interest-rate environment I felt it was a good time to sell anyway.
I trimmed my shares in Tableau (DATA), a real winner but should a recession strike us all these profits could quickly be gone, Facebook (FB) - I have become increasingly annoyed by all the scandals it is producing and Walgreens Boots Alliance (WBA) - another big winner but it has appreciated so much since I purchased it a couple of months ago and wanted to take some profits.
These were difficult decisions and while I certainly already regret the Nike one - others may follow - it was the only way as well. Ideally, I would have let the winners continue to run, especially now that the trade talks are gaining real momentum and the Fed backpedaling on its hawkish interest rate path. However, it could also have come different and actually still could. Personally, I believe that you can certainly have bigger problems than selling a stock at a profit, even though it could have been an even bigger profit.
Neither a sale nor a purchase was the Spectra Energy Partners (SEP) - Enbridge (ENB) transaction with the latter acquiring the former and having all shares converted into Enbridge.
The only new purchase was an initial position into FedEx (FDX). At the time of the purchase the stock had already dropped from $275 to $184 (the price where I purchased) but little did I know that a day after it reported earnings the stock got crushed and fell as low as $150.94. This would have been a perfect time to double up but without fresh capital that was no longer a possibility. Nowadays, the stock has already recovered half of that post-earnings drop and should it stay there long enough I will be happily backing up the truck in February.
My repurchases break down as follows:
1) Continue ongoing monthly stock savings plans: These are routine investments between $50 and $115 each into Wells Fargo (NYSE:WFC), Visa (NYSE:V), McDonald's (NYSE:MCD), Johnson & Johnson (NYSE:JNJ), Apple and the lesser-known Commonwealth Bank of Australia (OTCPK:CBAUF).
2) Invest in dividend and growth stocks:
One additional share in Broadcom (AVGO) following strong business results and a heavy dividend hike.
Five more shares into NextEra Energy Partners (NEP) after it had reaffirmed its long-term growth expectations despite the trouble and difficulties PG&E is currently facing. At that time NEP announced that it expects distributions per share to grow by around 12-14% over the next two years minimum.
All net purchases and sales in December can be seen below: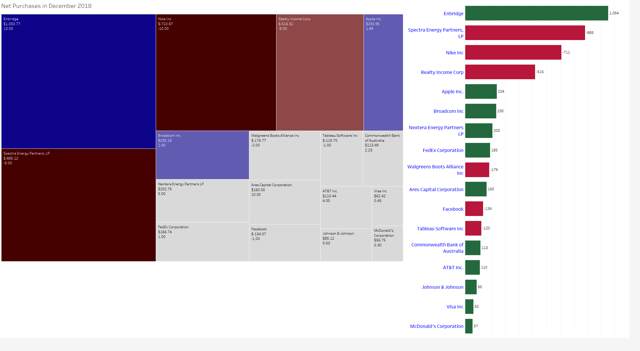 Dividend Income: What happened on the dividend side?
My income from 29 corporations amounted to $298 in dividends, up 45% Y/Y and down 15% sequentially.
First of all, the big sequential drop is entirely driven by the semi-annual dividend from the Commonwealth Bank of Australia of $60 in September. Excluding that, dividend income is up 3%.
Dividend income in December is distributed rather evenly apart from the 20% share of Royal Dutch Shell (RDS.B). Also, dividend income from several stocks is down on a quarterly basis by 1 or 2pp but entirely driven by a stronger euro in December compared to September. This is another reason why I need to invest a substantial amount of time into a proper tracking tool accounting for such FX swings. Right now I am receiving income in euro and converting it back to U.S. dollar using the spot exchange rate on that day.
All dividends break down as follows: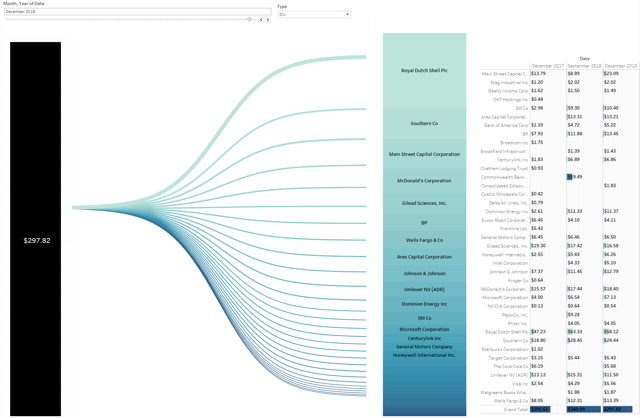 The dashboard above shows how the monthly dividend income breaks down into individual stocks. It also shows the change in income versus the previous quarter and year.
I also created a new dashboard which shows all-time dividends by stocks clustered in a tree map which best shows the relative importance of each holding.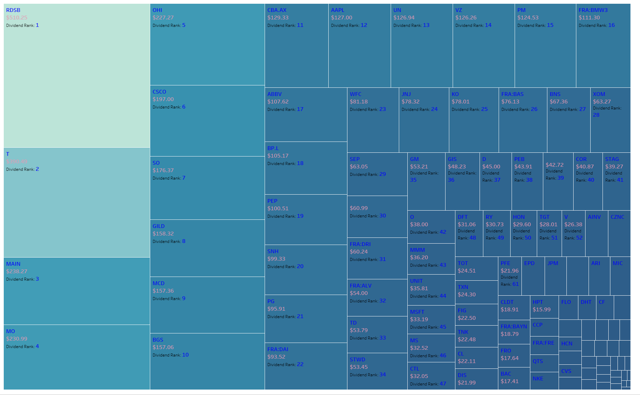 Here is a look at my favorite chart: the net dividend income development by month over time between 2015 and 2018, where you can easily see the development of my dividend income as well as the average annual dividend in a given year: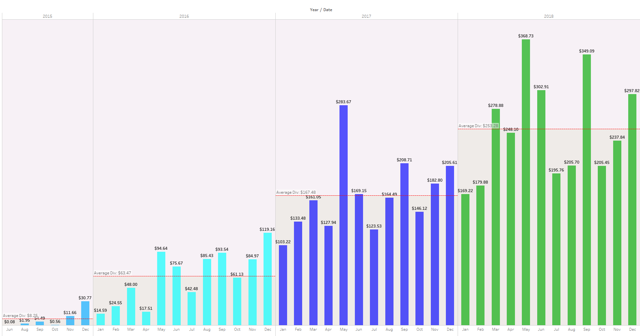 Next, I have scattered all the individual dividend payments I have ever received and colored them by year, rearranging the years side by side rather than horizontally as in previous updates: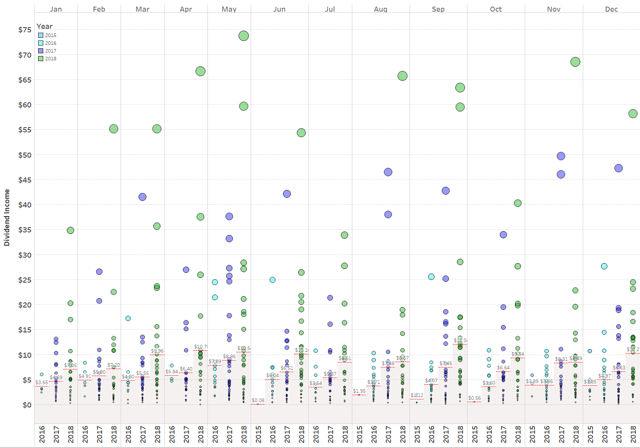 The readability of the numbers is rather poor, as there is so much data, but the bigger picture becomes apparent regardless of these numbers. I am just looking at the size and quantity of the bubbles as they keep on climbing higher and expanding in size.
It remains fascinating to watch how all these metrics develop over time. Right now, as I am still in the early stages, these metrics are not that impressive but the growth is truly striking, and all these instruments help me measure it and provide meaning to it.
Speaking in terms of meaning, another way to express the monthly dividend income is in terms of Gifted Working Time (GWT). I am assuming an average hourly rate of $25 here. My annual target was to replace 120 hours of active work with passive dividend income. This translates to $3,000 in annual net dividends, or around $250 per month.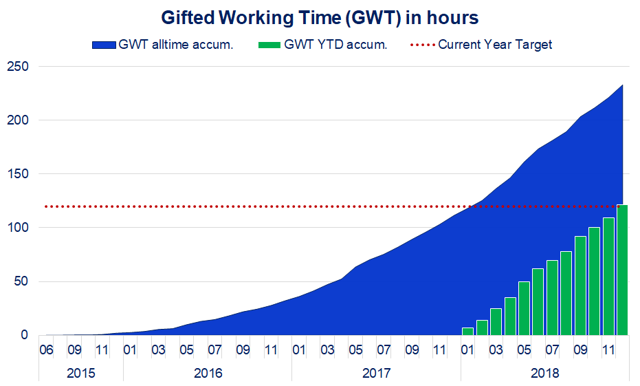 What this shows is as follows:
All time (blue area) - Around 233 hours, or 29.1 days, of active work have been replaced with passive income since the start of my dividend journey. Assuming a 5-day work week, that equals almost 6 full weeks, or more than an entire month, of vacation funded via dividends.
YTD (green bars) - Around 121 hours, or 15.2 days, of active work have been replaced with passive income in 2018 already. My target for the year was to replace 120 hours and hence I just managed that thanks to a strong December. This means that out of 52 weeks in 2018 I was able to replace three full weeks or 5.8% of annual active income with passive income. It is a long way to go to 100% but roughly 6% already does not sound bad to me.
In total driven by many new purchases and organic dividend increases 2018 dividend income was 53% higher Y/Y. That sort of staggering growth will never be repeated and is largely a result from the fact that I have only started my journey three years ago and was able to invest a lot in 2018. Once January has been closed I will be able to come up with 2019 full-year dividend protection but my gut-feeling tells me that I should be able to grow income by at least 15%.
Upcoming January Dividends
The snapshot below is taken from my newly released Dividend Calendar & Dashboard Tool (make sure to follow instructions) and shows expected gross dividend payments for January.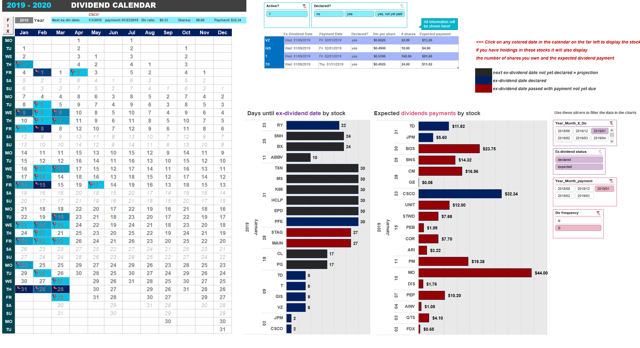 I use that tool basically every day and I would be happy if you give it a try as well, for free of course. This already projects gross dividend income of $219 which translates into around $186 in net dividends and would represent around 10% Y/Y growth.
My portfolio composition
As of end of December, based on cost basis and previously mentioned clustering, my portfolio is composed as follows:
| | |
| --- | --- |
| AT&T Inc. | (T) |
| Apple Inc. | (AAPL) |
| Royal Dutch Shell Plc Class B | (RDS.B) |
| Altria Group Inc | (MO) |
| Cisco Systems, Inc. | (CSCO) |
| Micron Technology, Inc. | (MU) |
| Gilead Sciences, Inc. | (GILD) |
| Mcdonald's Corp | (MCD) |
| Commonwealth Bank of Australia | (ASX: CBA) |
| AbbVie Inc | (ABBV) |
| Southern Co | (SO) |
| Main Street Capital Corporation | (MAIN) |
| Johnson & Johnson | (JNJ) |
| Wells Fargo & Co | (WFC) |
| 3M Co | (MMM) |
| Daimler | (OTCPK:OTCPK:DDAIF) |
| B&G Foods, Inc. | (BGS) |
| Siemens Healthineers | (SHE) |
| Philip Morris International Inc. | (PM) |
| Texas Instruments Incorporated | (TXN) |
| Microsoft Corporation | (MSFT) |
| Toronto-Dominion Bank | (TD) |
| Bank of Nova Scotia | (BNS) |
| Baozun Inc | (BZUN) |
| Bank of America Corp | (BAC) |
| PepsiCo, Inc. | (PEP) |
| Canadian Imperial Bank of Commerce | (CM) |
| Bayerische Motoren Werke AG Preference Shares | (OTCPK:OTCPK:BMWYY) |
| Dominion Energy Inc | (D) |
| Honeywell International Inc. | (HON) |
| Verizon Communications Inc. | (VZ) |
| Alibaba Group Holding Ltd | (BABA) |
| Intel Corporation | (INTC) |
| Procter & Gamble Co | (PG) |
| The Coca-Cola Co | (KO) |
| BASF | (OTCQX:OTCQX:BASFY) |
| Morgan Stanley | (MS) |
| Senior Housing Properties Trust | (SNH) |
| NVIDIA Corporation | (NVDA) |
| Wirecard AG | (OTCPK:WRCDF) |
| Ares Capital Corporation | (ARCC) |
| General Motors Company | (GM) |
| Target Corporation | (TGT) |
| Sixt | (OTC:SXTSY) |
| Blackstone Group LP | (BX) |
| Royal Bank of Canada | (RY) |
| BP | (BP) |
| JPMorgan Chase & Co. | (JPM) |
| General Mills, Inc. | (GIS) |
| Bayer AG | (OTCPK:OTCPK:BAYZF) |
| Allianz SE | (OTCQX:OTCPK:AZSEY) |
| Drillisch | (OTC:OTC:DRHKF) |
| Tableau Software Inc Class A | (DATA) |
| HUYA Inc - ADR | (HUYA) |
| Walt Disney Co | (DIS) |
| Advanced Micro Devices, Inc. | (AMD) |
| Exxon Mobil Corporation | (XOM) |
| Stag Industrial Inc | (STAG) |
| Pfizer Inc. | (PFE) |
| Nextera Energy Partners LP | (NEP) |
| Enterprise Products Partners L.P. | (EPD) |
| Pebblebrook Hotel Trust | (PEB) |
| Fresenius SE | (OTCQX:OTCQX:FSNUF) |
| CoreSite Realty Corp | (COR) |
| Citigroup Inc | (C) |
| IQIYI Inc | (IQ) |
| Activision Blizzard, Inc. | (ATVI) |
| Facebook, Inc. Common Stock | (FB) |
| Starwood Property Trust, Inc. | (STWD) |
| QTS Realty Trust Inc Class A | (QTS) |
| Teekay Tankers Ltd. | (TNK) |
| Centurylink Inc | (CTL) |
| Colgate-Palmolive Company | (CL) |
| EQT Corporation | (EQT) |
| Shell Midstream Partners LP | (SHLX) |
| Uniti Group Inc | (UNIT) |
| Lanxess AG | (OTCPK:LNXSF) |
| Kinder Morgan Inc | (KMI) |
| Consolidated Edison, Inc. | (ED) |
| Osram | (OTCPK:OSAGF) |
| Macquarie Infrastructure Corp | (MIC) |
| Vonovia | (OTCPK:VONOY) |
| Broadcom Inc | (AVGO) |
| Omega Healthcare Investors Inc | (OHI) |
| FedEx Corporation | (FDX) |
| Walgreens Boots Alliance Inc | (WBA) |
| Atlassian Corporation PLC | (TEAM) |
| Dominion Energy Midstream Partners LP | (DM) |
| MediGene AG | (OTCPK:MDGEF) |
| Fresenius Medial Care | (FMS) |
| Apollo Commercial Real Est. Finance Inc | (ARI) |
| Visa Inc Class A | (V) |
| Apollo Investment Corp. | (OTC:AINV) |
| Weibo Corp | (WB) |
| JD.Com Inc | (JD) |
| Hi-Crush Partners LP | (HCLP) |
| DHT Holdings Inc | (DHT) |
| Brookfield Infrastructure Partners L.P. | (BIP) |
| General Electric Company | (GE) |
| Incyte Corporation | (INCY) |
This closes out year three of my long journey and I can't wait to see what year 4 has in store.
Disclosure: I am/we are long ALL STOCKS MENTIONED. I wrote this article myself, and it expresses my own opinions. I am not receiving compensation for it (other than from Seeking Alpha). I have no business relationship with any company whose stock is mentioned in this article.
Editor's Note: This article discusses one or more securities that do not trade on a major U.S. exchange. Please be aware of the risks associated with these stocks.