High participation costs, expensive vehicles, and increasing fatalities are characteristics that do not make for a growing industry. Unfortunately, for Leatt Corporation (OTCQB:LEAT) ("Leatt"), it relies heavily on industries with exactly these characteristics. Leatt develops and manufactures protective and performance equipment for participants in various motor and action sports. Originally rising to fame from its first-of-a-kind neck brace, Leatt now provides gear from head to toe. The expansion of its product offerings was needed to grow the business, but it has put Leatt head-to-head with some very stiff competition.
A short position in Leatt is recommended because I believe the stock is currently overvalued and I expect the company to fail in living up to today's lofty valuation due to its severe competition, declining industries, and overall economic concerns.
My Background
Before I go into my thesis as to why I'm recommending a short position in Leatt, I feel it is important to give a bit of information on my background and experience with this company.
Two decades ago, I fell in love with racing when I entered my first race at the age of just four years old (yes, four. It was an ice race in upstate NY. Below is a photo when I was nine years old). I ended up racing ATVs across the country for the next 12 years, running the most prominent circuit in the world. Having won nine championships in my first eight years, I started to gain a lot of sponsors (one of which was Leatt) and decided to make the jump to the national circuit. In my first year racing the national circuit, I ended up being ranked number two in the world for my class. Over the next two years I won many national and local events, and as I neared the age of 16 - the age required to turn professional - I had my eyes set on turning my biggest passion into my career by going Pro. As you may be able to tell, since I am here writing for Seeking Alpha instead of traveling the world racing ATVs, going Pro didn't quite pan out for me. But, I wanted to tell a bit about my background as I will tie it into my investment thesis throughout the remainder of my article.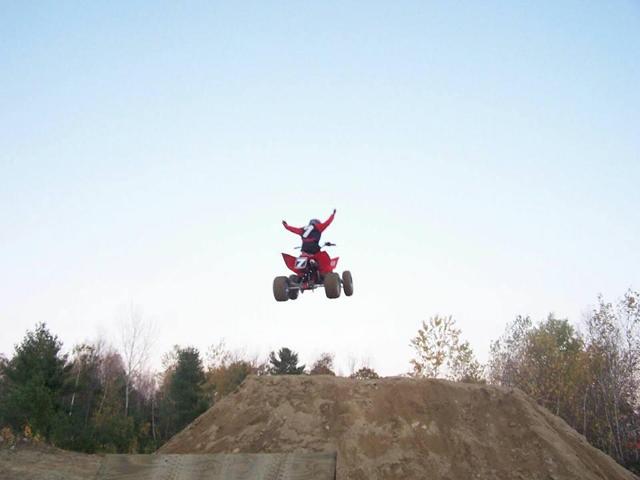 Source: Personal Image
Leatt Was The First, But They Are No Longer The Only
When Leatt initially released its neck brace, it was the first of its kind - it had no competition. Given the increased risk of injury that was being seen across the sport, once my father learned of Leatt's neck brace, he couldn't buy one. If he hadn't bought one for me and I had been hurt later, he would've never forgiven himself. It was like that for many parents and riders, and without any competition, customers were forced to buy Leatt's expensive neck brace.
Fast forward a few years, major companies in the motocross industry had realized what Leatt was doing and decided to release their own neck braces. The market was flooded with neck braces from more than half a dozen different companies, and suddenly Leatt had stiff competition. The companies that had quickly become competitors weren't small, either. Many of the companies were much larger, had bigger marketing budgets and far more financial resources than Leatt did. I was able to witness this firsthand; everyone had Leatt neck braces at first, and not long thereafter, everyone had a different brand and there were advertisements for different company's neck braces everywhere. Although my experience was primarily in the ATV and dirt bike motocross industries, similar trends occurred in the mountain biking industry as well.
In order to grow its business, Leatt expanded its product offerings to more than just neck braces. It began selling all sorts of protective and performance equipment for motocross and mountain biking enthusiasts. Its subsequent products included helmets, gloves, shirts, shin pads, body armor, chest protectors, hydration systems, apparel and more.
The main problem with this growth strategy for Leatt was that it was expanding into product lines where there were already dominant players with a stronghold on market share. It saw itself quickly up against some of the biggest in the industry, such as Fox Factory Holding Corp (FOXF), Alpinestars, and Oakley. It has struggled to grow these product lines over the last decade, and its financials show that. Leatt's income statement shows minimal (arguably zero) growth. Without being able to somehow differentiate itself from its competitors and develop a competitive advantage (which I don't believe it will be able to do), Leatt is going to continue to struggle to grow and will not live up to its current valuation.
As Much As I Love Motocross, It Is A Dying Industry (And Mountain Biking Isn't Much Better)
And that is why my professional dreams were crushed. As I neared 16 and was getting ready to turn pro, the motocross industry started to decline rapidly, buying and upkeeping the bikes was getting more and more expensive, and too many people were getting serious injuries.
After my first year of running the national circuit, I had one or two more years before I was going to turn pro, until the motocross industry started to decline. After being the number one ranked ATV motocross racer in the world the season before, the reigning Pro ATV Motocross Champion was out of work the following season. It had nothing to do with his own doing (I know him personally, so I had an inside scoop as to what was happening). He wasn't the only one, it was an industry problem. Major manufacturers were not signing riders to new contracts, companies weren't giving out as much money in sponsorship, and it was getting more expensive to race. Just like that, the best racer in the world was done. It seems a bit dramatic or unrealistic compared to other professional sports in the United States, but that's how it is in motocross.
As competition would grow, bikes would get more and more expensive to build, as everyone was looking for that small advantage over their opponents. In the ATV industry, for kids, the parents were forced to pay over $10,000 USD for ONE race bike in order to be competitive. That doesn't include the practice bikes, race trailer, hauler, fuel, spare parts, entry fees, and more. Adult bikes were even more expensive - riders had to pay more than $15,000 USD for one competitive race bike. The dirt bike industry has more affordable bikes - about half the cost of ATVs - but still struggled with similar expenses in relation to race trailers, haulers, fuel, spare parts, and entry fees. Mountain biking, Leatt's other focus, has a similar issue. A competitive mountain bike is now over $4,000 USD.
Not only was the future of motocross in jeopardy and costs were getting out of control, but more people were getting hurt. Without going into too much gory detail, there were more than a handful of riders that I personally knew, and many that I didn't, that became paralyzed or were killed from racing motocross. All of these trends have extended from when I was racing to today.
The industries aren't just declining, but many riders are also no longer wearing neck braces. It's a phenomenon I don't quite understand, with the major risks involved in racing it seems everyone should wear a neck brace to protect themselves, but that is not what is happening. If you look at many of the top riders in today's motocross world, a majority of them no longer wear neck braces or much protective gear at all.
Below is an image of the pinnacle of motocross racing - Monster Energy Supercross. It is the largest and most prominent motocross racing in the world, with the world's top riders. If you look at this image, you can count about 10 riders. If you look closely, only two of the 10 are wearing neck braces - 25, Marvin Musquin, who actually rides for Leatt, and 21, Jason Anderson, who is wearing an Atlas neck brace. If you search the internet for other photos like this, you will see the same thing; most riders are not wearing neck braces or much protective gear. You might be thinking, "Leatt has more than neck braces," and you'd be absolutely right. BUT, do you see any other Leatt gear in this photo of the top 10 riders in the world? I do not, but what I do see is all of Leatt's competitors. That is not to say Leatt does not have amateur riders wearing its gear, but this helps illustrate Leatt is losing ground to its competitors.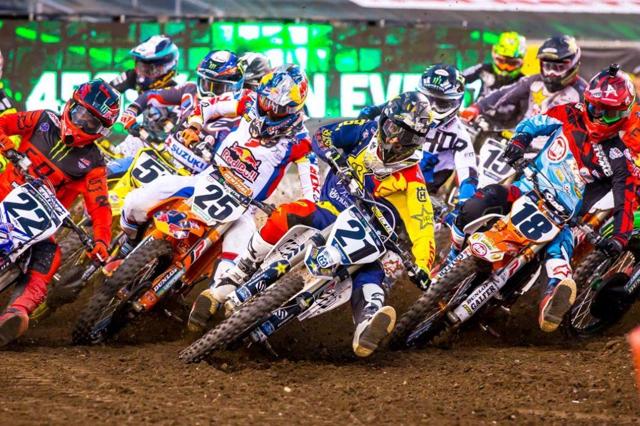 Source: Dirtbikerider.com
Short-ability And Its Risks
According to Interactive Brokers list of short-able stocks, as of this writing, there were about 400 shares available to short. The availability of shares to short fluctuates, as there were slightly over 2,000 shares available to short when I began researching the company.

Source: Interactive Brokers
The risks to a short position are the inherent risks of micro-cap stocks and shorting stocks in general, an acquisition, or a prolonged economic cycle. Micro-cap stocks tend to have limited volume and high volatility. Shorting stocks has the inherent risk of unlimited loss with a maximum gain of 100%. Given Leatt's size, it is a prime acquisition target for a larger competitor, such as Fox Factory Holding Corp. It would take relatively little capital and it would fit very well into its portfolio of products. If Leatt were to be acquired, it is possible that it would be at a premium to the stock price, which could result in a loss for a short investor. An impending recession is a benefit for those who are short Leatt, but a prolonged period of economic growth could pose a major risk to a short in Leatt's stock. The bull market has already extended long past historical averages, so there is no guarantee that it will end any time soon. Should the bull market continue, Leatt could grow sales, increase earnings and cash flow and become a more valuable company, threatening a short position in its stock.
Short investors also face the risk of one of Leatt's new products gaining significant traction. For example, in Q3 Leatt began initial shipments of its highly anticipated GPX 4.5 and DBX 2.0 helmets for motorsports and bicycles, respectively, which increased helmet sales 69% over the same period in 2017. This, in combination with other product categories increases, led to a strong Q3 report and a pop in the stock price. Today more than ever, products can gain popularity rapidly from unpredictable virality from social media and other online media sources. It is entirely possible one of Leatt's new products or product lines gains unpredictable attention and significantly boosts Leatt's sales.
Financials, Economic Headwinds, and Valuation
From a financial perspective, Leatt's financial statements are not horrifying, but they do not show much promise, either. From 2011 to 2017, Leatt's top line only grew by $2 million, for a total of about 11% over seven years (a 1.5% annualized growth rate). However, it was not linear growth for Leatt's sales; it had multiple down years, with 2017 being its best year to date as a public company. Needless to say, its sales growth has been quite lackluster.
Even more worrying is Leatt's margins. Although sales are up slightly from 2011 to 2017, gross margins are down nearly 20%, from 58.5% to 47.3%, with nearly every year declining from the previous year. Its margins are being compressed in part due to the severe competition it is facing. In order to compete, Leatt is being forced to lower its prices and offer more incentives to purchase its equipment, reduces its margin on each product, ultimately lowering its overall gross margins. Also, as it expands its product offerings, its new products do not have as high of margins as its legacy product lines do, reducing the average gross margin. In the profitable years, Leatt's net margins were miniscule - the best year being 3%, with most other years being closer to 1%. Also noteworthy is Leatt's research and development costs. In relation to its size, and despite minimal new innovations, Leatt has spent substantial amounts of capital on R&D over the past five years.
Leatt has a relatively healthy balance sheet. It has minimal debt, an acceptable cash position, and a satisfactory current ratio of about 1.98. However, what investors may be missing is that its current ratio is inflated due to high inventory levels; a quick ratio (current ratio without inventory) of 1.03 is not as encouraging (albeit it still acceptable).
Looking forward, I expect 2018 results to be Leatt's best yet. It has shown strong quarterly results throughout the year and has likely benefited from the holiday season, as many retail consumer companies do. However, I expect 2019 and 2020 to be steps back for Leatt. The markets Leatt focuses on, motocross and mountain biking, are very cyclical by nature and rely heavily on a strong economy. They are activities that people partake in when they have discretionary income to spend. If, and when, the economy is in recessionary periods, resulting in people not having as much discretionary income, activities like racing and mountain biking are some of the first to go. It no longer makes sense for families to spend thousands of dollars on these sports, and participation falls dramatically. As participation falls, so will Leatt's sales. Its gross margins have been contracting over the past five years, which I expect to continue through 2020. I expect operating expenses to remain relatively stable at current levels, but lower operating income due to lower sales and gross margins. Shrinking sales and earnings will lead to an increasing share count, lower (and negative) free cash flow, higher inventory levels, lower assets and higher payables, and rising debt.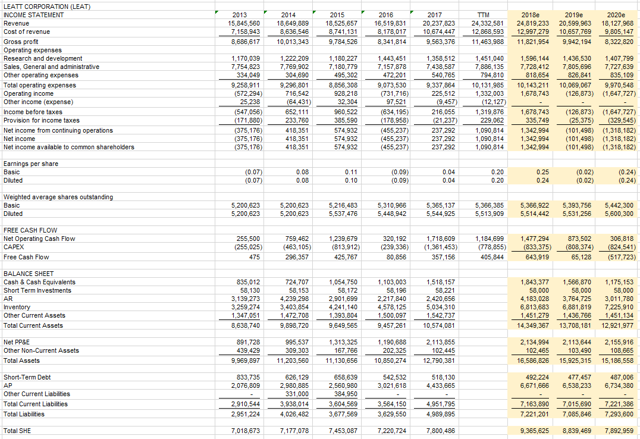 Source: Data, Morningstar; Table, Self-Created.
I was able to witness the decline of action sports first hand during the housing crisis. Participation in motorsports was at an all-time high until the recession hit, at which point it dropped to levels that it is still struggling to come back from to this day. More than 10 years into a strong economy and bull market, participation and overall attendance to motorsports events are still down from levels seen pre-recession. In 2008, Leatt had almost $19 million in sales. One year later, after the recession hit, sales dropped almost 30% to under $14 million. The major loss of participation in motorsports led to a large decline in sales for Leatt. It has taken a decade for Leatt to get back to pre-recession sales levels - just in time for the economy to enter a recession again. No one knows exactly when another recession is going to hit, and I am no different. I am not going to claim to know when it will happen, but history does point to a recession hitting sooner rather than later, and Leatt will get crushed when it does finally hit.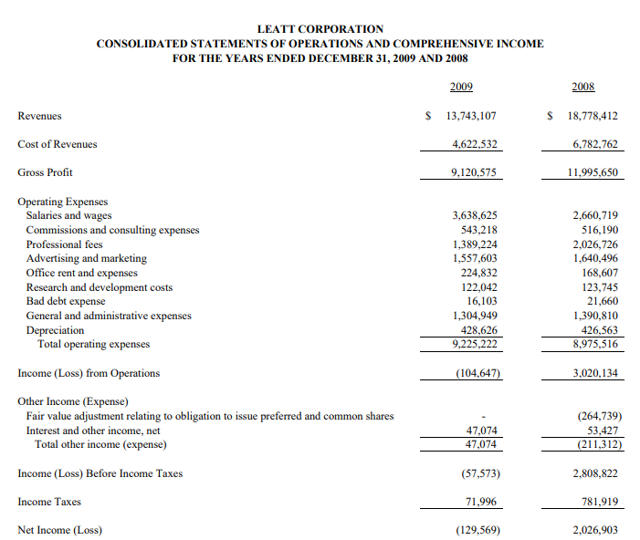 Source: Leatt® Corporation Report on Consolidated Financial Statements for the years ending December 31, 2009, and 2008
It is difficult to estimate how high a stock could rise (for a long position), given it's a micro-cap company in a cyclical industry. However, based on the above financial projections and expected sales multiples, I have estimated the stock to trade around $1.53-$1.91 by the end of 2019, and down to about $1.00-$1.33 by the end of 2020.
If the risks discussed above in the "Short-ability and Its Risks" section were to materialize, I could see the stock rising to about $2.65-$2.75 if the economic cycle is prolonged, based on its current sales multiple and estimated sales growth, and about $2.75-$2.82 if it were to be acquired by another company.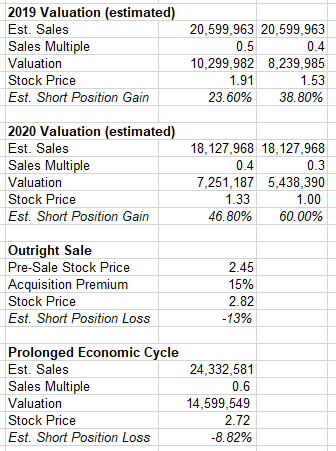 Source: Data, Morningstar; Table; Self-Created.
On a free cash flow basis, Leatt's stock is even more overvalued. Free cash flow would have to grow at an annual growth rate of 33% for the next five years, and 20% for the following five years, to justify today's stock price. A more likely scenario, but still higher growth than I expect, is Leatt's cash flow growing 10% annually for the next five years and 5% for the following five years, which would still only value the stock at about $0.86. And remember, neither of these valuations includes a margin of safety.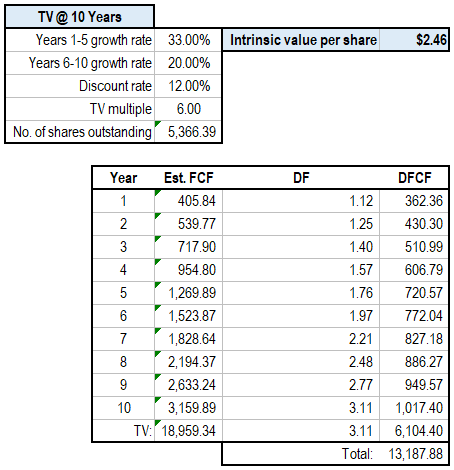 Source: Data, Morningstar; Table; Self-Created.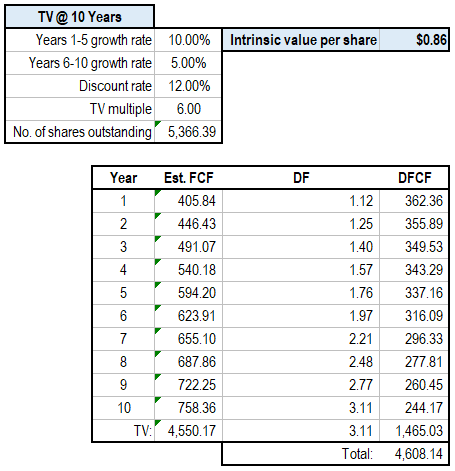 Source: Data, Morningstar; Table; Self-Created.
The Bottom Line
When Leatt burst onto the scene with the first neck brace, it blew up in popularity. Ever since then, it has lost ground to competitors, and the neck brace is no longer a necessity for riders as it once was. Larger competitors have the market share and resources to crush Leatt, both from a marketing perspective and an R&D perspective. Leatt has very few options to differentiate itself from its competitors and no "game-changing" products in its pipeline. Without a competitive advantage, Leatt will continue to struggle to grow. It is also very cyclical and susceptible to downturns in the economy. As we near the end of an economic cycle, I expect this to become a very real issue for Leatt. Although it is possible for a new "flashy" product release from Leatt could achieve virality and increase sales, this is a short-term solution to a long-term problem for Leatt. Relying on virality to grow the business is not sustainable, and Leatt will ultimately return to minimal sales growth if any at all.
The stock is priced for perfection and high-growth at today's levels, despite Leatt not showing high-growth in any way. Fundamental analysis based on data and actual, not hypothetical, growth paints a very different picture for Leatt's valuation. The pop in stock price in October was significantly exaggerated by the market due to shortsightedness. Leatt posted strong quarterly results and the stock nearly doubled from $1.45 to $2.74. These results show good results for the short-term, but do not change the long-term outlook for the company. The unjustified optimism and higher stock price provide a great entry point for a short investor in Leatt's stock.
Everything included in this article is not to be taken as investing advice because I am not your investment adviser. Also, I have not considered your specific situation as your fiduciary. Investors are expected to do their own due diligence before making any investments and should consult with an investment professional who knows their objectives and constraints.
Disclosure: I/we have no positions in any stocks mentioned, but may initiate a short position in LEAT over the next 72 hours. I wrote this article myself, and it expresses my own opinions. I am not receiving compensation for it (other than from Seeking Alpha). I have no business relationship with any company whose stock is mentioned in this article.