What We Look For In Top Ideas
Summary
The four pillars of a Top Idea.
A recent example.
6 suggestions for improving your articles and expediting the review process.
It has almost been a year since we made a fundamental change to the Top Idea structure (Seeking Alpha authors can see this forum post for background). As the PRO team is regularly asked "what do we look for in Top Ideas," we thought it'd be more efficient to tell everyone at once rather than individually via feedback or in response to an email. Just like an ideal Top Idea, this article will be concise.
Note – as we emphasize later in the article, Top Ideas come in many different varieties, and this should be taken less as a template to follow and more as a starting point to inspire deep research and creative, critical thinking.
What We Look For In Top Ideas
There are four pillars we look for:
Independence: The author should provide their unique, independent insight and analysis into the investment story. While it is ok to discuss others' opinions (e.g. management, analysts), it's important to remember that PRO+ subscribers (serious investors and investment professionals) want to read your thesis.
Mispricing: The author should identify the source of the mispricing, or why does this opportunity exist or what is the market missing and why you disagree.
Asymmetric risk/return profile: A significantly larger upside than downside for a long idea (reverse for short) should be supported from a qualitative and quantitative standpoint. Although not required, a bear, base and bull case scenario is helpful.
A well-presented, concise and easy-to-follow thesis: While we respect (and encourage) diverse writing styles and formats, including the following sections should be helpful for you when writing the article and for readers to follow your thesis:
Investment thesis overview (a 1-2 paragraph summary of the thesis that discusses the mispricing, valuation, upside/downside and any catalysts)

Mispricing

Valuation

Risks

Conclusion
A recent example
See the Top Idea by Aletheia Analytics on Stingray from December 6, 2018. All screen grabs shown are from that article.
Independence: One example of this is the author's contrarian and independent take on adjusted EBITDA compared to management and analysts: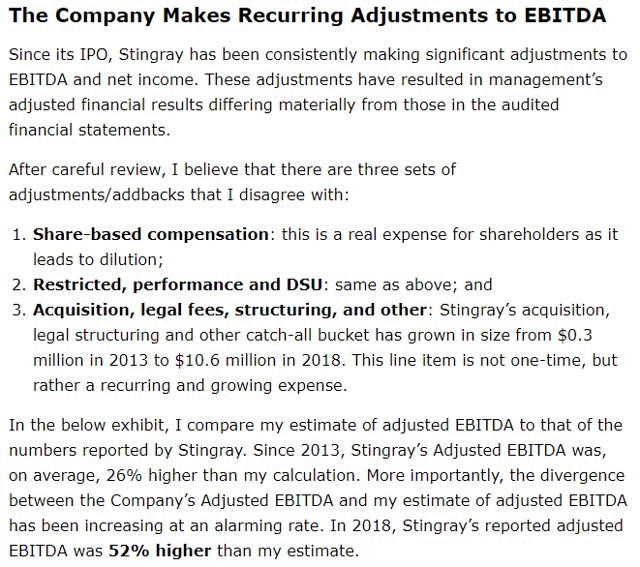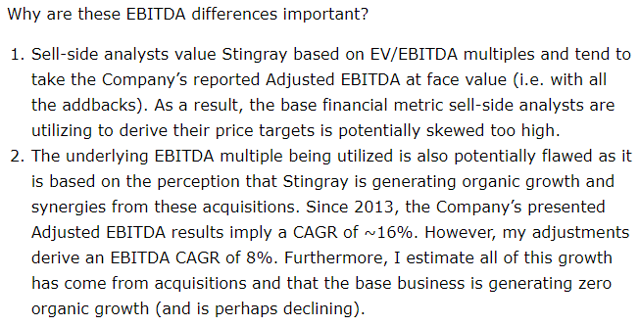 Mispricing: See this concise summary: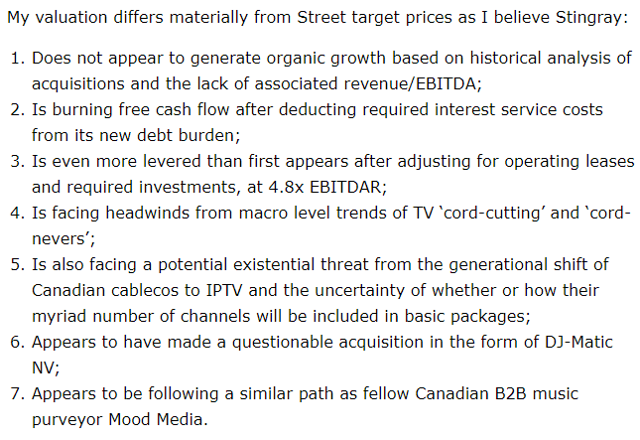 Asymmetric risk/return profile: Self-explanatory - see below: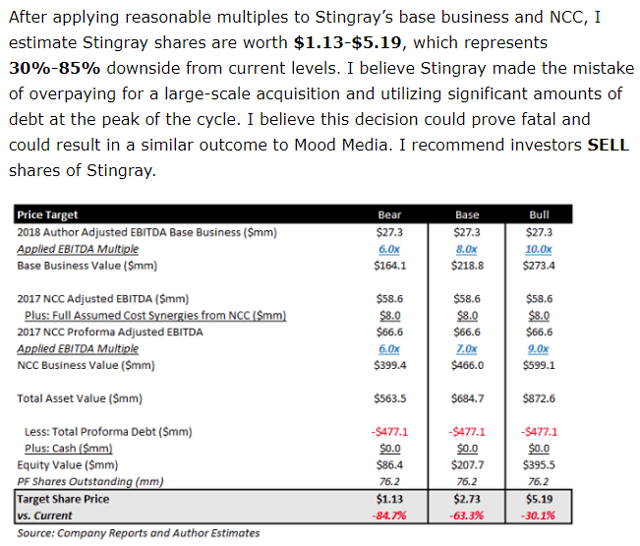 A well-presented, concise and easy-to-follow thesis: This easily checks that box.
6 suggestions for improving your articles and expediting the review process
The summary bullet points should clearly, concisely and completely describe the thesis, which includes the mispricing, valuation, upside/downside and any catalysts. This more often than not requires using all five bullet points, rather than the minimum of three.

Emphasize unique insights you are bringing to the story via selective bolding of key points and/or including a summary of these points in a dedicated section.

Use headers (the H icon on the toolbar) to break up sections and keep all related discussion in one section. Note - it is ok to repeat key points in the summary bullet points, 1-2 paragraph summary of the thesis at the top, valuation and conclusion sections.

The header should clearly and concisely describe the key takeaway from that section. For sections that are especially long, it is helpful to include a 1-2 sentence summary of the section and how it relates to the thesis at the top of it.

If you are targeting an article for Top Idea, write "ATTN: PRO team - please consider for Top Idea" in the "notes to editors" when you submit it. Note - you should include this every time you resubmit the article so there is no misunderstanding.

Email the PRO team (pro-editors@seekingalpha.com) every time you submit/resubmit an article so we can review right away.
Conclusion
As a reminder, this guidance is only the starting point - the most detailed, meaningful and in-depth feedback will be provided during the regular feedback process. This article should provide clarity in terms of what we are looking for in a Top Idea as well as make the process for writing, submitting and publishing a Top Idea easier for you.
Disclosure: I/we have no positions in any stocks mentioned, and no plans to initiate any positions within the next 72 hours. I wrote this article myself, and it expresses my own opinions. I am not receiving compensation for it. I have no business relationship with any company whose stock is mentioned in this article.