Skyworks (SWKS) updated its guidance for FY19 Q1 on Tuesday after the bell. Another Apple (AAPL) supplier cutting guidance - what else is new?
Well, here's one for you: Skyworks jumped on the news.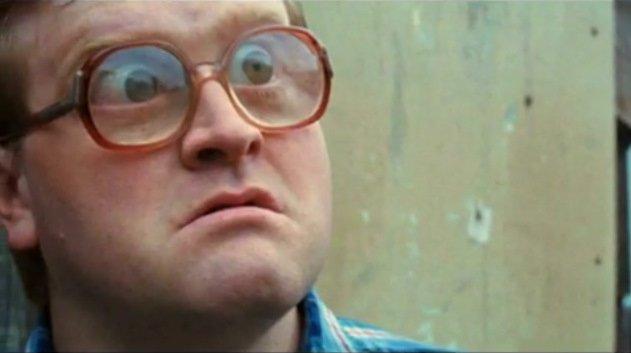 The same stock which has ridden from $83 just before the last earnings call to a recent low of $60.12 moved up 5% after-hours on Tuesday.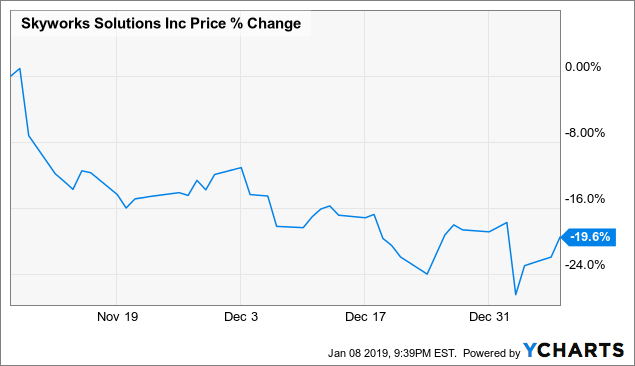 Wait a minute, isn't a cut in guidance a bad thing? Yes, it is. Every investor wants the company they invest in to make more money, not less. However, this is relative to the price you are paying at the time.
Skyworks has been beaten down as much as 25% over the last two months as supplier after Apple supplier cut guidance, and then the ultimate blow: Apple itself cut guidance.
Now finally, what the market has been expecting happens and the stock jumps. Before I explain why, let's review the shift in guidance, which will steer us toward the answer.
| | | | |
| --- | --- | --- | --- |
| Financial | Initial Q1 Guidance | Updated Q1 Guidance | Change |
| Revenue | $1.01 billion | $970 million | -4% |
| EPS | $1.91 | $1.82 | -4.7% |
So the company, which had roughly $5 billion in market cap shaved off, cut revenue guidance by $40 million. That's quite the difference in expectations versus reality.
If you haven't guessed by now, it's clear the market was pricing in a much more substantial cut in guidance. Instead, Apple softness has only attributed a $40 million headwind for the quarter and not the $150 million the market had been expecting (based on a price-to-sales ratio of 3.83 from before guidance). Now, if I did some rough back-of-the-envelope math and extrapolated the $110 million difference this quarter out across the year while using the 3.83 P/S ratio, it would say Skyworks is owed $1.7 billion in market cap, or $9.39 per share. This would bring the stock back to $75 per share just based on this market expectation faux pas.
However, to analyze buying Skyworks on this market misjudgment with this guidance cut expectation alone doesn't do us any justice - though it does signal a point where the bleeding may slow or stop. I've been looking at Skyworks closely over the last year, tracking its valuation, and discussed it in my Teck Wreck picks. The company is the most undervalued I have seen it since the end of 2011 - yes, eight-year lows in valuation.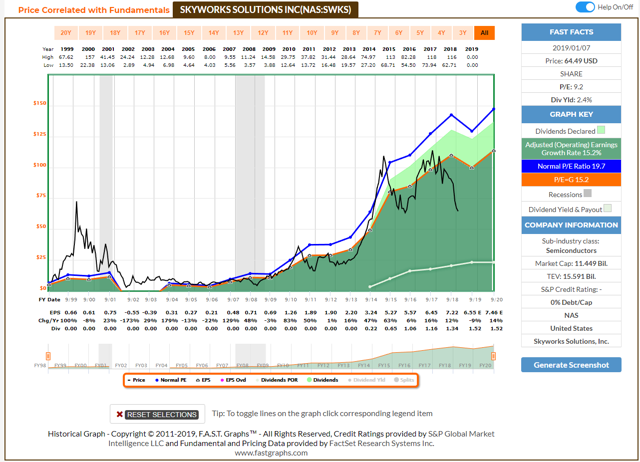 As you can see, according to F.A.S.T. Graphs, Skyworks has dropped far below the blue and orange lines, indicating undervaluation.
Now, to go another step further, I analyzed the chart to see if any technical indicators are showing us a setup for further bleeding or if a reversal is in store.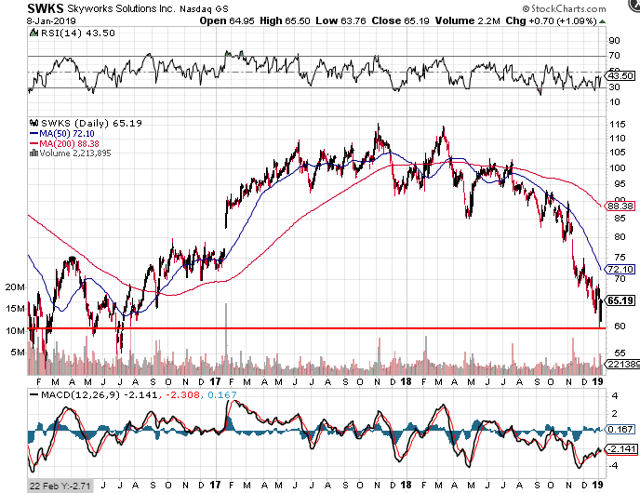 Going out to the 2016 low, we can see there is pretty substantial support there, and the stock eventually moved off of that area in the second half of the year.
More recently, the stock has been working in a small channel, and this breakout occurring in the stock on Wednesday could be a near-term reversal which would set it up for a test of the 50-day moving average.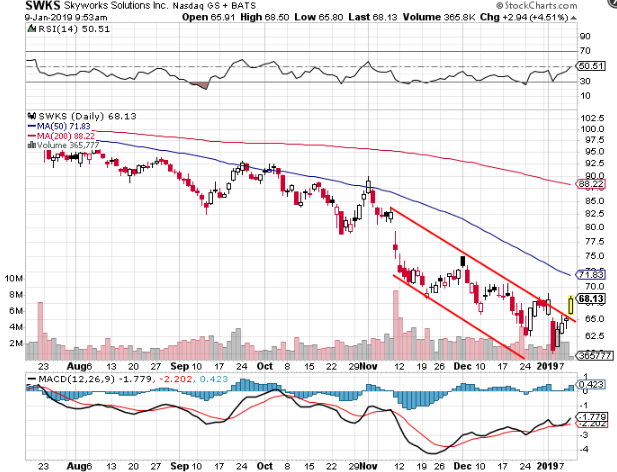 The MACD has been tracking well and diverging from the lower lows of the stock price, giving it another bullish tailwind. The RSI is far from oversold, so there's still room to run.
But the fact of the matter is Skyworks is proving it has a strong portfolio of products, and its largest customer - Apple - is becoming less and less of a burden on its overall revenue. So, in cases such as this, where other suppliers have cut guidance by well more than 4% - some 8% and others like Cirrus Logic (CRUS) 16% - Skyworks proves it's less reliant on Apple sales and can sustain itself with the breadth of its other customers. With long-term technical support at $60, the downside risk is much less than the upside potential (minimum $75, $90 according to this year's F.A.S.T. Graphs valuation).
If you were considering Skyworks before, this jump on the back of a guidance cut is an excellent opportunity to dive in. The company is proving it's less dependent on the sales of iPhones, and with the push for more IoT and 5G over the next two years, Skyworks is positioned well to navigate the market without being held back by smartphones.
Make Cash With My Cache
Get alerted to my tech analysis by clicking the follow button at the top of this page next to my name. Subscribers to my Seeking Alpha service Tech Cache get the content you just read on a weekly basis. I discuss a variety of tech stocks and give subscribers my opinion and strategy as I formulate them. You also get real-time, chatroom access to ask me followup questions and hear ideas of other Tech Cache subscribers. Right now, you can try it risk-free with a 2-week free trial!
Disclosure: I am/we are long SWKS. I wrote this article myself, and it expresses my own opinions. I am not receiving compensation for it (other than from Seeking Alpha). I have no business relationship with any company whose stock is mentioned in this article.