Back in early November 2018, I was looking at New Gold (NGD) shares for potential speculative play. At that time, it looked like shares were on pause until at least the beginning of 2019 as tax-loss selling and lack of catalysts would have put pressure on any upside. That indeed was the case, but New Gold shares got a very fast start to 2019, a combination of end of tax selling, gold price upside and new catalysts.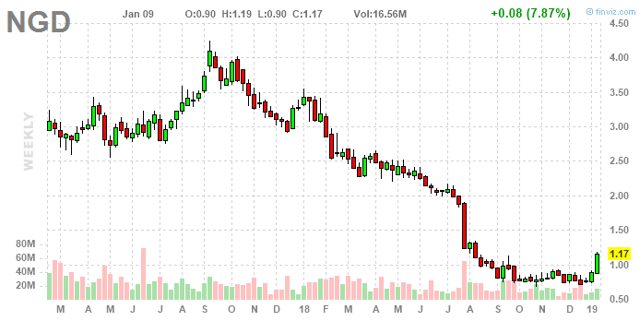 The biggest catalyst in this upside is the recent release of fourth-quarter operating results. Finally, the troubled mine Rainy River showed production upside. In the fourth quarter of 2018, Rainy River delivered 77,202 ounces, up 39% from the previous quarter. The quarter was not without technical challenges – milling operations were suspended for approximately ten days to repair semi-autogenous grinding mill starter and to address the ball mill trunnion, which will be replaced during the first quarter of 2019.
New Gold believes that ongoing mill upgrades will increase mill recoveries in the upcoming quarters, further improving Rainy River's results. The operating report did not contain cost numbers, but investors can be sure that they will drop materially from $1546 per ounce that the mine reported in the third quarter of 2018.
The operating report also stated that the underground mining development plan at Rainy River was pushed to 2020 from 2019 in order to save on costs and optimize mine life. Further details will be provided in 2019 guidance, which is expected to be released sometime in the second half of January. Following the sale of Mesquite Mine, the company has a comfortable balance sheet position and can dedicate the year 2019 to finding the right path for New Gold going forward.
The company's second mine, New Afton, appears in good shape and continues to show stable results, producing 77,329 ounces in 2018, materially above the guidance of 55,000 – 65,000 ounces. New Gold announced that it was planning to develop the C-zone of New Afton to extend the mine life to 2030. Once again, investors and traders alike will have to wait for 2019 guidance release for details.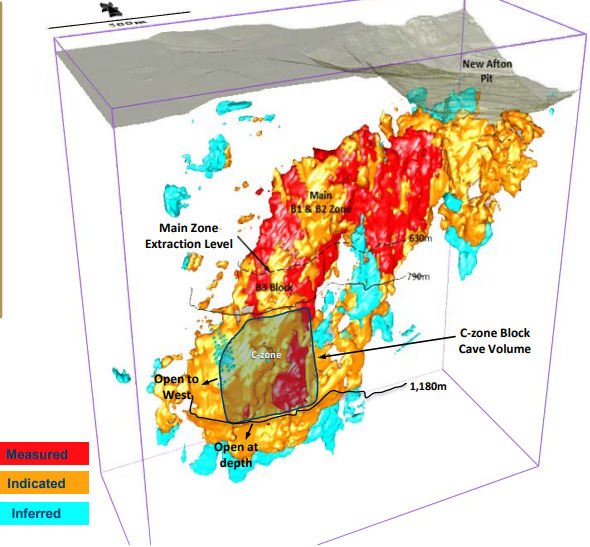 Source: New Gold presentation
So far, the new management at New Gold has lived up to its promises. The company promised that the fourth quarter would be pivotal for the company and it really was, with performance at Rainy River improving very significantly compared to the third quarter of 2018. At fourth-quarter production rate, Rainy River is close to the run-rate of original 2018 production guidance of 310,000–350,000 ounces per year. The production guidance cut to 210,000–250,000 ounces in the second-quarter report was the trigger for major downside: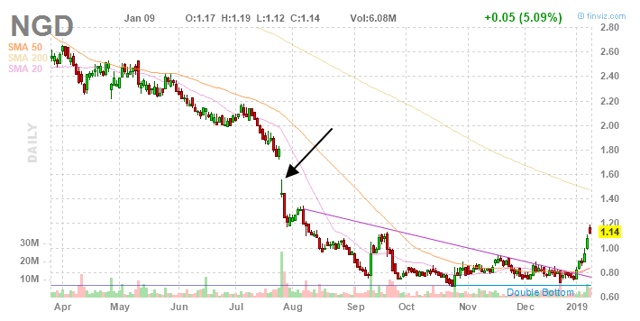 In my opinion, the shorter-term (less than one year) potential of New Gold shares is to reach pre-2Q 2018 report levels. Obviously, this can't happen in a straight line, and there may be significant pullbacks along the way, but such a move looks possible.
For this scenario to come true, the company's upcoming guidance (second half of January) and fourth-quarter earnings report (February 14) must please investors, gold price should be cooperative and no negative news should come from any of the two producing mines, Rainy River and New Afton. The fourth-quarter production report was certainly a long-awaited positive catalyst, and now the company must convince the market that the bottom is in and it is ready to rise from ashes. Apparently, the dull trading seen in October–December 2018 is over, and there's plenty of volatility ahead. It's high time to watch the stock closely, so stay tuned.
Disclosure: I/we have no positions in any stocks mentioned, but may initiate a long position in NGD over the next 72 hours. I wrote this article myself, and it expresses my own opinions. I am not receiving compensation for it (other than from Seeking Alpha). I have no business relationship with any company whose stock is mentioned in this article.