The Airbus (OTCPK:EADSF, OTCPK:EADSY) A380 likely is one of the most impressive developments in the history of commercial aviation. As an aerospace engineer and aircraft enthusiast, I can certainly appreciate the Airbus A380. Also, when considering comfort, the Airbus A380 is second to none. While the product is impressive, demand for the aircraft has been lackluster.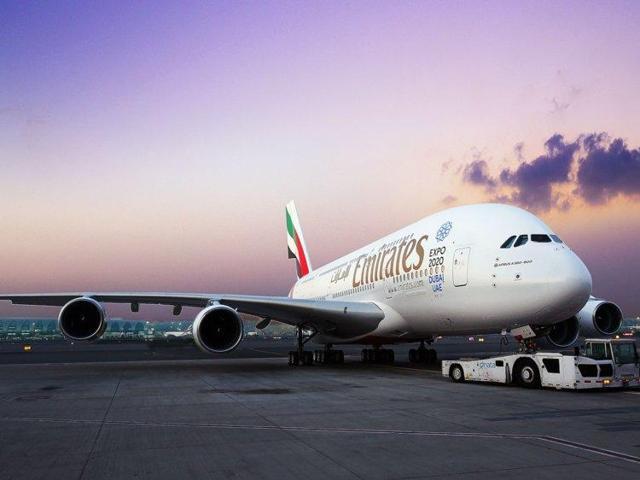 Source: Business Insider
There are a few reasons for that. The first reason is that the Airbus A380 serves extremely well in a hub-and-spoke model, but the shift towards point-to-point is clear, and airlines are even looking into fleet solutions to capitalize on secondary city routes. That means in the worst-case scenario demand for the Airbus A380 decreases, and in the best-case scenario it remains constant. Another reason why Airbus heavily focused on congested airports was that Aviation Mega Cities would boost demand for the superjumbo. However, we observed that instead of adding bigger aircraft to facilitate growth, airports are investing in capacity expansion of existing airports or even building completely new airports. To all of this, we should also add that the Airbus A380, in terms of efficiency, seems to be late to the market. However, at the same time, the capacity of the aircraft is something airlines do not need as of yet, and you could also say the aircraft entered the market too early. Regardless of the way you view it, the Airbus A380 might be an aircraft that aims to solve tomorrow's problem with yesterday's technology. In this case, being early to the market in the sense that you have a product that solves future problems is not necessarily a good thing.
AeroAnalysis International has been following the Airbus A380 for some time now, and one of our main conclusions was that while the Airbus A380 backlog looked strong, it was significantly inflated by orders which were unlikely to be filled. We observed that roughly 50% of the unfilled order book would be unlikely to be filled. We expected that as more and more airlines would step away from their orders or defer them, Airbus would be forced to reduce production. That is also the way things have played out, as the company will deliver 8 Airbus A380s this year, down 4 units from last year, and that number will decrease to 6 units per year from 2020 onwards.
In this report, AeroAnalysis International will have a look at how things change compared to our latest backlog analysis for the Airbus A380 in June 2018.
Backlog
In earlier analyses, we already marked deliveries to Air France (OTCPK:AFRAF), Air Austral and Virgin Atlantic as unlikely. These orders have been omitted at earlier stages. Other orders that were unlikely to be filled came from Qantas and Air Accord. The Air Accord order likely comes partly from Transaero and is there for legal purposes, possibly to avoid any cancellation penalty. Qantas, on the other hand, has indefinitely deferred its remaining unfilled orders for 8 jets, and possibly these aircraft will be canceled once Airbus decides to either go with the Boeing 777X (BA) or the Airbus A350-1000ULR concept to support its ultra-long haul missions.
Iran Air initially committed to the Airbus A380 in a preliminary agreement, but as soon as we saw that the airline also showed interest in the Boeing 777X and the Boeing 747-8, we immediately came to the conclusion that chances of seeing a superjumbo delivery to Iran would be small - and that was before sanctions against the country were reinstated, effectively blocking new commercial aircraft deliveries.
Table 1: Airbus A380 orderbook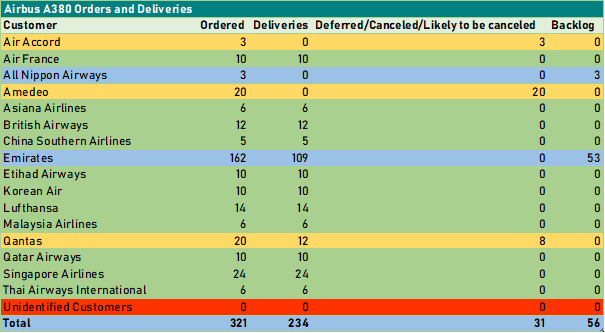 (Source: AeroAnalysis International)
Early in 2018, Emirates finalized an order for 20 Airbus A380, with options for another 16 superjumbos. The order was already expected during the 2017 Dubai Airshow, and at the time, we pointed out that it would allow for customers such as Virgin Atlantic and one unidentified customer to step away from their orders, and possibly even Amedeo could step away from its order. The full order - 20 firm and 16 options - would cover possible removals from the order book of 20 orders from Amedeo, 6 from Virgin Atlantic and 10 from the unidentified customer. What we saw is that in early 2018, Virgin Atlantic did indeed step away from its order. Amedeo announced plans to operate an all-A380 airline, but this is more a sign of despair than demand, since the lessor has not been able to place any of the 20 superjumbos it ordered with customers. The latest removal from the order book is 10 orders from an unidentified customer, which is believed to be Hong Kong Airlines.
With the removal and 2018 deliveries, the backlog falls to 87 units, down from 103 in June 2017. Deliveries which we think will never occur declined from 41 to 31 units in June 2017. This decline is driven by actual cancellations of doubtful orders and shows that our previous assessments have been correct. The units in backlog that we expect to be delivered declined by 6 units to 56, reflecting actual deliveries that took place during the year. At present, the order book inflation is 35%, down from 40% and 50% in earlier analyses.
Backlog runs out in 2028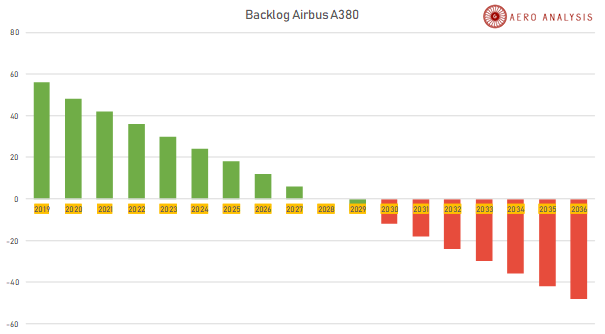 Figure 1: Backlog Airbus A380 (Source: AeroAnalysis International)
At a minimum rate of 6 aircraft per year from 2020 onward, we see that Airbus will run out of backlog in 2028, going by the assumption that only the "corrected" backlog will indeed see delivery. A total of 4 aircraft - 2 for Emirates and 2 for All Nippon Airways - have already been built, so this would take the point at which Airbus runs out of backlog to 2027.
Recently, we learned that the Emirates has delayed its hub transfer to Al Maktoum, which might be a good sign. If the airline aims to continue increasing capacity, the Airbus A380 does that. Maybe that is somewhat ironic, since Airbus initially built the entire business case on airport congestion, and now the biggest operator of the Airbus A380 might need additional airframes to grow its capacity.
The delay in the hub transfer could mean that Emirates will be ordering additional airframes from Airbus, firming the options it has. That would mean that the airline's order last year fully covers the deliveries that AeroAnalysis deems to be doubtful to be ever delivered.
Conclusion
In recent years, the Airbus A380 decline and rate adjustments have been fully matching our expectations. The latest change in the order book is another deflation, as Airbus removed Hong Kong Airlines from its order book. While some might consider the cancellation to be a bad thing, AeroAnalysis believes this adjustment was long overdue and makes Airbus' backlog figure for the Airbus A380 more useful.
Airbus still has 16 options that Emirates could firm. Possibly the Dubai Airshow this year would be a good stage for a new order announcement, though we do remember that there were expectations for an order on the same stage two years ago as well.
If you enjoyed reading this article, don't forget to hit the "Follow" button at the top of this page (below the article title) to receive updates for my upcoming articles. AeroAnalysis is the biggest creator of aerospace content for investors. Join a growing group of subscribers who get free access to original and uniquely crafted content.
Disclosure: I am/we are long BA, EADSF. I wrote this article myself, and it expresses my own opinions. I am not receiving compensation for it (other than from Seeking Alpha). I have no business relationship with any company whose stock is mentioned in this article.