Sierra Oncology (SRRA) caught my eye as a successor to one of Gilead's (NASDAQ:GILD) lowlights of old, momelotinib in myelofibrosis. While the deal makes good sense for Sierra, I do not look for Sierra to make sense for investors any time soon. The following posting explains my thinking in this regard.
The scourge of myelofibrosis challenges clinical trial design again and again.
Two biotechs I have followed and discussed extensively, Gilead and Geron (GERN), have both struggled with clinical trials for myelofibrosis. Geron is still evaluating how to deal with its frustrating IMbark clinical trial of imetelstat.
Back in 2012, Gilead paid over $500 million to acquire myelofibrosis therapy momelotinib from YM BioSciences (YMI) helmed by CEO Nick Glover. A scant four years later momelotinib disappointed. Its topline results in a pair of clinical trials comparing momelotinib to Incyte's (INCY) standard of care for myelofibrosis, ruxolitinib, showed mixed results.
Two years later along comes Sierra Oncology, with the selfsame Nick Glover as CEO, to give momelotinib another bite of the apple. Last August Sierra was able to snag momelotinib for a mere $3 million down, plus milestones of up to $195 million. It agreed to pay Gilead scaled royalties in the mid-teen-to-high-twenties on net sales.
Sierra sees momelotinib's positive impact on anemia as an attribute worth preserving.
CEO Glover's Sierra sees potential in momelotinib's 2016 phase 3 results. Of particular note, it focuses on secondary outcome measures in anemia. Gilead's 2016 press release reporting momelotinib's topline results included the following:
Greater improvements in all three pre-specified anemia-related secondary endpoints (proportion of patients who are transfusion independent, or transfusion dependent and transfusion rate) were observed in patients receiving momelotinib compared to ruxolitinib.
In a 49 slide presentation "On Targeted Hematology & Oncology Therapeutics" issued in connection with its momelotinib deal, Sierra parades its momelotinib opportunity in impressive fashion. The deal allows it to present its lead pipeline candidate momelotinib as a veteran of two completed phase 3 clinical trials.
With careful data review of existing phase 3s, it shows in certain situations momelotinib as an attractive alternative to ruxolitinib in the treatment of myelofibrosis, as follows: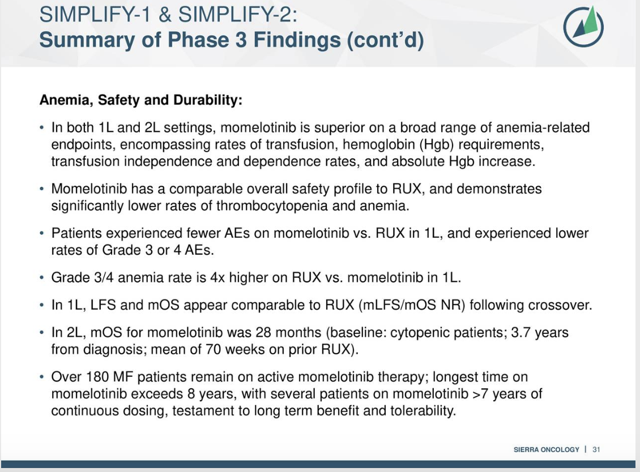 Existing data allows it to develop a registration strategy which is simple and straightforward: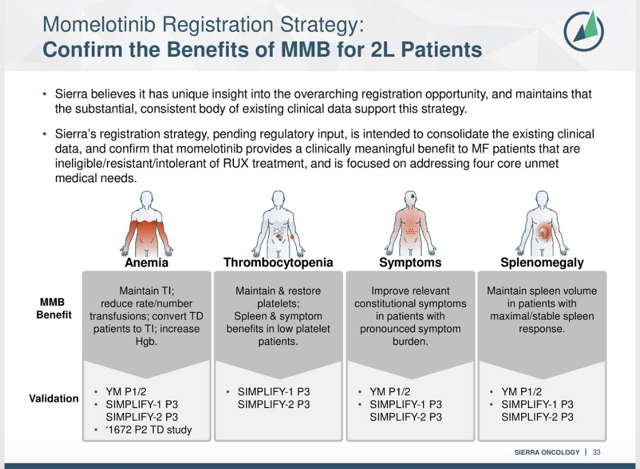 I am giving this one a watch and a pass until it notches some successes and management proves itself.
Sierra has identified an interesting therapy that may offer significant advantages to certain myelofibrosis patients. CEO Glover and his backers have set up a deal which minimizes the out front costs of developing momelotinib and accordingly maximizes the chance that they may be able to take it out of the clinic and make it available to patients.
Despite the completed studies, Sierra still has several years to go before it can hope to file an NDA. The preliminary and protean state of its planning for a path to approval is clear from the following: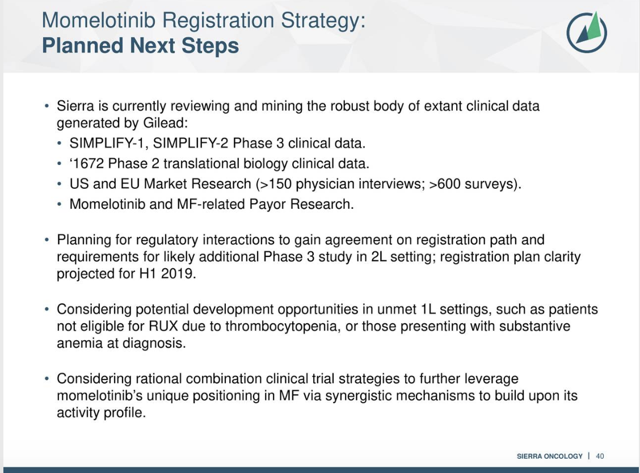 As a potential private shareholder, rather than an insider, I see multiple opportunities for dilution. Its deal with Gilead is structured to minimize its early cost, laying on expense as current deal lays on expenses as momelotinib approaches FDA approval and starts to earn revenues. Its deal structure slide notes that milestones of $195 million together with royalties in the high twenties will kick in as momelotinib reaches commercial success.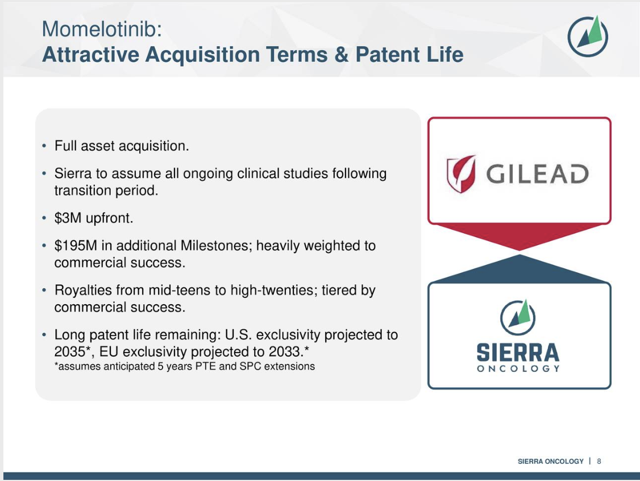 At this stage of its life when Sierra has no income and is struggling to find a path to approval for momelotinib, such future commitments seem wholly appropriate. If momelotinib succeeds in its approval quests, things will look differently.
At that stage Sierra will be trying to ramp up a sales force to make the case that momelotinib is preferable to an entrenched standard of care ruxolitinib. Possibly by that time a newcomer, maybe another second chancer Celgene's fedratinib or perhaps Geron's imetelstat will be on the myelofibrosis scene.
As I write Sierra trades at $1.41. It has a market cap of slightly over $100 million, $116.1 million of cash and cash equivalents (Q3, 2018 10-Q, p. 6), an accumulated deficit of $663 million (Q3, 2018 10-Q, p. 4). Since Sierra's 2015 IPO, it has been a consistent loser for its shareholders per its Seeking Alpha stock chart below:
Conclusion
Sierra Oncology is performing a vital public service by re-evaluating momelotinib as a therapy for myelofibrosis patients. I wish it the very best of luck in this endeavor. I will no doubt be following it from afar as it continues this quest over the next several years. At some point it may well turn into an appealing candidate for my limited speculative biotech investment dollars.
That day is not today.
Disclosure: I am/we are long GERN, GILD. I wrote this article myself, and it expresses my own opinions. I am not receiving compensation for it (other than from Seeking Alpha). I have no business relationship with any company whose stock is mentioned in this article.
Additional disclosure: I may buy or sell shares in Geron or Gilead over the next 72 hours