By Frank Curtin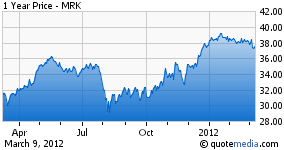 Merck (NYSE:MRK) pays out a nice dividend of $1.68 per share on an annual basis that brings in a dividend yield of 4.4% at the stock's current price. This dividend is paid out on a consistent basis and was raised for the first time in seven years at the beginning of this year. This also brings the trailing twelve month payout ratio on the stock to 77%, which is much higher than any of its peers.
The company is showing some significant signs of growth and the stability of the dividend may not come into question if the company can increase or at least maintain productivity within its drug pipeline. In further support of this assertion, Merck's rate of revenue growth over the past five years has been 16.4%, which is the highest in the Dow Jones Industrial Average. I believe the dividend is not only stable, but could rise as the company's revenues increase. Below, I will present my case for this reasoning.
First, let's see how Merck lines up with competitors in terms of dividends.
Merck is a mid-large sized pharmaceutical company in terms of its market capitalization (115.6 billion) along with GlaxoSmithKline (NYSE:GSK), which pays out a dividend of $2.65 per share. This amounts to a dividend yield of about 6%. The trailing twelve month payout ratio on GlaxoSmithKline's dividend is only 69% by comparison.
Bristol-Myers Squibb (NYSE:BMY) is another competitor in this market and it pays a dividend of $1.36 per share which brings in a dividend yield of 4.2% and its trailing twelve month payout ratio is only 61%. Another one of Merck's competitors is Novartis (NYSE:NVS) with a dividend of $1.60 per share and a dividend yield of 2.9%. Novartis presently has a trailing twelve month payout ratio of only 53%. The last member of our group of mid-large sized pharmaceutical companies is the least in terms of its trailing twelve month payout ratio of only 47% - Sanofi-Aventis (NYSE:SNY). Sanofi-Aventis pays a dividend of $1.76 per share that amounts to a dividend yield of 4.7% at the stock's present price.
Merck's dividend yield is in line with its competition, and although its payout ratio is high by comparison, I believe the company's revenue growth going forward will bring this metric back in line with the industry average.
The long awaited clinical trial of vorapaxar was finally completed with mixed results. Merck inherited the vorapaxar research program when it acquired Schering-Plough in 2009. Vorapaxar was then seen as having multi-billion-dollar sales potential but the company and investors have had to lower expectations as the trials progressed. Merck had to write down $1.7 billion (2011) in the value of the vorapaxar research program. Vorapaxar is an experimental anti-clotting drug designed to reduce the risk of heart attacks and related events. The original trial for the Tracer study was halted last year after a bleeding risk was observed and it was determined that the drug would pose an unacceptable risk to patients that have a history of stroke.
A new trial was then designed excluding these candidates from the test population and labeled TRA-2P - about 75% of the enrolled patients continued to receive vorapaxar. The new trial involved more than 26,000 patients and the people in the test group were given vorapaxar as well as standard care, such as aspirin or the anti-clotting drug Plavix. It should be noted here that Plavix is a product of Bristol-Myers Squibb and Sanofi that has similar side effects and the all too common trial lawyer fan club. Vorapaxar, however, did meet the primary efficacy goal in the study but with the added measure of bleeding risk. The results of the TRA-2P clinical trial, in my opinion, leaves open the possibility that Merck could obtain regulatory approval for vorapaxar in the treatment of patients with no history of stroke. The drug of course would not be the blockbuster it was originally thought to be, at least at this stage, and would carry with it an added measure of risk due to potential unforeseen side effects.
Similarly, the Food and Drug Administration is cautioning patients taking statins, the popular cholesterol-lowering drugs, that they face a slightly elevated risk of higher blood sugar and being diagnosed with diabetes, along with temporary memory problems. Statins have been shown to significantly reduce the risk of heart attack and heart disease. The regulators are requiring major drug makers and generic producers of the drugs to add warning labels to the products. The regulation affects top-selling brand names such as Pfizer's (NYSE:PFE) Lipitor, Bristol-Myers Squibb's Pravachol, AstraZeneca's (NYSE:AZN) Crestor, and Merck's Zocor. The Food and Drug Administration further stated they are not trying to frighten people into not taking the drug - just trying to make consumers aware of the tradeoffs involved. The announcement, framed in this manner, should not affect the companies' sales in any significant way, in my opinion.
Merck announced it has achieved positive Phase 3 results in trials of its experimental insomnia treatment Suvorexant. Suvorexant is a key drug in the company's pipeline and represents a significant source of revenue growth in the near term, in my opinion. Suvorexant, if approved will also offset the losses it will sustain later this year to generic companies when its blockbuster allergy and asthma medication Singulair comes off patent protection. With the completion of the Phase 3 trials Merck plans to now go ahead with the regulatory approval process of Suvorexant.
The drug is unique in that it selectively targets an important pathway involved to promote sleep and is a "… first-in-class treatment for patients with insomnia." according to Peter S. Kim, president of Merck Research Laboratories. Suvorexant is one of the five major drugs coming out of the company's pipeline in 2012 and 2013.
This, along with the fact that the company swung to a fourth quarter profit on lower costs and higher sales of the Januvia diabetes drug, sets the company up well for dividend growth in the short term and the long term.
Disclosure: I have no positions in any stocks mentioned, and no plans to initiate any positions within the next 72 hours.