Kinder Morgan, Inc. (NYSE:KMI) purchased El Paso Corporation for $21.1 billion in a cash and stock deal back in 2011. When including debt, the deal had a total value of $38 billion. At the time, Richard Kinder (Executive Chairman and co-founder of Kinder Morgan, Inc.) noted "if you believe in the future of natural gas, you believe in putting together the biggest possible network." When the deal closed, Kinder Morgan was sitting on 67,000 miles of natural gas pipelines. That has since grown to 70,000 miles and counting, with the midstream giant's Natural Gas Pipeline division generating over half of its earnings in Q3 2018. Let's go over the El Paso Natural Gas pipeline network and its sister Mojave Pipeline, as these assets help form the bedrock of Kinder Morgan, Inc.
Overview
The 10,140-mile long El Paso Pipeline transports natural gas produced in the Permian Basin, Anadarko Basin, and San Juan Basin to buyers in Texas, Oklahoma, New Mexico, Arizona, Nevada, California, and even Northern Mexico. This part of the system has the capacity to transport 5.65 billion cubic feet of natural gas per day, and Kinder Morgan owns 100% of the El Paso Pipeline. Kinder Morgan also owns 100% of the Mojave Pipeline, which is a 500-mile long gas pipeline that interconnects with the El Paso Pipeline along the California-Arizona border. These operations are supported by 44 billion cubic feet of gas storage capacity.
Having access to markets in Arizona, California, and Northern Mexico is key to providing rising gas supplies produced in the Permian Basin (West Texas/SE New Mexico) and the Anadarko Basin (Oklahoma) an exit route. The El Paso system competes with Energy Transfer LP's (NYSE:ET) Transwestern natural gas pipeline system in the sense they serve similar markets, which I covered in this piece here. Below is a map of the El Paso Pipeline network.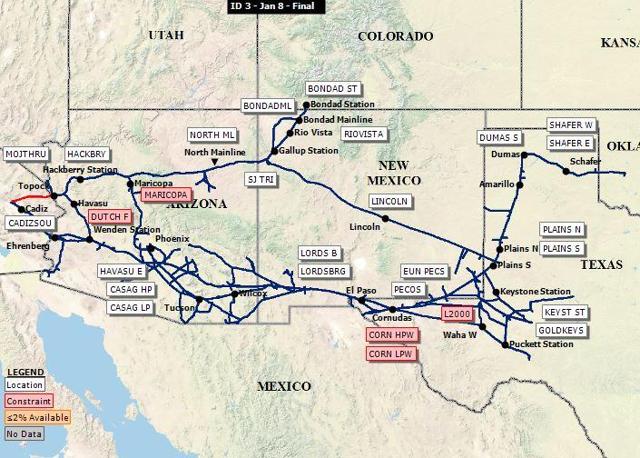 Source: Kinder Morgan Inc
Additional exports to Mexico
Sierrita Gas Pipeline LLC is a venture between Kinder Morgan (35% interest), a subsidiary of state-run PEMEX (Mexico's national oil company), and a subsidiary of Mitsui & Co (OTCPK:MITSY). The 61-mile pipeline runs from the El Paso system near Tucson, Arizona, to the American-Mexican border near Sasabe, AZ. From there, the system interconnects with a pipeline network owned by Infraestructura Energetica Nova (OTCPK:IENVF), a Sempra Energy (NYSE:SRE) company, which carries the gas into Mexico. The Sierrita Gas Pipeline was brought online in 2014 and enables the El Paso Pipeline to service both American and Mexican natural gas demand.
There were two key anchor-shippers supporting the Sierrita Gas Pipeline project; Comision Federal de Electricidad (abbreviated CFE, Mexico's state-run utility operator), and the Salt River Project Agricultural Improvement and Power District (which is an umbrella name for two entities, Arizona's public utility that provides electricity to Phoenix and the public utility that provides water to Central Arizona). Initially, the Sierrita Gas Pipeline had 0.2 Bcf/d of gross transportation capacity.
Kinder Morgan plans to complete the South Mainline Expansion by July 2020, which will add 0.3 Bcf/d of gross transportation capacity to the Sierrita Gas Pipeline. That additional capacity is supplying CFE's new power plants with natural gas. Projections by Mexico's Energy Ministry indicate that over the next 15 years, 28.1 gigawatts of electricity generation capacity from combined-cycle gas turbines will be added to the nation's power grid. That includes 2.3 GW in 2018 and 3.6 GW in 2019. The expansion of the Sierrita project is expected to cost just $0.1 billion net to complete, keeping in mind Kinder Morgan owns just a fraction of the pipeline.
While gas demand projections are just forecasts and political winds can change economic trends, Mexico's natural gas demand grew by 3.5% annually from 2005 levels of 5.1 billion cubic feet per day to 2015 levels of 7.5 Bcf/d. Going forward, the nation's gas demand appears ready to keep growing on the back of cheap pipeline imports from America. The Mexican government expects natural gas demand rose to 8.32 Bcf/d in 2018 and that consumption is forecasted to keep rising by 1.6% annually from 2016 levels through the early-2030s.
Forecasts vary, but the general consensus is clear; Mexican natural gas consumption is expected to keep rising. As Mexico's domestic production has been on a downward trend since 2009 (at least through the first half of 2018), the nation is likely to continue utilizing American gas supplies to fill the gap.
What makes the expansion of the Sierrita Gas Pipeline so important is that it allows for additional gas supplies to run along the El Paso Pipeline on an annual basis, meaning utilization rates along portions of the system should move higher. Kinder Morgan benefits in numerous ways, including higher cash flow generation from pipeline tariffs and possibly higher utilization rates at its other midstream assets (storage in particular).
Modest contract upside
During Kinder Morgan's Q2 2018 conference call, management noted that new contracts covering the El Paso Pipeline were quite favorable. A quarter later, management commented that higher tariff rates at the El Paso Pipeline and others (particularly those catering to the Permian boom) had resulted in an additional $25 million in revenue for Kinder Morgan on an annual basis. While that might seem small or irrelevant, note that Kinder Morgan didn't put up any capital to get those higher rates. The favorable Permian supply situation and relative lack of takeaway capacity means Kinder Morgan can ask for and receive higher tariff rates from Permian shippers. That gain is spread out across several assets, but it highlights how Kinder Morgan is targeting marginal upside from several avenues.
Final thoughts
Kinder Morgan is well positioned to cater to the natural gas story within the North American energy renaissance. The purchase of El Paso Corporation years ago turned out to be the right call as Kinder Morgan effectively made a ~$40 billion bet that America was full of natural gas supplies, keeping in mind this was in 2011 when there were still plenty of cynics out there who didn't believe the fracking boom would be as big as it was (and still is to this day). That deal cemented Kinder Morgan as the king of US natural gas pipelines and put it in a position to play an instrumental role in supporting rising US gas pipeline exports to Mexico. Interested investors looking to read more about Kinder Morgan should check out its two large Permian pipeline projects currently under development that I covered here. Thanks for reading.
Author's note: Some of the companies mentioned above don't trade on a major U.S. stock exchange, which come with their own unique sets of risks and rewards. Always do your own due diligence before investing.
Disclosure: I/we have no positions in any stocks mentioned, and no plans to initiate any positions within the next 72 hours. I wrote this article myself, and it expresses my own opinions. I am not receiving compensation for it (other than from Seeking Alpha). I have no business relationship with any company whose stock is mentioned in this article.