On Tuesday, Aurora Cannabis (ACB) announced guidance for its fiscal 2019 second quarter results which are scheduled to be officially released on February 11, 2019. The guidance came in below the Street estimates and represented a slow start to legalization at the company. We like the transparency and initiatives from the Aurora management team but the numbers are far from enough to support its $7 billion market cap. Aurora's announcement also does not bode well for the rest of the Canadian cannabis stocks as it is considered by us as a leader in the Canadian market.

(All amounts in C$ unless otherwise noted)
Q2 2019 Guidance
On Tuesday, Aurora announced the following guidance for its fiscal 2019 second quarter which will be released in full on February 11, 2019:
Q2 2019 revenue of $50 - $55 million, net of excise taxes
SG&A consistent with last quarter which was $36 million
Annual run-rate capacity reached 100,000 kg today and will reach 150,000 kg by the end of next quarter (Q3 2019)
Expect 25,000 kg of cannabis available for sale in Q4 2019
Achieve positive EBITDA margin in Q4 2019
Medical cannabis patients increased 5% from 67,484 to ~71,000
It is also worth watching the BNNBloomberg interview (Video) with Aurora's Cam Battley where he discussed the guidance a bit more.
For comparison, we wanted to provide a few more data points from other licensed producers that have shared their initial legalization sales:
One of the things we are seeing from other producers is that gross margin will collapse once legalization sales are included. People should generally expect average selling prices to fall dramatically to the range of $5-$6 per gram for most LPs. HEXO is a great example where its recreational sales are fetching average prices of $5.45 per gram versus $9.12 on the medical side. Aurora did not provide guidance on margin but we expect its gross margin to fall dramatically from last quarter which would pressure earnings.
Compared to Last Quarter
To make sense of Aurora's latest guidance, let's take a look at the numbers compared to its last quarter where only $600k of revenue was booked from legalization. We analyzed Aurora's last quarter in details through "That Quarter Was A Step In The Right Direction".
Aurora reported $30 million sales last quarter with only $0.6 million coming from shipments to provinces for legalization sales. However, due to the fact that the MedReleaf acquisition closed on July 25, 2018, last quarter only included partial contributions from MedReleaf. As a result, for comparison purposes, we should be using Aurora's pro forma Q1 2019 revenue which was $35.8 million and includes 100% contribution of MedReleaf.
Turning to the guidance for Q2, the mid-point of the range would give us $52.5 million. Thus, Aurora's upcoming quarter would include sales that grew $17 million or 47% from the prior quarter ($35.8 to $52.5 million). Put it another way, Aurora was only able to generate $17 million of sales from legalization between October 17 and December 31, 2018. Aurora only reported a 5% increase in its registered patient base in Q2 which is why we think most of the incremental sales came from recreational business. Some Canadian companies have also reported a slowdown in their existing medical business recently so we wouldn't be surprised to see some cannibalization between the medical and recreational businesses for Aurora.

Given that legalization only began on October 17 during the quarter, Aurora's run-rate sales from legalization would still only be $20 million for the quarter. We have recently analyzed Canada's legal cannabis sales in "Canada Sold $43 Million Of Legal Pot In The First 2 Weeks". Despite the weak initial data read out of Canada, Aurora's sales still came in below the market's expectations.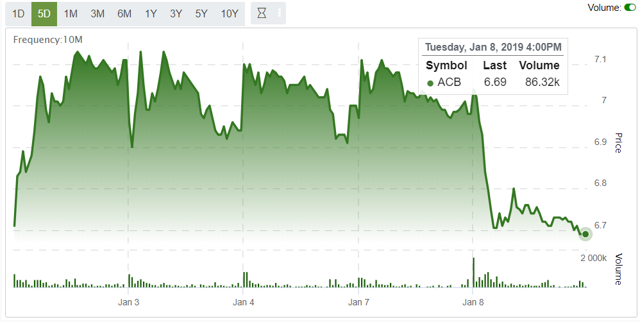 (Source: TSX)
Our frequent readers would know that we never placed much emphasis on research analyst estimates and Aurora's guidance showed to us again that analysts are struggling to project earnings at this stage. We think the sell-side would need a few more quarters of data before they could more reliably estimate earnings. That's why we don't think Aurora's headline misses would matter as much for this quarter (Thomson Reuters showed average Q2 revenue estimate of ~$67 million). Aurora's share price only declined 4.4% on Tuesday which is atypical for such a huge miss from analyst estimates under normal circumstances. In fact, we think most cannabis investors have not focused on analyst estimates at all and valuations in the sector remain hinged upon market potential rather than current profitability.
Conclusion
Investors have voiced their support for the company by sending Aurora's share price down a small 4.4% on Tuesday. However, we think the slow start for Aurora would put more pressure on the company to quickly ramp up during the rest of 2019. In order to support its $7 billion market value, Aurora needs to generate billions of sales once its business matures and there remains a long way to go from the quarter it just announced. In the near-term, the only saving grace for investors would be their willingness to ascribe value for the potential international opportunities (In Q1, Aurora's only international sales outside Canada were $3.5 million from the EU). We also expect other companies to report even smaller revenue from legalization in the coming weeks as Aurora was one of the readiest producers in the Canadian market. It will also be interesting to see what legalization sales number Aphria (OTC:APHA) reports on January 11.
Disclosure: I/we have no positions in any stocks mentioned, and no plans to initiate any positions within the next 72 hours. I wrote this article myself, and it expresses my own opinions. I am not receiving compensation for it (other than from Seeking Alpha). I have no business relationship with any company whose stock is mentioned in this article.