Investment Thesis
CES Energy Solutions (OTCPK:CESDF) (CEU.TO) has pulled back by 50% in the past year due to takeaway pipeline capacity constraints and the recent decline in energy prices. We believe investors' fears are overdone as the company actually grew its top and bottom lines by double-digits in the first 9 months of 2018. In addition, the company's competitive position allows it to gain market shares in 2018 and even during the energy downturn in 2015/2016. Looking forward, we believe there are several catalysts that should help move its share price higher. These catalysts include: (1) Significant increase in pipeline capacity in the Permian Basin, (2) its expansion in production capacity to meet the strong demand, and (3) management's plan to allocate more cash flow towards share buybacks and dividend payments. CES is well managed with a conservative balance sheet. Its EV to EBITDA ratio is nearly 6 times below its 10-year average of 12.7x. Based on our conservative analysis, we believe its shares should trade 60% above its current level. Hence, we believe the time is right for investors to invest in this high quality company.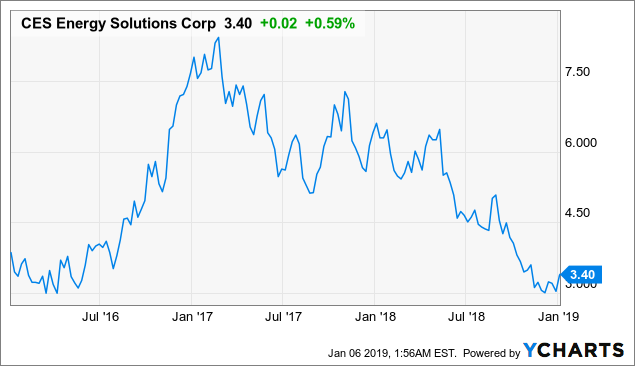 Source: YCharts
Company Background
CES is a leading provider of technically advanced consumable chemical solutions throughout the life cycle of the oilfield. As can be seen from the illustration below, its chemical solutions are used during drilling, stimulation, production, and pipeline transportation. Its chemical solutions are used to maximize production, reduce costs of equipment maintenance, and aid hydrocarbon movement transported through pipelines.

Source: Q3 2018 MD&A
CES has both operations in Canada and the United States. Over the past 10 years, the company has significantly increased its presence in the United States. As can be seen from the table below, the country represented nearly two third of its total revenue in Q3 2018. This was much higher than the 44% back in 2010. During this time period, CES also gained market share in the United States. Its market share in drilling fluids has increased from only 4% in 2010 to 12% in Q3 2018. In the same time period, it has also increased its market share in Canada from 27% in 2010 to 37% in Q3 2018.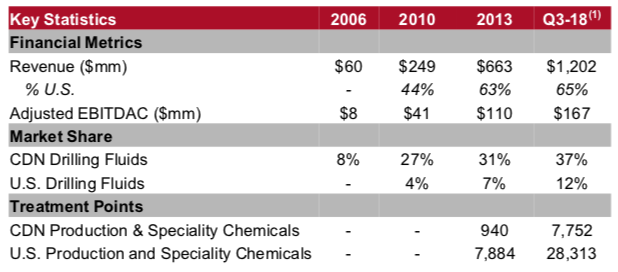 Source: November 2018 Investor Presentation
CES has lab facilities and manufacturing facilities across both sides of the border. Locations of different labs and manufacturing facilities can be found in the map below.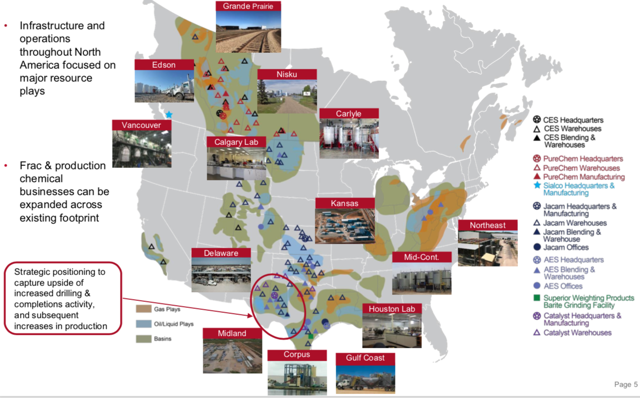 Source: November 2018 Investor Presentation
One of CES' competitive strengths comes from its in-house research & lab facilities. The company provides fully integrated approach to the design and execution of oilfield related consumable chemical solutions to its customers. The proprietary systems and tailored solutions are designed and customized to address specific customer needs. The company has over 47 patents issued in multiple jurisdictions. These patents have helped CES to protect its competitive position and grow market share in the oilfield chemicals marketplace.
Another competitive strength of CES is its vertically integrated business model. As can be seen from the chart below, the company has over the years built a vertically integrated business that incorporates manufacturing, blending, wholesale and retail operations.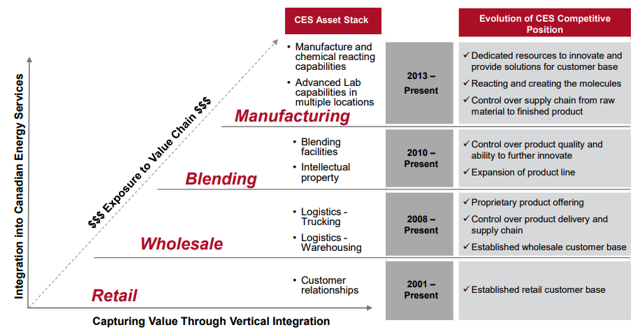 Source: January 2019 Investor Presentation
The company has done several acquisitions in the past few years that helped vertically integrate its manufacturing and blending capabilities. Several notable acquisitions include:
(1) JACAM acquisition: chemical blending capabilities expansion. At the time of the acquisition in 2013, JACAM generated approximately US$96.3 million in revenue and US$25.2 million of normalized EBITDA for the trailing twelve month period ended December 31, 2012.
(2) Sialco acquisition: chemical manufacturing capabilities and product offerings with advanced chemical reacting capabilities.
(3) Catalyst acquisition: production and specialty chemical retail presence and manufacturing capability in West Texas and the Permian Basin.
(4) StimWrx acquisition: technically advanced solutions for optimal wellbore stimulation.
Through vertical integration, the company has done a good job improving its supply chain to efficiently source its input products and to blend/manufacture the products it supplies to its customers. It also allows it to significantly expand its market shares in the past few years. The gain in market shares associated with its acquisitions in the past few years can be seen from the chart below.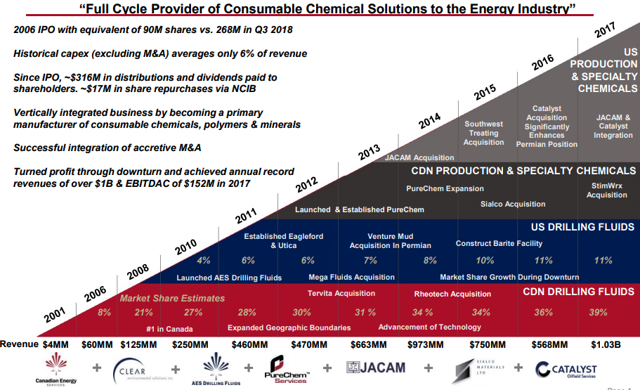 Recent Developments
Declining share price
The share price of CES has declined considerably in late 2018, as investors fear about a slowdown in global economy that will reduce demand for oil and natural gas. In addition, the lack of takeaway capacity in Western Canada has caused Western Canada Select to trade at a significant discount to Western Texas Intermediate (see chart below). Investors are also concerned about pipeline capacity constraint in United States' Permian Basin. We will discuss more details about this limit in Permian Basin and the new takeaway capacity that should become available in H2 2019.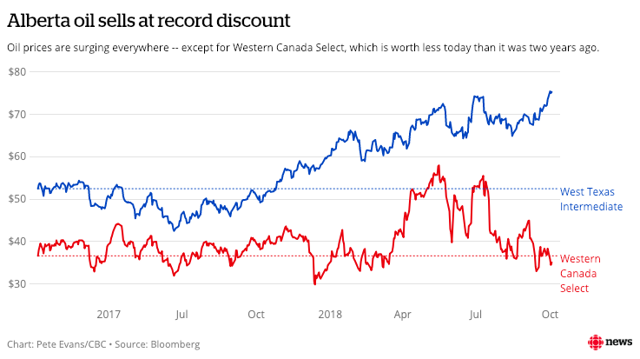 Source: CBC, Bloomberg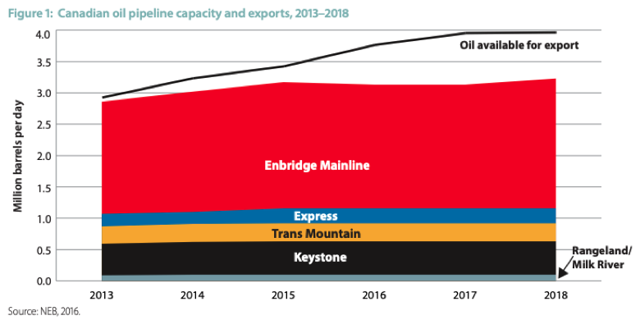 Source: Fraser Institute
Things are not as bad as investors think
Crude oil price has declined considerably in the past few months due to higher production volume. However, we have noted several positive trends. First, the Western Canadian Select to West Texas Intermediate differential has narrowed considerably since December thanks to Alberta's effort to reduce oil production capacity by 8.7%. As can be seen from the chart below, the WCS/WTI differential is now even above the 5-year average of -$15 per barrel. This is despite the fact that oil price has declined considerably since September 2018. Hence, we think as long as the oil price stays at the current level, we do not anticipate future crude production decline.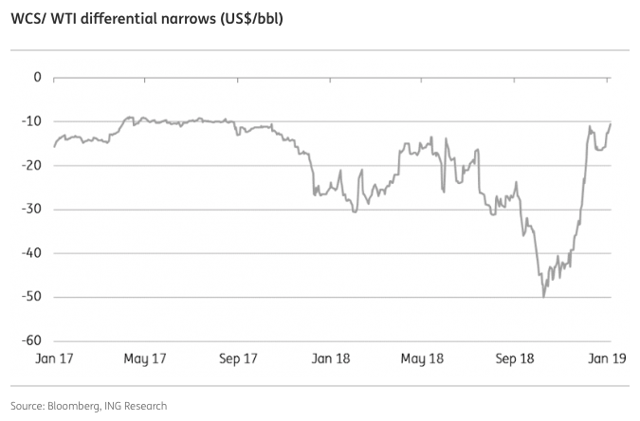 Source: ING Research
Although world oil supply continues to outpace demand in Q1 2019, this trend is about to reverse in Q2 2019 according to International Energy Agency. As can be seen from the chart below, IEA is projecting a shortfall of about 0.6~0.7 million bpd in Q2 2019 thanks to Vienna Agreement in December as well as further declines of oil out in Iran and Venezuela. The agency also projects world oil demand to increase by 1.3 million bpd in 2019.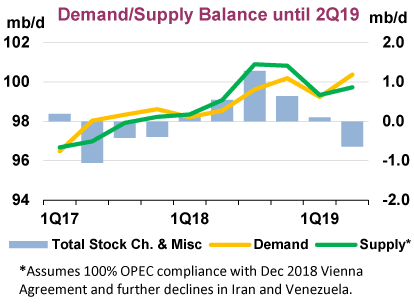 Source: International Energy Agency
If this demand and supply projection holds true, oil production growth in the U.S. should remain positive. In fact, Bank of America Merrill Lynch's Francisco Blanch expects U.S. crude production in 2019 to increase about 1.2 million to 1.3 million bpd in shale oil if WTI price is above $59 a barrel. Even if WTI price stays at around $50 a barrel, U.S. crude production will still grow by sub 1 million barrels a day. Hence, we still hold the view that U.S. crude production will increase in 2019 unless WTI price falls below $45 per barrel for a lengthy period of time. Therefore, we believe CES' business will continue to grow in 2019.
Catalysts to move its share price higher
We believe CES' share price will move higher in 2019 and beyond for the following reasons:
Multiple years of growth expected in the Permian Basin
Much of CES' expansion in the United States comes from its increasing sales in the Permian Basin. For reader's information, oil production in Permian Basin represents roughly a third of total U.S. oil production according to the U.S. Department of Energy. As can be seen from the chart below, crude oil production in Permian has increased rapidly in the past 10 years and now reaching about 3.8 million bpd at the end of 2018. Even in the past few months, production continues to climb despite declining energy prices.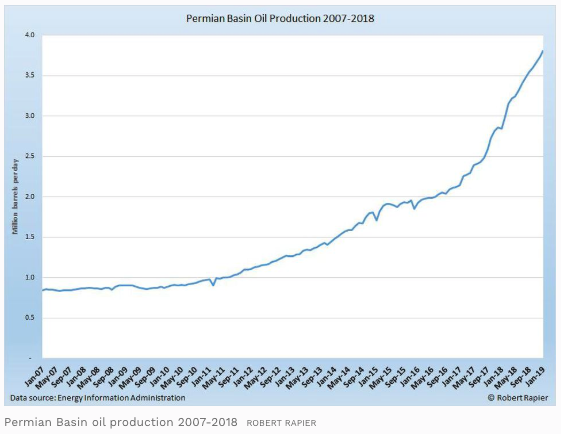 Source: Forbes
As mentioned earlier in the article, there has been a concern about oil takeaway capacity in Permian Basin. As can be seen in the chart below, the difference between capacity and production is expected to reach closer to zero towards Q2 2019.

Source: Oil & Gas Journal
Fortunately, we expect this lack of capacity situation to change significantly in the second half of 2019 as several pipeline projects reach completion in 2019. The Sunrise pipeline (500,000 bpd of capacity) should reach completion in H1 2019. The EPIC pipeline (440,000 bpd), the Cactus 2 pipeline (670,000 bpd), and the Gray Oak (700,000 bpd) are expected to reach completion in H2 2019. Together, these projects will add 2.3 million bpd of pipeline capacity in the region. There is also another wave of pipeline projects should reach completion in 2020 that will increase the takeaway capacity as well. As a result, we believe investments from energy producers in Permian Basin will resume in 2019 and will continue in the next few years. This should boost drilling activities in the basin.
We are also encouraged by Diamondback Energy's (FANG) production outlook for 2019 (released on December 18, 2018). For reader's information, Diamondback is an important oil producer concentrated in Permian Basin. In the news release, Diamondback expects its oil production volume to grow by 28%. This supports our view that oil production in Permian Basin should continue to grow in 2019. As rig counts and oil production rises, the demand for chemical solutions will increase rapidly as well. CES, being the third largest provider of chemical solutions in the U.S. (with 12% market share), is in a good position to capture this growth trend in the next few years.
Production capacity expansion largely completed
In the Permian Basin, CES is in the midst of doubling its capacity in its Kermit mud plant in Texas. Once completed, it will be very beneficial, as the facility has already reached its full capacity and desperately need capacity expansion. The expansion will allow the company to take on new work and grow market share in the region. As mentioned earlier, unless WTI crude price stays below $45 per barrel for a lengthy period of time, we think CES will be able to grow its revenue in the region. Looking forward, CES plans to build a strategically located barite facility in the northeast US in 2019, expanding its existing barite grinding capabilities. However, the contribution to its revenue will be in 2020.
Capital allocation towards share buybacks and dividends
CES is guiding its 2019 capex to be below 2017 levels. For reader's information, its capex represented about 6.5% of its total revenue in 2017. In fact, the company has historically spent only 6% of its revenue on capital expenditure. Hence, we expect its capex to be around C$60 million in 2019.
The significant reduction in its capex should be beneficial for shareholders in many different ways. From a cash flow perspective, management will be able to improve its balance sheet and return more cash to shareholders in the forms of dividends and share buybacks. In fact, management in its Q3 2018 conference call shared the following,
As we complete our significant capex programs in 2018 harvest working capital and generate free cash flow going forward we will continue to specifically focus on prudent allocation of capital including share repurchases, debt reduction, dividend payments, and investments in operations."
In fact, CES has already doubled its monthly dividend from C$0.0025 per share to C$0.005 per share in mid-2018. Investors should not be concerned about the safety of its dividend. Its payout ratio of 14% in Q3 2018 remains extremely low (it was 6% in Q3 2017). The company has purchased 2.7 million shares in Q3 2018 at an average price of C$4.57 per share for a total amount of C$12.4 million. In the period after September 30 and before the release of its Q3 earnings on November 8, CES also repurchased 1.3 million shares.
Gross margin should not deteriorate further
Variable cost inflation due to rising input cost was one of the main reasons CES saw its gross margin compressed in 2018. For reader's information, CES' gross margin of 22.4% in Q3 2018 was much lower than the margin of 24.5% back in Q3 2017. We believe this margin compression will not deteriorate further because one of the major components of its input cost include crude and natural gas. Given the fact that crude and natural gas prices are pretty flat lately, we do not see its gross margin further deteriorating. In addition, it was noted in the past conference call that one of its competitors announced to increase its price by 8% ~ 15% in early November 2018. Although given the decline in energy price in November and December, we do not think it will be easy for CES to pass the price increase to its customers. Nevertheless, if CES can successfully increase its prices, we may see some meaningful margin expansion.
Other possible catalyst
Although visibility isn't very clear in CES' Canadian operation, we believe the progress of several pipeline projects will improve the visibility of the energy industry in Canada. Several pipeline expansion projects are actually either in the construction phase (e.g. Line 3 Replacement) or pre-construction phase (e.g. Keystone XL). Once completed, Enbridge's (ENB) Line 3 replacement project will restore its Line 3 capacity to 760,000 bpd. Although Enbridge is targeting a completion date in late 2019, we think a more likely year of completion will be 2020. Another project, TransCanada's (TRP) Keystone XL has secured 500,000 bpd of shipment for 20 years, and the company is expected to make the announcement this year on whether to start building the project. We believe as Line 3 reaches completion and Keystone XL projects starts, visibility in Canadian energy sector will improve. Once energy producers started to ramp up their investment, this will eventually result in higher demand for CES' chemical solutions and fluids.
Our 2019 Estimates
The table below shows our estimate of CES' revenue, gross margin and EBITDA for 2018 and 2019. We are estimating that CES' revenue will grow by 21% for the whole 2018 based on strong revenue growth of 23% in the first 9 months of 2018 driven by growth in the United States. We are projecting its revenue in the U.S. to grow by 12% to C$937.5 million in 2019. We based this on CES' capacity expansion in the Permian Basin as well as added pipeline capacity in the region that should become available in H2 2019.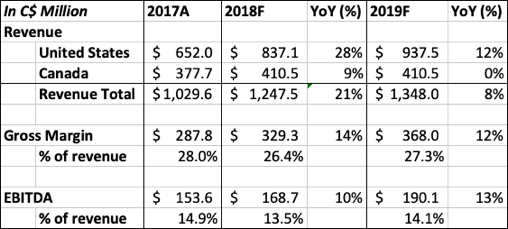 Source: Created by author
CES' 2019 revenue in Canada will likely stay flat due to Government of Alberta's decision to cut oil production in the province starting on January 1, 2019. The cut will reduce the province's production by about 325,000 bpd or by 8.7%. The cut will then drop to 95,000 bpd until the end of 2019. We believe CES' capacity expansion and its competitive position should help offset the mandatory production cut.
In terms of gross margin, we are anticipating its gross margin as a percent of total revenue to be around 26.4% for 2018 based on the result of the first nine months of 2018 (which was below 2017's 28%) and continual pressure on its input cost inflation. One may think that gross margin will deteriorate further in Q4 2018. However, given the strong crude production growth in Permian Basin even in November and December, we have confidence that its gross margin will not deteriorate further in Q4 2018. We expect its gross margin as a percentage of revenue to rebound to about 27.3% in 2019 thanks to economies of scale from its capacity expansion as well as increased demand due to increased pipeline capacity expansion in Permian Basin in the second half of 2019.
Similarly, we expect CES' EBITDA margin to decline by 140 basis points to 13.5% in 2018. However, we project its EBITDA to rebound to 14.1% in 2019. As a result, we expect its EBITDA in 2019 to be about C$190.1 million. This represents a growth rate of 13% year over year.
Valuation Analysis
As we mentioned earlier in the article, CES' 2019 projected EBITDA is to be about C$190.1 million. Therefore, CES is currently trading at an EV to 2019 EBITDA ratio of 7.2x. This EV to 2019 EBTIDA ratio is quite low compare to its historical average of 12.7x in the past 10 years. Its peer, Secure Energy Services (OTCPK:SECYF), has historically been trading at an average of 2~3 multiples below CES (see chart below). However, SES is currently trading at forward EV to EBITDA ratio of 7.5x which is slightly above CES.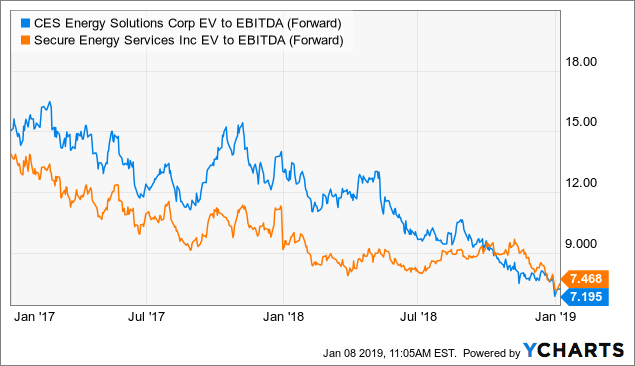 To derive our price target, some margin of safety is prudent (especially that the market is quite volatile lately). Therefore, we will use an EV to EBITDA ratio of 10x instead of CES' historical average of 12.7x. Based on this information, we derived our target price of C$5.80 per share or US$4.28 per share. Our target price calculation implies a return of 60%.
| | |
| --- | --- |
| 2019 Projected EBITDA (C$Million) | $190.1 |
| EV to 2019 EBITDA Ratio | 10 |
| Projected Enterprise Value (C$ Million) | $1,900.7 |
| Shares Outstanding Pro Forma (Million) | 267.8 |
| Total Debt Include Finance Lease (C$ Million) | $470.7 |
| | |
| Derived Share Price (C$) | $5.34 |
| in USD | $4.03 |
Source: Created by author
Risks and Challenges
CES faces several risks and challenges:
1) Volatility in oil and natural gas commodity prices
Although prices of CES' chemical solutions and fluids do not directly depend on oil and natural commodity prices, volatility in energy prices can impact demand for these fluids and solutions indirectly. When energy prices stay at a very low level (below breakeven level) for a lengthy period of time, the level of oil and natural gas industry activity will reduce. This will result in lower demand for CES' chemical solutions and fluids.
2) Foreign exchange rates
CES' financial statements are presented in Canadian dollars. However, CES uses the U.S. dollar as its operating currency for its operations in the United States. Since about two thirds of its revenues are derived in the United States, fluctuations in the exchange rate between the U.S. dollar and the Canadian dollar could negatively impact working capital balances and its net income reported in Canadian dollar.
3) Reliance on significant clients
CES' top five customers represent approximately 28% of its revenue in 2017, with one larger customer accounting for about 12%. If there is a loss of any of its significant customer, it will be a challenge for CES to replace the loss revenue quickly.
4) Seasonality
Seasonality is not a big factor affecting CES' operation in the United States. However, it is a big factor affecting its Canadian operation. The level of activity in the oilfield services industry within the Western Canadian Sedimentary Basin is influenced by seasonal weather patterns. The spring thaw during Q2 leaves many secondary roads temporarily incapable of supporting the weight of heavy equipment, which results in severe restrictions in the level of oilfield services. The timing of spring thaw is dependent on weather patterns but generally occurs from mid-March to mid-May.
Investor Takeaway
We believe CES is well positioned to capture the growth opportunities in the Permian Basin. There are also several catalysts that should help it to grow its top and bottom lines. We believe its shares are currently trading at an attractive valuation with significant upside potential. Once energy price stabilizes, we believe market sentiment will gradually turn positive. At that time, we believe its shares could surge by 60% based on our calculation in the next 12-months. Therefore, we believe the time is right for investors to buy this high-quality company at a discount while the market sentiment remains negative.
Note: This is not financial advice and that all financial investments carry risks. Investors are expected to seek financial advice from professionals before making any investment.
Disclosure: I am/we are long CESDF. I wrote this article myself, and it expresses my own opinions. I am not receiving compensation for it (other than from Seeking Alpha). I have no business relationship with any company whose stock is mentioned in this article.