Spotify (SPOT) is the world's largest subscription streaming music business, but it appears to be just getting started.
Management lays out the company's total addressable market this way: there are an estimated 1.3 billion "payment-enabled" smartphones in territories where Spotify is currently active today. Spotify's 191 million monthly active users ("MAUs"), as of September 30, 2018, represent about 15% of them. That 1.3 billion should grow to 1.7 billion by 2021 as smartphone penetration increases. And there are another 1.3 billion in territories where Spotify plans to launch. So the total opportunity is about 3 billion potential users, which is about 16x today's user base and 34x today's paid subscriber base. Said another way, Spotify has 6% of its total addressable market in MAUs and 3% of its total addressable market in paid subscribers.
But there are two trends that should further expand Spotify's TAM. First, population growth. The world's population is growing at about 1.1% per year. Second, smartphone penetration will only increase over time. If I isolate population growth, Spotify's 3 billion TAM would grow to about 3.7 billion over 20 years. And smartphone penetration would be additive to that.
The absolute ceiling is the world's population, although I exclude China because Spotify doesn't compete there directly (although it does own a stake in Tencent Music). The global population ex-China is about 6.3 billion people. Over 20 years, that could be closer to 7.8 billion people.
So Spotify's long-term TAM should be somewhere between 3.7 billion and 7.8 billion. But the future is always uncertain and it is prudent to be conservative, so let's chop off the top half of that range and call it 3.7 billion to 5.8 billion. The mid-point of that range is about 4.75 billion. So on that basis, Spotify's 87 million paid subs and 191 million MAUs would be only 1.8% and 4.0% of its long-term addressable market opportunity, respectively.
Of course, Spotify is not going to capture the whole market. Certainly, many people will not pay for streaming music, and some may not even listen to the free version. Spotify has competition from Apple Music, Amazon Music, Pandora, Google Play Music, SiriusXM, Soundcloud, Tidal, and YouTube, and others, including local competitors in international markets.
I also think it is instructive to look at total recorded music sales over time by channel. Here is a graphic of consumer spending on recorded music in the U.S. by channel.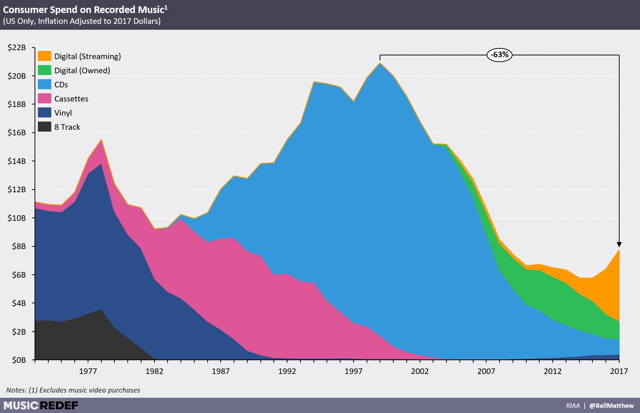 As you can see, at the peak of the CD market, U.S. consumer spending on recorded music was around $21 billion or so (in 2017 dollars). As of 2017, it was only about $8 billion, a 63% drop. Importantly, the majority of is now made up of streaming and the aggregate number is growing again.
If U.S. consumers were willing to spend $21 billion on CDs, each of which has 10-12 songs, what would they be willing to spend on streaming music? Like I wrote earlier, U.S. consumers were paying $25 for one CD in inflation-adjusted dollars and are now being offered access to almost every song ever created for $9.99 per month. As more people discover streaming music and realize its value proposition, I think streaming has plenty of room to grow in the U.S., notwithstanding the rest of the world. The younger, more technology savvy generation will drive this as 72% of Spotify's MAUs are under 35 years old and 43% of them are under 24 years old. As the next generation becomes teenagers and the population mix becomes increasingly comfortable with technologies like streaming music, that is only a big tailwind to adoption.
According to The Polaris Nordic Digital Music Survey 2018, 90% of people in the Nordic countries listen to streaming music and 43% pay for it. Sweden, Norway, Denmark, and Finland have 51%, 50%, 46%, and 26% paid streaming penetration rates, respectively. Spotify launched in Sweden first, which probably explains why these countries have such high penetration rates, and suggests more recently launched countries could approach these rates with more time in the market.
If I apply 43% to the U.S.'s 328 million population, that suggests 141 million Americans might pay for streaming music one day. At maybe $7.99 per month in the U.S., considering the mix of subscriber types, that is $13.5 billion of annual revenue. But the population will continue to grow, and there will probably be price increases eventually. If the U.S. population continues to grow at 0.7% per year, and the average monthly rate in the U.S. is $12.99 10 years from now, the U.S. paid streaming market alone would be worth $23.6 billion. Free ad-supported revenue, and other new revenue streams, would be additional. For perspective, there were an estimated 51 million paid streaming music subscribers in the U.S. as of September of last year. Given recent growth trends, I would expect the figure is closer to 60 million today. That is about 18% of the U.S. population. So if the adoption rates in the Nordic countries are indicative of where the U.S. adoption rate could drift over time, there is quite a bit of runway left in the U.S.
How much of any of this market could Spotify have? Well, Spotify is the leading player globally with 87 million paid subscribers, which is about double the number of paid subs that Apple Music has. However, in the U.S., Apple Music just passed Spotify in paid subs. This is because Apple Music tends to be relatively stronger in markets were iOS is relatively stronger, and the iPhone is relatively strong in the U.S. Different sources have different estimates, but it seems like iOS's market share in the U.S. is probably not too far from 45% of smartphones.
It is a vastly different story globally, however. Android phones have an estimated 76% market share around the world. This, and Spotify's head start, explains Spotify's global strength.
I believe the U.S. market will primarily come down to Apple Music and Spotify in the long run, and Spotify should have at least 40% market share. So in 10 years, Spotify could have $9 or $10 billion of paid streaming revenue in the U.S. alone. For perspective, the whole company-- paid tier, free tier, and globally-- should report about $5.3 billion of revenue for 2018. So there should be a lot of growth to come.
Spotify does objectively seem to have the superior product relative to Apple Music, but Apple's big advantage is having its app be native on iOS devices. Apple Music has immaterial market share on Android devices, which means Spotify completely dominates when the two are on a level playing field.
Conclusion
Given SPOT's ~40% nose dive since its highs last summer, the expectations for the long-term number of paid and free-tier users that is baked into the current stock price are far more modest than they once were.
I maintain at least four different scenarios for Spotify's business over the next 20 years. I think at $195 per share, with my set of assumptions, SPOT may have been pricing in something like 450-500 million paid subscribers in 20 years. While that's possible, it's also a significant amount of growth. At $120 per share, it could be pricing in somewhere closer to 250-300 million paid subs. That is much more reasonable, and I have a lot more confidence that Spotify can reach or surpass that range than 450-500 million.
The enormous caveat is that valuation is driven by multiple moving pieces, not just the number of paid subs. There are key assumptions around how average revenue per user ("ARPU") changes over time, how gross margins change over time, how operating expenses look over time, how big the free ad-supported tier is, how well the business monetizes the ad-supported tier, how capital intensive the business is, tax rates, and discount rates. It will be fascinating to watch how Spotify's business evolves over time.
Reader Feedback
What do you think of Spotify, Apple Music, or any other streaming music business? Which is the best and why? Do you use them? How often? Are you a paying or free-tier user? Post in the comments.
Shameless Bargain-Priced Compounders Pitch!

If you're interested in my thoughts on all the other variables that impact Spotify's valuation over the long term, check out Bargain-Priced Compounders.
If this report makes sense to you, and you want more of this sort of sophisticated analysis from a professional long-only fund manager, consider signing up for my marketplace service, Bargain-Priced Compounders. I post several deep dives on some of the world's best companies, including scenario analysis, valuation work, scuttlebutt-type research, ongoing updates, and trade alerts for our members.
The annual membership is 25% cheaper than the monthly rate, so true bargain-seekers know what to do.
Disclosure: I am/we are long SPOT. I wrote this article myself, and it expresses my own opinions. I am not receiving compensation for it (other than from Seeking Alpha). I have no business relationship with any company whose stock is mentioned in this article.