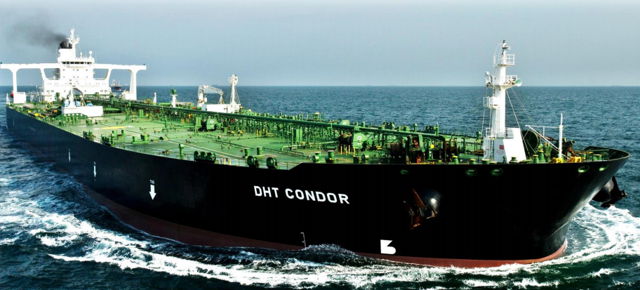 Image Credit: DHT Holdings, Q3-18 Presentation
Company Overview
DHT Holdings (DHT) is a crude tanker shipping company specializing in very-large crude carriers ("VLCC"). They recently sold the last of their smaller Aframaxes and they have taken delivery of their final newbuildings. They currently have all 27 vessels on the water and have been benefiting strongly from surging rates.
DHT has approximately 142.3M shares outstanding, for a current market capitalization of about $630M.
Modern Fleet, Regulation Ready
DHT's VLCCs are quite modern overall with only 3 vessels approaching 15-years (3x 2004-built) versus a typical vessel life-cycle close to 20-years. With the 2020 sulfur cap rapidly approaching, DHT has decided to outfit several of their vessels with scrubber systems, choosing to install them on their middle-aged fleet, built 2004-2012. All of these installations will be completed in 2019, making them fully ready for IMO 2020 compliance. These scrubbers will enable DHT to earn a significant premium to their peers, setting them up for additional profits in what we believe will already be an attractive market backdrop. For more discussion on the 2020 sulfur cap, I highly recommend two of James Catlin's recent reports, including a review of possible market impacts and a balanced discussion on the underlying economics.
The following slide illustrates DHT's latest update on their scrubber program, which is now fully financed with a $50M program with no amortization until mid-2020, right as scrubber earnings are set to peak.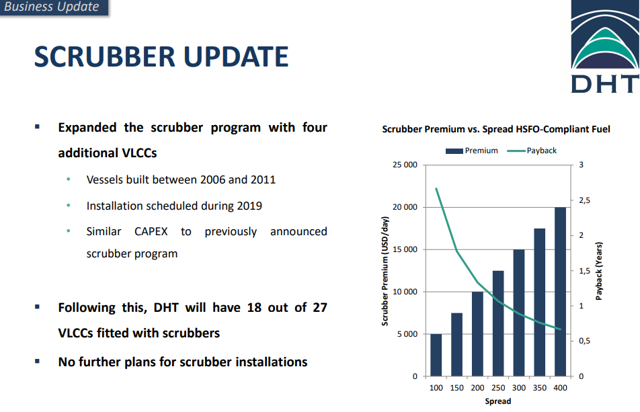 Source: DHT Holdings, Q3-18 Earnings Presentation, Slide 10
As the chart illustrates, if the spread between compliant fuel and traditional bunker fuel is large ($250/ton or higher), the payback for this investment can be a year or less, after which profits are enormous. The eventual spread remains to be seen, but we can get preliminary indications by looking at the current spread between IFO380 and Marine Gas Oil "MGO," which currently sits at $227/ton between the 20-ports average.
Most participants expect the spread to initially spike and then eventually rationalize lower over time. The largest profits will likely be made during 2020-2021, but there is likely to be a decent spread for many years thereafter. With 2020-2021 also looking very strong for global crude tanker markets, I believe DHT is perfectly positioned to take advantage of this turn.
Current & Forward Market Prospects
Recently tanker rates have been at multi-year highs, but despite strong markets, underlying stocks have crashed due to a strong short-term correlation with oil prices. This is ironic because oil prices have very little bearing on transportation demand, and if anything, lower prices drive both higher consumption demand and higher storage demand if markets turn back towards contango (i.e. higher forward futures prices).
We have recently seen the market return to contango after over a year in backwardation. The forward Brent futures curve is about $1 for 6-months. Typically offshore storage demand surges if these levels approach about $3/bbl, which clearly hasn't occurred yet, but a few months ago we were looking at several dollars of backwardation so the amount of change has been significant. Peer Euronav (EURN) spells out the market balance best, keep in mind that EURN is an excellently managed firm and they tend to be very conservative and responsible with their forecasts.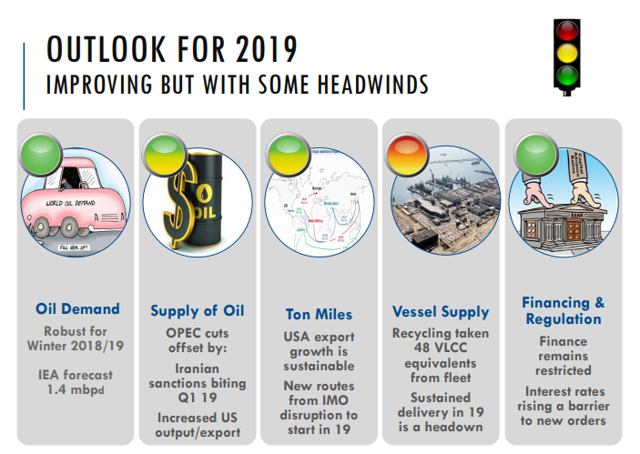 Source: Euronav, December 2018 Presentation, Slide 10
The biggest risk to 2019 rates is a fairly robust delivery schedule of new vessels, but this is offset by expected scrubber installation offhire and high rates of expected demolition into 2020 (current rates of demolition are the highest in 30 years!). The immediate market is concerned about OPEC supply cuts, which could indeed be a short-term risk factor, but as EURN correctly notes, this is easily offset by Iran sanctions and eventual major increase in US and Brazilian oil exports.
This is beautifully rendered in the below chart (highlights and markings added), which shows that 81% of expected growth is West of the Suez Canal. These routes are far further than the Middle East, effectively doubling transportation demands for the exact same level of consumption.
Despite the common rhetoric in common news articles by uninformed pundits, OPEC cuts and the growth in expected US exports is resoundingly bullish for crude tankers. The more OPEC cuts, the more US production and exports are likely to grow. This will eventually lead to higher transportation demand, and day rates are likely to surge.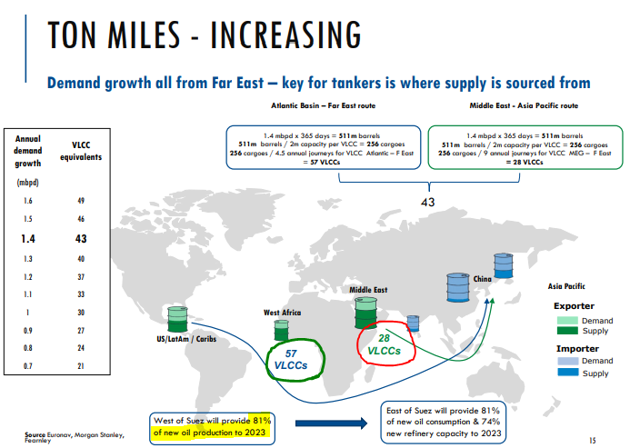 Source: Euronav, December 2018 Presentation, Slide 15
Why DHT over Comps?
DHT is perfectly positioned as a VLCC pureplay, but there are other companies to consider. Euronav also has excellent management and there are many others such as International Seaways (INSW), Tsakos Energy Navigation (TNP), Frontline (FRO), and Teekay Tankers (TNK).
These are valid ideas, but DHT Holdings is my favorite play at this time and was included in our top ideas for 2019.
What are some of the benefits at a glance?
Best Assets: Pureplay VLCC fleet, perfectly positioned for 2020 regulations
Perfect Balance Sheet: Stable debt, with leverage to explosive upside
Very Cheap: Trades significantly below historical comps & NAV
Solid Management: Strong corporate governance and operational results
Clear Returns: Repurchasing shares & likely set for a major dividend raise
As mentioned in the summary, last time tanker rates were this strong, DHT traded in a steady $7-$8 range despite having a far smaller fleet and a weaker balance sheet. The following is a 5y price chart, with green and red brackets measuring the last bull-market in DHT, which lasted from late-2014 through mid-2016. DHT rocketed from the $5s to nearly $9/sh in a matter of weeks and then spent nearly the next 2 years between $7-$8/sh.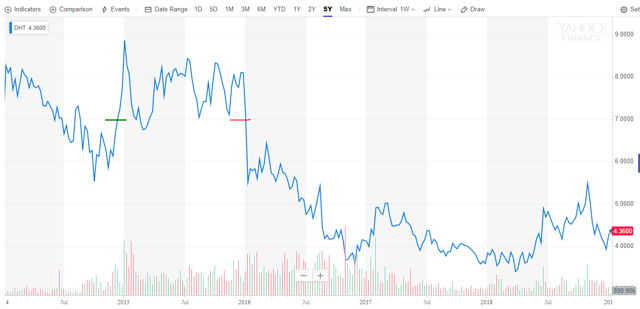 Source: Yahoo Finance, DHT 5y Price Chart
When rates turned bearish, DHT primarily ranged between $4-$5/sh. We are currently sitting in the strongest tanker market since 2015 with the best forward prospects since 2014, perhaps even since the mid-2000s. Meanwhile, DHT languishes at a comparably dismal lower-$4 range. If stock prices catch up to industry fundamentals and the forward earnings report is well-received, I believe there is reasonable near-term upside of 50% or more.
Better yet, DHT's valuations are supported by current net asset valuations, which I estimate at about $5.75/sh inclusive of projected Q4-18 cash flows. Generally, I like to buy firms at a discount to NAV (DHT trades at over a 20% discount), but when markets are strong premiums are more likely. DHT has historically traded at sharp premiums to NAV during strong markets and even today, primary peer Frontline trades around 1.5x NAV (implied DHT parity of $8/sh). Management understands the stock is historically cheap and they have recently repurchased over 1.2M shares in late-December. This is part of an authorized $50M, but DHT is currently in a blackout period until earnings.
On a related note to Frontline, back in April 2017, notably, when tanker rates were far weaker and prospects much more glum, FRO offered a takeover at 0.8x FRO shares per DHT share, which I considered a pretty terrible lowball offer which they thankfully rejected. Even using this lowball offer as a proxy shows about 11% upside on today's price.
Following their earnings report, if their stock is below estimated NAV of $5.75, I expect vigorous repurchases until pricing gets close to that level, potentially driving 30% returns within a few weeks. If the stock trades higher, they are likely to allocate excess capital to optimized debt reduction. I spoke with CFO Laila Halvorsen on Monday morning (7 January) and she confirmed their commitment to repurchasing shares under NAV and their commitment to returning a minimum of 60% of net profits to shareholders.
Dividend Set to Grow by 4-5x?
DHT's capital returns policy allocates a minimum of 60% of net profits for shareholder returns, either via repurchases, dividends, or a combination. During Q4, DHT repurchased $5M out of their $50M authorization.
To understand the dividend capacity, we need to be able to project earnings with decent confidence. During Q3-18, with comparably weak tanker rates, DHT reported a net loss of $21.5M, but this was skewed downward by over $7M related to their bond refinance and asset sale impairment (non-cash).
Normalized net losses corresponding to a reported time-charter equivalent of $18.5k/day were just over $14M and operating cash flow was over $12M (nearly $27M of non-cash depreciation charges). In November, DHT guided Q4-18 as 66% booked at $32.7k/day. We estimate VLCC rates from early-November to late-December at roughly $48k/day.
Overall if DHT booked the remainder of days around $45k, then DHT should report TCE in the neighborhood of $35-$38k/day. At the lower to middle bounds, I believe DHT is set to report earnings of around $25-$30M (17-20 cents per share) and net cash flow well over $50M. Average analyst expectations are far lower than our expected range and only the highest estimate ($0.19) makes good sense.
Furthermore, Q1-19 ranges look far too weak. Consider that DHT has likely already fixed 25-30% of their Q1-19 rates in the $35-$40k range, as well as these voyages, are typically fixed 6-8 weeks in advance (few days to weeks ahead of loading, plus the length of the voyage).

Source: MarketWatch, DHT Analyst Estimates
With a 60% payout policy, DHT's dividend is likely to range between 10-12 cents. If they go super conservative and decide to include the repurchases as returns (remember 60% is a minimum payout, not a maximum), then the dividend range is likely closer to 8-10 cents.
Even better, given the analyst expectations above, we are likely to see improved estimates and target ranges.
NAV Calculations & Balance Sheet Review
Based on DHT's Q3-18 financial report, I estimate net debt at close to $807M when further adjusted for the final newbuild delivery, Aframax sale proceeds, and subsequent repurchase. This compares to current vessel valuations of $1.57B as reported by VesselsValue, the preeminent source of ship valuations and related market data.
Their balance sheet has a debt-to-assets ("D/A") of about 52% and DHT's NAV is roughly $764M ($815-$825M including already recorded Q4-18 cash flow). On a per-share basis, this means DHT's current NAV is likely between $5.70 and $5.80. Recall that in strong markets, tanker shares have historically traded at premiums to this range.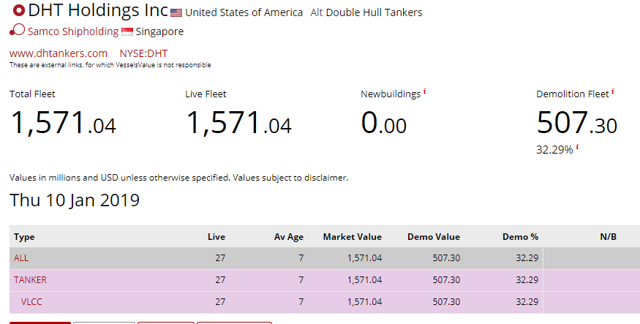 Source: VesselsValue, DHT Fleet Profile
The balance sheet leverage of 52% combined with projected liquidity of over $150M is the perfect posture for this market. Generally, 60% is considered a comfortable maximum and anything under 40% is conservative. The stronger the markets, the higher you want to see leverage. DHT's 52% range (under 50% including Q4-18 cash flow) is picture-perfect to both optimize profits while keeping risks lower.
Conclusion: Strong Buy at $4.36
DHT is one of my top ideas for 2019 and my current favorite play in the tanker sector. I believe current earnings estimates are far too low and that investors have forgotten the earnings and dividend power during strong markets. Q4-18 results will the strong, but they are actually muted a bit by weaker carryover from Q3-18.
My current price target is $6.50/sh which is my estimate of mid-2019 NAV levels (vs. current estimated NAV of $5.75 per expected Q4-18 financials).
If tanker markets continue to improve, 2019 will be an important transition year and 2020 could bring massive earnings to the enterprise. To demonstrate the power of DHT's fleet, if they are able to achieve an annual TCE range of $40-$50k/day, which is easily achievable in a strong market, earnings would likely range between $130 and $220M ($0.90-$1.55/sh) with dividend capacity of $0.54 to $0.93/yr. These are the sorts of markets where historical trends of $7-$8/sh make sense. I believe 2020 is setting up in this fashion.
I collaborate with James Catlin on my Marketplace service.
Continuing Coverage
We will be continuing to cover our top ideas throughout 2019 as part of our public coverage. Members of Value Investor's Edge will receive the first look at new coverage updates and potential changes to our portfolios as the year progresses. Additionally our exclusive earnings season coverage kicks off next week and we have already updated our annual income portfolios.
Roughly 90-95% of our research is fully exclusive to our members. To celebrate the New Year we are offering a two-week free trial which also includes access to our exclusive preferred equity and fixed income reviews. Join within the next 2 weeks to lock-in our current rates before prices increase.
Disclosure: I am/we are long DHT, TNK, TNP. I wrote this article myself, and it expresses my own opinions. I am not receiving compensation for it (other than from Seeking Alpha). I have no business relationship with any company whose stock is mentioned in this article.