Financial media/marijuana hybrid Chineseinvestors.com (OTCQB:CIIX) is set to announce its fiscal second quarter earnings later this month, amid expectations and questions surrounding its CBD oil business. Here are the key points to watch for.
The spinoff of the CBD business
Chineseinvestors.com has announced that its CBD business will be spun off. It has hired a new CFO for the business and has engaged Boustead Securities to underwrite the IPO. The firm is aiming to list on the main board of the NASDAQ.
That's interesting, but CIIX shareholders have more pressing concerns. First, as they will receive equity in CBD Biotech, what will be the value be, and what does that mean for the long-term prospects of holding CIIX stock without access to hemp-related revenues?
The timing of the spinoff is slated for some time in 2019, but it's worth remembering that it has been delayed repeatedly:
The New Company [CBD Biotech] will issue one share of stock in the New Company for every four shares of CIIX's common stock held by investors as of the date of the spinoff, May 31, 2018.
Chineseinvestors.com press release, February 27, 2018
The Company announced its plans to spin off CBD Biotech in February 2018, which was later postponed to after May 31, 2018, the actual date has not been determined.
Chineseinvestors.com 10-K, August 29, 2018
Last two weeks, we've been on the show (sic), roadshow with my CFO Alex. He's the CBD Chief Financial Officer of CBD Biotech. We tried (sic) to spin out from our current company next year. That's my 2019 goal.
After an initial date of May 31, 2018, the likely date for the spinoff will occur at the end of the calendar 2019 year. However, the most important short-term issue for investors is to see further details of the spinoff discussed in the upcoming earnings release.
The hyped launch of the hemp wine in China hasn't happened
The big sales driver for the CBD business that management has been touting is the CBD hemp-infused rice wine, all set for launch in China during the busiest period for alcohol sales: Christmas, New Year and Chinese New Year.
It's already January, and the rice wine hasn't been launched. This wouldn't have affected the fiscal second quarter earnings (three months ending in November), but we're now into the second month of the fiscal third quarter, and there's still no rice wine on the Taobao store nor on the Tmall store.
How are the rest of the CBD products selling in China?
Not good. A search for the products sold on Chineseinvestors.com's stores on Alibaba's (BABA) Taobao and Tmall platforms shows that sales figures are weak. The RMB69 (USD10) facial toner only sells 1,460 products a month and the face oil only sells 430 bottles a month at RMB120 ($19) each. Based on smaller monthly sales figures for other products, I estimate that CBD product sales per quarter in China are no more than $100,000.
This leads me to a quote made earlier in the fiscal quarter by the CEO, stating that the firm would spend $400,000 during the rest of 2018 to drive traffic to its store on Alibaba's platforms. If this was actually done, it certainly wasn't successful.
CBD product sales were supposed to be a major driver for company revenues in this fiscal year, with the CEO targeting $10m-20m in total revenues, despite only posting $2.3m in the last fiscal year. But if there's still no hemp wine in the market and cosmetic product sales continue to be weak, surely this target has to be lowered significantly.
Yet even as recently as December 2018 (after the end of the fiscal second quarter), CEO Warren Wang was defiant in the revenue estimates for this year.
I'm pretty confident in my opinion we can deliver $10m-$20m [in revenues] next year.
On the [CBD] revenue side, last [fiscal] year, we did $375,000 sales and then next [fiscal] year, end of 2019 May 31st, we might do $6m-$10m revenue potential. We've almost closed two quarters, so we have two quarters to go.
Warren Wang, December 7, 2018.
So, the lower range estimate is for $6m in CBD product revenues and $4m from other sources, while the higher range is $10m in CBD product revenues and $10m from other sources. To me, it just doesn't make sense. The firm generated $378k in CBD product sales in the last fiscal year (ending May 2018) and posted $141k in the first quarter of this fiscal year. There appears to have been no expansion of the product range available and no significant increase in products sold, so the second quarter figure will likely be the same. Therefore, where does the extra $5.5m-9.5m in revenues come from? Even looking at a rolling four-quarter basis, the company is forecasting a minimum of a tenfold increase in CBD sales revenues in just three quarters.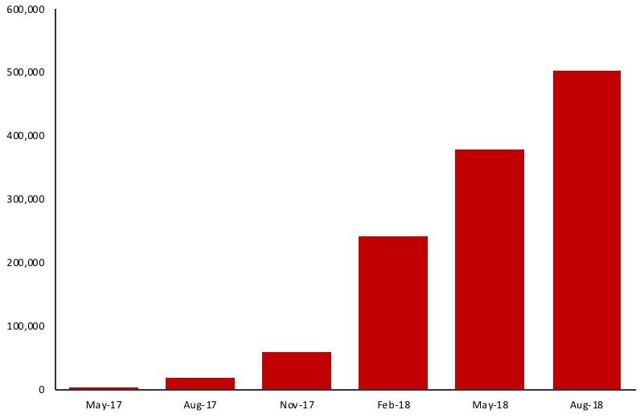 Rolling four-quarter CBD sales revenues. Units: $. Source: Chineseinvestors.com investor relations
Then, there are the other revenue sources. The financial media business (investor relations and subscriptions) generated $1.8m in revenues last fiscal year, up slightly on the previous year, while first quarter figures for this fiscal year were $500k. There has been no mention of any growth drivers for this business, but the company is assuming that revenues will somehow double at the least, or even grow 400+% to $10m.
These revenue estimates seem to have no fundamental reasoning behind them.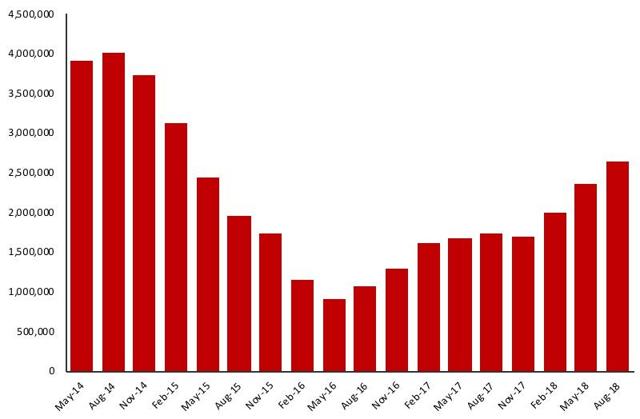 Rolling four-quarter total revenues. Units: $. Source: Chineseinvestors.com investor relations
Perhaps it's worth reminding readers that Chineseinvestors.com and, in particular, its CEO Warren Wang do read these reports, and have responded to them. Therefore, it would be wise for management to give further context into where these revenue figures come from and how such large increases are expected to occur.
What I expect to see
Unfortunately, for investors, I expect to see more of the same. Tepid growth in revenues - if anything - rising expenses, and continued huge net losses. A lot has been said by management about the opportunities for the company in this fiscal year, but nothing has actually come to fruition. As such, it seems difficult to think that investors can believe management's claims that revenues will see a multifold increase in such a short space of time.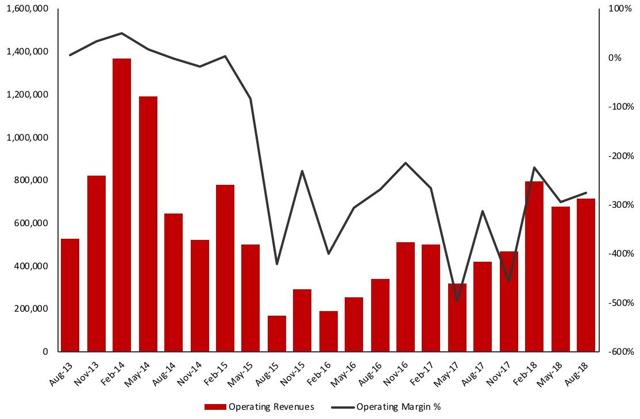 Quarterly total revenues and operating margin. Units: $. Source: Chineseinvestors.com investor relations
It brings me back to a question that I continue to ask in my reports on Chineseinvestors.com. The firm is hemorrhaging money as expenses tower over revenues, and there are huge payments being made to debt and preferred equity holders, which are providing just enough capital for the company to remain solvent in the following quarter. Therefore, I'll repeat: how long can this company survive before it crumbles under the weight of its debt?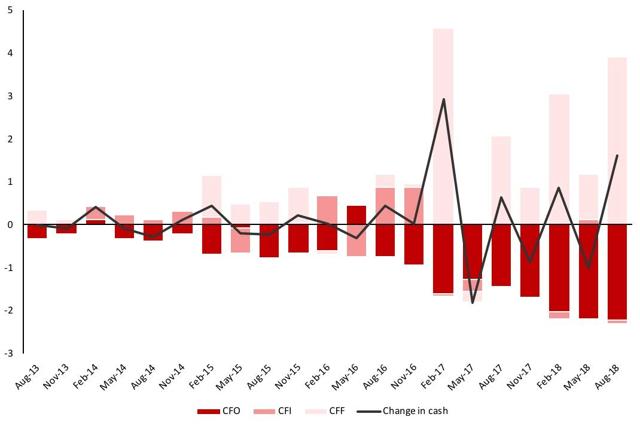 Sources of cash flow. Units: $ millions. Source: Chineseinvestors.com investor relations
The earnings release will shine further light on the answer to this question, but I maintain my belief that investors should not be long this stock.
Disclosure: I/we have no positions in any stocks mentioned, and no plans to initiate any positions within the next 72 hours. I wrote this article myself, and it expresses my own opinions. I am not receiving compensation for it (other than from Seeking Alpha). I have no business relationship with any company whose stock is mentioned in this article.