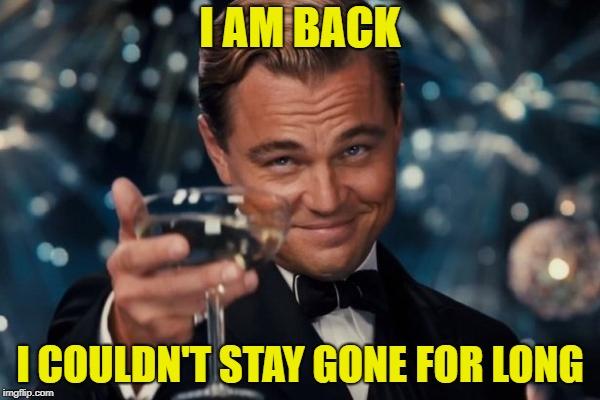 History (and Volatility) Tends to Repeat Itself
2018 was a pretty horrific year for equities, especially outside the US.
We have just witnessed one of the biggest drops in the global earnings revision ratio since 1988.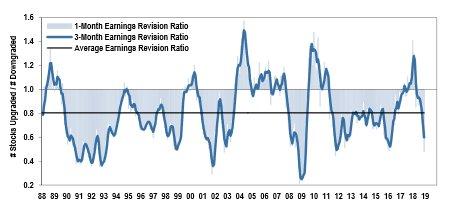 Nevertheless, even with that sharp revision, valuations remain quite attractive.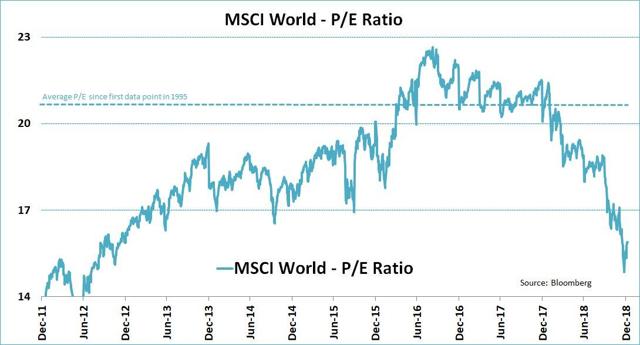 2019 is going to be an interesting battlefield between the lower expected earnings (S&P 500 EPS) and the index itself.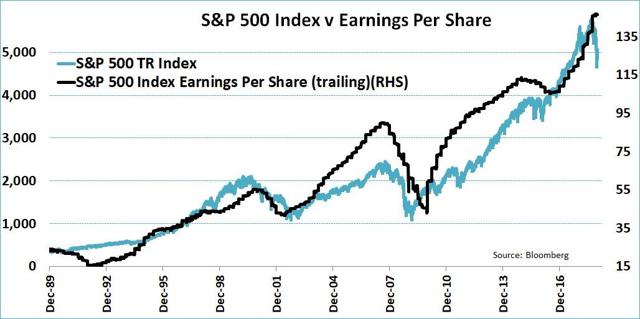 It's not usual for the index to trade above the EPS trend, but this is happening during expansionary periods.
As such, the key question that will set the tone over the next year is: Will the US economy continue to grow at a sufficient pace as to justify the widening gap?
On one hand, things aren't looking too promising in the world's leading economies - neither in the US, nor in China (MCHI, FXI). Even Apple (AAPL) is struggling to adjust to a new world that is dominated by disputes, trade wars, tariffs and even boycotts.
On the other hand, history and statistics suggest that investors can remain "cautiously optimistic."
What an Extraordinary Year 2018 Was!
The main stock indices delivered double-digit total returns during the first three quarters of the year, just to see everything getting wiped out during the fourth quarter, and then some.
All the main stock indices finished 2018 with negative total returns: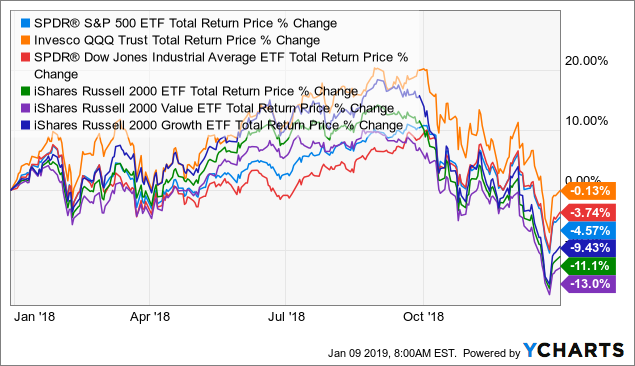 The last time we've seen such a swing, from >10% (double-digit, positive) to <-10% (double-digit, negative), on a total return basis, was 2011.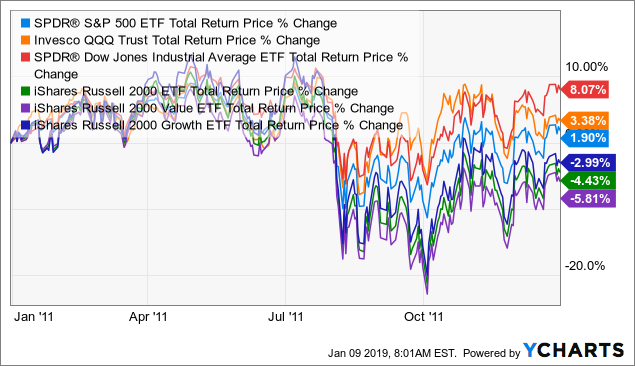 By the way, we also had two years - 2009 and 2016 - where the exact opposite occurred, i.e., stocks went from double-digit, negative, total returns to double-digit, positive, total returns.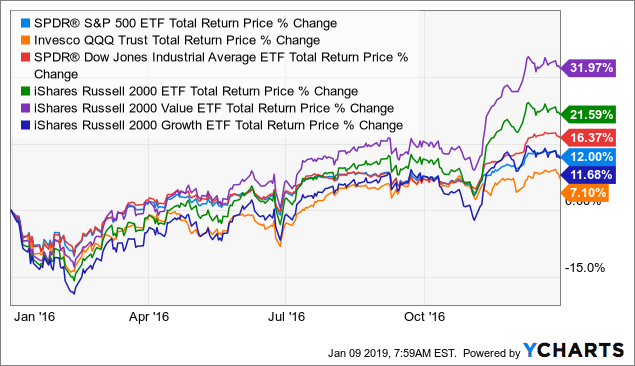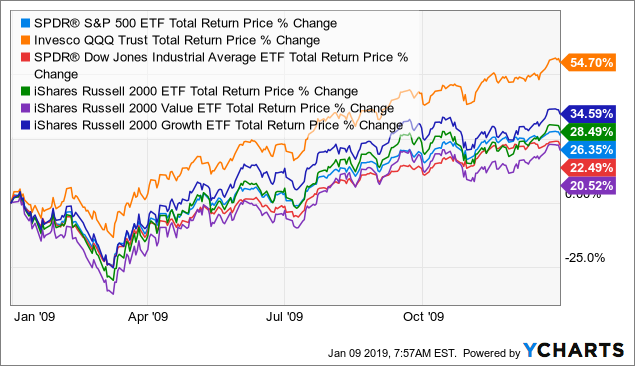 December - Not So Special Anymore
The main setback took place in December, the worst December for the S&P 500 and Dow Jones in 87 years ("Black Monday" took place in October 1987, so perhaps "87" is the new "13"...)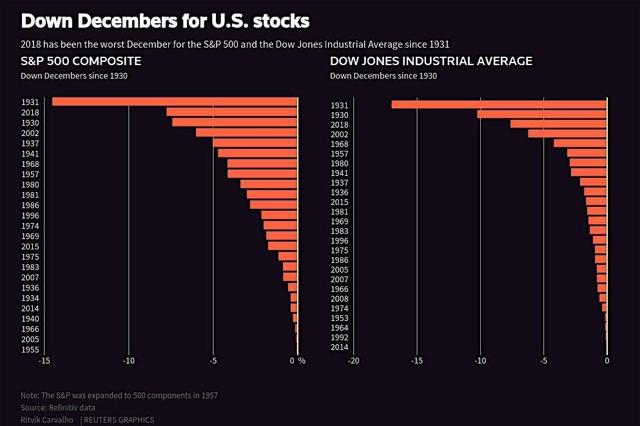 Traditionally, December is a very strong month for equities. Well, December 2018 has ruined it, and the last month in the calendar year is not so special anymore.
The massive drop in the S&P 500 Index during December 2018 has pushed (the calendar month of) December all the way down to 6th place in the "calendar month ranking," measured over the past 15 years (since 2003).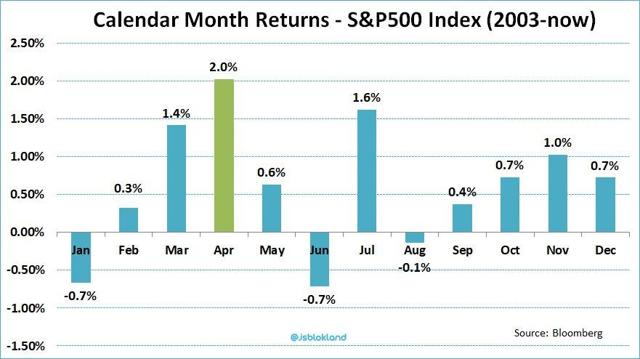 Nonetheless, the calendar month of December is still holding the 1st position in the "calendar month ranking" if we look at the past 72 years (since 1946).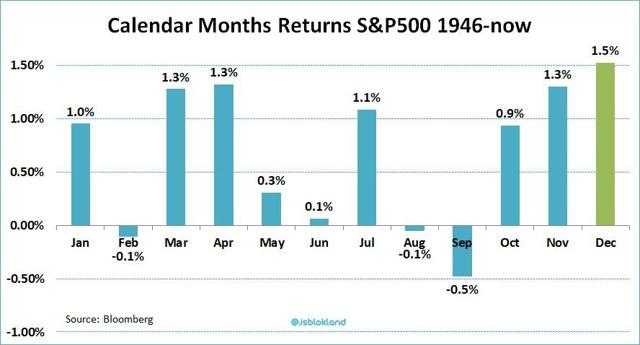 History in the Making
After nine straight years of gains, the main three stock indices ETFs - S&P 500 (SPY), Dow Jones (DIA) and Nasdaq 100 (QQQ) - experienced their first down year since 2008.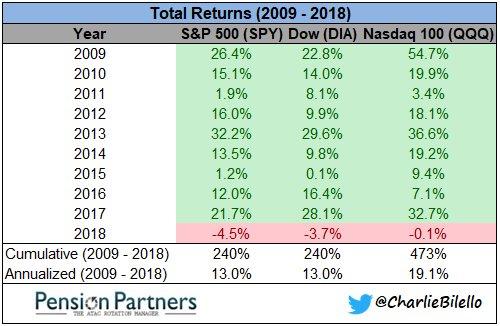 On one hand, the record run of 2009-2017 only ended in a tie with the 1991-1999 period for the longest positive streak (9 straight years) since 1928.
On the other hand, the 2009-2017 period is actually the least impressive of the three because both previous records (1982-1989, 1991-1999) ended with much higher total returns (especially annualized) than 2009-2017.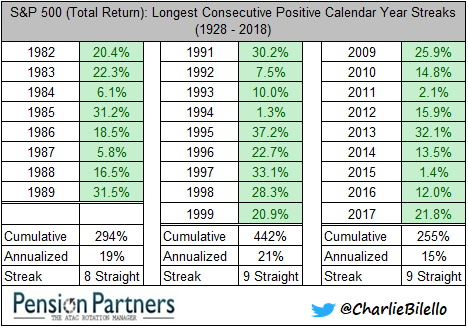 What's really amazing to look at is the difference between 2018 and 2017:
Global equity total returns in 2018 = all red
Global equity total returns in 2017 = all green
History in the making, indeed, but from the wrong side...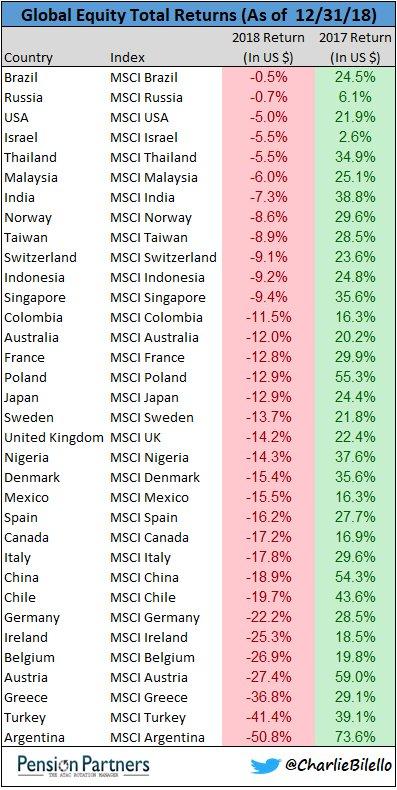 S&P 500 - Index and Sectors
The S&P 500 ended the year down 4.4% on a total return basis.
2018 was the first negative year for the leading index since 2008.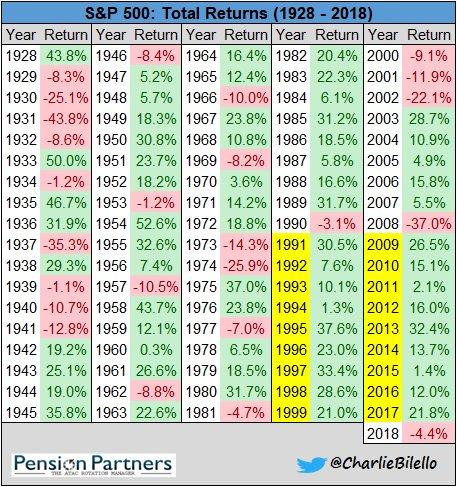 As mentioned above, the damage occurred during the fourth quarter of 2018. On September 20th, only 10 days before Q4 2018 started, the S&P 500 hit at an all-time high. At that point, the index was up ~11% on the year.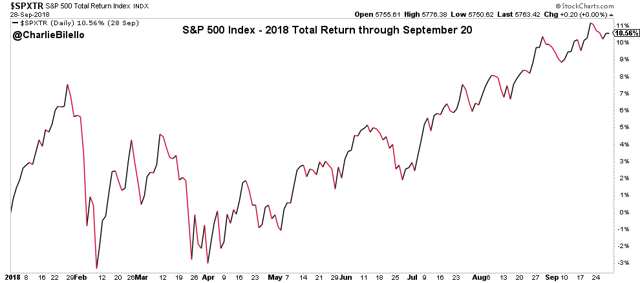 Then came October, and over the next three months, the S&P 500 gave back all of those gains (and then some...), with a peak-to-trough decline of over 20%, bringing it to bear market territory for the first time since 2011.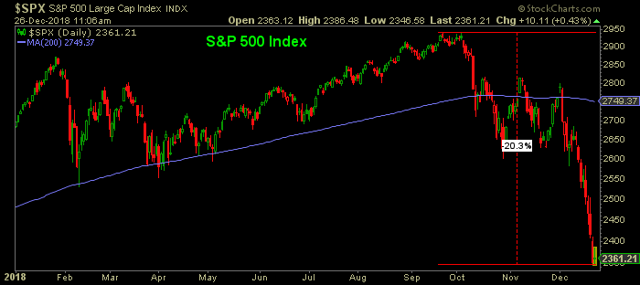 Healthcare (XLV), Utilities (XLU) and Consumer Discretionary (XLY) were the only sectors that managed to cross 2018 safely.
Technology (XLK) and Real Estate (XLRE) succeeded in beating the benchmark, but they still finished the year with a loss.
Consumer Staples (XLP), Communication Services (XLC), Financials (XLF), Industrials (XLI), Materials (XLB) and Energy (XLE) underperformed the S&P 500, and quite substantially so.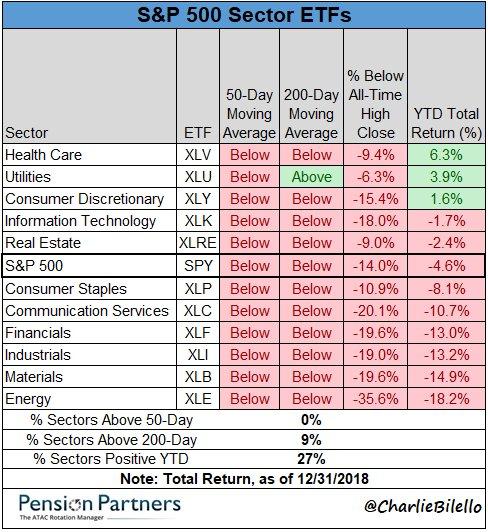 None of the 11 S&P sector ETFs entered 2019 above their 50-day moving average, and only XLU entered the new year above its 200-day moving average. That's quite a show of an oversold territory, to say the least.
The Red and Dead (Over)Seas
The Red Sea (a translation of its ancient Greek name, "Erythra Thalassa") is a seawater inlet of the Indian Ocean, lying between Africa and Asia. The Red Sea earned its name because it contains cyanobacteria called Trichodesmium erythraeum, which turns the normally blue-green water into a reddish-brown color.
The Dead Sea (technically not a sea, but a salt lake), located across the Jordan Rift Valley, is planet Earth's lowest elevation on land - about 430.5 meters (1,412 feet) below sea level. The Dead Sea earned its name because of the high salinity (usually 30-35%), which prevents macroscopic aquatic organisms, such as fish and aquatic plants, from living in it.
There is no doubt that when it comes to stocks, 2018 was red, dead and salty. Moreover, just like the red sea, there was "something" along the way that have turned the green into a red.
90 Largest ETFs
Only 17, or 18.9%, out of the 90 largest ETFs managed to post positive total returns in 2018.
Healthcare ETFs (XLV, VHT) led the way, followed by Utilities (XLU) and Consumer Discretionary (XLY).
Technology ETFs had a mixed year (recall that QQQ ended the year almost flat), with some (VGT) in the green and others (XLK) in the red.
The Energy sector (XLE) and non-US small caps (SCZ, focusing on Europe, Asia and the Far East) were the worst performers among this list.
(Bonds have fared quite well, but we will get to those in more detail over the upcoming parts of this series.)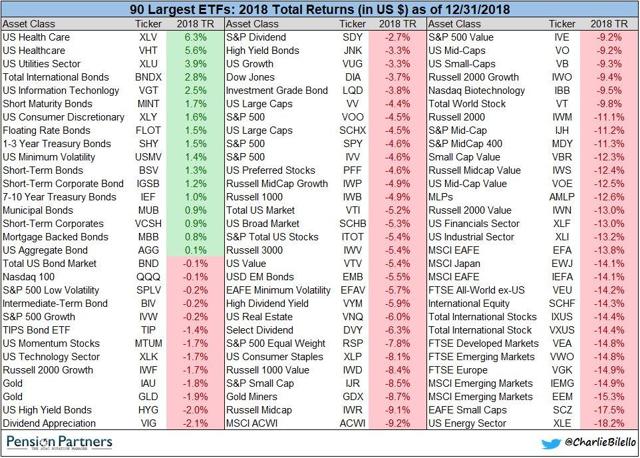 25 Largest Equity ETFs
None (again - none!) of the 25 largest equity ETFs managed to post positive total returns in 2018.
The closest one, QQQ, was close, but no cigar... The Nasdaq 100 ETF finished the year down 0.13%, ending a streak of 9 years with positive total returns (2009: +55%, 2010: +20%, 2011: +3%, 2012: +18%, 2013: +37%, 2014: +19%, 2015: +9%, 2016: +7%, 2017: +33%, 2018: -0.13%).
The worst performing among the 25 largest equity ETFs were the Emerging Markets-related ones (VWO, IEMG, EEM).
Other global-international equity ETFs (EFA, IEFA, VEU, VXUS, VEA) also did not fare much better.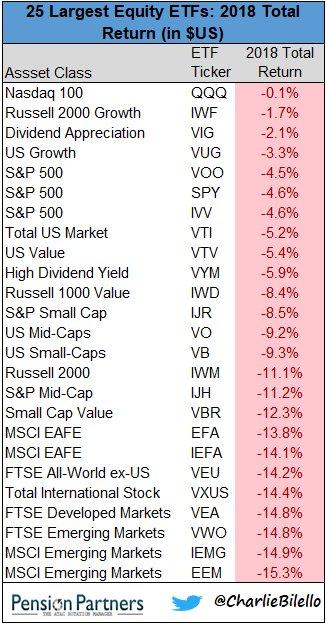 Country ETFs
Only 3, or 6.25%, out of 48 country ETFs managed to post positive total returns in 2018: Qatar (QAT), Saudi Arabia (KSA) and New Zealand (ENZL).
With Israel (EIS) ranked 7th in this list, one may (mistakenly) think that we have a new Middle East. Reminder: Saudi Arabia and Qatar aren't best friends.
Turkey (TUR) with a fast-sliding economy, Argentina (ARGT) with another doom bailout-default loop, and the never-ending saga called Greece (GREK) were the worst-performing country ETFs in 2018.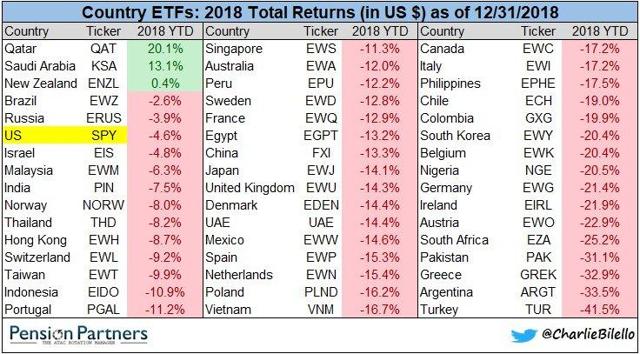 Leading Segments
US Banks
All major US banks finished 2018 with negative total returns.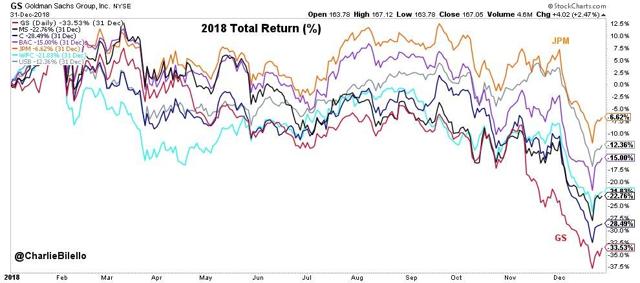 Asset Managers
The exact same negative picture - but with a much greater magnitude - can be seen among asset managers.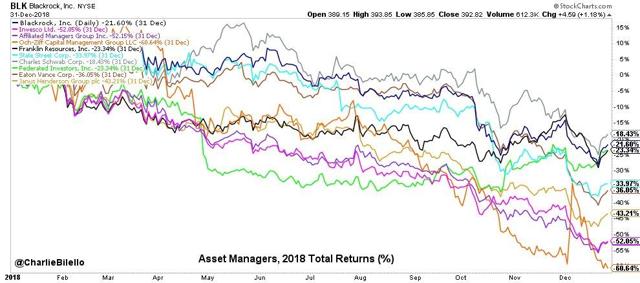 European Banks
If you think that US banks had a bad year, think again. Their counterparts across the Atlantic Ocean performed much worse.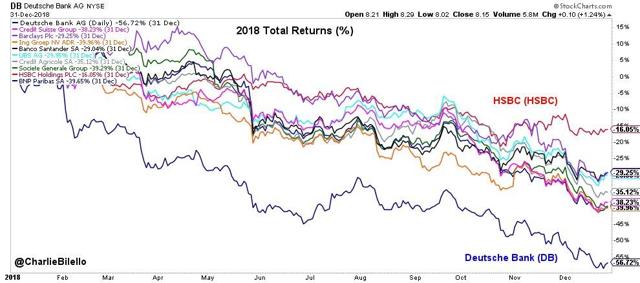 Automotive
A bit of green, especially with green, i.e., electric, cars.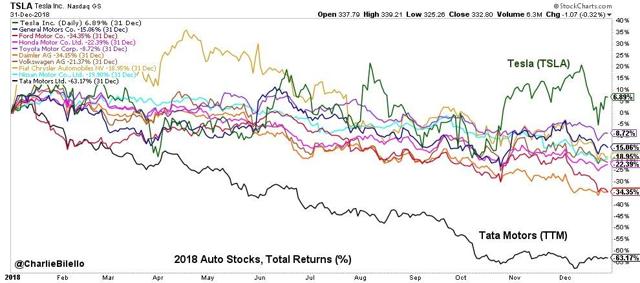 Final, Important Observations/Conclusions
1. Size Matters
27, or 54%, out of the 50 largest companies in the S&P 500 did end 2018 with a positive total return!
Out of those 27 companies, 19 (over 70%) finished the year with double-digit, positive total returns (from best to worst): Eli Lilly and Co. (LLY), Merck & Co. Inc. (MRK), Netflix Inc. (NFLX), Salesforce.com Inc. (CRM), Adobe Inc. (ADBE), Abbott Laboratories (ABT), Amazon.com Inc. (AMZN), Mastercard Inc. (MA), Pfizer Inc. (PFE), Microsoft Corp. (MSFT), Nike Inc. (NKE), Cisco Systems Inc. (CSCO), Visa Inc. (V), Medtronic PLC (MDT), Amgen Inc. (AMGN), UnitedHealth Group Inc. (UNH), PayPal Holdings Inc. (PYPL), Boeing Co. (BA), Verizon Communications Inc. (VZ).
On the other - wrong - side of the list, we have 12 (24%) of the 50 largest companies that finished 2018 with double-digit, negative total returns (from worst to best): Philip Morris International Inc. (PM), Citigroup Inc. (C), Facebook Inc. (FB), DowDuPont Inc. (DWDP), International Business Machines Corp. (IBM), AT&T Inc. (T), Wells Fargo & Co. (WFC), 3M Co. (MMM), Exxon Mobil Corp. (XOM), Bank of America Corporation (BAC), Comcast Corp. (CMCSA), Honeywell International Inc. (HON).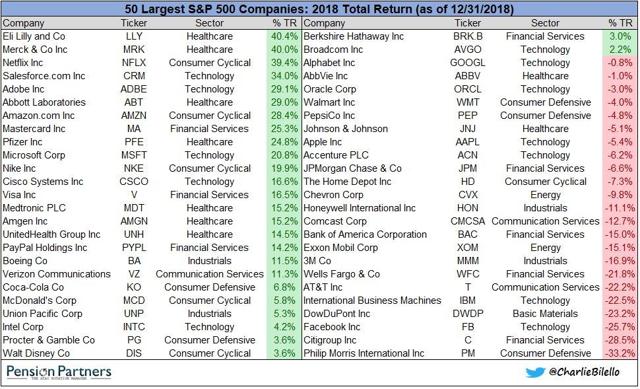 2. An Average Return Doesn't Really Exist
Sure, we calculate it, and sure, we reference it. However, the distribution/variety is so wide that when you look at how many years fall within the average return (that's the square is the middle of the chart), you end up with a very small number.
The fact is that most years, 2018 included, fall quite far off from where the average year total return is.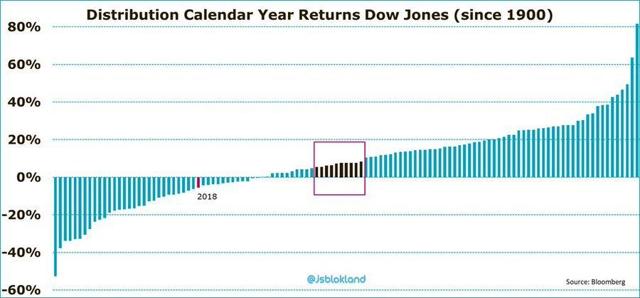 3. Attractive (Relative) Valuation
The leading Manufacturing ISM index saw a major drop recently. Nonetheless, as evident from the below chart, at the end of 2018, stocks were already pricing in a severe downturn in manufacturing input - way more than the index suggests.
Therefore, unless we have another big crisis - a "black swan" event is always a possibility! - stocks may offer an interesting entry point in early 2019.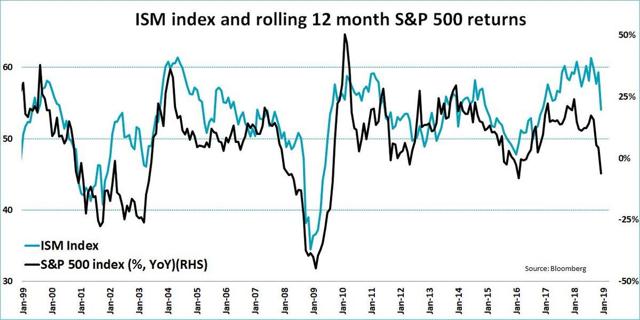 4. Bear Markets Don't Automatically Turn into a Recession
Does a 20% decline in stocks automatically mean that a recession is upon us? The short answer is: No! Sometimes, a bear is just... well, a bear...
Our of 21 bear markets that we've seen since 1929, only 11 (or 55%) out of the previous 20 slipped into a recession.
Here are the 9 bear markets that didn't end with a recession: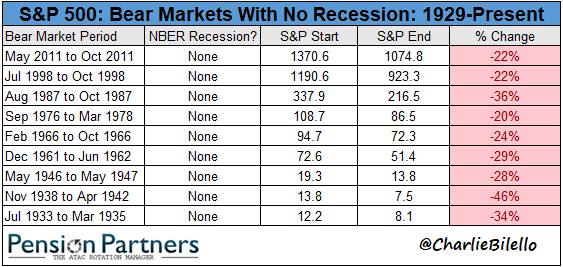 5. A Positive Year Usually Comes After a Negative Year
Since its inception in March 1957, the S&P 500 index delivered negative returns in 17 years (2018 included). This means that, on average, the index records a negative year roughly once every four years. During negative years, the index falls (on average) 12.8%, with a median negative return of 11.4%.
The real interesting thing is what happened during years that followed negative return years. In only 3 years, or 19%, out of the 16 previous occasions (prior to 2018), the S&P 500 recorded another negative return in the subsequent year.
Moreover, during those "subsequent years", stocks went up 12.6%, on average, with the median return at 19.5%.
Putting it differently, history suggests that the odds for 2019 to become a positive year for the S&P 500 are quite high. Having said that, the odds of another negative year are certainly not negligible!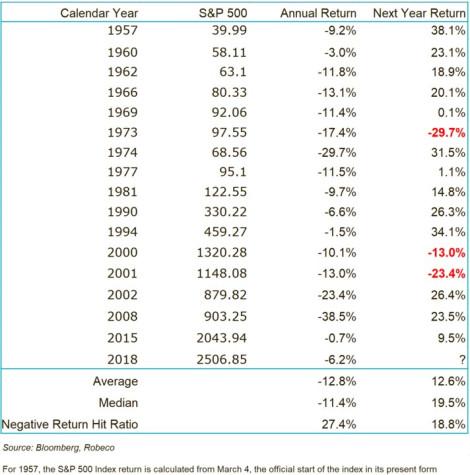 Bottom Line
As we already explained/"revealed", we are living in world where central banks play a crucial role, and almost every movement in the markets can be explained through changes in the balance sheets of these very same central banks.
Central banks exist to prevent the consequences of excess to come to fruition and give license to politicians to avoid addressing structural problems. And by preventing these market forces from playing out at each sign of trouble, the can gets kicked further and further down the road. Each successive recovery keeps the illusion alive, but "accommodation" requires ever-lower rates before the monsters return. In the meantime, debt keeps expanding, while each recovery produces less and less organically driven growth, and ever-higher wealth inequality.
This is what central banks ("the system") is producing, and that's the ugly truth that nobody, especially not the Fed, is willing to say out loud.
The Wheel of FORTUNE is one of the most comprehensive services, covering all asset classes: common stocks, preferred shares, bonds, options, currencies, commodities, CEFs, etc.
Take advantage of our special offer (valid till 1/14/2019): 10% discount introductory fee, two-week free trial, full access to our monthly review (where all trades since launch are), ongoing (though not daily!) trading alerts, 19-part "Getting Ready For 2019" series (where all 11 sectors plus 8 segments are covered). and our brand new model portfolio (aimed at beating the S&P 500 performance).
Make your move now! Nothing to lose, Plenty to gain!!!
Disclosure: I am/we are long FB, JPM, T. I wrote this article myself, and it expresses my own opinions. I am not receiving compensation for it (other than from Seeking Alpha). I have no business relationship with any company whose stock is mentioned in this article.
Additional disclosure: Short TSLA, AAPL puts. Short TSLA calls.