It is no secret that Hanes Brands' (HBI) star subsidiary, Champion, has blossomed into a brand with accelerating acclaim both domestically and internationally. The older readership on Seeking Alpha is likely no stranger to the Champion brand, which this year celebrates its centennial. However, today's Champion is experiencing a well-documented transformation, as the parent company focuses on avenues through which it can elevate the brand and run with its newfound momentum.
Champion
In my eyes, Hanes is really a Champion story, and thus it is vital to visit the numbers and quantify how material the brand is to the parent company. To prove that Hanes' success hinges significantly upon this single brand, I challenge you to read Hanes' Q3 2018 conference call and take a shot each time the words "Champion" and "accelerated," "drove," "increased," or "exceeded" appear in the same sentence.
I utilized Google Trends to show the resurgence of this 100-year-old brand. I seasonalized Google's data by quarter to show a less-noisy, truer picture of people's searches for the brand (shown below in blue). Also charted is Hanes' stock price over the same five-year period. This juxtaposition illustrates an interesting divergence between Hanes' stock price and the exponentially increasing interest in the Champion brand. Champion is approximately 20% of Hanes' total revenues, which is certainly large enough to demand attention.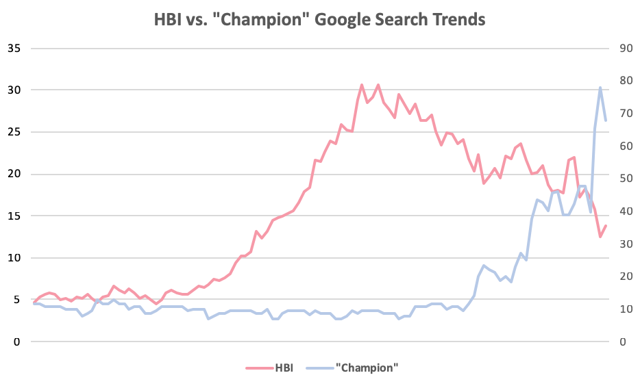 Source: Google, Michael Battat
Hanes expects Champion to eclipse $2.0 billion in revenue by 2022, up from roughly $1.4 billion in 2018. Management hopes to get there by elevating the brand via strategic collaborations with streetwear companies such as Supreme, Kith, and Off-White; thoughtfully expanding its physical footprint across the globe; and stoking interest among Champion's young target demographic via a revitalized mobile/social presence.
In my view, no single component of Champion's strategy is the key to the brand's longevity. In other words, there is simply an inexplicable aura surrounding the brand, which is fostered, not created, by the company's activities. This is precisely why I am fond of the Champion story — it is nearly impossible to fabricate that aura.
As the Champion story is certainly not newly minted, investors may struggle to see the profit potential. However, I believe the thesis is bolstered by the brand's development: it now hinges on execution, not speculation. The Champion brand is still in its nascent stages and has a long runway of potential growth ahead, should it continue to adroitly scale and market itself. Here sits a rapidly growing brand with inimitable prospects that composes roughly 20% of its parent company's revenues and has the financial resources of a company five-times its size. This begs the question of why Hanes currently trades at a 63% discount from its all-time high.
Unjustified Reaction to Headlines
In the wake of Sears' bankruptcy, Hanes had to write off $14 million of bad debt and lower revenue guidance by roughly 1%. Moreover, in 2018 Hanes announced that it was not renewing a contract with Target (TGT) to sell an exclusive line of the Champion brand, C9 by Champion. Hanes fell 19% on the news, even though the company announced the contract termination will not change its $2 billion revenue estimate for the Champion brand.
I view the decision as a mistake by Target and an opportunity for Hanes. I would expect Target to double-down at a time during which the Champion brand is gaining momentum, not forgo the opportunity in favor of its private-label brands. The contract expires at the end of January 2020, at which point the Champion brand is likely to be stronger than today and Hanes can put the C9 contract up for bid. Hanes has ample time to properly position and strategize prior to the contract's formal conclusion.
Reactions to these headlines remind me of when eBay (EBAY) dropped PayPal (PYPL) as its payments manager, and the latter's stock dropped 12%. It seemed peculiar to me that the stock would be punished that intensely, for it was no surprise to PayPal given its contract. Shares have since rebounded, and then some. It also feels similar to the time in which Chegg (CHGG) fell 35% on account of its misunderstood change in revenue recognition (my article on that is here). The underlying company was actually growing organically and very quickly, but investors overreacted to the superficial numbers and missed the fundamental story. Shares are up 600% since then. These instances are not perfect analogs, but I bring them up to depict times in which headline risk distracts from a company's underlying fundamentals.
Another investor concern is that of Hanes' substantial leverage. The company currently has $3.86 billion worth of outstanding debt obligations, or approximately 80% of its capital structure. However, Hanes generates substantial free cash flow and Champion's organic strength may permit the parent company to put acquisitions on the back-burner, which alleviates investors' concerns regarding the need for future debt.
Discounted Cash Flow Analysis
I constructed a discounted cash flow analysis to value Hanes, pictured below. Key operating assumptions are outlined in the table at right.

Source: Company Filings & Michael Battat
The model is rather simple, as most of the assumptions are derived from revenue. All my assumptions are very conservative; in fact, because SG&A increases at 6.52% per annum (CAGR over the last five years), 2028 EBITDA is roughly the same as it is expected to be in 2019.
Revenue Forecast
Revenue is segmented below. It is difficult to find numbers on Champion's sales by segment, so I lumped it together and used 13.00% as Champion's annual growth rate from 2019 to 2022 as it satisfies the company's commitment to reaching $2.0 billion in sales by 2022. Following 2022, I tapered Champion's revenue growth rate by 1.75% per year until 2027, and by roughly 1.25% from 2027 to 2028 to reach the assumed perpetuity growth rate of 3.00% (average annual growth of 9.38% through 2028).
Hanes' non-Champion brands are very mature, and revenue is primarily growing via price increases and acquisitions. I held non-Champion revenue growth at a constant 3.00%, which is my perpetuity growth rate. Per my assumptions, at the time of writing Hanes is being valued as if Champion is growing at 6.55% per year through 2028, which is likely unrealistically low.

Source: Michael Battat
Intrinsic Value Calculation
Under the perpetuity method, summing the present value of free cash flow over the forecast period and the present value of the terminal value yielded an implied enterprise value of $11.90 billion. Adjusting to get to equity value led to an implied equity value of $8.40 billion, or $23.35 per share (roughly 70% upside).
To value Hanes under the EV/EBITDA multiple method, I first created a comparable companies set, shown below. To calculate the terminal value, I applied the midpoint of the mean and median EV/EBITDA multiple to Hanes' 2028 EBITDA. This method yielded an implied share price of $19.93 per share, or 45%.

Source: Seeking Alpha, Michael Battat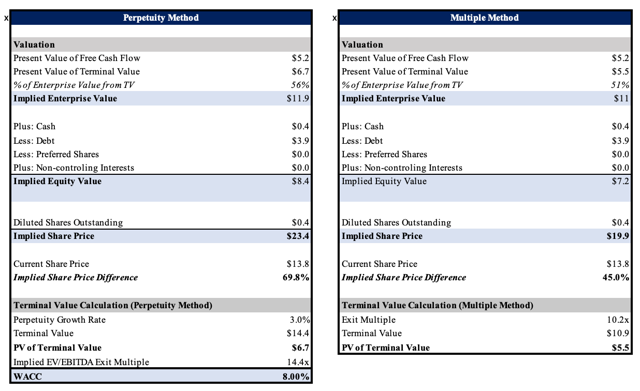 Source: Michael Battat
Sensitivity Analysis
Lastly, I sensitized several model inputs to show an array of implied share prices. It was tricky to calculate a reasonable WACC given the stock's low beta (0.17) and debt-heavy capital structure. As such, I assumed an 8.00% WACC for the model as the company used this figure in an investor presentation to highlight its ROIC. Hanes is a large, mature company and 8.00% feels reasonable.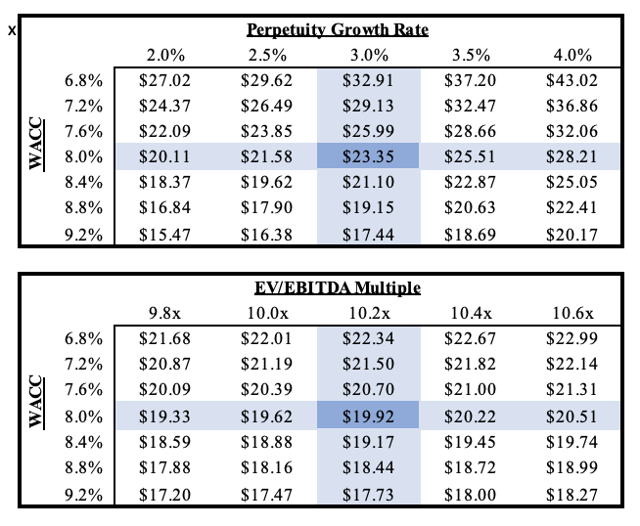 Source: Michael Battat
Below juxtaposes perpetuity growth rate with a wider range of WACCs. As the company's capital structure evolves over time, it may be helpful to assume drastically higher or lower WACCs.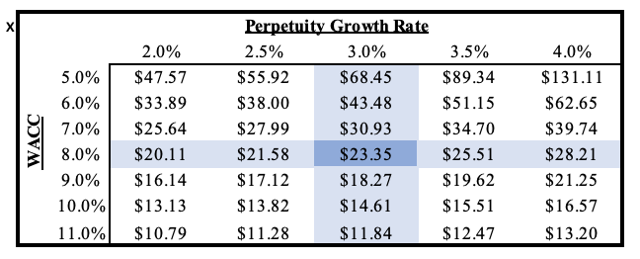 Source: Michael Battat
In short
Champion's recent momentum has been overcast by overreaction to headlines and pessimism regarding Hanes' debt balance. The Champion brand is likely to experience healthy growth in the upcoming years as it leverages its parent company's resources and expertise to run with its newfound, broad-based momentum. A discounted cash flow analysis suggests that Hanes is undervalued by 45-70% under conservative assumptions.
Disclosure: I/we have no positions in any stocks mentioned, and no plans to initiate any positions within the next 72 hours. I wrote this article myself, and it expresses my own opinions. I am not receiving compensation for it (other than from Seeking Alpha). I have no business relationship with any company whose stock is mentioned in this article.