Now be honest… after a fantastic 2017 without a single down month in the market, did you really forecast such a turbulent market for 2018? And what about 2019, what can we expect? Here are a few expert opinions on where the broad market as tracked by the S&P 500 (SPY) might head this year. Notice the dispersion of outcomes.
Keith Parker, from UBS, offered us a bullish S&P 500 price target of 3,200. This equates to an upside of roughly 24%.
Michael Wilson, from Morgan Stanley (MS), provided a more neutral scenario of 2,750. An upside of roughly 6.5%.
John Hussman, from Hussman Funds, isn't attaching a date to his forecast but he implies that a 60% drop from September 2018's high would not be an unusual drop given the prolonged bull market.
Do you like these odds? You have a maximum upside of 24% but also a downside that could cut your portfolio in half? If you are a long-term investor with another 30+ years to invest, you might not care what the market does over the short term. But for many investors, they just want an opportunity to earn a modest double-digit return over the next 12 months without fully exposing their tickers to the market chill – if you get what I mean.
If you are the latter type of investor, then you will likely be interested in the Innovator suite of ETFs which provide defined outcomes. You know your risk and potential rewards over the next 12 months at the time of investment with these ETFs.
Innovator Suite of ETFs
The premise is simple and easy to understand although difficult to execute for the average investor. Through the use of options, Innovator provides a capped upside potential and a buffer to the downside over the next 12 months.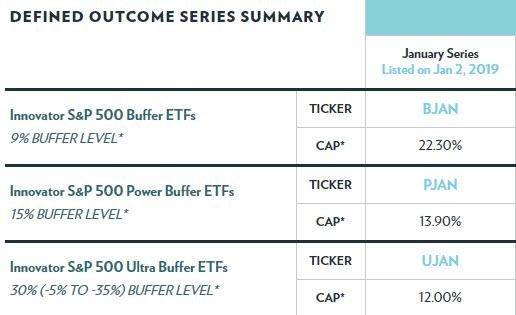 The cap refers to your maximum upside return in 2019. The buffer level refers to your downside protection.
For example, maybe you are still a strong market bull. You believe that the market might increase over 20% in 2019 and you'd like that full return if that scenario plays out. At the same time, you'd like a little downside protection.
The chart below highlights the defined outcome 12-month scenario with the Innovator S&P 500 Buffer ETF. The top row gives the outcome if you invested today versus the scenario of investing as soon as these ETFs are made available (on a quarterly basis).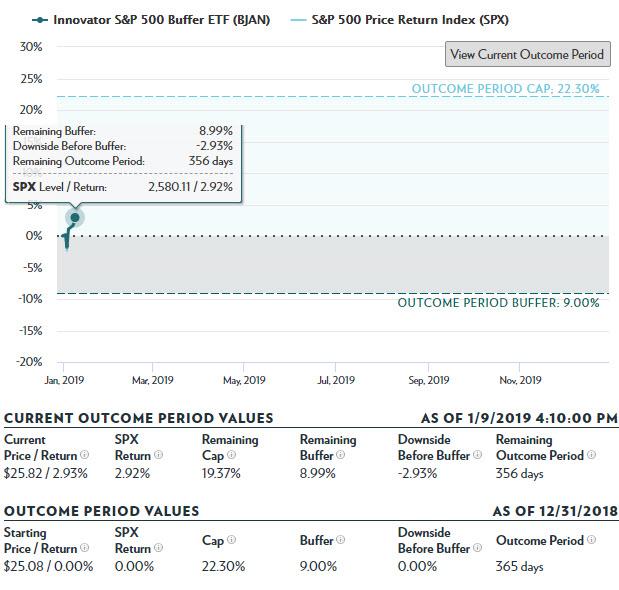 As of the time of writing, the upside cap kicks in after another 19.37% of gain. You will be exposed to the next 2.93% of downside loss followed by a 9% buffer. After the 9% buffer is exhausted, you'll resume experiencing loss.
If the market drops by 12%, you'll only experience about 3% of that loss.
If the market drops 40%, you'll be on the hook for roughly 31% of it.
The best time to buy this ETF is when the price is just above the buffer. This gives you maximum upside potential for your downside protection. If you buy the ETF after the market goes up, you lose some of your capped upside potential and are further away from your buffer. If you buy once the price is in the middle of the buffer, you don't have as much protection against a loss.
My suggestion is to buy as soon as they are made available and roll into the new ETF series to reach your desired outcome sooner than later.
S&P 500 Ultra Buffer
My favorite ETF of the series in markets that are highly volatile with little upside is the S&P 500 Ultra Buffer (UJUL) (UJAN). The 12-month upside potential (currently just under 11%) is less than the other ETFs but the downside protection is a whopping 30%. Because prices rose since Jan.1st, you have to eat the first 6.25% loss and then you have a 30% cushion to fall on. So if the market dumps by 40% from here, you only get hit with a loss of about 10%.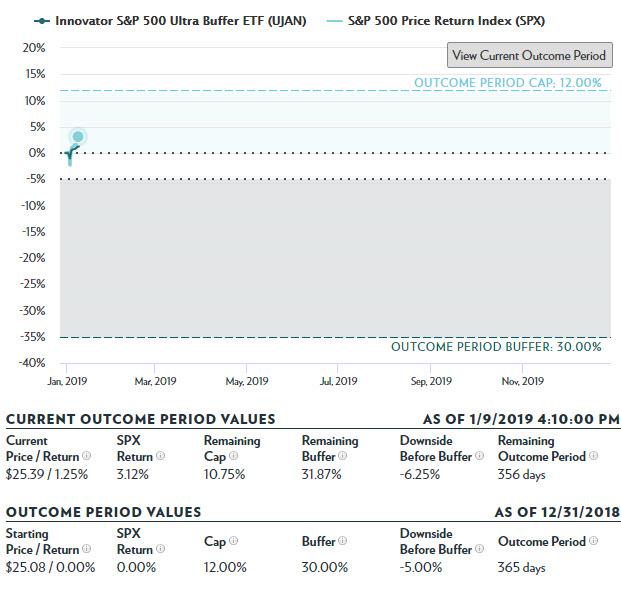 And don't forget the earlier series. For instance, you can still invest in the October series of this ETF (UOCT) which has 23.5% of the buffer remaining with an upside cap of almost 15%. Maybe you want a little extra upside potential and a little less buffer. And if the upside scenario plays out, you can roll your ETF into a newer series.
Want to Do It Yourself? I Wouldn't Recommend It
One criticism of this ETF is the expense. For me, I find the 0.79% expense ratio very reasonable for what you get. You cannot compare this ETF to a large passive cap-weighted ETF like the SPY (SPY) which just gives you market exposure and not much else.
The S&P 500 Ultra Buffer is different. It is a mix of 14 different options, both puts and calls of varying strikes on the SPX and XSP for fine-tuning. Want to see the exact options they use? Download the holdings here if you want to copy the approach. But unless you have a massive amount of capital, lots of time on your hands and you are a very proficient options trader – I wouldn't recommend it.
With smaller amounts of capital, you'll have a tough time getting a balanced outcome. You'll have to factor in commissions, slippage and monitoring for any options that get exercised early. Unless this is already your line of work - it is most likely not worth doing on your own. You likely invested in ETFs to get away from all of this. Let the professionals go in the market and create the defined outcome ETF and you can buy a little slice of it for a very reasonable fee.
Summary
The market is volatile. Nobody really knows where it is heading. Hedge funds struggled last year. Funds that are diversified between sectors and industries do not help against downside losses when markets make a highly correlated crash. Investors are worried about the potential for further loss in the market yet they don't want to miss out on any potential returns. What to do?
Consider the Innovator suite of ETFs which will help you sleep better at night by giving you a buffer against the downside at the price of capping the upside. Of course, when the market bottoms and the upside potential is very high, it probably doesn't make sense to use this sort of strategy for a period of time. But for right now - I believe it is the right thing to do for many investors.