Throughout the course of 2018, Encana Corporation (NYSE:ECA) leaned heavily on its Montney asset to generate upstream production growth. Stretching for miles and miles across British Columbia and Alberta, the Montney shale play is thought to be home to vast amounts of recoverable natural gas along with a decent amount of recoverable condensate, natural gas liquids, and crude oil. Encana Corporation appears to be heavily invested in the portion of the play that lays within British Columbia, indicating this division won't necessarily be subjected to Alberta's provincially mandated output cuts. Management has been shifting Encana Corporation towards condensate-rich opportunities in the play to move away from the region's weak natural gas prices, which is why that is very relevant. Let's dig in.
Production overview
Encana produced 180,600 barrels of oil equivalent per day net from its Montney division during the first three quarters of 2018, up from 116,100 BOE/d net during the same period in 2017. This was due to management aggressively ramping up development activities in the region, with Montney-related capex rising from 445 million USD in Q1-Q3 2018 versus 224 million USD during the first three quarters of 2017.
By Q3 2018, Encana's Montney asset was producing 200,600 BOE/d net with a 22% liquids mix (largely plant condensate). Note that the vast majority of its Montney output is still natural gas. In Q3 2017, Encana's Montney liquids mix stood at just 14%. Clearly the shift towards condensate-rich opportunities is having an impact, but this remains a work in progress. During Encana's Q3 2018 conference call, management noted that the firm was on track to produce 55,000-65,000 bpd of liquids net from the play in Q4 2018, up substantially from 44,200 bpd in Q3 2018.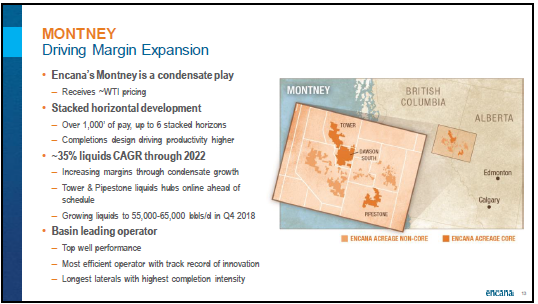 Source: Encana Corporation
Partnership overview
Back in 2012, Encana teamed up with Mitsubishi Corporation (OTCPK:MMTOF) to develop certain parts of the Montney play under the Cutbank Ridge Partnership. Mitsubishi would take a 40% stake in the venture while Encana retained the remaining 60% interest and the operatorship. The joint venture covered 409,000 net acres in the play at the time of the deal.
In return, Encana received 2.9 billion CAD in the form of upfront payments (1.45 billion CAD) and agreements to "invest C$1.45 billion in addition to its 40 percent of the Partnership's future capital investment for a commitment period, which is expected to be about five years, thereby reducing Encana's capital funding commitments to 30 percent of the total expected capital investment over that period." By the end of 2017, Encana had received 2.5 billion CAD of the agreed upon sum from Mitsubishi, with the rest expected to be paid over the coming years.
Acreage commentary
There are conflicting acreage figures when it comes to the size of Encana's Montney position, which is likely due to differences in what management considers core and non-core. Making this differentiation is tacitly admitting that non-core acreage is simply the uneconomic part of the play at the current price deck (or a reasonable expectation of future prices). Every unconventional upstream player has core and non-core acreage, and Encana is no different. Vast amounts of the upstream industry's leaseholds are completely worthless and don't let anyone, especially overzealous IR teams, tell you otherwise.
Its website notes that "Encana's total net position in the play approaches 600,000 acres," while a table under Landholdings in the Canadian Operations segment of its 2017 annual report establishes that Encana had 808,000 net acres in the Montney at the end of 2017. However, in that same annual report, the firm also states that "Encana held a large position in the Montney formation of approximately 475,000 net acres, including 259,000 net undeveloped acres."
In my view, these differences are due to Encana's entire Montney leasehold position stretching across 808,000 net acres, but only ~600,000 net acres of which are prospective for quality Montney wells. Within that group there are Tier 1, Tier 2, and Tier 3 well locations so not all of that is economical. At the end of 2017, Encana's Montney position was split between developed acreage (357,000 net) and undeveloped acreage (451,000 net), with 1,288 net producing wells on its developed position. It appears roughly half of its undeveloped acreage position is considered economical or within reach of being economical.
Over 99.5% of those producing wells are natural gas wells. However, it is important to keep in mind a lot of these natural gas wells produce natural gas liquids and plant condensate (a very light oil type used as a diluent in the oil sands industry for transportation purposes). Classifying those wells as natural gas wells can be misleading in that sense, which stems from Encana differentiating between plant condensate and crude oil. Natural gas liquids realizations, particularly for butane and propane sales, are heavily influenced by movements in WTI (and tend to sell for 40-60% of the benchmark depending on market conditions).
For reasons I will get into farther down, Western Canadian natural gas prices are terribly low. Encana is focusing solely on developing Montney locations that will yield wells with high condensate cuts, making its future Montney development plans highly dependent on movements in WTI. While there was some crazy activity in differentials across all Albertan oil grades in Q4 2018, generally speaking, condensate in Western Canada fetches prices on par with West Texas Intermediate. Natural gas liquids production can be commercialized via rail after getting run through a regional fractionator (which splits Y-grade NGLs volumes into purity products).
Natural gas pricing commentary
Encana sold off 54,200 net acres of its Montney position back in 2016 for 625 million CAD (488 million USD at the time). This part of the Montney play was referred to as Encana's Gordondale asset, which was primarily a natural gas producing area. Roughly two-thirds of the Gordondale's production was natural gas, and future development opportunities were gas-heavy.
Natural gas prices in Albertan are very low for structural reasons, largely due to roaring regional production growth and a relative lack of takeaway capacity. On January 9, 2019, Albertan gas realizations for physical deliveries to the Alberta NIT-AB market center stood at just 1.68 CAD per gigajoule (equal to almost 1 million British thermal units). The Monthly Index is at 1.61 CAD per GJ as of this writing. It takes 1.32 CAD to buy 1 USD, and with Henry Hub trading around 3 USD per MMBtu, it is clear Albertan gas realizations are very weak.
Albertan gas producers have access to US West Coast, Rockies, and Midwestern markets which helps improve realizations somewhat for those with access to out-basin markets. There is one pipeline, TransCanada Corporation's (NYSE:TRP) Mainline Pipeline, that can supply natural gas from British Columbia and Alberta (specifically the Western Canada Sedimentary Basin) to markets in Ontario and elsewhere on the other side of Canada. This 8,770-mile long system is the only pipeline that connects West Canadian natural gas production to East Canadian markets, which is very important to note.
Other than the possibility to modestly increase deliveries to Midwest markets via expansions along the Alliance Pipeline, it would take a greenfield pipeline project to route material amounts of cheap West Canadian gas supplies to key markets. That pipeline would not only face a sea of political, regulatory, and right-of-way hurdles, but it would also likely be very uneconomical to pursue. American natural gas demand centers are already well-supplied, even in the West Coast, and US gas prices remain low. The gain from higher realizations is unlikely to offset the massive cost of such a project, which would be reflected in high transportation fees.
What could help revive West Canadian gas prices is the ability to export liquefied natural gas to overseas markets, particularly in East Asia where LNG spot prices trade at multiples of North American benchmarks (like AECO and Henry Hub). Royal Dutch Shell plc (NYSE:RDS.A) (NYSE:RDS.B) is leading the LNG Canada venture which when completed will provide the region with a major takeaway option (1.9 Bcf/d at nameplate capacity). Here is a link to an article I wrote covering that development.
Pembina Pipeline Corporation (NYSE:PBA) may sanction the Jordan Cove LNG development in Oregon, which in large part is betting on cheap West Canadian gas supplies to compete with US Gulf Coast LNG supplies. I covered that potential project in this article here. Even so, those LNG export developments won't come online for some time and any potential uplift on regional gas prices remains highly speculative at best. This is why Encana is targeting liquids-rich Montney opportunities.
Final thoughts
It will be interesting to see what Encana Corporation has planned for its Montney division this year. Management will possibly pull back a bit to rein in its spending now that global oil prices are much lower. While the Montney shale play has been a great growth generator, it would be wise for Encana to accept that $60-70 WTI is a ways off. Thanks for reading.
Author's note: Some of the companies mentioned above don't trade on a major U.S. stock exchange, which come with their own unique sets of risks and rewards. Always do your own due diligence before investing.
Disclosure: I am/we are long RDS.B. I wrote this article myself, and it expresses my own opinions. I am not receiving compensation for it (other than from Seeking Alpha). I have no business relationship with any company whose stock is mentioned in this article.