Each year, Boeing (NYSE:BA) and Airbus (OTCPK:EADSF) (OTCPK:EADSY) engage in a fierce order battle. In 2017, Airbus won that battle by numbers, but in terms of dollar value, which AeroAnalysis International ultimately considers to be more important, Boeing easily outperformed Airbus.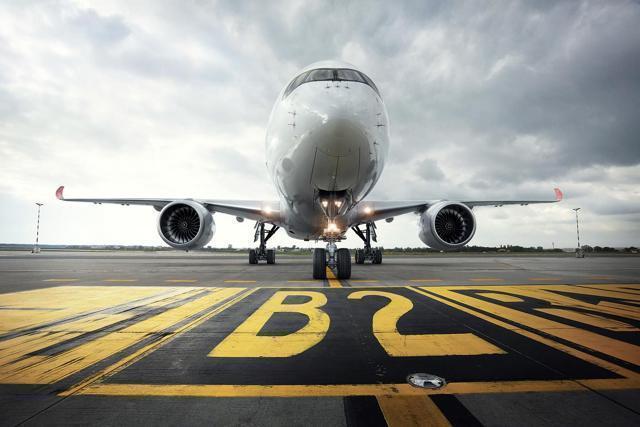 Source: Behance
For 2018, Airbus expects to maintain a book-to-bill ratio of 1. By looking at the orders, we can see a willingness to commit, pricing, product, and availability come together. Special attention will be paid to the mix of single-aisle aircraft and wide-body aircraft, knowing that a single-aisle aircraft costs roughly half or a third of a wide-body aircraft depending on the model.
In this report, AeroAnalysis International will be having a look at the order inflow and deliveries for Airbus in December. The November report can be read here if you are an Essential subscriber.
Order inflow December 2018

Figure 1: Orders Airbus December 2018 (AeroAnalysis International)
During the month of December, the company received a total of 392 orders:
Farnborough Airshow Order; Start up airline Moxy ordered 60 Airbus A220-300s.
Jet Blue (JBLU) firmed a commitment from July 2018 for 60 Airbus A220-300s.
Delta Air Lines (DAL) ordered 15 Airbus A220-300s, likely some of the options the carrier had have been exercised.
An undisclosed customer ordered 50 Airbus A320neos and 17 Airbus A321neos.
Lessor Avolon ordered 75 Airbus A320neos and 25 Airbus A321neos.
Farnborough Airshow Order; An unidentified customer ordered 80 Airbus A320neos.
An undisclosed customer ordered 4 Airbus Airbus A321neos.
An undisclosed customer ordered 2 Airbus Airbus A330-300s.
An undisclosed customer ordered 4 Airbus Airbus A350s, 3 of the -900 variant and 1 -1000 variant.
In late 2018, we have also started tracking changes in the order book such as customer reveals, cancellations and order swaps. This almost doubles our work on the monthly order reports but does create additional insight into order book changes, so we hope you find it useful. The following changes occurred in December:
An unidentified customer canceled 10 orders for the Airbus A380-800.
Middle East Airlines was revealed as the customer for 4 Airbus A330-900neos while another customer canceled 4 Airbus A330-900s on order.
One order from CASC for the Airbus A330-300 was transferred to the unidentified customer category.
Hainan Airlines was revealed as the customer for 7 Airbus A330-300s, while China Eastern Airlines and China Southern Airlines were revealed as customers for 1 Airbus A330-300 each.
Tibet Airlines and Yunnan Hongtu Airlines were revealed as customers for 1 and 2 Airbus A319ceos each.
BOC Aviation was revealed as the customer for 3 Airbus A320ceos.
It seems as if troubled Etihad Airways canceled its order for 10 Airbus A320neos.
AerCap (AER) converted 4 orders for the A320neo to A321neo orders.
Air China was revealed as the customer for 2 Airbus A320neos.
Air Cote d'Ivoire transferred 2 A320neo orders to orders for the smaller A319neo.
It seems like Air Lease Corporation (ALC) converted 1 A321neo order to the smaller A320neo and another possibly has been converted but has been added to the unidentified order tally.
The leasing arm of Norwegian Air Shuttle took over 2 delivery slots for the A320neo from the Norwegian low-cost carrier. These aircraft were leased to Qingdao Airlines.
Aviation Capital Group converted 6 A320neo orders to 6 orders for the A321neo.
Hong Kong Aviation Capital orders and CIT Leasing orders for 40 and 29 are now counted towards the order tally for Avolon.
GECAS, current leasing arm of General Electric (GE), converted 10 orders for the A320neo to orders for the A321neo.
Qingdao Airlines was revealed as the customer for 1 Airbus A320neo.
Sichuan Airlines was unvealed as the customer for 2 Airbus A321ceo aircraft.
LATAM Airlines canceled 1 Airbus A321ceo on order.
SMBC Aviation Capital converted 1 order for the A320neo to an order for the A321neo.
Together with the order from Avolon, 30 aircraft that were ordered by Hong Kong Aviation Capital have now been merged with Avolon's numbers.
Air China and China Southern Airlines were revealed as customers for 1 Airbus A321neo each.
Delta Air Lines (DAL) converted orders for 35 Airbus A220-100s to the same number of orders for the Airbus A220-300.
The order inflow contracted in December from 841 units this year to 392 units in the same month last year. It was already clear that Airbus would have a hard time accumulating orders this year as the company undergoes a management change and its sales strategy is under investigation. Nevertheless, the full year figures are looking good. Airbus ended the year with 831 gross orders and 747 net orders, significantly lower than the 1,229 gross orders and the 1,109 net orders last year. Nevertheless, the order numbers show good appetite for airlines to order aircraft. Particularly for Airbus, we see that the A220 was in demand making up for a fifth of the orders and the A320neo making up for 70% of the orders. The order inflow for widebody jets still isn't where we'd like it to be, A350-900 orders are looking fine, but the Airbus A330neo and Airbus A350-1000 are not yet showing convincing sales.
For December, the list price of the orders was $42.8B, but after discounts, this likely is closer to $19.2B.
Deliveries in December 2018

Figure 2: Deliveries Airbus December 2018 (Source: AeroAnalysis International)
For 2018, Airbus initially set a delivery target of 800 units for native Airbus aircraft and later added 18 Airbus A220 aircraft to the delivery target as the joint venture for the Airbus A220 took effect. In October, Airbus lowered its delivery target from 818 jets to 800 jets, now including 18 Airbus A220 deliveries.
In December, Airbus delivered 127 aircraft, achieving its full year target:
Airbus delivered 8 Airbus A220s.
Deliveries for the Airbus A320 families were 27 current engine option aircraft and 66 new engine option aircraft totaling 93 units.
Airbus delivered 12 Airbus A330 aircraft showing a strong year-end surge in deliveries. Two new engine option variants were included in the deliveries.
Airbus delivered 12 Airbus A350, slightly above the production rate of 10 aircraft per month (11-month cycle) that it hit in April on the industry side.
There were 2 Airbus A380 deliveries during the month.
In 2018, Airbus deliveries hit 800 units putting the output at record highs. As expected, Airbus hit its delivery target but it should also be noted that the target has been lowered by 18 units in October. Positives were the strong delivery figures for the A320neo program which coped with supply chain challenges early in the year. Initially we hoped to see 105 deliveries on the Airbus A350 program but we later lowered our expectations to 95 deliveries. The jet maker ended up delivering 93 A350s, slightly below expectations.
Book-to-bill ratio
For 2018, Airbus expected to maintain a book-to-bill ratio of 1. For the company, reaching desired book-to-bill ratios usually doesn't seem like a big challenge, but there should be more emphasis on capturing more wide-body orders in the mix, especially given the challenges the company faced with the Airbus A320neo. Looking at the monthly book-to-bill ratios does not say a lot, but you have to start somewhere. For 2018, Airbus hit a book-to-bill ratio of 1.04, hitting the desired book-to-bill. Measured by dollar value, this ratio was 1.16.
Conclusion
There isn't a real conclusion that can be attached here. We observed that Airbus orders were driven by the A220/A320, which should not come as a surprise. The A330neo and A350-1000 orders are not blowing me away and we hope to see some good news for those programs in 2019. On production, we see that Airbus delivered the number of aircraft it promised (after the downward revision in late 2018), which bodes well for deliveries next year.
Overall, we see that commercial aircraft companies saw another good year in terms of order inflow. Order records weren't broken this year, but the deliveries, the stage where most cash comes in, did reach record highs.
Disclosure: I am/we are long JBLU, GE, DAL, BA, EADSF, AER. I wrote this article myself, and it expresses my own opinions. I am not receiving compensation for it (other than from Seeking Alpha). I have no business relationship with any company whose stock is mentioned in this article.
Editor's Note: This article discusses one or more securities that do not trade on a major U.S. exchange. Please be aware of the risks associated with these stocks.