What would it take for one of Tesla's (TSLA) most ardent critics to change his mind about the company? That is just one of the topics I discussed in my most recent podcast with Seeking Alpha alumnus and well-known Tesla short seller Montana Skeptic.
For the first time in months, Montana Skeptic has come out publicly and talked about his thoughts on the automaker as it is positioned heading into the first quarter of 2019. We talked about why he thinks Q4 is going to be a profitable quarter for the company (maybe even more so than Q3), but why he also believes that Tesla will be dealing with a serious demand cliff heading into the first quarter of 2019.
We also went on to talk about Montana Skeptic's recent appearance at the Robinhood investors conference. At the conference, he sat along side Vertical Group's Gordon Johnson and engaged in a 45-minute debate with noted Tesla bulls Trip Chowdhry and Cathie Wood, from ARK Invest, the latter famously sporting a $4000 price target on the stock.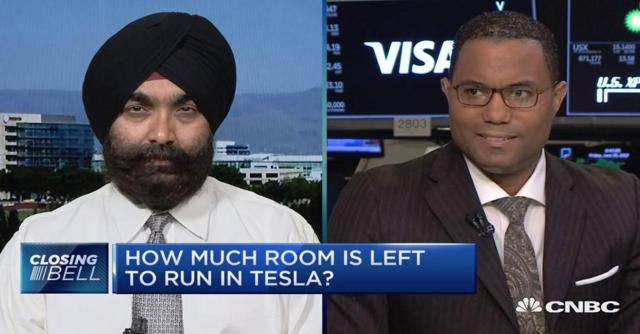 (L-R, Trip Chowdhry and Gordon Johnson/Source: CNBC.com)
We talked about the contents of their debate, including how ARK Invest's price target is based, in large part, on full self driving and Tesla mobility going forward.
From there, we had a discussion about how far along Tesla is with full self driving and how long it was going to take for full self driving to become approved by regulators and a standard in the industry.
Then we went on to discuss Tesla's new General Counsel. What does it mean that the company has brought in a seasoned litigator versus a conventional corporate securities attorney? Montana Skeptic has over three decades as an attorney, so I asked him to weigh in with his thoughts on the matter.
We also discussed Elon Musk's recent Boring Company tunnel reveal, as well as what Montana Skeptic sees as potential dangers – but also potential opportunities – for the company going into 2019.
Finally, we talked briefly about Tesla's new move into Shanghai and the targets that the company has set for initial production and volume production in the country.
You can listen to the entire podcast here.
To subscribe to future podcasts, you can use this link to go through Podbean or this link to subscribe on the Apple iTunes store. You also can subscribe to them on YouTube.
Disclosure: I/we have no positions in any stocks mentioned, and no plans to initiate any positions within the next 72 hours. I wrote this article myself, and it expresses my own opinions. I am not receiving compensation for it (other than from Seeking Alpha). I have no business relationship with any company whose stock is mentioned in this article.
Additional disclosure: MS is short TSLA