This article was co-produced with Dividend Sensei.
If you want to enjoy both strong returns over time as well as generous, safe and growing income, few things are better than a quality REIT. Thanks to the worst market correction in a decade, today you can find even world-class companies trading at very attractive prices.
Let's take a look at why Simon Property Group (SPG) is a strong buy for almost any diversified dividend growth portfolio. In fact, from today's attractive price (26% discount to fair value), Simon is likely to deliver not just generous, safe and growing income, but close to 14% long-term total returns.
Simon Property Group: The King Of Class A Malls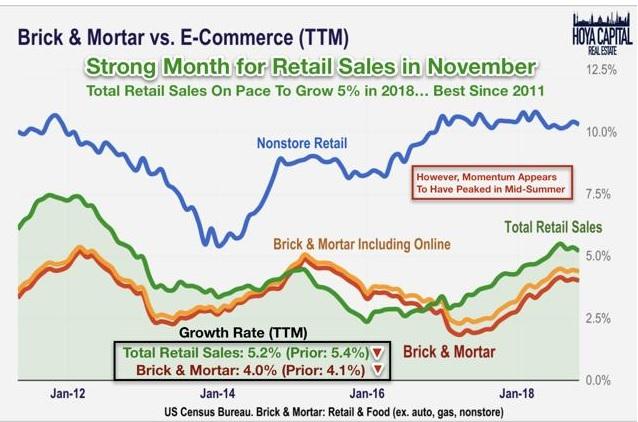 (Source: Hoya Capital Real Estate)
There's a common belief on Wall Street that the retail apocalypse, led by the rise of e-commerce giants like Amazon (AMZN), will be the death knell of malls. In reality, e-commerce is merely growing twice as fast as traditional retail, which is thriving thanks to the adoption of omnichannel which incorporates technology like the internet into traditional retail. In the past seven years, retail sales have continued expanding along with the economy, thanks to mall operators like Simon adapting to the new retail paradigm.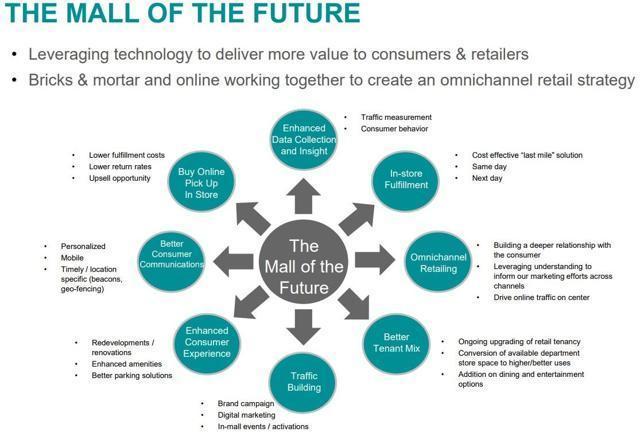 (Source: SPG Investor Presentation)
While low-quality malls (Class D, C and B) are indeed struggling, high-quality Class A Malls (which make up 26% of all malls), ones like what Simon owns, are thriving. Today Simon owns full or partial stakes in 235 Class A malls in North America, Europe, and Asia totaling over 190 million square feet of retail space.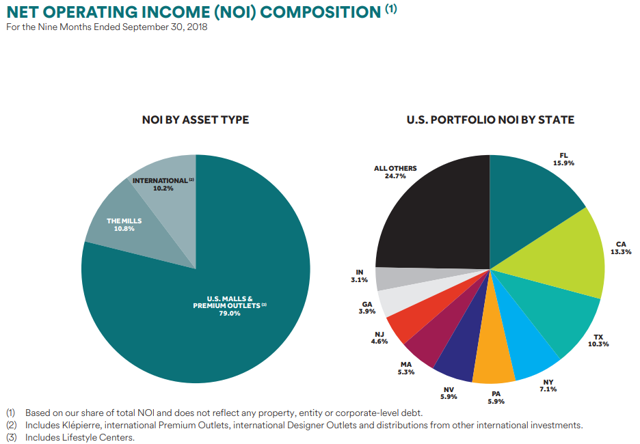 (Source: Earnings supplement)
About 80% of the REIT's net operating income comes from its traditional US malls, which are highly diversified, but nearly all located in dense, thriving, and affluent cities, mostly in Florida, California, and Texas. 20% of its NOI is from its super premium Mills locations and international properties, providing US investors with some nice but safe foreign diversification.
Simon's core fundamentals, which are ultimately what long-term income investors need to track to know the health of its business, are all excellent.
Average sales per square foot: $650 (top 75 malls $750)

Revenue growth (first 9 months of 2018): 2.1%

FFO/share growth: 10%

Dividend Growth (YOY): 11.3%

Occupancy: 95.5% (up 0.8% from Q2 and above historical average of 94.3%)

Retail sales per square foot up 4.5% YOY (near four-year high)

Minimum base rent up 2.8% YOY

Same-store net operating income: +2.3%

Lease spread 13.9%
For mall REITs, you want to see occupancy above 90%, and stable and lease spreads of 10% or higher indicate quality properties leased to strong tenants. Lease spreads are the difference between current rents and new ones signed when leases expire or are broken by a tenant that closes a store.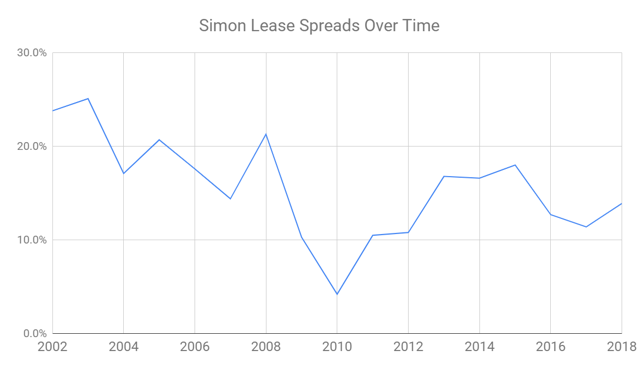 (Sources: Simon Property Group earnings supplements)
Even in the depths of the Great Recession, Simon's lease spreads remained positive, and over the past 14 years have averaged 15.6%. That represents incredible pricing power courtesy of very high occupancy rates created by top-quality properties located in thriving communities filled with residents who still love mall shopping and are willing to spend strongly.
Now I know what many of you are thinking. "What about Sears and other dying retailers like J.C. Penney (JCP)!". Indeed Simon does have tiny exposure to retailers that are either bankrupt and likely headed for liquidation (Sears) or are circling the drain and likely doomed (J.C. Penney).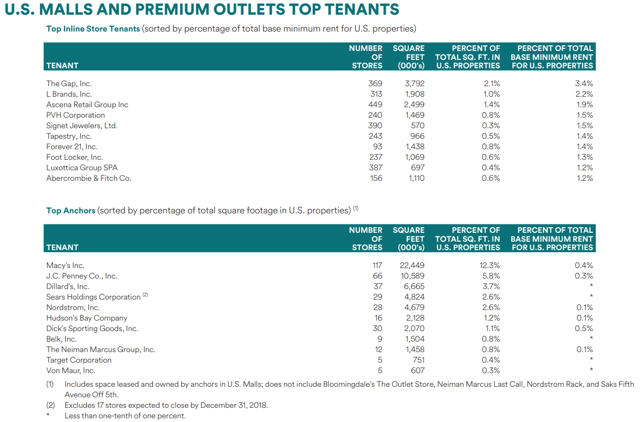 (Source: Earnings supplement)
Simon's leases include 66 to Penney and 29 to Sears. But note that combined that accounts for about 0.3% of its revenue. And while also true that Simon has plenty of exposure to struggling retailers like Gap (GPS), L Brands (LB) and Ascena (ASNA), it's highly diversified tenant base means that even these struggling retailers account for just 7.5% of rent.
While those companies are closing stores, it's only the worst performing ones, which for the most part don't include Simon. That's why the REIT's occupancy is so high and its lease spreads so fat.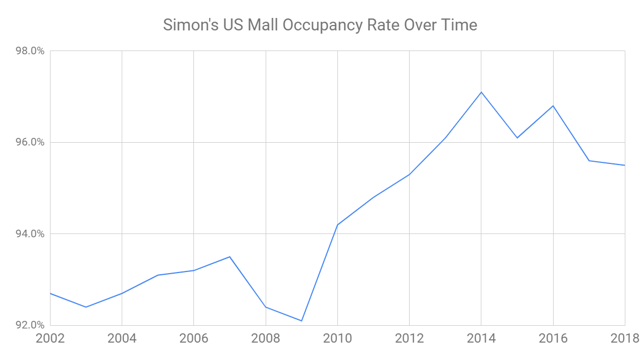 (Sources: Simon Property Group earnings supplements)
In fact, Simon's occupancy, while down from record highs in recent years (due to the struggles of some of those retailers mentioned above), is still well above its 14-year average of 94.3%.
And guess what happens when a retailer fails or vacates a store? Simon turns crisis into opportunity by redeveloping the store and improving its facilities. Over the years the mall has added over 1,750 restaurants to its properties and densified into mixed-use via building 1,200 apartments and 600,000 square feet of premium office space.
In fact, at the last conference call, Simon's CEO actually told analysts that the bankruptcy of Sears had him excited.
"They will be demolished, replaced and redeveloped…we're putting Sears in our rear-view mirror…we think this is a unique opportunity… We're going to generate positive momentum with the properties due to this." - David Simon (emphasis added)
Experiential attractions (which are e-commerce resistant) and mixed-use facilities are great ways to increase traffic and keep its malls full, and its tenants thriving. And healthy tenants allow its lease spreads to remain among the best in the industry and driving stronger growth in FFO/share.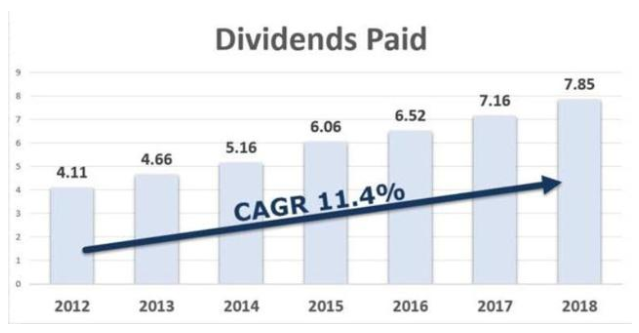 (Source: Brad Thomas)
That cash flow growth is what has allowed Simon to be so generous with dividend growth, including double-digit payout growth for the past six years.
What about Simon's non-US malls? Well, those are actually doing even better, with occupancy rates near 100% and lease spreads of near 20%.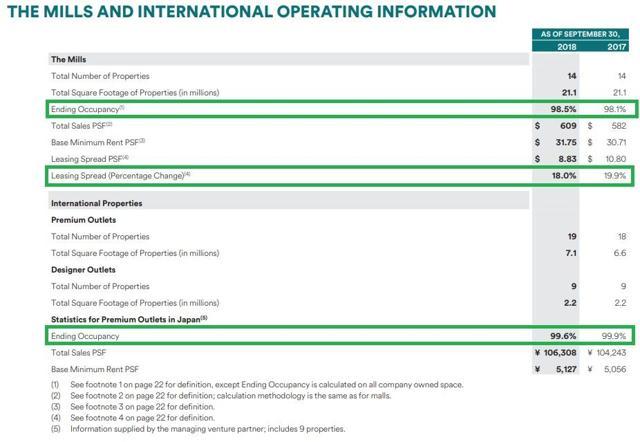 (Source: Earnings supplement)
The point is that Simon Property should not be lumped in with low-quality yield traps like CBL & Associates (CBL) or Washington Prime Group (WPG). Simon's assets are world class, and a quick glance at its core fundamentals is objective proof of this.
But past performance is no guarantee of future results. A good investment requires a solid, long-term growth runway, and the management team that can turn potential greatness into fantastic investor returns. Fortunately, Simon has both in spades.
Strong Growth Runway And The Best Management Team In The Industry Point To A Bright Future
Ultimately a great long-term investment comes down to good management. The entire point of buying a partial stake in a company is so that management can do all the hard work of running and growing the business and adapting to any challenges that come up. And when it comes to management quality, no one can hold a candle to Simon.
SPG is led by Chairman and CEO David Simon, a 33-year industry veteran. He joined the REIT's precursor Melvin Simon & Associates in 1990 acting as its CFO, and oversaw the $1 billion Simon Property Group IPO (the largest REIT IPO in history at the time).
Simon is a living legend in both retail and real estate in general. He is a member and former chairman of the National Association of Real Estate Investment Trusts' ((NAREIT)) board of governors and is a former trustee of the International Council of Shopping Centers (ICSC). What's more, he's been named by both the Harvard Business Review and Barron's as "one of the best CEOs in the world," not once, not twice, but thrice.
And if the man's resume, experience, and accolades aren't enough to give you confidence in Simon's management, consider this. David Simon owns 639,103 shares of the company worth $110 million per year and paying him $5.1 million annually in dividends. In other words, Simon's CEO has a huge incentive to run the REIT with a laser-like focus on a safe and fast-growing dividend.
How will Simon deliver that when the US has too many malls already and thus there is limited opportunity for building new ones?

(Source: Earnings supplement)
Well, currently the REIT has about $300 million left in its development pipeline which is heavily focused on redevelopments and international expansion.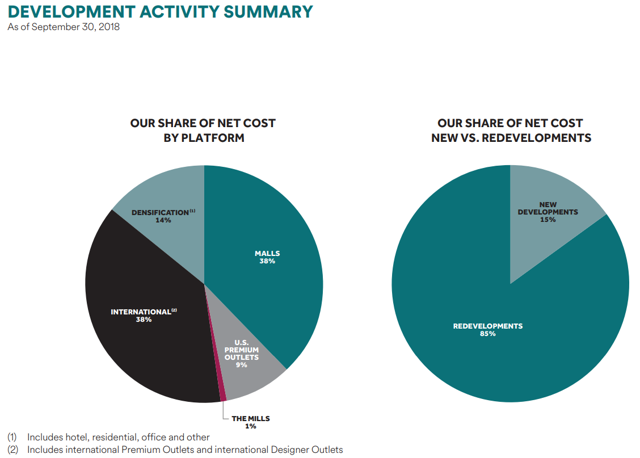 (Source: Earnings supplement)
Those projects are expected to generate cash yields on investment of 8% once completed and leased up. That's compared to a cost of capital of just 3.5% courtesy of one of just 2 "A" credit ratings in REITdom that allows Simon to borrow massive amounts of money at very low interest rates.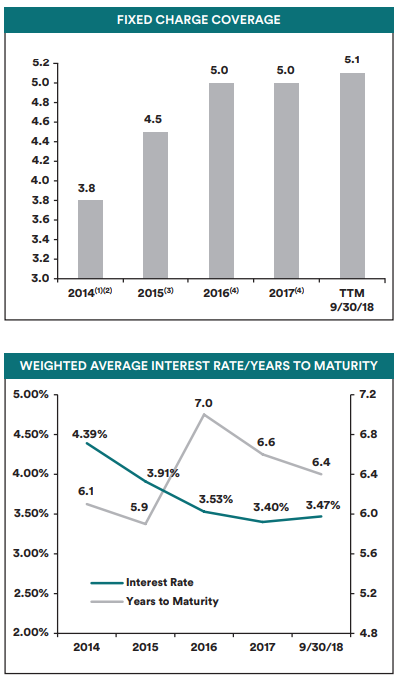 (Source: Earnings supplement)
And thanks to the REIT largely self-funding its growth (Simon doesn't issue new shares to grow and in fact is buying them back with excess cash flow), even when long-term rates were rising 2%, Simon was able to refinance its debt at lower interest rates. Today 95.5% of its debt is long-term bonds with an average interest rate of 3.5%.
What's more, the REIT has access to revolving credit facilities with over $7 billion in remaining liquidity in case it wants to tap short-term credit markets to fund its growth. Not that Simon even needs that, since it's generating $1.35 billion in annual retailed adjusted funds from operations (operating cash flow minus maintenance costs).
Ok, so maybe Simon is led by a living legend in the industry, and perhaps it's generating tons of excess cash flow and can borrow mountains of cheap loans to fund its growth. But what about that measly $300 million growth backlog? For a REIT of Simon's size, $300 million in investments is hardly going to move the needle.
This is where Simon's "Shadow backlog" comes in. At the last conference call, David Simon told analysts that the REIT actually has plans to invest $1 billion or more per year over the next six years into similar projects it's working on now and at similar cash yields.
Combine that organic growth spending with same property NOI growth courtesy of strong lease spreads and steadily more joint ventures and foreign investments (malls are booming in Mexico and Asia, and management is looking at the Middle East next), and Simon Property Group is expected to achieve 6.3% FFO/share growth over the coming five years. That's roughly in line with its 20-year historical average of 7.3%. And keep in mind that the company routinely beats estimates and even its own guidance (which it raised twice in 2018).
Put it all together and Simon Property Group is arguably the best mall REIT in America if not the world. And best of all, this REIT's Grade A collection of assets is poised to make income investors a lot of money in the coming years.
Dividend Profile: Safe, Generous And Fast Growing Dividend Equals Market-Beating Return Potential
At the end of the day, income investing is about three things: yield, payout safety, and long-term income growth. Throw in valuation and this is what drives total returns, which is the bottom line for most investors.
Yield: 4.6% (vs. 2.0% S&P 500, 5.3% median REIT)

Long-term cash flow/dividend growth forecast: 6.3%

Total return expected (no valuation change): 10.9%

FFO payout ratio: 66% (sector average 70%)
Simon's generous 4.6% yield might not be much by REIT standards, but it's more than double what the market offers. What's more, thanks to a modest payout ratio and fortress-like balance sheet, that dividend is very safe. And over time it's likely to increase its long-term cash flow growth rate of 6% to 7%. For context, the S&P 500's median dividend growth since 1990 has been 6.4%.
So basically Simon is offering more than double the market's yield today, with about the same long-term dividend growth potential. But wait a second? How can I claim that Simon's dividend is safe when it cut it during the Great Recession (78 REITs cut or suspended dividends during the Financial Crisis).
Because back then Simon and many other REITs had much higher debt levels, and so when credit markets froze up, even those with strong payout ratios had to conserve cash in case the crisis dragged on for years.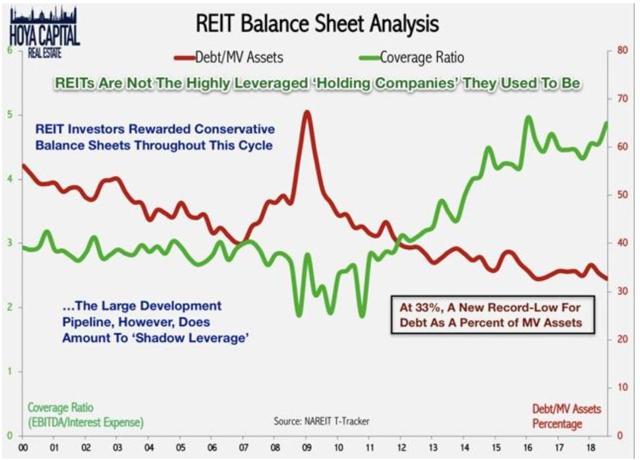 (Source: Hoya Capital Real Estate)
Today REITs as a sector have the lowest debt/market cap in their history and interest coverage ratios are similarly near record highs.
Debt/EBITDA: 5.4 (sector average 5.8)

Interest coverage ratio: 6.9 (sector average 3.4)

Credit rating: A

Average interest rate: 3.5%
Simon, in particular, has gotten religion on safe debt. Which is why it's one of just two REITs in the country with an A credit rating (three have A- ratings).
But while Simon is undoubtedly a great REIT even the best business can be a terrible investment if you overpay. But fortunately Simon is trading at valuations that mean today it's likely to deliver close to 14% long-term returns (annualized, over the next decade).
P/FFO: 14.1 (20-Year Average 14.4)

Growth Rate Baked In: 3.5%

Actual Expected Growth Rate: 6.3%

Yield: 4.6%

5-Year Average Yield: 3.4%

13-Year Median Yield: 3.1%

Estimated Fair Value Yield: 3.4%

Discount To Fair Value: 26%

Upside To Fair Value: 31%

Valuation Boost (10-Year): 2.7%

Valuation-Adjusted Total Return Potential: 13.6%
Now at first glance, you might not think so merely comparing its P/FFO to its historical average. But note that the average REIT trades at 17X FFO and Simon's cash multiple is pricing in just 3.5% long-term growth, about half of what it's likely capable of. A fair P/FFO multiple for a REIT growing at 6.3% is about 19.2 (using a formula created by Ben Graham, the father of value investing and Buffett's mentor).
But personally, I prefer to value my dividend blue-chips via dividend yield theory which has proven to be a great approach to income investing since 1966.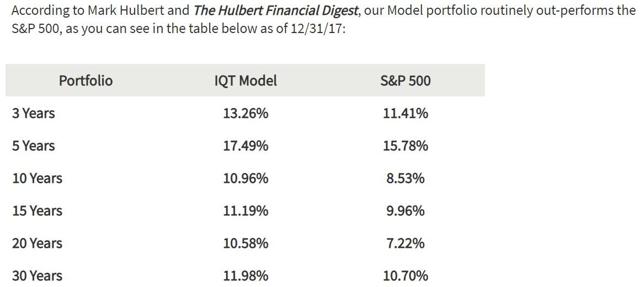 (Source: Investment Quality Trends)
That's when asset manager/newsletter publisher Investment Quality Trends began exclusively using this approach for blue-chip stocks (based on meeting 4/6 quality criteria) and has delivered decades of market-beating returns with 10% less volatility to boot.
Dividend yield theory says that over time unless a dividend stock's thesis breaks, the yield will return to its historical norm. To be conservative I use Simon's 5-year average yield instead of its 13-year median yield because it's expected to achieve 1% slower long-term growth (thus possibly deserves a slightly lower valuation than in the past).
Dividend yield theory estimates that SPG is 26% undervalued today, with 31% upside to fair value ($235). That undervaluation means that over time SPG's share price could outgrow cash flow and dividends by that much, merely by the REIT returning to its historical yield. For my valuation-adjusted total return model (based on the one that Brookfield Asset Management has been using for decades), I take a 10-year time horizon over which time I assume Simon will return to its historical yield.
That translates into a long-term 2.7% CAGR valuation boost that when added to its yield and long-term expected growth rate gives us a total return potential of 13.6%. That's compared to 9.2% that the S&P 500 has historically delivered and 5% to 9% that the market is likely to generate in the coming years.
When I see a thriving business of Simon's caliber trading at a 26% discount to historical fair value? Well, that makes it a "very strong buy" in my book. Of course, just because Simon is a world-class REIT, trading at a great price, doesn't mean that there aren't some risks to be aware of.
Risks To Consider
While Simon's long-term thesis is strong, in the short-term, it might have to deal with cyclical industry issues as well as natural economic variability. For example, the Wall Street Journal recently reported that nationwide mall rents grew just 0.8% YOY in Q4. That's down from 1.5% in Q4 2017 and 2% in Q4 2016. The big reason is that while new supply isn't an issue failing retailers like Sears and Penney are still closing stores and thus offsetting strong retail sales growth.
Investors will want to watch Simon's lease spreads over time to make sure that its Class A properties remain largely immune to this negative trend. But given the fact that redevelopment of anchor stores leased to Sears and JCP will take time, Simon may be in for a weak 2019, at least compared to the great results investors saw in 2018.
And while eventually the death of Sears and J.C. Penney will work itself out, we can't forget that lease spreads fall during a recession. While the US is still expected to see 2.3% to 2.7% GDP growth in 2019, current economic trends are indicating that a recession is most likely to begin in mid- to late-2020.
Now it's important to not panic and realize that trends can reverse (that estimate is merely probabilistic) and Simon's lease spreads are not likely to turn negative during a downturn (most recessions are 1% to 2% peak declines in GDP, not the 5.1% anomaly that was the Financial Crisis). However, at some point, a recession is inevitable, and during that time, weaker retail sales will cause the fundamentals to dip, and the stock price to suffer.
Simon is likely to deliver not just generous, safe and growing income, but close to 14% long-term total returns.
Bottom Line: Simon Says This High-Yield Blue-Chip Is A Very Strong Buy
Retail may be a cyclical industry, and during recessions, retail sales will fall. However, Simon Property Group has proven itself the king of Class A malls. Its massive portfolio of top-quality properties, operated by literally the best management team in the industry, is likely to deliver safe and growing dividends even during the next economic downturn.
That's thanks to a fortress-like balance sheet, literally one of the two strongest in all of REITdom. Combined with its enormous shadow growth backlog and access to a mountain of low-cost capital, and low-risk self-funding business model, I have no hesitation about recommending this high-yield blue-chip at this time.
That's because with shares now about 26% undervalued, this SWAN stock is likely to deliver not just solid income, but close to 14% long-term total returns as well. That makes Simon not just one of the best high-yield blue-chips you can buy today, but one of the best blue-chips period. That's why I personally own Simon in both my retirement portfolio and my new Deep Value Dividend Growth Portfolio (which is beating the market by 9.1% so far).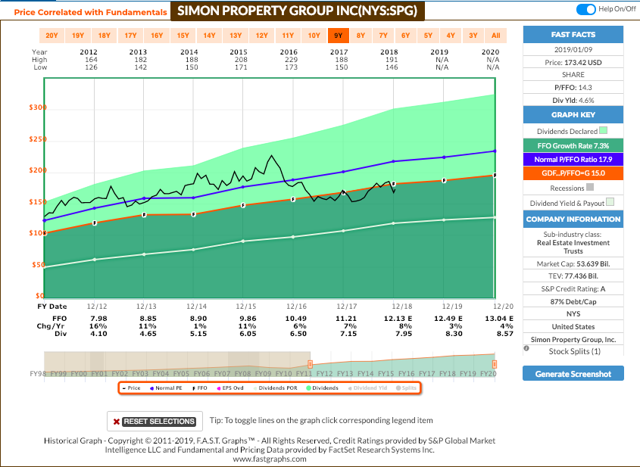 Source: FAST Graphs
Author's note: Brad Thomas is a Wall Street writer and that means he is not always right with his predictions or recommendations. That also applies to his grammar. Please excuse any typos and be assured that he will do his best to correct any errors if they are overlooked.
Finally, this article is free, and the sole purpose for writing it is to assist with research, while also providing a forum for second-level thinking.
Brad Thomas is one of the most read authors on Seeking Alpha, and over the years, he has developed a trusted brand in the REIT sector. His articles generate significant traffic (around 500,000 views monthly) and he has thousands of satisfied customers who rely on his expertise.
Marketplace subscribers have access to a growing list of services, including weekly property sector updates and weekly recommendations. Also, we are now providing daily early morning REIT recaps, including breaking news across the entire REIT universe. Take charge!
Disclosure: I am/we are long SPG. I wrote this article myself, and it expresses my own opinions. I am not receiving compensation for it (other than from Seeking Alpha). I have no business relationship with any company whose stock is mentioned in this article.