Colombian financial services firm Grupo Aval (AVAL) has disappointed investors like clockwork since it listed its shares on the New York Stock Exchange in September 2014. The company, valued at $15 billion at the time of the IPO, has a market capitalization of around $7.2 billion. Although dividend payments have been received along the way, the price decline of the shares in USD has been 53%.
For the initial two years after its IPO, Aval traded down in line with BanColombia (CIB), its nearest peer. Since then, however, its poor returns have also lagged on a relative basis, as the below chart shows.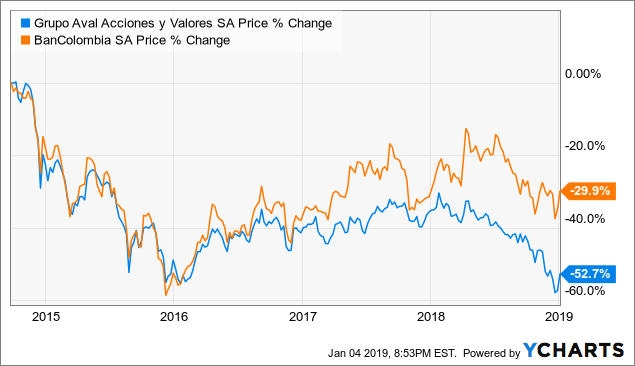 Over the same period of time, the Colombian peso has declined in value by 39% (from 1,998 COP to 1 USD to 3,249). Effectively, then, BanColombia's stock has gained in local currency, while Aval has been lower by an additional twenty percentage points. That relative underperformance has cost Grupo Aval's shareholders $3 billion in market capitalization. It has also taken the valuation of the company to valuations that appear, at least on the surface, to be extremely cheap. It now trades for about the same ratio to book value as BanColombia, despite consistently earning higher returns on equity and on the basis of forward earnings, Aval is at a discount of 32% despite trading at a premium earnings valuation until the beginning 2018.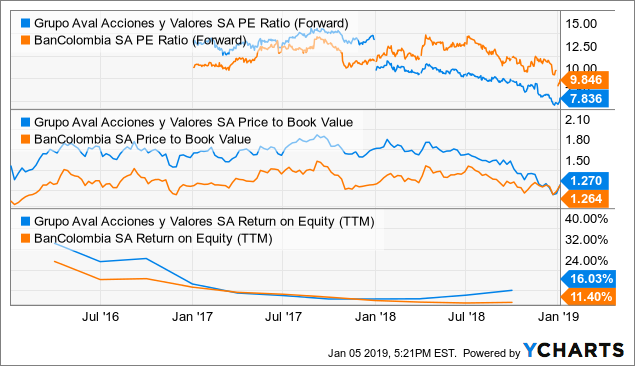 Overview
There are, of course, good reasons for the stock's poor performance. Most notably, Aval's declining fortunes can be traced to fears of escalating legal troubles at its investment banking subsidiary Corficolombiana due to a partnership between a subsidiary of that company and Brazilian firm Odebrecht. Odebrecht has been found to have paid bribes in exchange for contracts in multiple countries throughout Latin America.
That ongoing overhang, coupled with emerging market concerns in 2018, have punished the stock. Despite the risks facing the company as well as the inherent volatility of emerging market banks, Aval is a well-managed financial conglomerate with dominant market shares in both Colombia and Central America that regularly earns at least a mid-teens return on equity. It seems more likely than not that current prices present an attractive entry point for the shares. Although a return to historical multiples for Aval is unlikely until the finality of the issues pressuring the stock, should that happen it would imply a fair value for Aval's ADR of more than $10, a 55% increase from current prices over the next twenty-four months.
Sources of Value
Luis Carlos Sarmiento founded Grupo Aval and continues to own approximately 80% of the company's shares in addition to owning minority stakes in many of the companies Grupo Aval consolidates in its financial statements. His son now runs the company.
Sarmiento began his business career in real estate development and expanded into the banking industry in the early 1970s at least in part to help provide financing options for his developments and in part because banking proved to be a fundamentally superior business to construction. The predecessor to Banco AV Villas was founded by him in 1972 and the year before that he purchased Banco de Occidente, a bank based in Cali, Colombia.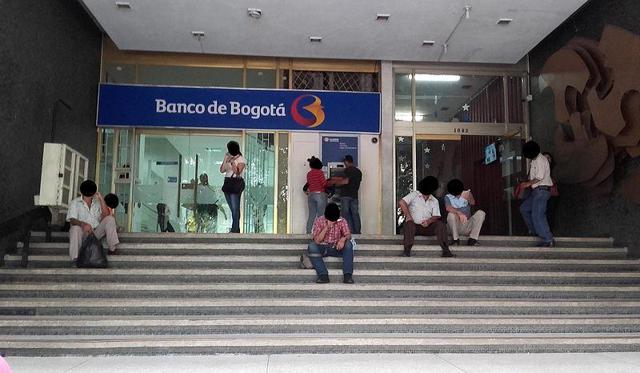 A Banco de Bogota branch in the city of Cucuta. Source.
After continuing to make acquisitions of financial services companies, Grupo Aval was formed as a means of consolidating these interests within one company and to create a shared platform to guide the overall group's operations and strategy. "Aval" might best be translated as "surety," and describes situations when a bank will guarantee payment on behalf of another party. "Acciones y Valores" means "shares and values." The full name of the company, Grupo Aval Acciones y Valores, therefore, seems to mean little more than being a literal statement of the fact that Aval is a holding company and that the group's expertise and financial strength should be thought of inseparably from that of its constituent companies.
Grupo Aval's primary assets are its equity stakes in six financial companies, five of which trade on the Colombian stock market: Banco de Bogota (69% ownership), Banco de Occidente (72%), Banco Popular (94%), Banco AV Villas (80%), and Corficolombiana (8%). The first four companies are commercial banks, while Corficolombiana is a merchant bank. The company additionally owns a 20% stake in non-listed pension and severance fund asset manager Porvenir.
Aval relies on interlocking share ownership within its structure. Banco de Bogota owns large stakes in Corficolombiana (32%) and Porvenir (47%) as well as full ownership of Central American banking group BAC Credomatic. Additionally, Banco de Occidente owns stakes in Corficolombiana (4%) and Porvenir (33%), while Banco Popular has a stake in Corficolombiana (5%). So, analytically, it makes more sense to look at Grupo Aval's subsidiaries from a "look-through" perspective, or indirectly rather than directly.
This is done so below by subtracting the equity amounts attributable to ownership in other subsidiaries from the core book value of the subsidiary. For example, in Banco de Bogota's case, after subtracting the equity of BAC Credomatic and equity attributable to Banco de Bogota through its ownership in Porvenir and Corficolombiana, a little less than $2.2 billion in equity remains, 68.7% of which equals close to $1.5 billion.
The "Normalized ROE" figure is an estimate of what each subsidiary will earn on its book value in a "normal" year and is based on performance over the previous five years. While different business segments may deserve different earnings multiples, the share of normalized income for the group by each subsidiary is a good proxy for its contribution to the economic value of Aval.
Based on these normalized earnings, the banking subsidiaries in Colombia constitute 54% of Grupo Aval's gross asset value (or the total value of the group before giving consideration to holding company assets and liabilities). The Central American banking operations constitute 26%, asset management constitutes 18%, and merchant banking 7%.


Subsidiary contribution to Grupo Aval's equity and earnings power. Source: Grupo Aval 2017 Annual Report and Author Estimates in addition to past annual reports of Grupo Aval.
The holding company also holds cash and a portfolio of loans to its subsidiaries as well as maintaining a debt balance. The net amount of liabilities at the holding company net of its cash and loan portfolio is roughly $600 million. This double leverage will amplify somewhat the returns being generated by the subsidiaries themselves.
Using the income figures from above, the group's normalized return on equity is about 13%. However, the current levels of leverage at the holding company mean that this figure for the group as a whole is actually about 15%.
Strong Positioning
Colombian Commercial Banking
What potential investors ought to like about Grupo Aval is that in every segment it participates in, it tends to have a dominant market position. These strong positions by the subsidiaries are a major factor driving the generally strong economic returns outlined in the previous section, although favorable conditions within the markets they operate in has also played a role in the group's success.
There is little question that the Colombian banking system has been a profitable place from which to operate for some years now. Answering why is not as simple as it first appears. Of course, it is true that banking there is a relatively concentrated industry. The three main banking groups - Grupo Aval, BanColombia, and Davivienda - control two-thirds of the entire banking system. While that is extremely high when compared to the United States, where generally banks are not allowed to hold more than 10% of commercial banking deposits, it is not as unusual around the world.
The chart below gives a handful of data points on many banking systems throughout Latin America as well as some of the world's largest banking systems in order to give some context.

Banking data overview for Latin American nations, in addition, to select countries globally. Source: Bankscope database, 2010-2016 except for largest bank and largest bank market share (which is based on deposits), which is compiled by the author from a variety of sources.
There are obviously a few significant factors that largely determine bank profitability. Market power along with the general level of interest rates and steepness of the yield curve and funding mixes help determine net interest margin. Market power is a major driver of non-interest income, while the size of the overall banking market and that of an individual firm can be a good indicator of efficiency.
There is an important note to make here in general concerning net interest margins: they are not all created equal because not all lending is done in the same currency. Many American banks would be thrilled to have a net interest margin of 6.5%... just not in Argentine pesos. Banks that operate in less trusted currencies and within economies that are likely to experience high inflation need to demand relatively high net interest margins.
Taking this all into account, it is pretty clear that Colombia's risk-adjusted net interest margin has tended to be fairly mediocre for the part of the world in which it is located. Efficiency also tends to be only slightly better than regional peers. Clearly, among the things that are different in Colombia is the amount of non-interest income captured by the commercial banking industry, which is higher than all other Latin American countries except Argentina and Nicaragua.

Chart compiled from the data presented in the above chart.
Fees may be a big reason why Colombian banks are so profitable, but it does not yet answer the question of why. It cannot simply be a matter of market power. A partial explanation may come from idiosyncratic factors and management decisions specific to Colombia.
Regulation also plays a major role. Despite there being a usury cap in Colombia that gets reset every three months, there is no specific regulation limiting banking fees. Ultimately, some mix of the yield curve, general economic conditions, market concentration, market size, regulation, and management skill combine to determine the profitability of a country's banking system and the concoction in Colombia has been favorable to investors for many years.
Of course, Aval's positioning within the Colombian market matters immensely as well and it is extremely strong, ranking first in deposits and second in loans. Its profitability is more than 40% higher than its peers.

Market shares of Colombia's leading banks as well as return on average assets for the year 2017. Source: Grupo Aval 2017 Annual Report and Banco de la Republica. Note that the ROAA figure is post-tax, whereas the previous data presented by country was pre-tax.
The individual banks that make up Grupo Aval are focused on individual business lines and geographical areas. On an unconsolidated basis, they are the second, fifth, eighth, and tenth largest banks in the country.
Banco de Bogota and Banco de Occidente are more focused on making commercial loans (with Banco de Occidente somewhat more focused on small and medium enterprises), while Banco Popular and Banco AV Villas are more focused on the consumer side. Banco Popular lends significantly to the public sector and also specializes in payroll loans, while Banco AV Villas is the strongest Aval entity in mortgages.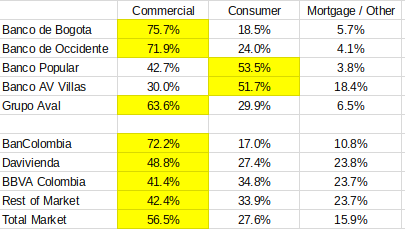 Mix of loans by bank, 2017. Source: Grupo Aval 2017 Annual Report. The segment with the highest share is highlighted.
In aggregate, Grupo Aval is the clear leader in consumer lending in the country, while also coming in a relatively close second to BanColombia in commercial lending.

Market shares of Colombian banks in loans by loan type. The bank with the highest share in the segment is highlighted. Source: Grupo Aval 2017 Annual Report.
While I am very positive on Grupo Aval prospects in aggregate, I am not particularly positive on this aspect of their strategy. It is true that utilizing shared services helps to limit inefficiency and the Aval brand is often used in conjunction with the individual subsidiaries in Colombia. Customers of one bank can also access the group's overall ATM and branch network. But, it is still the case that in terms of brand building, competitors can focus on nurturing and building a single brand's value and having four brands means duplicitous branches.
For companies that have relatively similar market shares, as Grupo Aval and BanColombia do, Aval has nearly double the branches at 1,427 versus 727. Grupo Aval is stronger in consumer banking, which requires relatively more branches, but even if commercial loans are excluded, Grupo Aval has about $9.0 million in net loans outstanding per branch versus $13.5 million for BanColombia. It is hard to believe that opportunities do not exist to rationalize this network somewhat even without consolidating brands.
The company is not unaware of this opportunity and is focused on driving expenses lower, both through branch closures and driving some transactions online. Efficiency will be a key area for investors to monitor in the future.
Central American Commercial Banking
Aval's Central American banking unit, BAC Credomatic, is the largest in the region according to the company. That statement is simultaneously true and misleading since the company's position does not come from being the largest bank in any of the countries in which it operates, but instead from operating in every country in the region. The small country of Belize is the only one in Central America that Grupo Aval does not have a presence.
In total, BAC Credomatic has a 10% share of Central American loans and 9% share of deposits. BanColombia (operating in Panama, El Salvador, and Guatemala) has 9% of loans and 8% of deposits, Banco General (primarily operating in Panama) has 8% of loans, and 7% of deposits and Banco Industrial (Guatemala's largest bank) has 6% of loans as well as deposits.

BAC Credomatic's position by country. The net income figures are before central group costs. Market Rank is sourced from various sources, while the remaining figures are from Grupo Aval's 2017 Annual Report.
In no country does Aval hold the leading share, ranging anywhere from 2nd to 4th. But, it does have greater diversification than any other group in the region. The benefits of diversification will vary from situation to situation and sometimes concentration has greater benefits. In Central America, though, periodic volatility means that a broadly diversified business can be greatly beneficial.
In aggregate, the bank has been incredibly profitable as well, operating in some very attractive banking markets. While return on equity has been a little lower than in Colombia, the bank does carry goodwill from Aval's acquisition and its return on tangible equity is somewhat higher than its reported return on equity.
Merchant Banking and Asset Management
Through Corficolombiana the group is exposed to investment banking, and Corficolombiana performs most of the typical functions associated with investment banking such as activity in capital markets, trading, brokerage services, and treasury operations.
When investment banks were first established in Colombia in the late-1950s, the government chartered them as vehicles to help spur activity in the real economy by making equity and debt investments and then providing consulting and advisory services to those companies to improve efficiency in important sectors.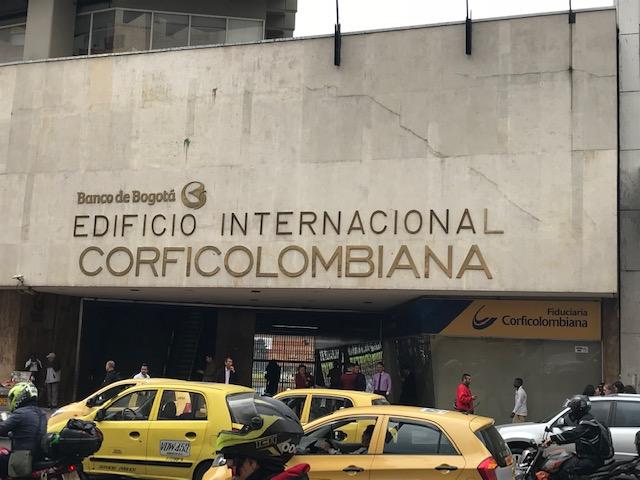 Corficolombiana building, Bogota. Source: Author's own photo.
Corficolombiana's private equity portfolio today is heavily concentrated in energy and infrastructure investments, while also having some exposure to agriculture and hotels. Among the energy investments is a 50% stake in Colombia's largest natural gas transmission and distribution business, Promigas, which transports half of Colombia's natural gas as well as having a large distribution business in both Colombia and Peru. The infrastructure investments include several road concessions as well as the airport in Cartagena.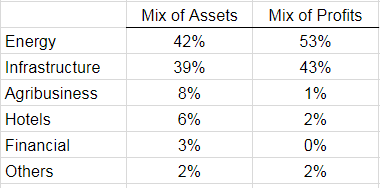 Corficolombiana's mix of assets and profits. Source: Corficolombiana.
Obviously, the investment portfolio is of much greater importance to the company than the financial activities it performs. BanColombia's Banca de Inversion has a similar model to Corficolombiana, although with a different portfolio focus. After those two companies, the largest investment banks in the country (who seem to purely focus on traditional investment banking) are JP Morgan, BNP Paribas, and Itau.
The asset management business is divided into mandatory, severance, and individual categories.
Author's own photo.
Mandatory funds operate similarly to the social security system in the United States: both individuals and their employer make contributions required by law in order to provide for an eventual pension. Currently, the employer contributes 12% of an employee's salary and the employee contributes an additional 4%. The difference in Colombia is that private companies play a role in managing these funds. Employees can select a private fund manager or a public entity to manage their funds. While individuals can change their selection of which entity manages their fund, they generally cannot simply withdraw their funds from the system prior to retirement.
Severance funds also arise from legal requirements. Employees are entitled to one-month severance for each year of service to their company if their employment is terminated. These funds are required to be deposited with a fund manager so they are available in the event an employee is terminated. The severance fund manager is chosen by the employer.
Voluntary funds arise as a result of a voluntary benefit provided by an employer or the result of a voluntary fund created by an individual.

Porvenir's market share overall and within each category in which it operates. Source: Grupo Aval 2017 Annual Report.
Like the other businesses Grupo Aval participates in, this one is oligopolistic and Grupo Aval has the leading position within that oligopoly. The private industry is composed of only four firms, meaning that even in situations when a public option is considered, Porvenir's competition is limited to four other entities besides itself. Its position is first overall and first in mandatory and severance funds and third in voluntary funds.
Porvenir's principal competitor is Proteccion, which is part of Grupo Sura, Colombia's largest insurer. Grupo Sura is a part of the same business group that BanColombia belongs to, although the two are separate entities. The other two competitors are Colfondos, a part of the Scotiabank / Colpatria organization and Old Mutual, a South African insurance and investment group.
Porvenir's economics may be among the best within Grupo Aval. Its earnings stream is directly tied to growth in the labor force and wage growth and it participates in a regulated oligopoly providing a mandatory service. Little wonder it earns returns on equity of around 25% per year.
Ruta del Sol and Potential Legal Problems
Despite discussing so far the impressive positioning of many of the entities within Grupo Aval, there are obviously some serious risks to the stock. If not, then there would not be an opportunity to purchase shares at a potential discount.
One enormous overhang has been Corfocolombiana's past relationship with Brazilian construction firm Odebrecht. The relationship dates back to 2009 when a company that was majority owned by Odebrecht and minority-owned by a subsidiary of Corficolombiana won a concession to construct the second sector Ruta del Sol, a road connecting central Colombia to the Caribbean.
In 2016 Odebrecht reached a settlement with the United States, Switzerland, and Brazil in which it admitted to paying almost $800 million in bribes throughout multiple countries. Odebrecht originally admitted to paying $11 million in bribes within Colombia, but this figure has now been revised to more than $30 million.
Early in 2017 the former Vice Minister of Transportation in Colombia, Gabriel Garcia Morales, was arrested for accepting bribes from Odebrecht including a bribe of $6.5 million to steer the Ruta del Sol contract their way. Then, in May of the same year, the former CEO of Corficolombiana, Jose Elias Melo, was also charged, based on prosecutors belief that he was aware of and participated in the payment.
Grupo Aval has steadfastly maintained that it had no knowledge of this bribe by Odebrecht until December 2016 when the United States Justice Department released its findings, but Odebrecht has disputed this.
The Colombian Superintendency of Industry and Commerce (NASDAQ:SIC) made two formal charges against Grupo Aval and some employees this past September. The company was charged with collusive practices and individuals, including Sarmiento, were charged with benefiting from a conflict of interest.
Things again took a turn this past November when Jorge Enrique Pizano was found dead of a heart attack. Pizano was the controller for the Ruta del Sol project and he has stated that as far back as 2013 he warned about irregular payment activity related to it. Following his death, additional documents and recordings circulated widely including recordings of conversations that he had with Corficolombiana's legal counsel, who is now Colombia's Attorney General. The recordings indicate that information was ultimately passed to Luis Carlos Sarmiento. A United States probe of the project followed in December, potentially worrisome because investors know that the United States Justice Department is far more likely to take action than Colombian authorities.
Stripping out the drama of the story, what fundamentally matters here to investors? There are a few scenarios to be wary of. For one, a corporation's name constantly appearing in the headlines in connection to corruption is generally bad for business. It is possible that even without any findings of guilt on the part of Grupo Aval, customers could leave the bank. Secondly, the company could be liable for monetary penalties. In the case of the SIC charges, Aval could be on the hook for $24.5 million. Finally, if significantly more serious wrongdoing is found to have taken place, more drastic consequences could follow. Odebrecht, for example, was fined $250 million and banned from government contracts for ten years.
The final scenario seems far-fetched. Odebrecht admitted to paying bribes in an amount equal to about six times that of the amount in question regarding Ruta del Sol. Additionally, with such a significant time passing since the revelation of corruption regarding the Ruta del Sol project, it is becoming less and less likely that a smoking gun emerges. It should also be stated that being aware of payment irregularities is not equivalent to having an understanding of precisely what Odebrecht was doing.
Grupo Aval has stated that it will defend itself against the charges of the SIC, but a settlement of some kind resulting in monetary damages less than the maximum amount would not result in direct catastrophic damage to the company.
That leaves the first scenario to be most nervous about. At least through the third quarter, it does not appear to have come to fruition. But a great deal of action occurred in Q4 and investors should continue to be mindful of the trends here.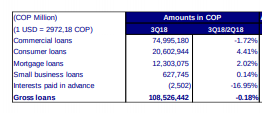 Comparison of BanColombia's (top) and Grupo Aval's (bottom) Q3 loan growth by segment within Colombia. Versus the prior year, Aval's growth exceeded BanColombia's. Source: Grupo Aval and BanColombia Q3 earnings reports.
The Colombian Economy and Tax Reform
The general economic climate in Colombia (as well as Central America) is obviously important to the company's performance. But, the level of the Colombian peso and tax reform in the country are two important areas of focus.
After complicated and controversial negotiations, a tax reform package has been signed into law and effective with the first of the year. While earlier renditions of the bill would have been more favorable to Grupo Aval, the final version is still modestly positive. The previous corporate income tax rate was 33%, but that did not include a 4% surcharge on companies earning over a certain threshold. The new law eliminates this surcharge and gradually reduces the corporate income tax rate to 30% by 2022.
Offsetting this reduction is a new 4% surcharge on financial institutions, that will also gradually recede each year. The net effect will be a 37% tax rate in 2019 (the same as 2018), 35% in 2020, and 33% in 2021.
The general economic situation remains less robust than it was prior to oil's 2014 collapse but has firmed in 2018. Crude oil makes up about a quarter of the country's exports, followed by coal, coffee, refined petroleum, gold, and flowers. In addition to influencing the current account deficit, and thus the value of the currency, commodity prices also impact the fiscal balance in a large way because of the government's 88% ownership of Ecopetrol (EC), which controls a majority of the country's oil production. Lower oil prices have meant fiscal consolidation, detracting from the private economy.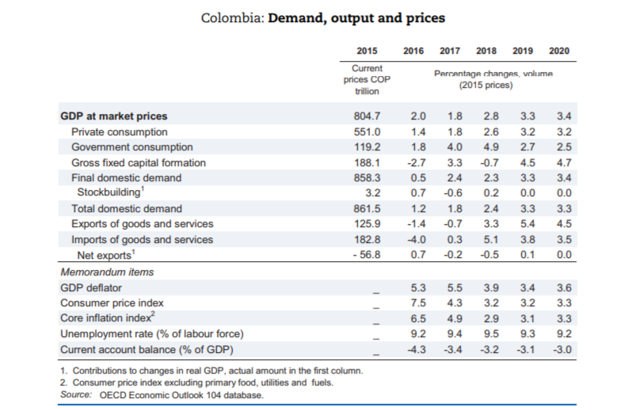 Source: OECD
Predicting oil prices is a fool's errand, and while shale production in the United States probably caps prices, current oil prices are causing some supply to be removed.
Valuation and Downside Risks
The most straightforward means of valuing Grupo Aval is to look at where it has traded historically, which is at a 12x earnings multiple and 1.8x book multiple. Averaging those two approaches gives a fair value of about $9 per ADR.
Aval's 2019 earnings are based on the company's guidance of a 16.5% return on equity in the year.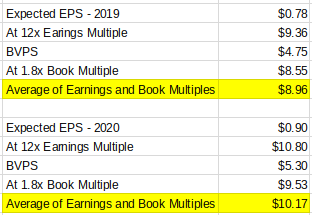 Grupo Aval's fair value based upon historical multiples and 2019 earnings and 2020 earnings.
In 2020, we will see about a 3% lift in earnings from a lower tax rate, continued efficiency gains, and strong loan growth which should push earnings higher - perhaps to around $0.90 per share, yielding a future value at that time of more than $10 per ADR.
Further, my own estimates are hardly euphoric. Although only followed by two analysts currently, their estimates have Aval earning $0.87 in 2019 and $0.95 in 2020.
There is little doubt that significant upside exists. But, of course, the opportunity is existing because of risks to the valuation. It would be wise for investors to consider the downside somewhat more than the upside.
The most significant risk comes from the ongoing Ruta del Sol scandal and quantifying this risk is not easy. The $24.5 million in direct penalties faced by the company is equivalent to only between $.02 and $.03 per ADR, so it is not significant.
The fall out for the company, if the investigation turns up more damaging revelations, could be far worse. Corficolombiana makes up 6% of the company's value, so in the extreme example of Corficolombiana going to zero, the company would actually survive pretty much in-tact. But, Grupo Aval controlled that company and would be held indirectly responsible for its actions.
Let's consider a doomsday scenario in which Corficolombiana's value is completely eroded, the fallout causes the company's corporate loan book to decline by 5%, and a $250 million fine is levied against the company (the same as Odebrecht.) Further, we can assume that the stench of the scandal would prevent the market from re-rating shares back to its historical multiple of 12x earnings.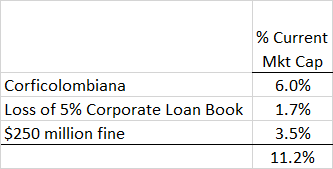 This would add up to a little more than 11% of the current market cap of the company. Even this seems like a wildly improbable scenario. A fine equivalent to Odebrecht's would be extremely high given the seriousness of their conduct. Remember, Odebrecht ran an intentional scheme of defrauding governments over multiple years. Grupo Aval is essentially being accused of becoming aware of Odebrecht's scheme in a particular instance and either not disclosing it or actively deciding to "play along." And the evidence, thus far, seems to indicate that the company became aware of accounting irregularities, but not necessarily the source of those irregularities.
While not being able to assign specific probabilities to each scenario, investors are essentially facing scenario A (which is overwhelmingly likely) that the stock gradually moves back to its historical multiples in the range of 12x earnings and a price of around $9 per ADR (with kickers in future years for efficiency initiatives and a better tax rate) versus an extremely improbable scenario in which the stock re-tests its lows around 10%-15% beneath its current price, in the range of $5.75 per ADR.
Conclusion: Risk Creates Opportunity
There are certainly some risks currently embedded within shares of Grupo Aval that have been discussed in this article. The biggest of those risks would be further fallout from the Ruta del Sol investigations in either the United States or Colombia or adverse findings from those jurisdictions. Secondarily, emerging market weakness and dollar strength could continue into 2019 and cap any US dollar gains made by Grupo Aval.
I think currently that these risks do not surmount the opportunity in the shares presently. The company is guiding to a 16.5% return on equity in 2019. At the present exchange rate that implies earnings per ADR of between $0.78 and $0.79, meaning the ADR's trade at just 8x earnings. They also trade at a mere 1.36x book value of $4.75, after trading at an average multiple of 1.8x for an extended period of time. That implies a fair value of $9 per ADR before considering coming tax benefits and efficiency gains.
Other risks, besides the company's own legal risks, may actually be favorable to the shares as oil prices have been at a relative low and the Federal Reserve now appears poised to halt interest rate rises for the time being. Both of those factors, in addition to Banco de la Republica's likelihood of raising interest rates in Colombia this year, are likely to be supportive of a stronger Colombian peso versus the U.S. dollar.
Finally, there are some company-specific positives to be mindful of. The company has a great opportunity to drive efficiencies throughout its massive network over the next several years and tax reform means that starting in 2020, the group will have an earnings tailwind each year of 200 bps - equal to about 2.5% in earnings. It certainly does not hurt that the company pays a monthly dividend equivalent to an annualized 5% yield.
Grupo Aval presents more risk than a typical security at present, but for those willing to assume it, there are good reasons to believe that near-term rewards will be even greater.
Disclosure: I am/we are long AVAL. I wrote this article myself, and it expresses my own opinions. I am not receiving compensation for it (other than from Seeking Alpha). I have no business relationship with any company whose stock is mentioned in this article.
Additional disclosure: My father-in-law is an employee of a company that is consolidated on Corficolombiana's financial statements. He had no knowledge of or participation in this article.