Skyworks Solutions' (SWKS) stock tumbled into bear market territory with a 33% drop over the past year. Things really took a turn for the worse ever since the company's biggest customer, Apple (AAPL), cut iPhone production. As sometimes happens with bad news, we feel the stock has really overshot to the downside offering bargain hunters with a longer term time horizon an opportunity. Investors looking two years out and beyond will see that Skyworks is a growth story despite the current weakness in mobile.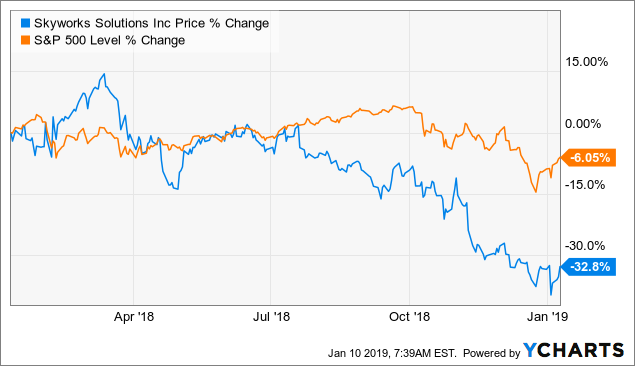 The Apple Problem
The negative guidance from Apple is material for Skyworks. This becomes evident from the numbers mentioned in Skyworks' latest 10k. In 2018, Apple directly and indirectly, through sales to its distributors and contract manufacturers, accounted for 47% of Skyworks' revenue. This is more than just the iPhone as it accounts for other products with Skyworks' components such as tablets, desktop and notebook computers, watches and other devices. We do view customer concentration as a key risk for Skyworks, especially given that Apple became even more important for the company in 2018. Apple's contribution to net revenue increased to 47% compared to 39% and 40% in 2017 and 2016, respectively. The company's three largest accounts receivable balances accounted for 66% of gross accounts receivable. Apple appears to have been the only customer accounting for more than 10% of revenue in 2018. In 2017, Samsung and Huawei made the list accounting for 12% and 10% of net revenue, respectively.
The fact that Apple accounts for such a disproportionate share of revenue is surprising given that Skyworks' highlights its distribution network spanning over 2,500 customers in its 10k. They list other key customers as Amazon, Arris, Bose, Cisco, Google, and General Electric to name just a few. Extending into new markets is imperative to drive more stability into earnings. Skyworks touched on this topic in its recent presentations including its main investor presentation. Here the company mentions automotive, the connected home, IoT, and smart audio as new markets.
Expanding its business beyond mobile devices into other high-performance analog markets by leveraging its existing relationships is a key initiative for the company. Some of these initiatives are really in preparation for 2020 and beyond. For example, connected cars will likely include a complete 5G system architecture which could make use of Skyworks' components like Tx/Rx, Drx, MIMO, and antenna tuning. All of the major automobile manufacturers are working on the connected car and Skyworks is positioning itself to be a key supplier.
One other note about the current customer concentration is that it is very possible that the demand for iPhones and other Apple products ramps up again. One catalyst for this will be the upgrade to 5G phones in 2020. However, Skyworks' investors would undoubtedly appreciate reduced reliance on the number one customer via entrance and expansion into markets such as autonomous vehicles and broader IoT. This would help to reduce the dramatic reaction to production cuts experienced by Skyworks and all of the other suppliers that were largely depending on Apple's success.
5G Rollout
A lot is riding on the 5G rollout for Skyworks. This was emphasized at the recent Barclays Global Technology, Media, and Telecommunications conference. Here CEO Liam Griffin pointed out that all of the smart phones and other devices in use now are 2G, 3G, or 4G technology. Once 5G gets to the market, it will spur demand for smart phones and other devices that work in a 5G spectrum. 5G is not really a 2019 story but more of a 2020 and beyond story. Griffin forecasts that while prototype or initial devices may come out earlier, market ready 5G device introductions will be more of a mid-2020 event. However, investors are likely to start accounting for the boost it will bring to Skyworks earlier than that. All of the key areas in technology such as 5G, artificial intelligence, and machine learning require high speed low latency connectivity. This highly reliable connectivity is what Skyworks' existing products and current research efforts are focused on.
To position itself, Skyworks introduced the Sky5 platform for 5G applications. Under this platform the company launched several products that operate in 5G New Radio (NR) Bands n77, n78, and n79. These bands are for the frequencies that mobile operators plan to use for the next generation of mobile services. The 5G upgrade cycle offers the potential for data throughput of greater than 10 Gbps, latency of less than 2 milliseconds, and 100 times 4G speeds with almost 100% network reliability.
| | | | |
| --- | --- | --- | --- |
| 5G NR Band | Uplink Frequency | Downlink Frequency | Bandwidth |
| n77 | 3300 - 4200 MHz | 3300 - 4200 MHz | 900 MHz |
| n78 | 3300 - 3800 MHz | 3300 - 3800 MHz | 500 MHz |
| n79 | 4400 - 5000 MHz | 4400 - 5000 MHz | 600 MHz |
Source: everythingRF
Skyworks has experience with initial deployments like this and will be able to leverage its product portfolio including amplifiers, circulators and switches, as well as its system level solutions. Skyworks currently provides a broad portfolio of 4G LTE to its growing customer base. The company predicts that the expanded 5G network capacity will bring the count of connected devices to 75 billion by 2025.
The Connected Car
Another growth driver that gets a lot of mentions by the company is the connected car opportunity. This is another story for 2020 and beyond as a lot of the concepts are based on 5G technology. The products Skyworks is working on in this space are focused on a complete 5G System architecture for autonomous vehicles. Connectivity needs are going to much greater for automobile manufactures going forward. In the past auto manufacturers had little to no use for RF technology. This is a big change that could do a lot to diversify Skyworks' revenue streams as it builds on its relationships with all the auto manufacturers including Tesla, VW, Toyota, and GM.
Embedded navigation systems, diagnostic capabilities, personalization services and other smart features are what the company sees fueling demand for connected cars. Global information provider, IHS Markit, forecasts that within eight years, 70% of passenger vehicles sold will be transmitting data with external sources. This is where the company sees increased future demand for its solutions. Another way to get an idea of the growth potential comes from the market report by Transparency Market Research which Skyworks referenced in some of its investor relations notices. The report estimates the connected car market to reach $131.9 billion by 2019, growing at a compound annual growth rate of 34.7%.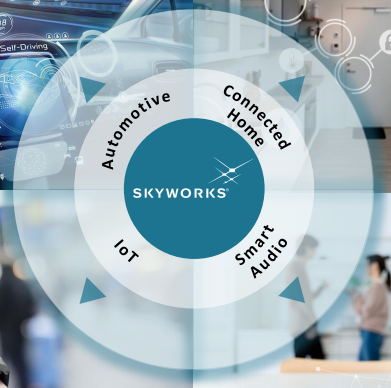 Source: Skyworks Investor Presentation
Valuation
The current share price is $67.69 after a recent bounce off the lows. Skyworks trades at about 66% of fair value based on a DCF model that considers a 5 year time frame, a P/E multiple of 15 in year 5, a 10% discount rate, and an earnings growth rate of 10.9%. The model also assumed that the dividend grew at the same rate of earnings. 10.9% is the average analyst estimate for the company's long term growth rate. If we use a more conservative 5%, the model still shows Skyworks trading at 83% of fair value.
Skyworks currently carries a P/E multiple of 11 and an even lower forward PE of 8. We are at a 5 year low in terms of P/E. Over the last 5 years Skyworks' P/E has ranged from the current low to as high as 23. Therefore, we think using a P/E of 15 in the model is reasonable. The current multiple is depressed due to what we view as temporary weakness that does not account for a diverse set of growth drivers coming in the years ahead.
The company also has a stellar balance sheet with no long term debt and a current ratio of nearly six. The valuation metrics are especially attractive given that we are talking about a company with a profit margin of 24% and return on equity of 23%. The current dividend yield of 2.25% also helps investors while they wait for an overly pessimistic market to recognize the company's growth prospects. The decline and volatility in the shares belies the stability of Skyworks' earnings and free cash flow. The company has had positive net income and free cash flow every year for over a decade now. Earnings grew at an annual average of 34.4% over the last 5 years. We realize not everything is perfect. Quarter over quarter EPS was slightly negative and we touched on the concerns with Apple and the slowing iPhone demand. The market has already overcorrected for these headwinds and this is evident based on even pessimistic DCF models.
Final Thoughts
Skyworks offers investors an opportunity to buy growth at a discount. Despite the flat quarter over quarter EPS number, we think there are sufficient opportunities to boost growth in the coming years. Investors with a longer term outlook should consider initiating a position at these levels. The company is coming off nine straight years of top line growth which we expect to continue. The company even expects its biggest business, mobile, to see six to eight percent growth in the years ahead with the possibility of more when the 5G upgrade cycle hits full swing. We also give Skyworks credit for its consistent cash flow which was entirely returned to shareholders last year via buybacks and dividends. CEO Liam Griffin has stated the company plans to continue returning cash to shareholders.
Semiconductors and connectivity are only going to become bigger parts of our lives in the years ahead. Skyworks has positioned itself to benefit from the 5G rollout which could be a big driver for a decade. It will also open up opportunities in many new markets including automotive and the broader IoT space. We expect to continue to learn that new industries and markets are driving demand for Skyworks' products. Recent examples, from the Q4 call, were the launch of millimeter wave RF technology at major avionics suppliers and wireless networking sockets at Cisco for high density enterprise applications. We believe Skyworks Solutions is a case where fundamental trends are not accounted for in the current valuation offering investors a good entry point.
Disclosure: I am/we are long SWKS. I wrote this article myself, and it expresses my own opinions. I am not receiving compensation for it (other than from Seeking Alpha). I have no business relationship with any company whose stock is mentioned in this article.