Sector Stock Performance
December was a tough month for all stock investors, including those in the utility space. The Utility Select Sector SPDR ETF (XLU) was down almost 4%, but that loss still had the sector as the best performer for the month. The XLU finished 2018 as the number two sector of the year behind Health Care.
Exhibit 1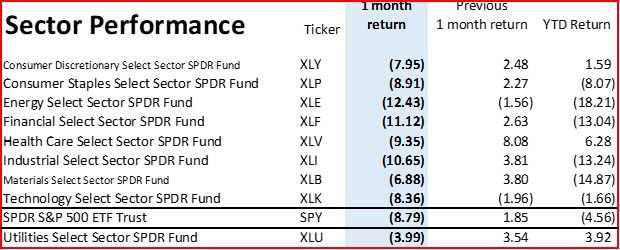 Source: FactSet and Garnet Research
A couple of factors helped to reduce the XLU's decline during the month. The utility group's bond substitute status benefited from a 33bp drop in the ten-year Treasury yield. Investors also seemed to be getting defensive as the stock market was performing badly, with the assets under management (AUM) of the XLU increasing by over $500M. This was the highest AUM level for the XLU in 2018, and the highest level for that fund in over two years.
Exhibit 2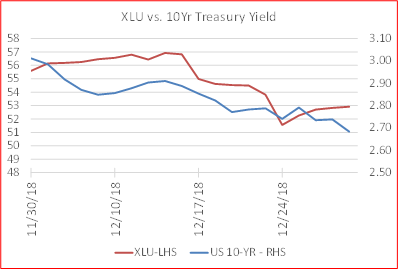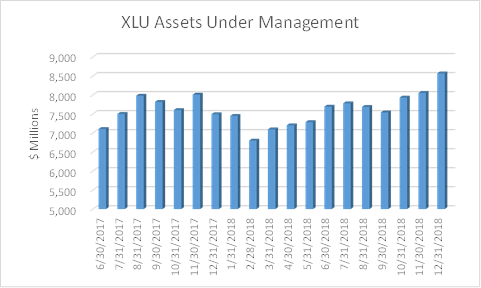 Source: FactSet and Garnet Research
Only four XLU components were up in December, with NRG Energy's (NRG) 3% gain leading the way. It has been about 18 months since NRG announced their portfolio optimization plan (see more here), and investors seem to be happy with the progress as they continue to bid up the stock price.
Exhibit 3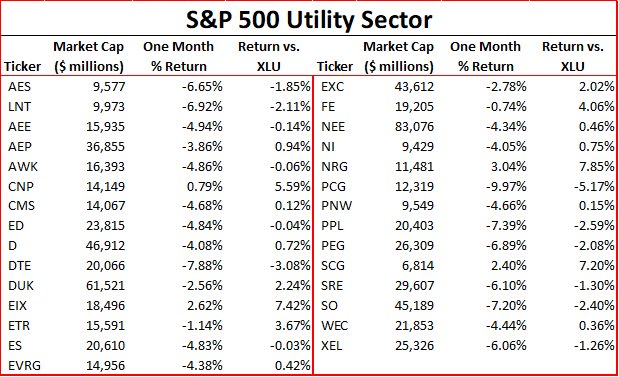 Source: FactSet and Garnet Research
Edison International (EIX) was the number two performing utility in December, and it benefited from a 3¢/share dividend increase. EIX has been suffering from wildfire issues for a long time now, though they haven't been suffering as much as Pacific Gas & Electric (PCG), and this dividend increase seems to be a good signal related to those challenges. PCG suspended its dividend over a year ago because of concerns about the wildfires, but EIX's dividend increase should mean the company has enough confidence in their wildfire exposure that their dividend is safe. Additionally, on December 6, EIX publicly released a letter they sent to the California Public Utilities Commission (CPUC) relating to the Woolsey Fire (see press release here). EIX stated that no energized lines were on the ground near where the fire started. They are still investigating other ways their equipment could have contributed to the start of the fire, but this was at least some positive news on the issue.
The third best performing component was SCANA (SCG), up 2.4%. SCANA has been plagued by over a year of drama related to halting construction of their new nuclear power plant after investing billions of dollars. The public was not happy about having to pay for a plant that doesn't work, which created quite a political firestorm. Dominion came in with an offer to rescue SCG from some of these costs, and approval for the merger was finally granted in December, resulting in an up move at SCG for the month.
On the downside, PCG once again was the XLU leader with an almost 10% drop. The overhang of the wildfires from the last two years continued to plague the stock, but December brought more bad news. On the 14th the CPUC announced an investigation into PCG's gas business to see if they have been falsifying records and violating safety standards. (See article here.) A week later the CPUC discussed its investigation of PCG's culture, and whether the company should bring in new leadership, if it should divide itself into smaller companies, or if it should become a publicly owned utility. These negative stories continued to pound on the stock and led to its terrible performance.
Exhibit 4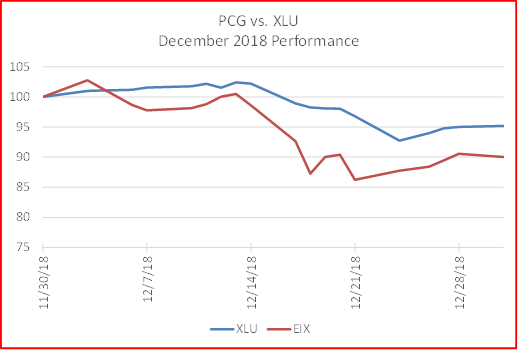 Source: FactSet and Garnet Research
As discussed in last month's utility review (see here) all of these negative headlines impacted PCG's bonds once again. Of the most actively traded utility bonds in December, seventeen of them were issued by PCG.
Exhibit 5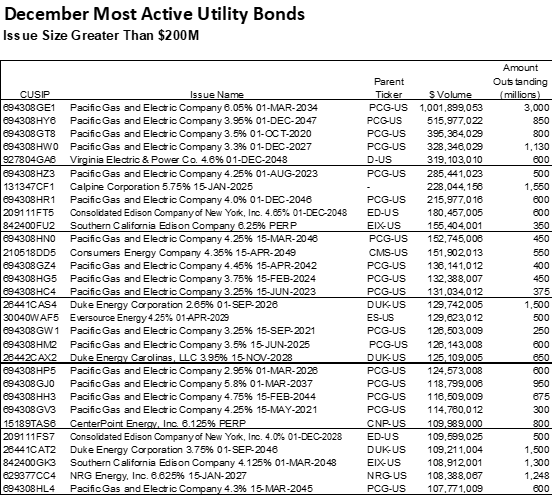 Source: FactSet and Garnet Research Utility Stats Monthly
PCG's bond prices trended slightly downward during December, and then this week S&P downgraded PCG's debt to junk level which sent the bonds back to the November lows. Exhibit 6 shows how a sample of those bonds has performed over the last two years.
Exhibit 6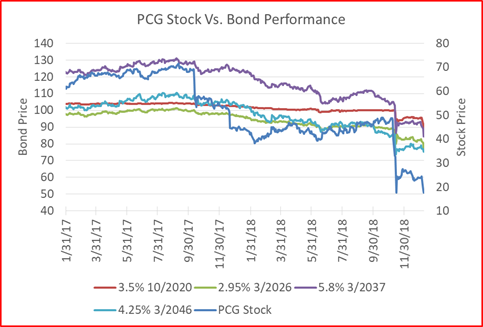 Source: FactSet and Garnet Research
Moody's downgraded PCG's credit ratings back in September and November, but they still kept the company at investment grade. (See here and here.) They still have PCG on review for a downgrade, so it is possible investment grade status won't last. In the near term, a Moody's downgrade shouldn't have much of an impact on operations. The company is still conserving cash by not paying a dividend, and Moody's estimated PG&E held about $3.5B in cash last November. Exhibit 7 shows PCG's bond maturity schedule, and there really aren't any huge refinancings in the next few years. Wall Street analysts currently estimate over $4.2B of cash from operations in 2019, so lots of money is still coming in the door to keep the lights on. The biggest near-term risk for the company is that a Moody's downgrade would trigger collateral calls from some contracted counterparties. A recent regulatory filing estimated this risk at about $800 million, still well below the company's current cash balance.
Exhibit 7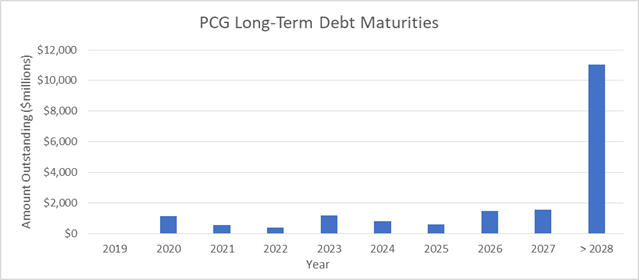 Source: FactSet and Garnet Research
A Moody's downgrade to junk would definitely have substantial near term implications to PCG investors. There is about $18B of Pacific Gas and Electric debt out there right now. The US high yield debt market is about $1.2T, so PG&E would increase the size by about 1.5%. Not an impossible amount to absorb, but it would likely put some downward pressure on junk bond prices. The real disruption would likely take place for any current bondholders who are only allowed to own investment grade credits and would be forced to sell with a PCG downgrade. This could lead to a big drop in PCG bond prices. After forced sales are over, there would probably be some bounce back in the PCG bond prices, but it would likely be lower than today's levels.
Exhibit 8 shows the price and yield of PCG's twenty-eight senior unsecured bonds.
Exhibit 8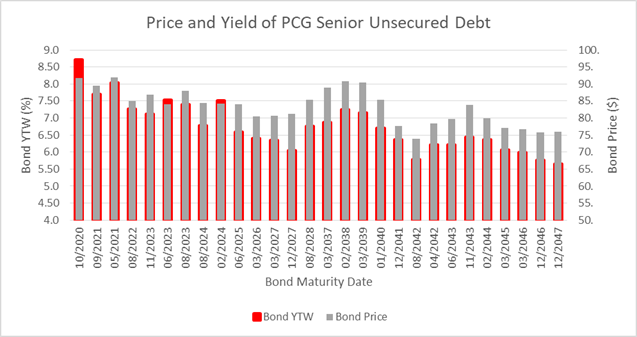 Source: FactSet and Garnet Research
In theory, all $14.5B of these bonds would be treated equally in a bankruptcy so you could spend approximately $90 on a 2020 maturity or about $75 on a 2046 maturity and have an equal claim. If bankruptcy were the only factor at play you would expect all the bonds to be similarly priced, but the higher yield of the near term maturities is likely bringing up their prices.
In the future, there will be some electric utility serving northern California, so these wildfire issues have to be resolved. The president of the CPUC has also made supportive comments for the health of state utilities, so there is reason to believe PG&E can survive. The big question is how investors come out at the end of this process. Before the wildfire issue PCG was almost a $70 stock, and some of that value is going to be lost no matter how these issues get resolved, but scenarios where the stock gets back to over $40 are very easy to imagine. Additionally, the wildfires have shown that more spending for system improvement is needed, so there could be reason to hope for faster growth at the company, which would counter the drain from wildfire costs. However, a counter to this counter could be that the wildfire solution entails the need for more regular share issuances, leading to overhang from dilution that could hold down the share price. Then there is also the extreme scenario where bankruptcy is declared and shareholders get wiped out. Of course, PCG declared bankruptcy after the California Electricity crises in the beginning of this century, and stockholders weren't wiped out then. So, you can see that there is a very wide range of possible outcomes for PCG's stock.
For the bonds, the range of potential outcomes is narrower. If bankruptcy was declared the bonds could potentially take a haircut but that would mean wiping out the approximately $10B of current equity value, the $1.4B of wildfire insurance coverage, and the $3B+ of cash the company has on hand. Additionally, bankruptcy means that the solutions California devises to keep a utility running in northern California are not enough to meet PCG's normal obligations. This is not impossible, but it seems unlikely. So in a few years after these issues are resolved the bonds would likely start trading much closer to par. That means, if you take PCG's March 2046 bond for example, that you could get a 30%+ return after a few years if the bond returned to par, on top of the 4.25% coupon payments. You can see back in Exhibit 6 that this bond traded near $110 less than two years ago. This really is an equity-level-type of return at dramatically less long-term risk than you can get investing in PCG shares right now. So if you want to invest in Pacific Gas & Electric today, the bonds look much superior to the stock. There is a near term risk that a Moody's downgrade would knock down the price of the bonds, but that should only be a short term issue, and it would be a particularly good buying opportunity as certain investors are forced to liquidate their positions.
Wholesale Power Markets
Exhibit 9

Source: SNL and Garnet Research
Power markets were quite disappointing in December, with prices lower across the board compared to November, and most markets showing significantly lower prices than December of last year. The weather didn't cooperate, with heating degree days for December below normal and below 2017 levels.
Exhibit 10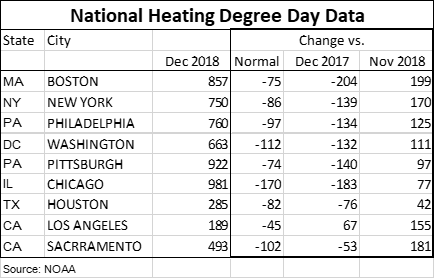 Electricity consumption in December was significantly below 2017 levels, which makes sense because of the milder weather.
Exhibit 11

Source: SNL and Garnet Research
A closer look at Boston shows why November 2018 and December 2017 electricity prices were higher than December 2018 prices. It really comes down to natural gas prices being lower this December than the other two months.
Exhibit 12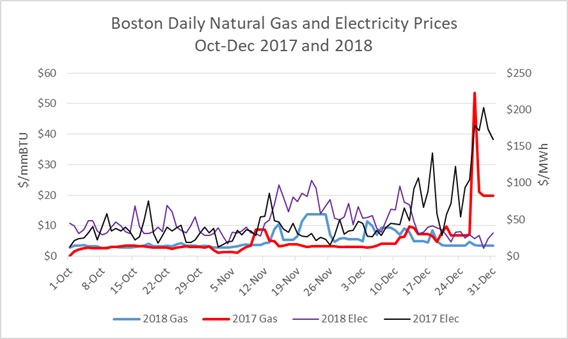 Source: SNL and Garnet Research
Natural gas tends to be the marginal fuel that sets electricity prices, and gas prices took a big jump in the middle of November. You can see in the chart that when gas prices are high the electricity prices also tend to be high. The average daily gas price in Boston in November came in at $6.52/mmBTU, but in December the average daily price fell to $5.82/mmBTU. Also, there were seven days in November where the average gas price was over $10/mmBTU, while there was only one of these days in December.
For the December year-over-year comparison you can see that the last 2/3 of December 2017 had elevated gas prices, including the record extremes at the end of the month. This led to an average daily gas price of $9.17/mmBTU in December 2017 vs. the $5.82/mmBTU level in 2018. These 2017 high gas prices along with high demand for electricity created a benchmark that was impossible to meet this year.
Natural Gas Markets
The national natural gas markets moved similarly to the markets in the Boston area discussed above. The early cold weather we received in November moderated throughout December, and as a result prices declined significantly.
Exhibit 13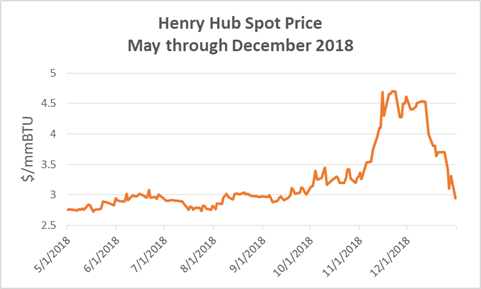 Source: SNL and Garnet Research
The mild December weather meant less drawdown of natural gas in storage, giving the market more confidence that we will make it through the winter without exhausting our supplies. We entered December with gas in storage about 700BCF below last year's level, and we left December with just a 450BCF deficit. While extended cold weather could still cause problems for our nation's natural gas system, the odds of this happening were dramatically reduced with the shrinking deficit.
Exhibit 14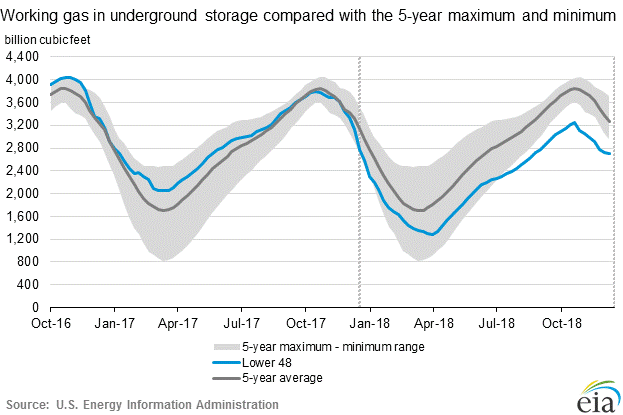 Lastly, the near term end of the natural gas futures curve moved as dramatically as the spot price in December. But it is interesting to note that further out on the curve prices barely budged. The futures market seems to be saying that the US natural gas supply situation is pretty stable for the long run. The market also seems to be taking a somewhat bearish very on natural gas for the next few years, especially compared to the outlook a year ago.
Exhibit 15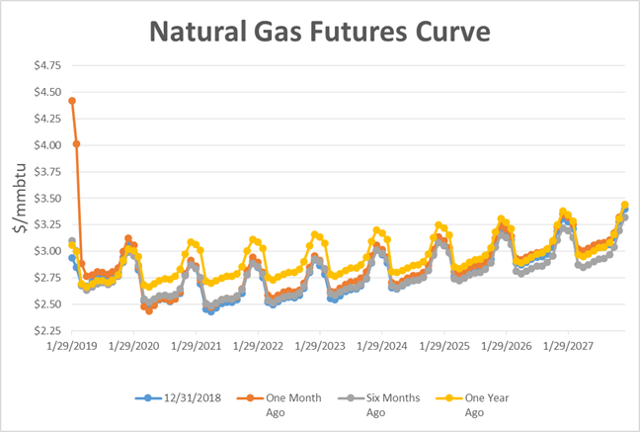 Source: FactSet and Garnet Research
Disclosure: I am/we are long PCG, NRG. I wrote this article myself, and it expresses my own opinions. I am not receiving compensation for it (other than from Seeking Alpha). I have no business relationship with any company whose stock is mentioned in this article.