Hennessy Advisors (HNNA) is a micro-cap investment management company that services a family of fourteen open-ended mutual funds. And, in today's market, that isn't so great of a thing to be. As the year wrapped up a particularly tumultuous period, we are witnessing a down market with opinions on all sides about where it's going to go from here. If it goes down, so do the earnings power of a company like Hennessy Advisors. And add to this the continued flow of money from active investing styles to passive investing and you'll understand a bit of why Hennessy Advisors has experienced nearly a 40% drop in price last year.
This company appeared on my screener of market cap less than 300m, P/E less than 5, and P/FCF less than 5. And as I started reading through filings and trying to understand the drop in price, the more I saw a value opportunity. It's hard to look at a company that is trading at such low multiples and has more than doubled its net income in the past five years without seeing some sort of value unless you expect earnings to drop precipitously. And that's a possibility.
In this article, I'm going to take a look at what a precipitous drop could look like drawing a comparison to this company in circa-2008 and demonstrate that even with that kind of worst-case scenario, there is still value at current prices. Then, I'll look at the efficiency with which this company generates its earnings in comparison to similar companies. Finally, I'll take a stab at multiple ways to value the company while sticking to what I ultimately think is a conservative estimate of fair value somewhere between $16.00 and $17.00 suggesting a margin of safety of at least 50%. But first, some context about the company.
Company Overview
Hennessy Advisors is an investment management company that services a family of fourteen open-ended mutual funds. Investment management companies typically have high-efficiency metrics (ROA, ROE, ROI), low leverage, minimal capex, and flexible free cash flow as a result. These characteristics have propelled Hennessy Advisors from their first year as a public company in 2002 with assets under management (AUM) of $375m to today where they have AUM of $6,198m.
Hennessy Advisors has employed both a strategy of organic growth through marketing to increase inflows to their funds as well as an accretive roll-up strategy purchasing small funds at reasonable prices to ramp growth over the years. They closed two transactions in the past year adding $575m to AUM by rolling the purchased funds into their existing family of funds. This strategy appears to be working well as it has helped the company grow significantly even as outflows have taken a toll. But it does seem to create a situation where outflows are likely increased as well depending on how much of a change is occurring between the purchased and the Hennessy fund.
The company is run by Neil Hennessy as chairman of the board, CEO, and a 28.86% owner of the company. Neil is known for advocating disciplined quantitative strategies which blend elements of value and momentum, and he did this in highly transparent ways by sharing directly the methodology behind these funds which have stayed the same for over a decade. The philosophy that Neil employs allows for the company to keep staff expenses low because they do not often go beyond screeners and minor filings review to invest. There are 23 employees overall and meaningful insider ownership of 40.73% which suggest shareholder alignment.
There is obvious risk involved in active management these days as ETFs have been consuming market share due to their overall costs. While some of the quantitative features of their funds allow for low cost of research, it also means the barriers to entry for a smart-beta type ETF which could replicate the strategy. This is a significant risk which could accelerate outflows meaningfully if the quantitative funds do not demonstrate some sort of meaningful outperformance.
Below is a chart with information about their fourteen funds.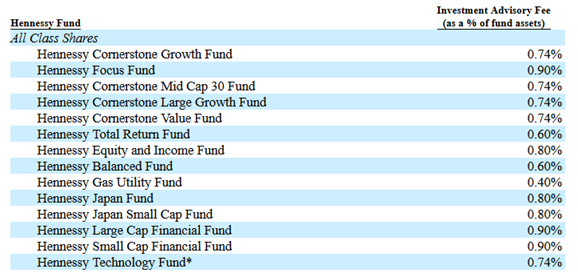 Taken from FY18 10-K
The average investment advisory fee is around 0.74% for the Hennessy family of funds. This is in comparison to an average financial advisor fee of 1.12% on investments of around $100,000, Fidelity's indication that the average equity mutual fund management fee is 1.40%, and the average expense ratio for equity ETFs is 0.23%. You can find a lot of different numbers out there for these data points, so I'm not saying that any of these are definitive, but I wanted to provide some contextual data points for you readers.
The two largest funds from an AUM perspective in 2018 were the Hennessy Focus Fund with $2.64b and the Hennessy Gas Utility Fund with $1.14b. Both funds experienced net outflows in 2018 of $532m and $412m respectively which also were amongst the largest net outflows for any of their funds. This is another concern to keep in mind as net outflows in 2018 were 3.0% per month.
Hennessy Advisors finalized two acquisitions in 2018; one for the Rainier funds adding around $375m in assets and the second for BP Capital assets which added around $200m. These two additions mark the tenth acquisition that Hennessy Advisors has done of other investment funds which have driven growth in their revenue and income over the years. This core strategy of driving growth through acquisition will continue to be integral to the thesis and is part of a broader trend of consolidation within the asset management industry.
The balance sheet for the company is strong with only 21.728m in debt which can be compared to the operating cash flow of 21.531m for the past year and the 25.395m in cash. The price/book is currently around 1.19x despite the liquidity and this flexibility should allow the company to continue to be creative in generating value for shareholders either through further acquisitions or share repurchases.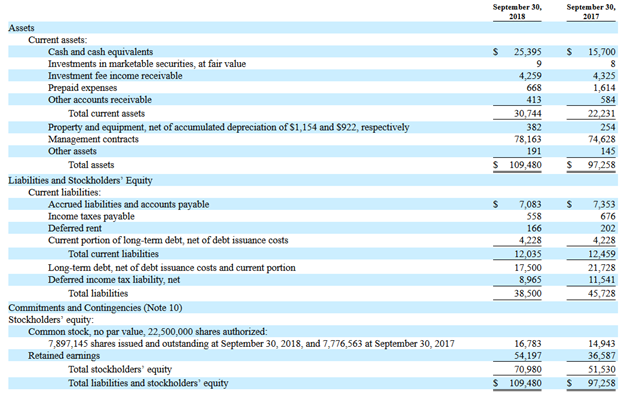 Earnings growth speaks for itself over the past decade.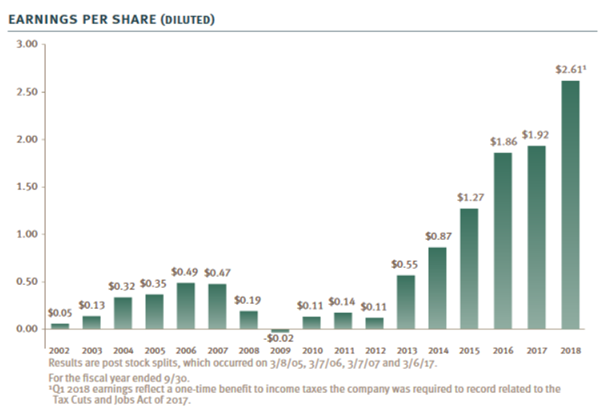 Worst-Case Scenario - Traveling Back to 2008
2008 was not a good year for Hennessy Advisors which may have had something to do with a what I hear was a bad year for the market. AUM dropped 49% during this year, and for a company like Hennessy, this is one of the key metrics to pay attention to. Hennessy Advisors makes its money by charging a fee as a percentage of AUM, so the greater AUM, the greater the income. It's no surprise then that net income declined precipitously as well in 2008 by 61%. The result was a significant collapse of the stock price from a high in the first quarter of $13.00 to a low in the fourth of $3.60, a 72% decline.
I started looking into this because I was curious what a worst-case scenario might look like for Hennessy Advisors. It's totally possible that something worse than the 2008 crisis could hit the markets and these numbers would not be reflective of what havoc reality could wreak upon this stock, but I thought it was a good place to start. Now, if we take this 61% decrease in net income as a metric, we can apply some fancy arithmetic to see what that would look like in relation to HNNA's FY18 numbers.
| | |
| --- | --- |
| Net income percentage drop in 2008 | 61% |
| FY18 adjusted net income* | $16.615m |
| Net income after theoretical drop | $6.48m |
| Current total shares outstanding | 7.917m |
| EPS after theoretical drop | $0.82 |
*Adjusted by excluding a one-time non-cash tax benefit of $4m.
Consider this: Hennessy Advisors currently trades at $10.70 a share, and even after a 61% drop, the company would be trading a P/E multiple of 13. I'm not suggesting that the stock price would remain at $10.00 if net income dropped this much, but I am pointing out that even after an earnings drop like this someone could argue that a company that has grown net income in five years by over 100% is cheap at a P/E multiple of 13 (which a previous SA article did in 2016). I'll refrain from making market predictions that will almost assuredly be wrong, but from a bottom-up-perspective, I'd say that this helps build a case for a margin of safety in the current price barring a precipitous drop which is possible but I believe unlikely.
Another thing to note is that this company is recession proof in that it can continue to generate earnings even in downturns. The business model itself allows for extreme flexibility in dealing with this sort of downward pressure because while AUM decreases, expenses decrease. So there's little risk that the company would outright go bankrupt unless management makes imprudent decisions in the midst of such pressures. While buying into this dive may have seemed crazy during the crash if you bought in around that time, you would have seen annualized returns of 21.91% as compared to SPY's return of 13.22%.
Comparison to Other Investment Management Companies
After establishing at least some sense of a margin of safety with regard to a worst-case scenario above, I wanted to provide some comparison to other investment management companies.
| | | | | | | |
| --- | --- | --- | --- | --- | --- | --- |
| Ticker | Market Cap | ROE | Profit Margin | P/E | P/FCF | EPS past 5 years |
| | 538.20m | 27.40% | 36.50% | 9.42 | 18.82 | 23.30% |
| | 535.06m | - | 30.60% | 4.83 | 3.23 | 0.00% |
| | 636.67m | 35.30% | 6.50% | 4.51 | 8.08 | 24.20% |
| | 589.79m | 14.00% | 13.00% | 8.21 | - | 4.40% |
| | 1.40b | 18.20% | 13.70% | 7.70 | 6.20 | -7.90% |
| | 323.03m | 15.20% | 18.60% | 11.44 | - | 11.00% |
| | | | | | | |
| Average | | 22.02% | 19.82% | 7.69 | 9.08 | 9.17% |
| | 81.11m | 31.40% | 37.80% | 3.42 | 4.46 | 41.30% |
All data pulled from Finviz on January 9, 2019
Despite Hennessy Advisors having an above-average ROE and profit margin while significantly outperforming in EPS growth over the past five years, it still trades at multiples significantly below the peer average. If we were to see a reversion to the mean on either the P/E or P/FCF, then Hennessy Advisors would see a 124% and 104% return respectively. While those are intriguing metrics, I think it is prudent to investigate further why there would be such a disparity between Hennessy Advisors and its peers.
One thing of note could be the small micro cap in comparison to each other company in the chart. Perhaps, it is simply under-followed and is not included in many institutional investors purview because of its micro-cap status. I'm sure this at least has some marginal impact. But if we look at another metric, it might indicate another reason why it's trading at a discount.
| | | | |
| --- | --- | --- | --- |
| Ticker | Most recent AUM | A year ago AUM | Percentage change |
| DHIL | 22.629 | 21.455 | 5.47% |
| GBL | 40.6 | 43.1 | -5.80% |
| PZN | 38.9 | 35.4 | 9.89% |
| VRTS | 103.9 | 87 | 19.43% |
| WDR | 79.5 | 80.9 | -1.73% |
| WHG | 20.8 | 23.6 | -11.86% |
| Average | | | 2.56% |
| HNNA | 6.198 | 6.613 | -6.28% |
Hennessy Advisors AUM has been meaningfully decreasing at a rate greater than the peer group. Part of this is likely because of the roll-up strategy in investors that are getting rolled into Hennessy funds may not find them amenable and are leaving. Additionally, it is possible that the funds that Hennessy is acquiring may already be experiencing significant redemptions which is part of why they are looking to get out of the business. So, while Hennessy Advisors is using this roll-up strategy in an earnings accretive way, it does come with risks which must be managed in a prudent way to ensure continued growth.
Keeping a close eye to redemptions and the changes in AUM will be an important element to this investment. Whether or not Hennessy Advisors is able to continue making acquisitions at prices which are accretive will likely be an important indicator to their evolving strategy. If the market becomes challenging for them to find acquisitions, then they will need to deploy their capital in other ways either seeking to better market their products (which will be inherently dependent on performance of the funds), buying back stock, exploring extensions to their core business, or other creative uses. The flip side of this is that given the fragmentation of the industry, it seems that there may continue to be opportunities, including an option that Hennessy Advisors themselves could be acquired by a larger player.
Valuation of Hennessy Advisors
What you may notice from some of the above statistics is that even though Hennessy Advisors experienced a decrease in AUM for the year overall, earnings increased by 11.4% after we back out the one-time non-cash tax benefit. And as stated above Hennessy Advisors has seen annual EPS growth over the past five years of 41.30% which was achieved not only through the accretive acquisitions but also a very shareholder friendly tender offer for 17% of outstanding shares in 2015. While I believe that part of what one would be investing in with Hennessy Advisors is management's continued ability to creatively drive growth, from a conservative viewpoint let's assume zero growth in earnings over the next year. Adjusted EPS (again adjusted for the one-time non-cash tax benefit) in 2018 was $2.10 so we can use that as a baseline EPS estimate for 2019.
Next, the question is what is the appropriate multiple to apply. Above we've seen that an average peer P/E multiple is 7.69 which would translate to a valuation of $16.15 with a 51% margin of safety from current levels. I'd say this is doubly conservative given that the multiple for the group overall is depressed as a result of fear around the move from active management to passive management overall. You can read a bit further about why I believe this is an overblown fear even as I believe we will continue to see meaningful pressure in this space. Over time it seems probable to me that a new balance will settle between passive and active management which could allow a re-rating somewhere around 15 P/E for the group. But that kind of speculation is not why I'd suggest investing. I'd suggest investing given the margin of safety implied above even to current valuations because who knows what earnings pressure will happen between now and that hypothetical re-rating.
Another multiple we could consider is borrowed from an analyst report on peer Waddell & Reed Financial (NYSE:WDR). Waddell & Reed is not a perfect analog as they have more complexity in how they generate income but they have more similarities than differences in terms of declining AUM and management of open-ended mutual funds as a core part of their business. Credit Suisse has a report on Waddell & Reed from October 2018 which utilizes an 8x multiple for their base case. Applied to our 2019 EPS estimate for Hennessy Advisors we would get a valuation of $16.80 with a 57% margin of safety.
We can also value the company from an acquisition standpoint using a rule of thumb described in this paper from Mercer Capital where they highlight a simple valuation technique of 2% of AUM. If we apply this simplistic formulation to the ending AUM of 6.198b in 2018 with 7.917m share outstanding we get a valuation of $15.66 with a 46% margin of safety.
Conclusion
Hennessy Advisors is an undervalued company which has found creative ways to generate meaningful growth over the past ten years in a challenged environment. Given conservative estimates, I believe there is a nearly 50% margin of safety at current levels without giving management any credit for continued creativity. While there are meaningful risks in terms of increased outflows, underperformance of their funds, and a general market downturn I think it is reasonable that this recession resistant company would continue to generate meaningful income even in a worst-case scenario like 2008. Given the consolidation in the industry overall, it is also possible that Hennessy Advisors could be a takeout target as increased competition and regulatory costs are driving consolidation particularly for smaller to mid-sized funds. Scale is important in this industry and highly accretive in most cases.
Risks
Underperformance of Hennessy funds compared to benchmarks.
General market downturn which would decrease AUM.
Redemptions driven by either of the factors above or any other factor causing a decrease in AUM.
Hennessy Advisors is unable to find further acquisition targets limiting their ability to allocate capital in the most accretive ways.
Smart-beta ETF and general indexing strategies cause severe redemptions requiring a decrease in investment advisory fee.
Disclosure: I am/we are long HNNA. I wrote this article myself, and it expresses my own opinions. I am not receiving compensation for it (other than from Seeking Alpha). I have no business relationship with any company whose stock is mentioned in this article.