Many investors use the acronym SWAN ("sleep well at night") to describe an investment/company they believe to be a safe investment that can weather the storm of market corrections. Personally, I define a SWAN as a company that has a competitive advantage, scale, and/or has strong underlying fundamentals and financial metrics. The goal of SWAN investing is to select companies whose underlying fundamentals can withstand a market correction/change in the economy and will not keep you up at night worrying. In this article, I will be focusing on finding what I believe to be the safest REIT for each of the following REIT segments:
Cell Towers
Storage
Data Centers
Office
Multi-Family
Medical
Hotel/Casino
Retail
Industrial
Timber
In the table below, I have summarized my selections for the top SWAN REIT for each segment, along with additional information that is useful for investors. By choosing a REIT from each segment, this will help mitigate risk compared to if someone picked multiple REITs in the same segment. To arrive at my SWAN selection for each segment, I judged companies on dividend history/safety/growth, cash flows, payout metrics, revenues, etc. I will provide commentary and an overview of each of my SWAN REIT selections. My selections are listed not in any special order, they are simply listed alphabetically.

Swan #1: American Tower (AMT)
American Tower is the largest provider of cell towers in the United States with nearly 41,000 properties and has more than 129,000 properties internationally. As I noted above, one of the possible factors that goes into my selection process for a REIT being a SWAN is scale and that is something that American Tower has.
American Tower will continue to benefit from the expansion of mobile device use in the United States and globally. The chart below shows over the next five years the amount of mobile data traffic is expected to see massive gains because of the increase in mobile devices, usage, and the implementation of 5G technology. With the massive increase in data traffic, there is a serious need for cell towers that carriers can place their equipment to handle the increasing amount of traffic.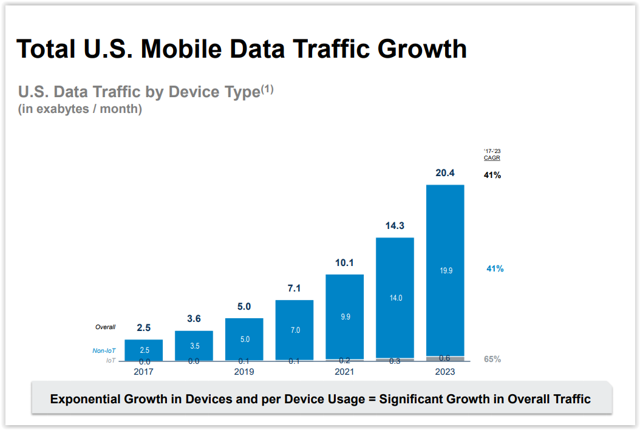 American Tower investor presentation.
American Tower has consistently increased its dividend ever since becoming a REIT in 2012 and has been one of the most prolific dividend payers over that time. Out of my group of SWAN REITs in my article, American Tower has the lowest yield at 2.12%; however, it has the second lowest Dividend/CFFO payout ratio, and it increases the dividend at the most frequent pace out of this whole group of stocks I am covering.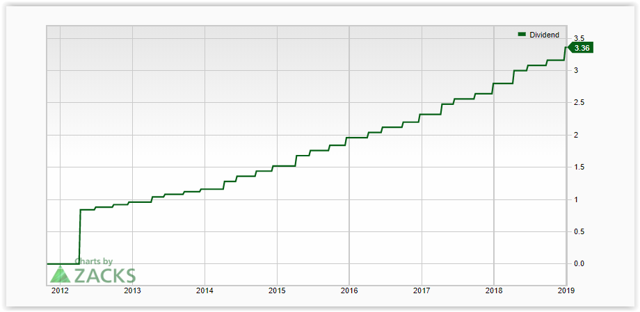 Zacks.
Swan #2: CubeSmart (CUBE)
CubeSmart is focused on the ownership, operation, acquisition and development of self-storage facilities in the United States and has 1,072 properties. CubeSmart is one of the largest storage providers in the United States along with Public Storage (PSA) and Extra Space (EXR).
CubeSmart is focused on locations that are in high-density areas and are usually in areas where there is limited space available for storage facilities. The chart below shows a comparison of storage companies with two measures for exposure to large metropolitan areas and population density. In comparison to other storage companies, CubeSmart has the highest exposure to large metropolitan markets, and it has the largest surrounding population density near its facilities. An example of its focus on a premium location strategy can be seen from a note from a recent investor presentation. CubeSmart noted about zoning changes in New York City that had the effect of significantly reducing land available for self-storage development. CubeSmart is the market leader in New York City with 34 locations, and if there is a limit to the supply of storage facilities, it will likely be able to charge a premium price for its rental rates.

CubeSmart investor presentation.
CubeSmart has consistently increased its dividend since the Great Recession. During the Great Recession, CubeSmart cut its dividend, which is not ideal. At that time, the company did not have the scale that it does now. During 2010-2017, CubeSmart acquired 213 properties, which has helped it increase its scale and cash flows. There is no shortage of storage facilities to acquire because the market is highly fragmented. Going forward, I expect that CubeSmart will continue to be able to increase the dividend, and should another recession were to occur, I believe it has the scale now to be able to at worst keep its dividend flat.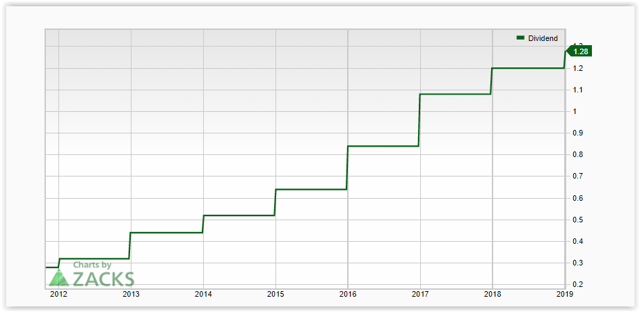 Zacks.
Swan #3: Douglas Emmett (DEI)
Douglas Emmett owns 18.4 million square feet of Class A office space and 3,563 apartment units focusing on Los Angeles and Honolulu. According to the Douglas Emmett investor relations company overview, it owns approximately 27% of the class A office space in the Los Angeles sub-markets and own and operate about 34% of the central business district class A office space.
The following chart shows the breakdown of where Douglas Emmett properties are located around Los Angeles and Honolulu. Since Douglas Emmett has a large market share that is something that is highly desirable given the high barriers to entry, especially in the Los Angeles sub-markets. The second chart shows that there has been a shortage of new supply for office buildings in Los Angeles in comparison to other major metro areas. Average Class A asking rents per year in the L.A. sub-markets are at their highest levels because of the demand for office space and the supply limitations. In addition, also noted in the investor presentation is the fact that the majority of leases have 3-5% contractual annual rent increases, which helps make cash flows more predictable.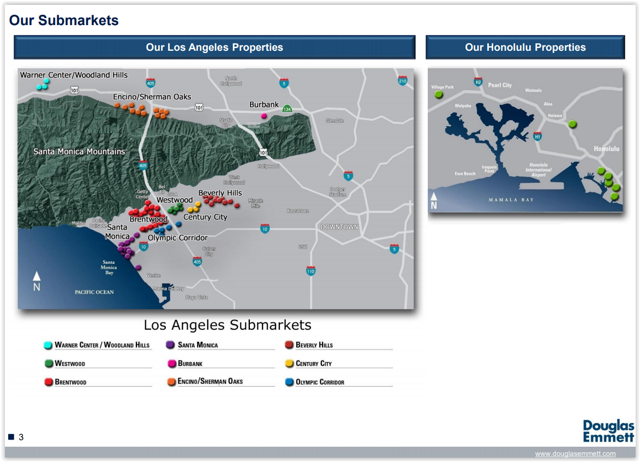 Douglas Emmett investor overview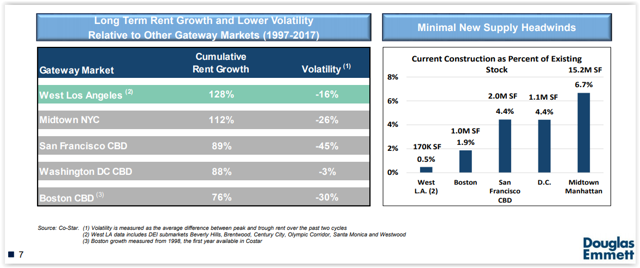 Douglas Emmett investor overview
Douglas Emmett has consistently increased its dividend at a slow and steady pace. Currently the yield is just over 3%, which is not the best, but Douglas Emmett takes a more conservative approach to its dividend policy, which is shown by its low Dividend to CFFO payout ratio.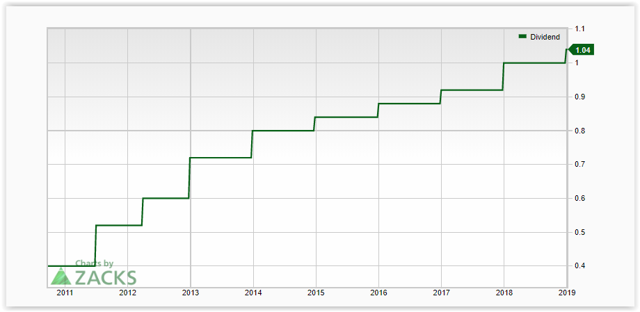 Zacks.
Swan #4: Equinix (EQIX)
Equinix is a leading provider of colocation services and cloud facilities focusing on major metropolitan areas. Equinix has 200 data centers in spread across 24 countries, which shows the massive scale it has.
When looking through the third-quarter earnings report, I found an amazing statistic that shows why Equinix is a SWAN REIT. The amazing statistic listed is it has had 63 quarters in a row of revenue growth. It is widely known that there is continued growth in everything being on the cloud and the increased need for data centers. The following quote from the Equinix Q3 earnings release shows the company has a number of new project expansion in progress and has a continued pipeline of growth opportunities because of the underlying fundamentals of the segments it serves.
Continuing its investment in organic growth and expansion, Equinix has 30 expansion projects currently underway across 21 markets.
Expansion is only half of the equation for Equinix; the other half of the equation is that once it has a facility built and start bringing in revenues, those revenues have contractual increases each. The second chart below shows the steady revenue increases for Equinix each year and shows it was able to increase revenues during the Great Recession. Even if things get bad, odds are Equinix should still be able to increase revenues, which is a big factor in why Equinix is a SWAN REIT.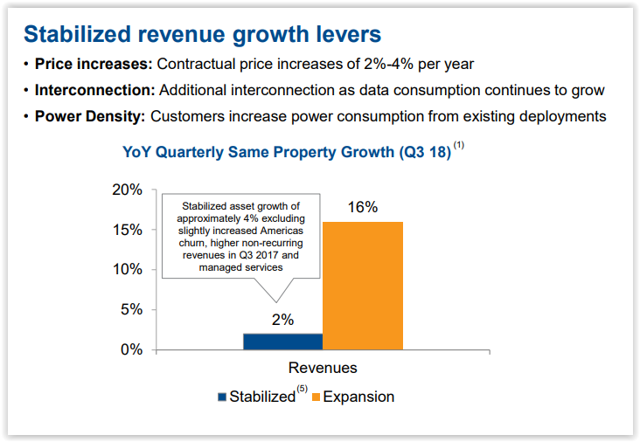 Equinix investor presentation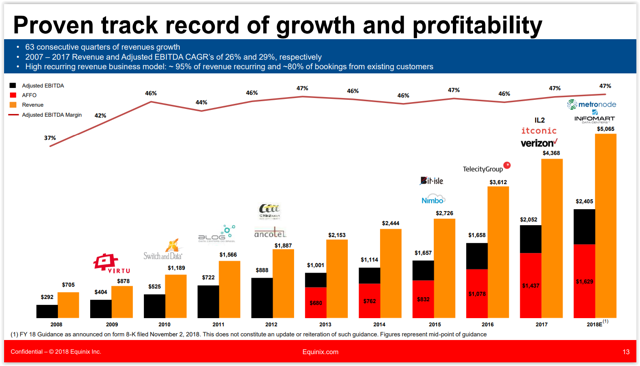 Equinix investor presentation
Equinix has a short dividend history, because prior to 2015, it was not a REIT. Once it converted to a REIT in 2015, the dividend has grown substantially, and given the growth opportunities in the markets it serves and its predictable revenue growth, I expect Equinix to continue increasing the dividend at a solid pace.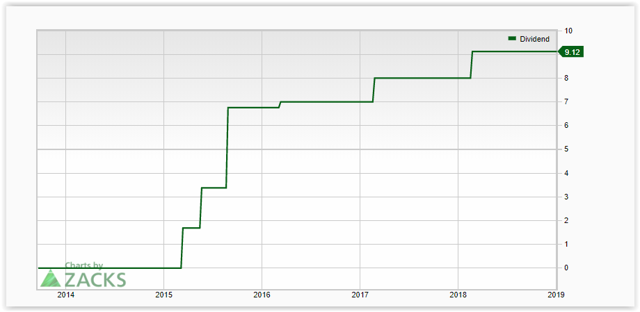 Zacks.
Swan #5: First Industrial Realty (FR)
First Industrial Realty Trust is a owner, operator, and developer of industrial real estate across major markets in the United States. First Industrial manages bulk and regional distribution centers, light industrial, and other industrial facility types totaling 64.7 million square feet of industrial space.
First Industrial is not a widely talked about company, and here on Seeking Alpha there has only been one article on it in the last couple of years. It has a market cap of $3.6 billion, which is the smallest company on my SWAN list. The following chart shows the majority of square footage for Federal Industrial is leased to bulk warehouses, and the company will continue to benefit from increased e-commerce and omni-channel trends. The second chart shows a new logistics/distribution center in California that is right across the street from an Amazon (NASDAQ:AMZN) fulfillment center, and a number of other large corporations.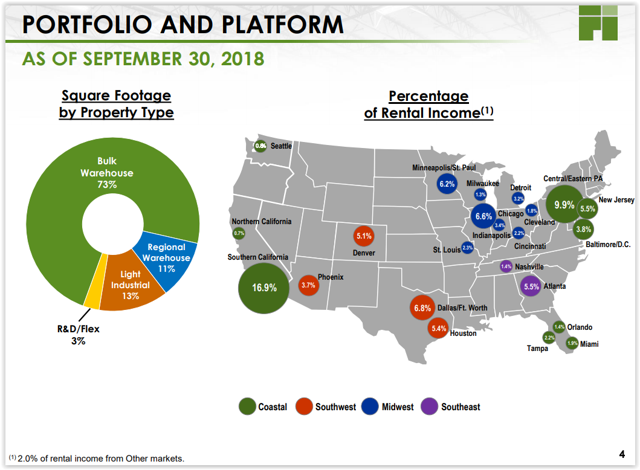 First Industrial investor presentation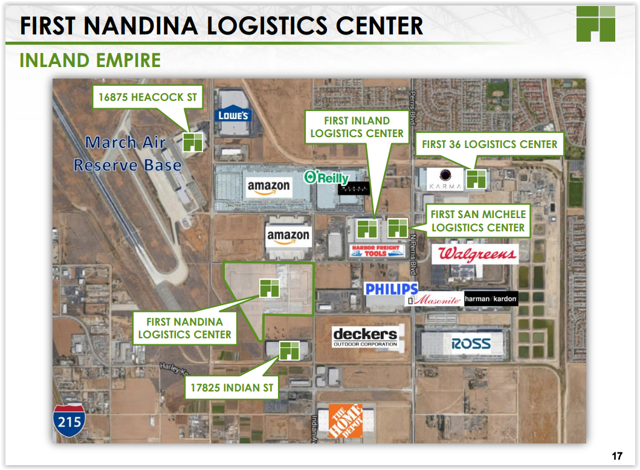 First Industrial investor presentation
As I noted at the beginning of my article, one of the factors I looked at was dividend growth, which is one of the reasons why after looking at all the data, First Industrial was selected over more popular companies like Prologis (PLD) or Seeking Alpha fan-favorite STAG Industrial (STAG). First Industrial cut its dividend completely in 2009 and did not start paying a dividend again until 2013. So you may be thinking how can First Industrial be a SWAN with that kind of dividend history? The answer is because of portfolio transformation and a significant reduction in leverage and an increase in coverage. The transformation can be seen in the following two charts, the first of which shows that First Industrial significantly cut back the number of properties it owned and cut back significantly the amount of R&D/flex facilities to instead focus on bulk warehouses. The second chart shows the reduction in leverage and increase in interest coverage. With these two moves, the dividend for First Industrial is significantly safer than it was back in 2008-2009.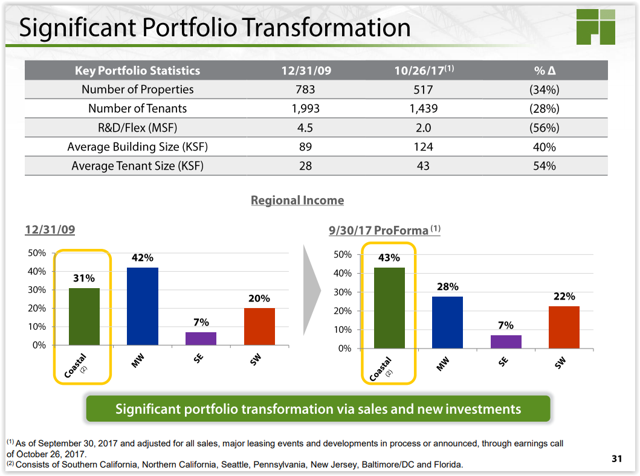 First Industrial investor presentation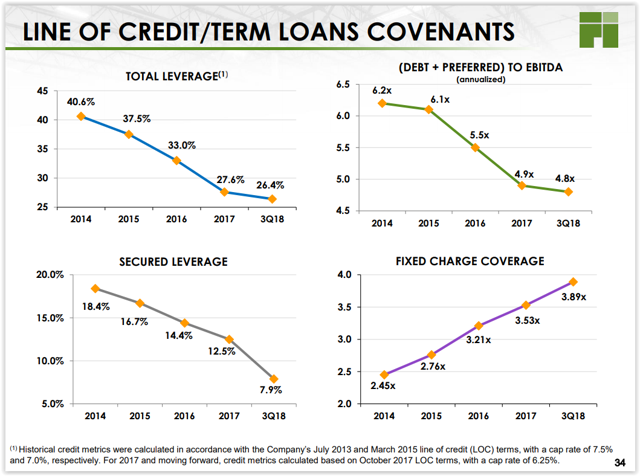 First Industrial investor presentation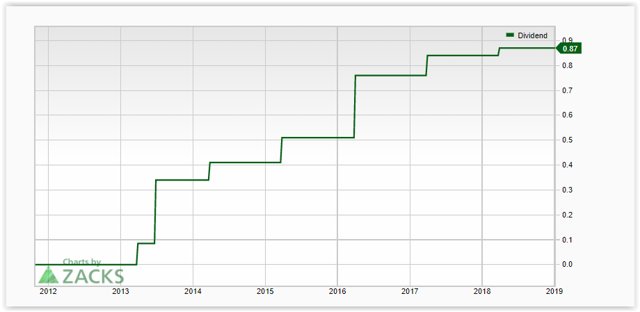 Zacks.
Swan #6: Federal Realty (FRT)
Federal Realty operates in densely populated, affluent communities and mixed-use neighborhoods that combine shopping, dining and living. Federal Realty has 105 properties totaling 24 million square feet, and has over 2,600 residential units.
Federal Realty focuses on high-end markets that are strategically selected metropolitan markets in the Northeast, Mid-Atlantic, California and Florida with high population densities around the locations and high household incomes. The second chart below shows that Federal Realty is head and shoulders above other retail companies in focusing on areas of high income, high population areas. Federal Realty beats out Seeking Alpha fan favorite Kimco (KIM) on both metrics by a wide margin. Finally, the third chart is probably the best chart (besides the long-term dividend chart) showing why Federal Realty is a SWAN REIT. It shows Federal Realty has consistently grown rents year/year, even during the financial crisis.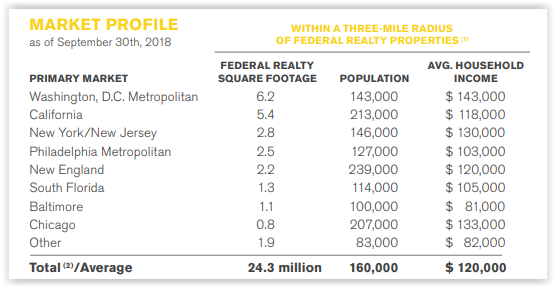 Federal Realty investor presentation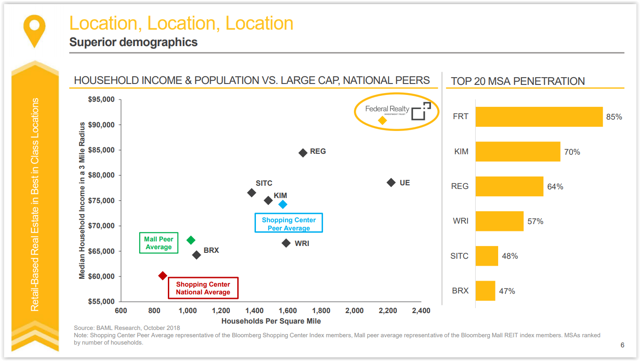 Federal Realty investor day presentation

Federal Realty investor day presentation
Federal Realty has increased its dividend for 50+ consecutive years, which is very impressive considering all the market cycles that have occurred during that time. Federal Realty is the only REIT that is classified as a dividend king, which is an exclusive list of companies that have increased their dividend for 50+ consecutive years. Even if you looked at nothing else but the dividend, any SWAN list for REITs should include Federal Realty.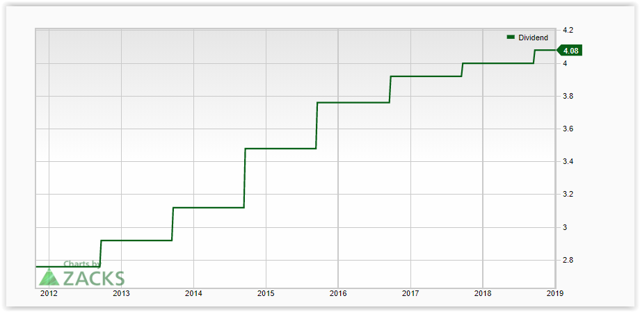 Zacks.
Swan #7: Mid-America Apartment Communities (MAA)
Mid-America Apartment Communities owns 101,441 apartment homes, including those in communities under development, across 17 states and the District of Columbia. What makes Mid-America unique compared to other multi-family REITs is it has no exposure to California.
Mid-America focuses on western and southern states and does not focus on coastal markets like California, Washington, New York and Boston. Mid-America makes a point on the slide I provided to show it has no exposure to California. In addition, it points out its focus on states with favorable taxes and a business friendly environment. The coastal states are democratic strongholds that tend to have higher tax rates, more regulations, etc., and thus make them less appealing for Mid-America.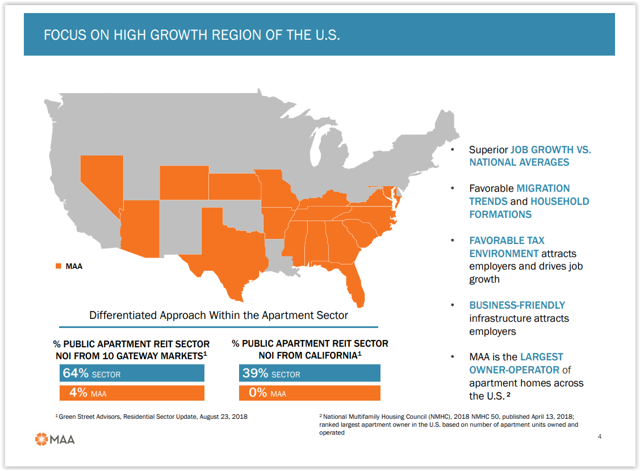 Mid-America investor presentation
Mid-America has been a steady dividend payer and has a proven track record of being able to maintain its dividend even during the housing crisis. The company was one of the few housing related companies that did not cut its dividend during the housing crisis, which makes it appealing should a strong recession occur.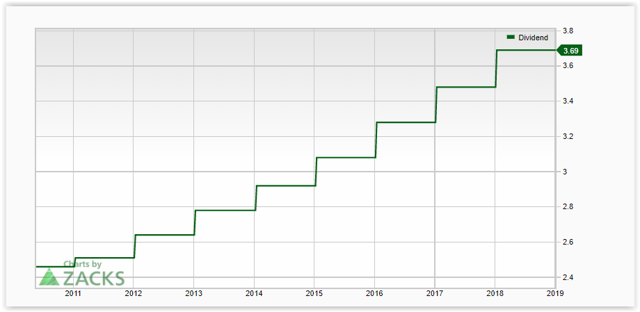 Zacks.
Swan #8: MGM Growth Properties (MGP)
MGM Growth Properties owns and leases large-scale destination entertainment and leisure resorts, which focus on casinos, hotels, convention, dining, entertainment and retail offerings. MGM Growth Properties owns 12 resorts in Las Vegas and elsewhere across the United States that have 27,541 hotel rooms, 2.7 million convention square footage, over 100 retail outlets, over 200 food and beverage outlets and over 20 entertainment venues.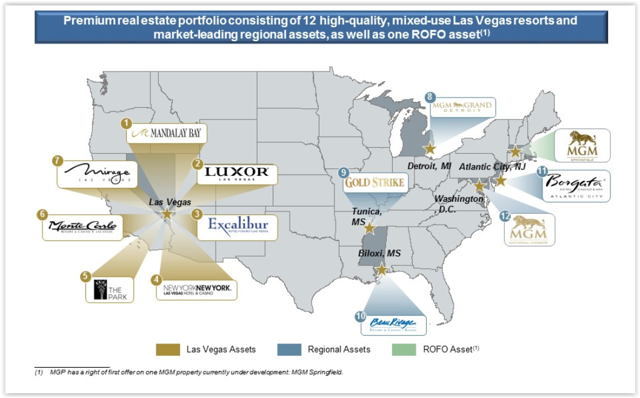 MGM Growth Properties portfolio overview
MGM Growth Properties is attractive because it owns the valuable real estate that sits underneath popular casinos and there is the potential to purchase additional real estate. Going forward, there is the potential to purchase the real estate that is underneath the Bellagio, MGM Grand and Circus Circus. Another boost to growth will come in 2019 at the start of the second quarter in the form of a 2% escalator on the fixed portion of the rent for the MGM master lease.
MGM Growth Properties investor presentation
MGM Growth Properties has only been paying a dividend since 2016, which is not a long time, but it already has shown superior dividend growth to many of the other hotel/lodging REITs. Out of my group of REIT SWAN picks, MGM Growth Properties has the largest yield at 6.57%. Given the rents of casinos are highly predictable and they have escalators, I expect that MGM Growth properties will continue increasing the dividend at a faster pace than other hotel/lodging REITs.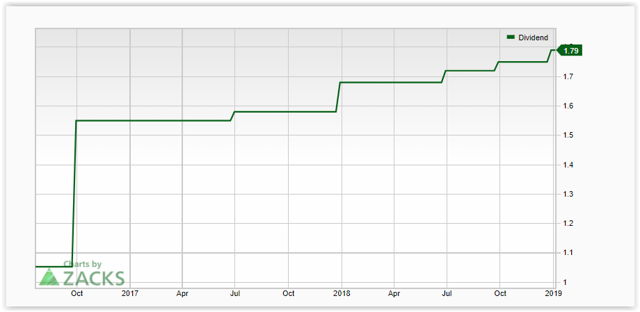 Zacks.
Swan #9: Medical Properties Trust (MPW)
Medical Properties Trust owns general acute care hospitals, long-term acute care hospitals and inpatient rehabilitation hospitals. There will always be a need for hospitals and rehabilitation facilities, and that is what MPW has chosen to focus its niche on. Medical Properties Trust not only has locations in the United States, but it has locations in Europe as well.
Medical Properties Trust's focus on growth should continue to pay benefits in 2019, as evidenced by the following statement from the most recent earnings release. The company paid down over $800 million in debt and made asset sales during 2018, which will allow it the flexibility to make new accretive acquisitions in 2019.
We think 2019 has the potential to be a monumental year for the Company with opportunity to deliver market-leading FFO and dividend growth from the very large, diverse and actionable acquisition pipeline that we have assembled.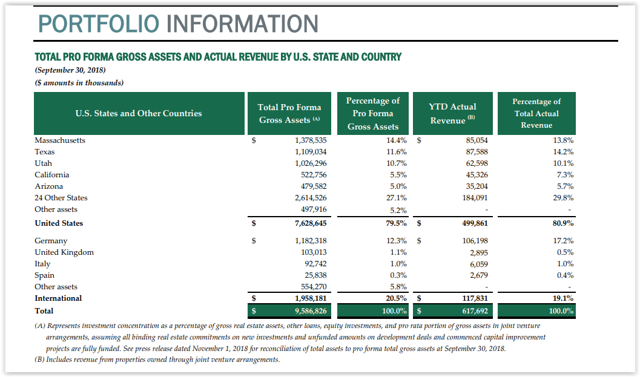 Medical Properties Trust supplemental presentation
Prior to 2013, dividend increases were difficult to come by; however, as the company has grown and increased in scale, dividends have followed suit. Given hospitals are high-quality tenants and are not going out of business anytime soon, this provides Medical Properties Trust with stable cash flows to support continued dividend growth.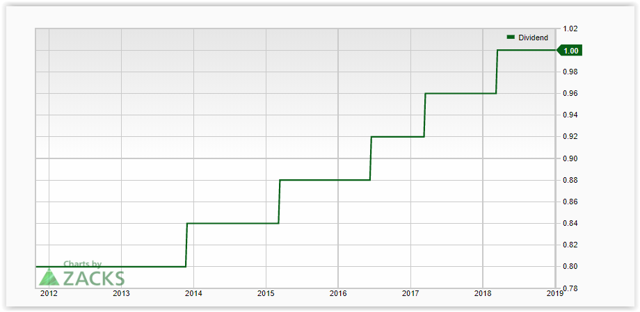 Zacks.
Swan #10: Weyerhaeuser (WY)
Weyerhaeuser is the largest timber REIT, and it is the largest private owner of timberlands in North America with 12.4 million acres. In addition, Weyerhaeuser also owns and operates 35 mills/plants for structural lumber, OSB, plywood, and engineered wood products.
Being the largest owner of private timberlands in North America and having facilities to process/engineer products, Weyerhaeuser is at the forefront of the housing market, which is still strong even though it has slowed down some. Shares of Weyerhaeuser have had a significant correction over the past year due to a significant decline in lumber prices and a little slowdown in the housing market. The slowdown can partially be attributed to a slowdown in housing, exports and too much supply. Weyerhaeuser is combating this by expanding facilities in the south where it has the most acres of timberlands. The company has a number of export facilities in the south, and with additional capacity, exports could become a larger part of its business assuming trade issues are settled.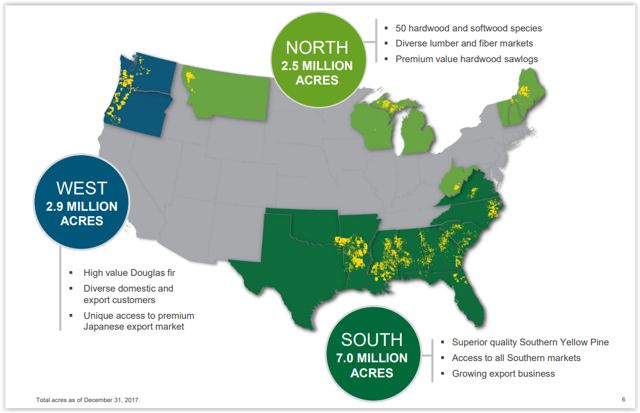 Weyerhaeuser investor presentation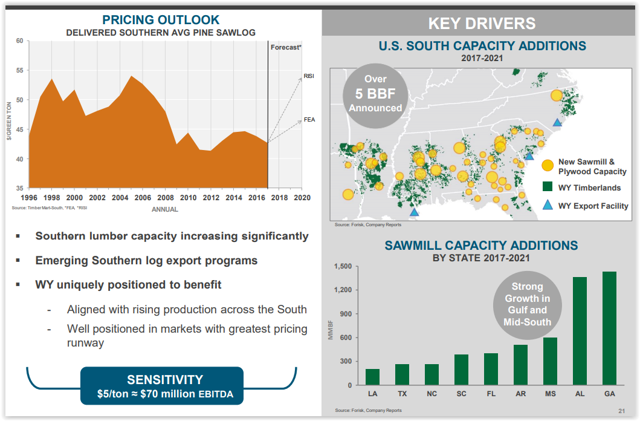 Weyerhaeuser investor presentation
Weyerhaeuser has been paying an increasing dividend since it converted to a REIT in 2010. One of the issues that has likely helped pushed the yield for shares of Weyerhaeuser to these levels is the fact the company provided poor guidance for the fourth quarter after reporting a poor third quarter. The company increased its dividend towards the end of 2018, and hopefully, the fourth quarter will be the low-water mark and things will improve. Weyerhaeuser has a lot of financial flexibility to sustain its dividend and lumber prices have stabilized during the fourth quarter.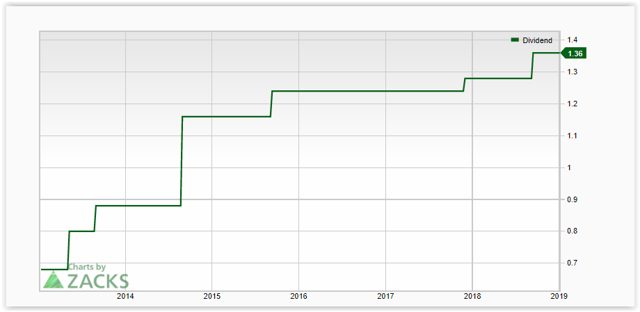 Zacks.
Closing thoughts
In closing, I believe this group of REITs is a strong diversified group whose underlying businesses can withstand an economic downturn if one were to occur. Even if there is no economic downturn, these REITs most likely will continue growing along with the rest of the economy. These REITs all meet my goal of finding companies that have strong underlying fundamentals and/or large scale/high barriers to entry. These companies should not keep you up at night worrying about them.
Disclosure: I am/we are long WY. I wrote this article myself, and it expresses my own opinions. I am not receiving compensation for it (other than from Seeking Alpha). I have no business relationship with any company whose stock is mentioned in this article.
Additional disclosure: I may initiate a position in one or more of the other REITs sometime this year.