Welcome to our Cannabis Earnings series where we break down the latest earnings to help you focus on the most important topics.
Introduction
Aphria (APHA) reported its Q2 fiscal 2019 results this morning. The quarter included the three months ended on November 30, 2018, and was highly anticipated in light of the recent short reports. The stock has been under scrutiny after short sellers launched a series of allegations targeting its LATAM acquisitions and relationships with several companies. Moreover, a little-known U.S. cannabis firm Green Growth has announced an intention to launch a hostile bid for Aphria only to be found that it also had existing connections with Aphria. The all-important quarter was accompanied by a bombshell announcement when the CEO and Co-Founder announced their resignations.

(In C$ unless otherwise noted)
Q2 Fiscal 2019 Review
We had published an earnings preview "Aphria Earnings Preview: What To Expect On January 11" on January 9 in which we said the highest theoretical revenue that Aphria could report is $40 million. We also noted that Aphria's revenue will likely be much lower than $40 million as legalization has not gone as smooth as people had hoped. In fact, this morning Aphria reported its financial results for the quarter described above and revenue came in at $21.7 million which is substantially lower than what we had expected.

Aphria's reported revenue of $21.7 million represents 63% growth from last quarter and 155% growth from 2017. Gross margins declined substantially which is as expected due to much lower selling prices in the recreational market. Sales also included $1.6 million of non-cannabis international sales and we are beginning to see medical sales decline due to potential cannibalization.

(Author based on public filings)
Aphria sold a total of 3,409 kg last quarter, which comprised of ~1,900 kg from recreational sales. Medical sales declined slightly to 1,444 kg which represents a slight drop from 1,466 kg last quarter. Consolidated average selling prices also declined as recreational sales began to compress margin. As we noted in our earnings preview, Aphria had signed supply deals for up to 5,000 kg of initial order and clearly, it had trouble fulfilling all the orders between October 17 and November 30.

(Author based on public filings)
Besides tepid top-line growth and compressed gross margin, SG&A also rose to $27 million from $24 million in the prior quarter. Adjusted EBITDA declined substantially to a negative $6 million for the Canadian operations, in addition to a $3.5 million loss from the international assets which mostly comprised of assets acquired from the Nuuvera and LATAM acquisitions.


Aphria vs. Peers
In order to make sense of the numbers reported by Aphria, we think it is important to assess the results against what its peers have reported so far. Below are some of the indications we've gotten from other LPs:
Aphria's $21.7 million sales this quarter increased $8.4 million from last quarter, representing the period between October 17 and November 30. On the other hand, OrganiGram has guided that its revenue for the same calendar period will be $12.4 million which is $9.2 million higher than its revenue last quarter. So it seems like that Aphria sold less than OrganiGram did in the same calendar period despite having three times the market cap. Compared to Aurora, which reported an increase of $22.8 million for the quarter ended on December 30, Aphria's numbers also seemed a little light even after taking into account the extra month that Aurora had.
CEO and Co-Founder Resigned
Despite the weak financial results, we think the market might view the resignation of CEO Vic Neufeld and Co-founder Cole Cacciavillani as favorable for the stock. The two executives announced their resignation in the quarterly release citing personal reasons including age. However, investors might be relieved to see Vic out of the company due to a series of insider dealing allegations made by the short sellers - Vic being one of the main players being accused. We also view the change as favorable for the company and in fact, we have said many times in the past that a complete reshuffle of management is required for Aphria to enter a new page.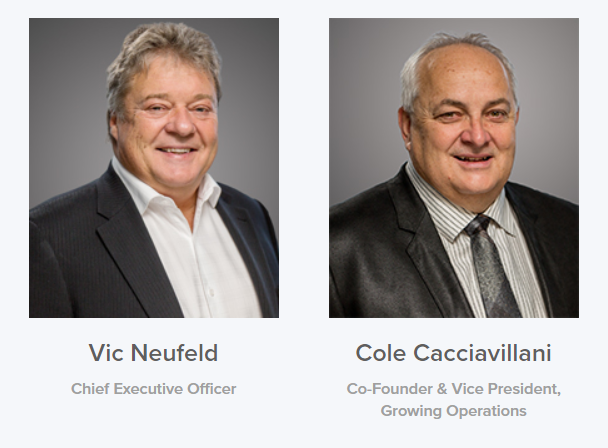 Valuation
Using the share prices as of Thursday, we can see that Aphria has recovered much of the losses caused by the short report. Aphria now trades at a similar multiple to Aurora on an EV to Revenue (last quarter annualized) basis. The other three large caps (Canopy (OTC:CGC), Tilray (TLRY), Cronos (OTC:CRON)) continue to trade at much higher valuation levels.

We would not categorize Aphria as cheap in light of Aurora's multiple. However, we think the path forward for Aphria also includes a full sale of the company or a merger of equals with one of the large or mid-cap players in Canada. Aphria has an attractive portfolio of Canadian assets and we see potential buyers interested in Aphria as a platform acquisition to enter the Canadian cannabis market. The Canadian market has entered a relatively mature stage of development where barriers to entry for new entrants consist of long licensing timelines and existing supply agreements with provinces. For any large international player looking at the Canadian market, Aphria would be a sizable platform to launch into the new market. On the other hand, other Canadian LPs could be looking at Aphria as a way to gain market share in order to compete with juggernauts like Canopy and Aurora. Aurora could also be looking at Aphria as a way to dominate the Canadian market, although anti-trust could be an issue given the significant market share controlled by the two firms. All that is to say that many players could be actively looking at Aphria as an acquisition target at this point.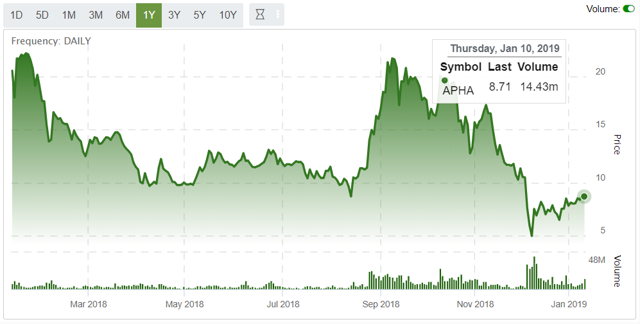 (Source: TSX)
Looking Ahead
Aphria's quarterly results were a little weaker than expected. The medical market suffered a quarter-to-quarter decline while the ramp in recreational sales has been slow. However, the resignation of CEO Vic Neufeld could be viewed favorably by the market due to his involvement in various acquisitions that had attracted multiple short attacks. We think the future of Aphria does not exclude a sale or merger as the potentially forthcoming hostile bid from Green Growth does somehow put the company into play. We view the management and governance changes as favorable for the company; however, the results were light and we see rivals quickly catching up to Aphria.
Disclosure: I/we have no positions in any stocks mentioned, and no plans to initiate any positions within the next 72 hours. I wrote this article myself, and it expresses my own opinions. I am not receiving compensation for it (other than from Seeking Alpha). I have no business relationship with any company whose stock is mentioned in this article.